Even though in most people minds flat roof automatically means rubber roof, more and more people become aware of PVC roofing materials. Unlike rubber, PVC membrane does not fail after a long period of time, even if there's a ponding water problem just because there is no glue involved in PVC roof installation. PVC roofs are installed using hot air welding equipment and fused seams are stronger that the material itself. The membrane is very durable too, it is armored with synthetic threads and even after 30 years it remains perfectly flexible and easy to weld to, making it easy to patch and maintain. In fact this roofing system proved to be so reliable that it is covered with a lifetime warranty - something rubber roofing materials can only dream of.
The homeowner of our project in Medford MA already knew about our PVC roofing solutions, and wanted to replace his old rubber roof with white 50-mil PVC membrane, and also had a new construction porch, which he wanted to cover with PVC Deck Shield membrane.
White color for the main roof was chosen because it has an extra benefit of reflecting a lot of sunlight, thus keeping the house cooler which results in lower electrical bill. There are other colors available, but they are less popular and a bit more expensive.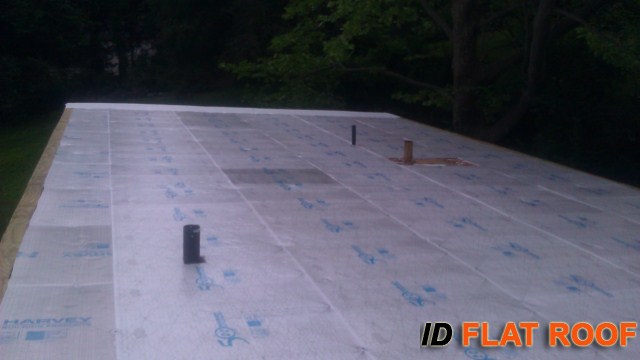 After original roof was removed we installed 1/2 inch thick, 6 inch wide pressure treated nailer along the roof perimeter to allow for the drip edge installation. This is a very important step because we use PVC coated drip edge, and roof membrane is welded right to it, so it is crucial to make sure that drip edge is safely secured to the roof deck. After that, 1/2 inch Styrofoam fan-fold insulation was installed, and PVC membrane went on top of it. One side of the rolled membrane was attached to the roof with 2 inch barbed plates, overlapped 6 inches with the next piece and welded. (Mechanically attached method) Pre-fabricated PVC flashings were used to flash all pipes and vents. This is another PVC advantage against rubber - we offer complete roofing system. All flashings, corners, vents, drain liners are pre-fabricated and made to the specification of particular installation method. Three two-way roof vents were also installed to allow condensate to evaporate from under the membrane.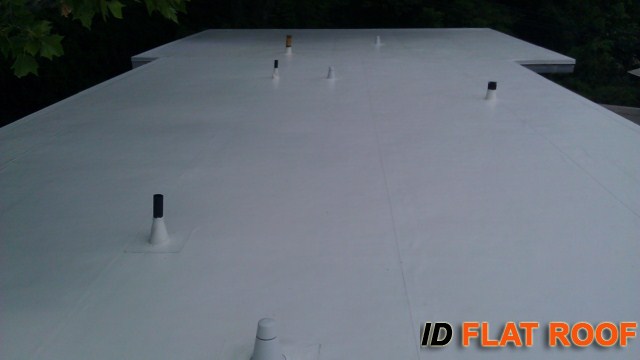 For the porch Deck Shield membrane was selected - it is also made of PVC, but has texture, so it isn't slippery even when it's wet. We had to go with different application procedure (Fully adhered method) because we couldn't allow anything like plates and screws to be seen under the membrane, not to mention people stepping in them with bare feet.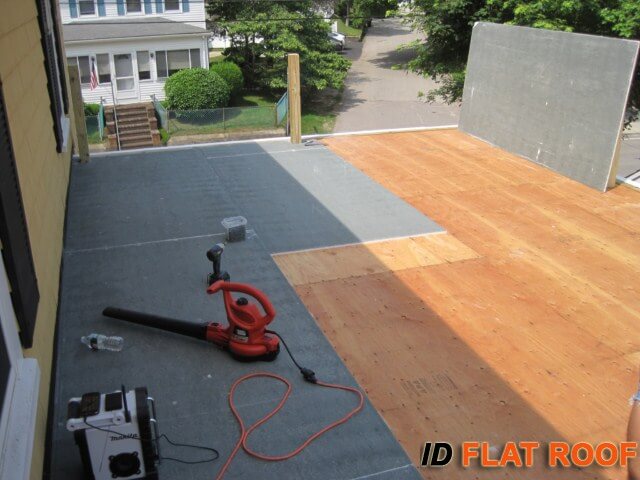 6 inch wide pressure treated nailer was installed along the perimeter and 1/2 inch thick primed Dens Deck board was applied as a substrate for the membrane and all the seams and screw holes were patched with joint compound.
The Deck Shield was glued to the Dens Deck using water-based adhesive, overlapped 6 inches with the following piece and welded. Railing posts were flashed with color matching PVC post flashings, to ensure that water would not get through the posts.
As a result - great looking roof and porch with a lifetime warranty and one less thing for the homeowner to worry about.

Please contact ID Flat Roof to request FREE Estimate or to learn more about our services in Medford MA and anywhere in Massachusetts & Connecticut.