PVC Flat Roof/DeckShield Installation in Newport, RI
A beautiful mansion in Newport on the famous Bellevue Ave has a penthouse with an EPDM rubber roof and deck that have multiple issues.
Flashings on the lower roof were installed improperly and were leaking, seams on both roof and deck were leaking as well due to the ponding water, and also green carpet on the deck served more like a sponge, which held the water within it for days, making the deck practically impossible to use and causing a nasty smell.
To fix all these problems we decided to go with white 50-mill IB Membrane on the lower roof, mechanically attached over ½ inch fan-fold insulation and with gray DeckShield Membrane on the deck, fully adhered over ½ inch Dens Deck boards.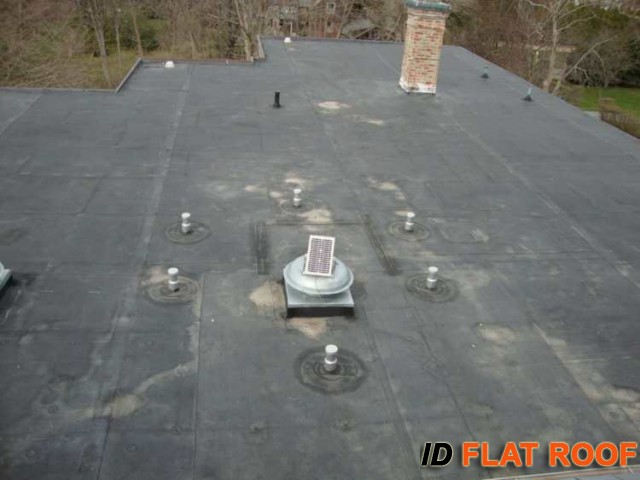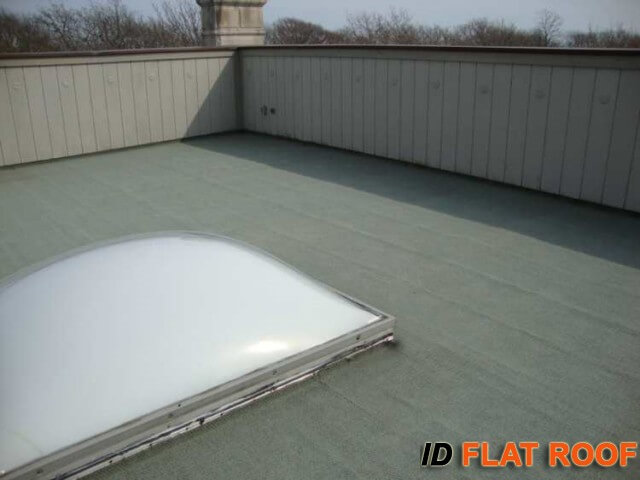 There were a couple of things we had to do differently than usual, because the mansion is right next to the ocean. First of all, due to the high wind uplift we had to install double half sheets along the edges, and use barbed plates every 6 inches to ensure that membrane will stay in place no matter what.
Second of all, because of the salty ocean air, which dramatically increases corrosion, a regular drip edge could not be used, so we had to order custom made stainless steel PVC coated drip edge.
Another thing we had to keep in mind was that under any circumstances we could not allow any water to get inside the penthouse during roof replacement because it would ruin the freshly made interior.
To address that issue we decided to brake this roof into a couple of segments and do them one by one, striping and covering them one at a time and making temporary PVC to rubber seams every evening using Solar Seal 900 adhesive and barbed plates.
And finally we had to build a parapet wall along the far side of the roof, because there is a skywalk underneath it and owners did not want nay water falling from the roof on it.
Once all these major points were figured out it was pretty much usual IB membrane installation.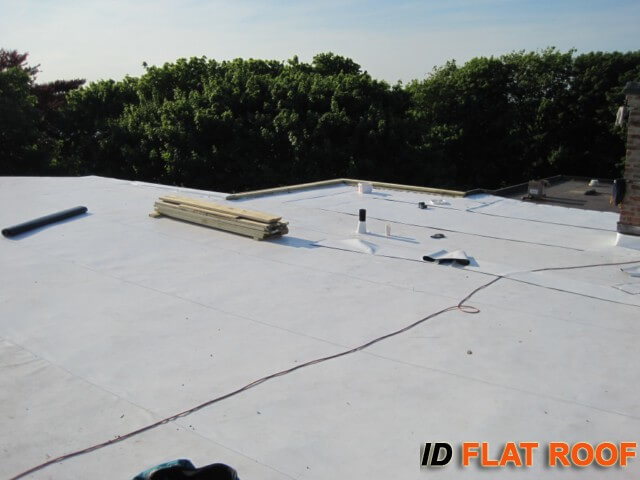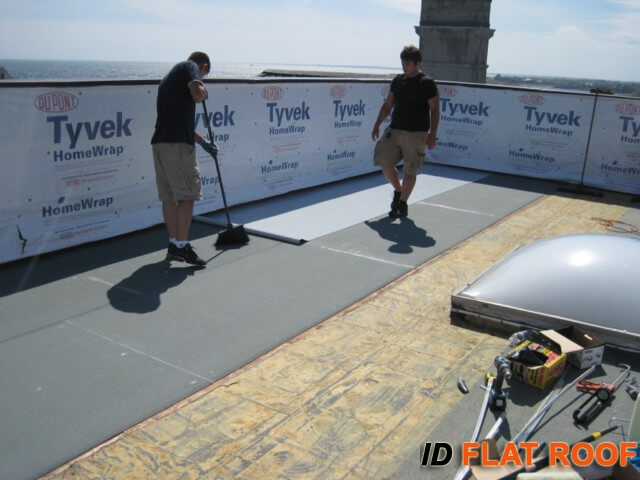 On the upper deck old carpet and rubber were removed and the Dens Deck boards were installed.
They were glued down using liquid nails and then screwed down to ensure the proper bonding.
After Dens Deck boars were installed all gaps and holes were filled using joint compound to make sure the surface is smooth and even, because any imperfection or seam would be seen after DeckShield would be installed.
The next step was adhesive and the DeckShield application, after which we welded the overlapping sides in the manner we do with the regular IB membrane.
As the result – all issues are taking care of, both roof and deck are watertight and look much better.