Trocal PVC Roof Repair in West Hartford, CT
ID Flat Roof is an authorized installer of IB Roof PVC membrane– the best solution for the flat roofs market these days. There are other PVC roofing products on the market but all of them have different weaknesses and none have strengths ofIB PVC Roof.
We received a call from a client in West Hartford, CT about the old Trocal roof. Even though the Trocal PVC roofs have been on the market for a while they have one very big issue: they get fragile at temperatures around zero degrees Celsius (32 F) and exponentially become more and more brittle as temperature drops further. In our case, it was a combination of things: very cold weather (which is not that unusual for Connecticut in the December-January period) and wind that broke of the branch of the tree near the house. The branch fell on the roof completely shattering 15×6 feet section.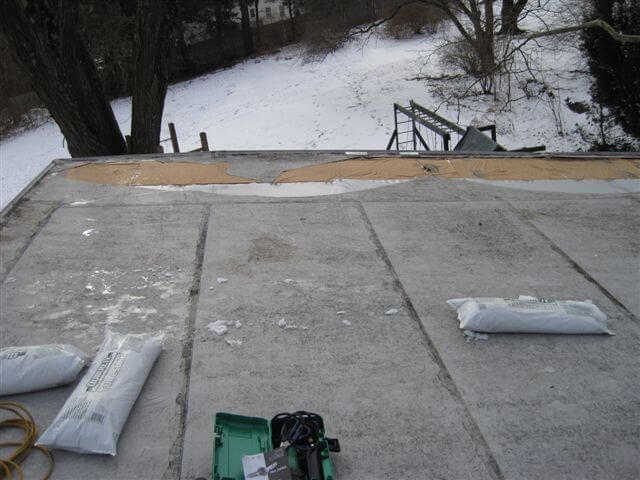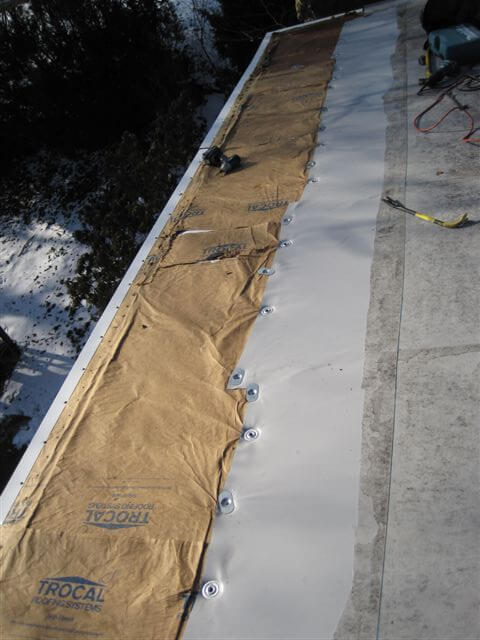 We decided to repair that section with IB PVC Membrane – first of all because it is not sensitive to the temperature fluctuations and is very flexible and second because it can be hot-air welded to the existing Trocal PVC.
We started with cleaning up approximately 25×6 feet section making sure that there are absolutely no cracks left behind. Then we replaced old drip edge and made sure that old insulation and PVC is fastened reliably using 2" barbed plates.
The old fasteners weren't working very well and there were definitely not enough of them. Then old PVC was cleaned using acetone and the pieces of the new IB PVC membrane were installed and welded together and to the old PVC.
Now the single piece of IB membrane and old Trocal was formed and roof became completely watertight again.