Gutters and Downspouts for Flat Roofs
Flat roofs are very popular today. This type of roofing is common for commercial buildings, high-rise buildings, and shopping centers. But even in private buildings, many architects and homeowners prefer to install a flat roof today. It is concise and convenient and provides additional space for installing pergolas, balconies, terraces, or pools. But there is one significant drawback flat roofing has. It is flat. This means that water and snow from its surface will not go anywhere, they will accumulate, destroying the roof, and causing leaks. It all need flat roof gutters.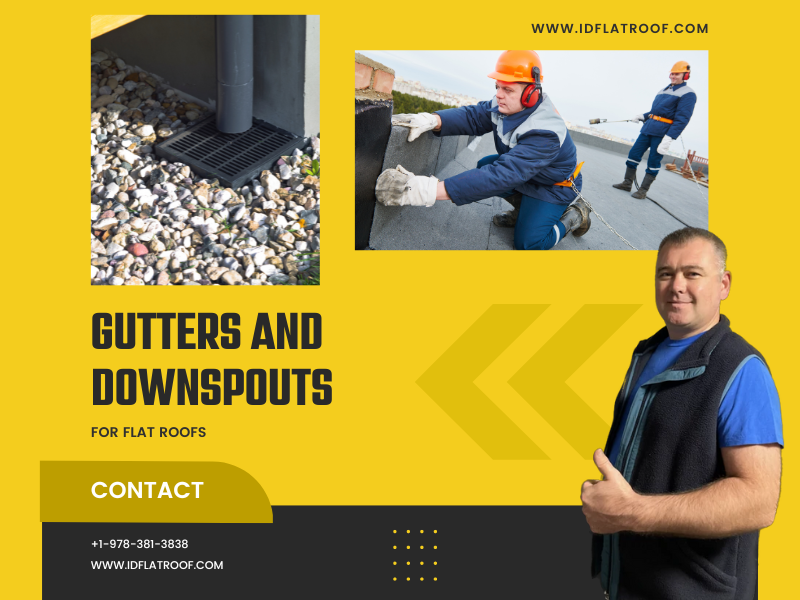 What are the ways to solve this problem? First of all, it is the planning and placement of downspouts and gutters for flat roofs. How to choose and install gutters on a flat roof? The professionals at ID Flat Roof will share their expertise on this subject with you.
Why Flat Roofing Needs Gutters and Downspouts
Firstly, why do we need gutter and downspout systems? Their main task is to help water leave the roof space. During rains and snows, precipitation naturally falls on the surface of a flat roof.
This is fraught with the stagnation of rainwater, the formation of ice, or large masses of snow in winter. If in some place the roof gives a small crack, moisture will penetrate through it into the under-roof space. This leads to the formation of fungus and mold. And if it is not detected in time, under the load from precipitation and gusts of wind, the crack can increase in size. Gradually, this will lead to leakage of the roof and its destruction. Therefore, the removal of rain and melt water from a flat roof is the main task that needs to be solved when installing the flat roof.
At the same time, flat roof gutters should work effectively all year round, without the formation of dust blockages or ice and leaf plugs. The functioning of gutters and drains should not depend on the temperature levels and the amount of precipitation. A properly installed and designed gutter on a flat roof should receive and quickly remove moisture. Moreover, the drain can be organized into the sewer, into a container for collecting rainwater or corny into the ground.
Types of Drainage Systems for Flat Roofing
There are three different types of drainage systems for flat roofs today. Under the drainage system, we mean a combination of gutters and drains, which are installed simultaneously with the installation of the roof.
Outdoor unorganized gutters and downspouts are the easiest to install. They do not form a strict system and allow moisture to drain arbitrarily. This option, although inexpensive, is not suitable for all types of buildings. External unorganized drainage systems should be chosen for outbuildings, for example, garages, barns, and warehouses, where the height of the walls does not exceed two floors, and the purpose of the premises does not imply permanent residence of people.
Outdoor organized gutters and drains have an orderly and planned structure. By installing gutters on flat roofs according to the principle of an outdoor organized system, the roof is protected from moisture accumulation. A system of gutters, drains, and funnels is laid along the cornice overhangs and the outer side of the load-bearing walls. An organized external system of gutters and drains is used in the construction and repair of a flat roof. It is effective to install in low-rise buildings and buildings. Besides, the scheme is acceptable for organizing runoff from the roofs of houses with a height of up to five floors.
The internal drainage system also uses gutters and drains, but its peculiarity is that water, after entering the gutter, is not discharged outside the house, but through funnels built into the roofing system, through risers inside the building, is discharged into a collector or tank. This option allows not only to protect a flat roof from leaks and water accumulation but also allows homeowners to collect rain and melt water for technical needs.
Besides, there are several main types of gutters to choose from for a flat roof. They are as follows:
K-style gutters have a sharp geometrical shape that resembles crown moldings of modern homes. It looks organically on the facade and it is cheap to install yet it tends to clog fast and needs regular maintenance to prevent clogging and corrosion.
U-style or half-round gutters are classy as they were used for roofing for almost a century. These gutters are installed alongside the perimeter of the roof using special brackets. They are more expensive and require more time for installation. Besides, that type of gutter is less durable than K-styled but it is easier to clean.
The last type of gutter that is commonly used today is a box-style gutter. It is installed under the roofing, making an edge of the roof and preventing it from water leakages through the connection parts. Its benefit is that box-style gutters can be installed on the roof without its replacement yet for its efficiency, you may need to provide roof repair in advance.
Our company carries out the installation of gutters and gutters on a flat roof in all ways, depending on the technical features, the wishes of the owner, and existing requirements.
Installing Gutters on a Flat Roof: Tips and Technologies
When you need to install gutters and downspouts for your flat roof, there are several things to consider from the very start:
Which type of drainage system and gutter shape to choose?
What material to choose for gutters and downspouts?
Whether to install it yourself or apply for the help of professional roofers?
Whether to repair roofing or replace it when installing gutters and downspouts?
As we've highlighted the first of these questions above, let's focus on the next ones.
When you need to purchase gutters and downspouts for your flat roof, you have a wide selection of sizes and materials available in most hardware shops. The most common types of gutters and downspouts for a flat roof today are vinyl ones as well as made of galvanized steel, aluminum, or copper. To make the right choice, it is better to apply with a consultation of specialists as they can thoroughly evaluate which type of material suits your roofing most based on the space of the roof, the type of climate, and other features.
The next question gets its answer from the previous one. It is better to get professional gutters and downspouts installation services not to make crucial mistakes.
Gutters and Downspouts in Massachusetts
Installing a roof is a critical constructional improvement for the protection of your house and its aesthetic update. But do not forget about one of the most important accommodations in the context of exterior renovations. Assembling a waterproofing system is required even for the most durable housetops.
Our company provides roofing and guttering in Newton, Sharon, Quincy, and other areas of Massachusetts. We are roofers with 21 years of experience in this field.
We know about the weather conditions and local specific issues and always take them into account. Our team offers installation and repair of gutters and downspouts together with other restoration services.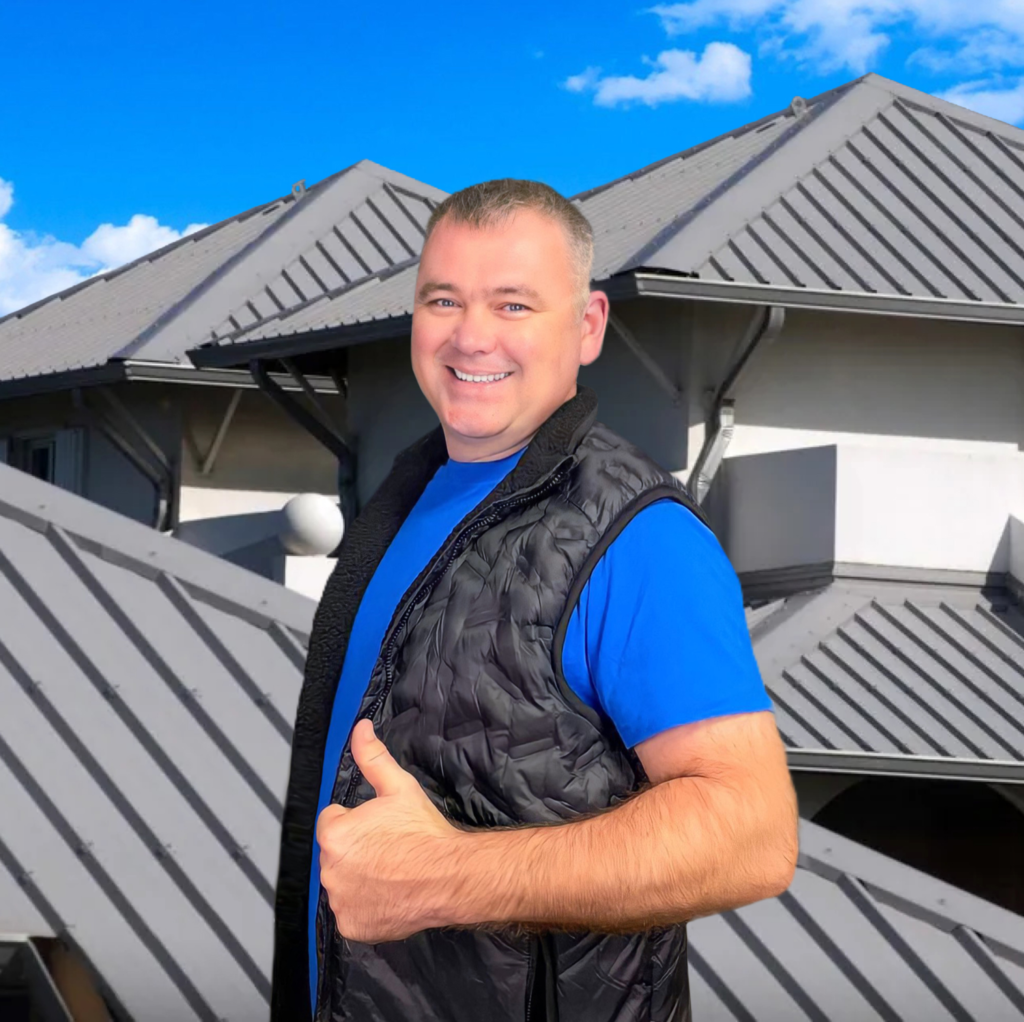 Our Services – Gutters for Flat Roof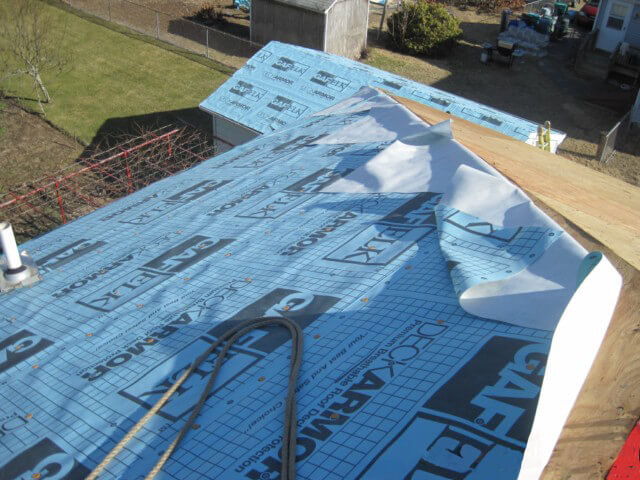 Every order of the ID Flat Roof corp requires specific preparation work. There is a necessary step of inspection and measurements. Before works start, we know special aspects about your housetop and find ways to deal with them. As a result, terms to complete the installation reduces, so the cost does.
Certified roofing services are always of the best quality, and every element stands reliably for years. On all works and materials, we provide a warranty, from 10 years to a lifetime.
Gutters & Downspouts Installation
To perform well, your roof must have a strong waterproofing system. We recommend installing it right when you lay the covering or refresh the existing housetop.
Our dedicated team installs modern gutter systems and downspouts for residential and commercial premises:
✔ Copper gutters with soldered seams provide a rich retro look. They fit country and rustic style.
✔ Aluminum seamless constructions that are usually called 'K-style'. They are the most popular and versatile ones.
✔ Historical half-round and V-shape ones will fit your house's unique appearance. The form depends on the whole dwelling's style.
We provide downspouts made from the same material as gutters, so they make a complete one-style system. A well-working water management system is essential, especially for flat roof guttering. Water doesn't flow down, and heavy rain can lead to leaks and strong damage. Intense rainfalls are often in MA, and our projects take it into account. Gutters remove ponding water and maintain the surface. If you are not sure about the style, a designer can advise you on the suitable one.
Gutters & Downspouts Repairing
For roof and gutter repair, we remove broken parts and then solder new ones. In the process, we examine the whole system to find the reason for breakage.
Operating in order, gutters and downspouts system improves the building in many ways:
✔ An exterior is less damaged by falls;
✔ Soil around is not eroding;
✔ A the basement stays dry and sustainable;
✔ There is no moisture effect, cracked facade painting, and sloppy prints;
✔ Mildew development is reduced.
We remind homeowners about on-time flat roof maintenance. For proper operation, there shouldn't be any leaves and debris inside. If the breakage was sudden, we are always ready to provide an emergency service.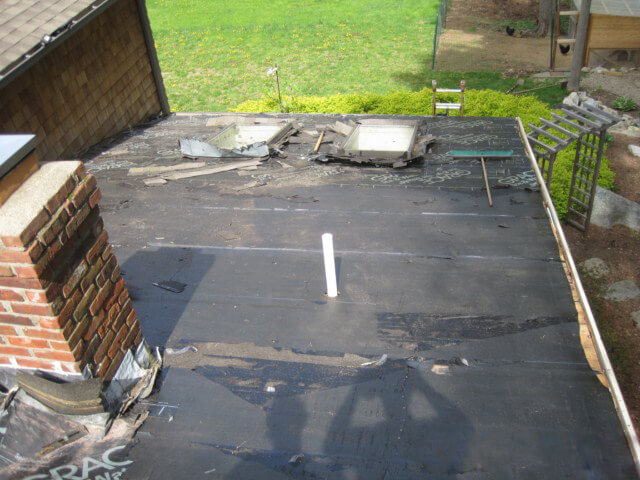 Other Services To Take Into Account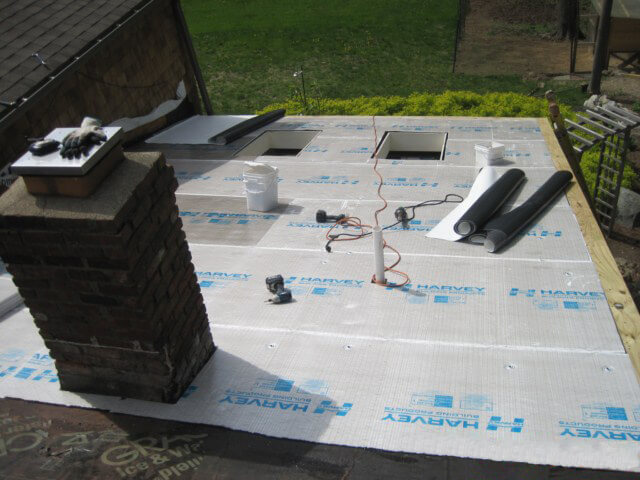 Our company specializes in flat roofs. Mostly, we work with PVC membranes. They are light, sustainable, and there is a lifetime warranty on them.
With appropriate training by the high-grade roofing material provider, we offer approved and licensed service. Also, we offer alternatives for modern roofing constructions such as metal shingles, roll rubber housetop installation, and asphalt roofs.
We are working in Sharon, Norwood, Brooklyn, and other areas of Massachusetts. If you are ready to make an order, then call, write an email, or fill a booking form and request a free estimate.
Our designers and roofers will start working your project out and then contact you for details.
---
Please call +1 (617) 299-0291 for a FREE phone consultation or Request an Estimate Today
---
And it is up to a pro to consider whether your flat roof needs to be repaired or replaced before the installation of the drainage system, or you can leave it as-is. All these questions you can ask while getting the consultation from ID Flat Roof pros. We offer top-notch gutters and downspouts installation services in MA so to keep your flat roof tip-top for a long time.