Roof Decks: Transform Your Roof into a Place to Relax and Meet Friends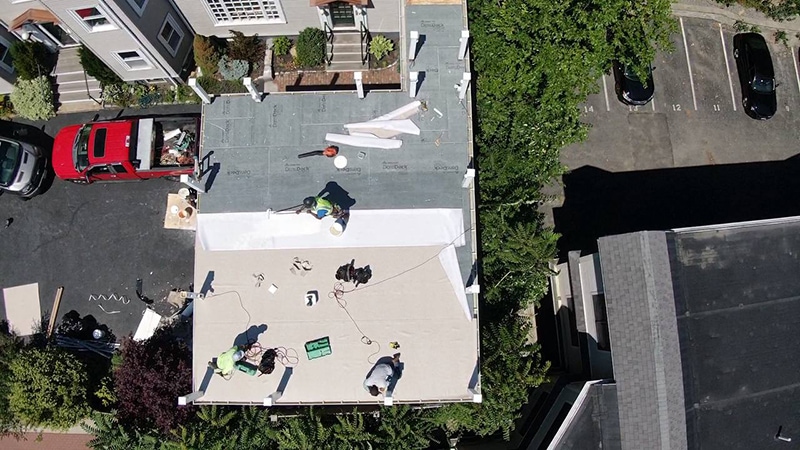 If you follow interior design trends, you've probably heard of Roof Decks. More and more private houses, especially in the suburbs, are being designed so that part of their roofs can be used as an outdoor terrace to relax and hold parties and BBQs.
Roof Decks are in demand for sure and so popular nowadays that even owners of old houses are wondering if they can add such structure to an existing roof of their property.
Although this is not a trivial task, professional roofers can implement such a project even if we discuss the 1900s and older historical buildings.
What is a Roof Deck?
Constructional and architectural nuances aside, roof decks are flat roofs that you can access directly from your living room, through attic space, or by climbing a unique outdoor ladder.
You can use the roof deck as you wish: install furniture, armchairs, tables, and benches, and use the roof deck as a place to meditate, grow flowers or enjoy sunsets.
A roof deck becomes an absolute must-have if you build a house in a picturesque area with an excellent view from the second or third floor.
The area, size, top covering, and additional elements on the roof deck's surface depend on the project and the architectural features of the building. But still, they have common advantages.
Potential Benefits of Roof Decks
You will receive an outdoor room that you can use for relaxation, entertainment, meditation, and arranging never-to-be-forgotten parties. The trend of recent years is to place a Caribbean-themed rooftop bar where you will hold open-air parties.
A professionally installed roof deck does not require regular maintenance or repair. All you need to do is periodically check the roof covering, once a season or after rain, snowfall, or hurricane.
With a Roof Deck, you can most likely increase the property's market value. Mainly if the roof is located on 3-4 floors and above, it offers a beautiful view of the area.
You can turn your Roof Deck into a "green zone" by planting plants, flowers, small trees, or a vegetable garden.
You can create multiple seating areas and accommodate up to 60-80 people on large roof decks. Just do not forget to tell your neighbors about the planned event.
Professional roofing companies offer a variety of roof deck designs, as well as multiple materials, colors, and decorative options ranging from modern membranes to natural-looking roof decks.
Roof Decks Installation Schemes and Options
The design of the roof deck depends on the specifics of the project, the architectural features of the building, the covering material you choose, and the loads on the building frame. Roof decks can usually be mounted on a railing or a monolithic base.
The most popular option is a roof deck with an exit from the bedroom or another living room not visible from the street. In this case, the room and the roof are on the same or mostly the same level.
Another scheme is a roof deck with several zones. Stairs and passages can separate zones. The area of ​​the roof deck can be both small and huge, according to the size of the entire building.
A roof deck on a shed or garage is another popular way to get an open-air room. It is suitable for buildings with sloping roofs, but extensions with flat roofs.
How to Build a Deck Over a Roof?
As experienced roofers note, custom roofing is not designed to be constantly walked on. Standard roofing materials and structural frames are not designed for such operation either.
Therefore, installing roof decks requires a special approach, engineering solutions, and underlayment and covering materials. As a rule, such projects require financial investments. And if your roofing isn't designed for roof decks, that investment can be enormous.
Naturally, flat roofs are best suited for the installation of Roof Decks. But even in this case, it is necessary to check the condition of the roof frame and correctly calculate the expected loads on the surface of the roof used.
Another essential feature of such roofs is access to the open roof zone. It is highly desirable that you can access the roof deck from the living or bedroom room. The door can be either sliding or conventional (full glass doors are a hit right now). The staircase for access to the roof deck is also allowed, but the stairs must be straight and not so high. Ladders and spiral staircases are not convenient.
The roof deck must comply with fire review standards. The roof should be designed in such a way as to evacuate people in case of force majeure quickly. These standards may differ from state to state.
If you plan to mount lighting and other accommodations on the roof, they must be added to the project from the beginning. All communications, cables, and pipes must be securely hidden and protected from rain and temperature changes.
Another reason to hide everything underneath is that cables and pipes under your feet can be not only unsightly but also safe – you can trip over them.
How to Build a Roof Deck on a Low-Slope Roof?
First, find roofers and designers who specialize in Roof Decks. The design and installation of such roofs is a complex and extraordinary task, with specific complexities and solutions that ordinary roofers may not know.
Secondly, it is necessary to strictly observe the rules of fire safety and other established standards. Moreover, additional insurance may be required if you plan any major work on the roof of an already completed building.
Thirdly, there may be additional elements on the roof surface – chimneys, roof windows and skylights, air conditioners, etc. These elements are either built-in or replaced to make it convenient to use the open roof. Another reason to do so is that nothing does block the panoramic view.
The construction of roof decks usually needs some permission from the authorities or/and the district neighborhood council. Your project must match the various standards. For example, if you plan to make a roof on a historical building, then your roof should be invisible from the street.
Roof deck construction usually requires a certain amount of money. Do budget planning. A half-finished project is worse than a project you set aside until better times. On the other hand, professionally executed roof decking can be a long-term investment if you plan to sell your home in the future.
The construction of decking on the roofs of any apartment building is a particular problem. When considering remodeling or renovation projects for such buildings, seek permission from architects and find contractors with the required expertise.
Most roofing projects take a long time – from 1-2 months to a year or two, depending on the project's complexity. Renovation projects require much less time.
Finally, the construction of the roof is high-altitude work. This means that all materials for construction or reconstruction will be lifted to the desired floor, including with the help of special equipment and cranes.
How to Build a Deck on a Roof?
The first stage is inspecting a building and designing a project. Professional roofers will assess the roof's condition and tell you exactly if mounting a roof deck on your house is possible.
The second stage is the preparation of the base level of the roof, which will reliably isolate the living rooms and withstand the load. Depending on the roof project, a welded stainless-steel frame, an underlayment of beams, or plywood can be used as a base. At this stage, communications are established (depending on the project).
The third stage is laying covering, from natural wood to modern composite materials (depending on the project). The covering can be floating or laid down on special glue.
The next stage is the protection of additional structures on the roof, installing drip edges, gutters, stairs, and doors.
The fifth stage is the creation of the interior. Adding awnings, beach umbrellas, furniture, sofas, benches, armchairs, tables and chairs, bar counters, and other elements to the roof deck will make your outdoor experience more comfortable.
Roof Deck Materials: PVC Membranes, Composite and Topside Wooden Decks
Roofing material and underlayment for roof decking must be:
Waterproof – to protect the inner structure from rain and melt water gathering on the surface.
Wear-resistant – so that you do not change them every several seasons.
Designed for walking and furniture installation. Not every roofing material is suitable and durable enough to walk on.
Attractive – so you can enjoy the sunset, a drink on a roof deck, and the interior's appearance.
Roofing materials for deck roofing come in several categories: modern energy-efficient PVC membranes that reflect ultraviolet and do not fade under the sun. These are composite decks with strength, geometric stability, and long service life. Finally, natural wood in boards can be used under the open sky.
Roof Deck Deckshield in Somerville
Let's look at the stages of roof deck installation in a specific example. This project was completed by a team of professional roofers, ID Flat Roof, in Somerville (MA).
As you can see in the photos and videos, these roof decks were mounted on the flat roof of a residential building over a living space.
The roof deck consists of two separate areas connected by an open passage at different levels. The roofers applied time-tested materials and advanced technologies designed specifically for flat and low-slope roofs.
According to ID Flat Roof experts, installing roof decks over living rooms requires special skills, as it is necessary to achieve one hundred percent protection against leaks. In addition, the surface of the roof deck must be robust, durable, and maintenance-free.
According to the project, there were additional elements on the roof surface, like roof balustrades and roofing windows.
Deckshield: Installation Steps
1. First, the roofers checked the condition of the old plywood sheathing. The condition of the old was unsatisfactory.
2. Roofers found damp and rotten areas under the influence of negative factors, water accumulation on the roof surface, and leaks. Therefore, the specialists decided to dismantle and repair the old underlayment partially.
3. The next stage is laying a unique overlaying material for the roof – Densdeck. This material prevents damage to the roofing and serves as additional insulation.
4. The roofers at ID Flat Roof then laid a Deckshield onto the roof surface, which was glued to the Densdeck. Sheets of waterproof material were used as the top covering. They were securely interconnected and glued to the underlayment.
Such Densdeck+Deckshield installation technology prevents cracks, bumps, and leaks from appearing on the roof surface. Deckshield material is designed to last for many years and does not require additional maintenance.
5. As mentioned above, there were additional elements on the flat roof's surface, such as railing posts. The experts used anti-leaking post-flashing technology to protect the places where the elements are attached to the roof surface from leaks.
6. The roofers installed a drip edge at the roof's edges, soldered securely and hermetically to the Deckshield surface. A professionally installed drip edge protects the walls and structure of the house from rainwater that drains from the roof.
As a result, the roofers at ID Flat Roof installed a durable and safe Deckshield roof deck that can be used all year round. Here you can spend warm summer evenings, enjoy your morning coffee or relax after a working week. To learn more, ask questions about your roof project, and get an estimate – call ID Flat Roof.
Tips for those who plan to make a roof decking
Plan your budget. Despite all the benefits, roof decks are expensive projects, as a rule. Consult with professional roofers and ask them for a project estimate.
Check the architectural requirements for private buildings in your area. Some states have restrictions on the construction of roof decks, and some cities and regions ban roof decks altogether. In addition to architectural standards, there are also fire and other regulations.
Call a specialist who will check the condition of the roof frame, underlayment insulation, and utilities. The structure of the building must support the weight of the new roof and what will be on it as well as the weight of the people who will go out on the roof deck.
Think about how you will enter the roof deck zone. You may need to redevelop the interior. Avoid ladders and spiral staircases if possible.
At the initial design stage, consider the presence of electricity, water supply, or gas (for the grill) on the roof.
Order an interior roof deck project, especially if you plan to make a roof deck of a large area, with a lot of furniture, green areas, shade zones, and so on.
Take the time to find a professional roofing company that specializes in roof decks.
Conclusion
Roof Deck is an excellent addition to your home that you will use during 9 months out of 12 (or even all year round). Moreover, specialized contractors offer various projects of roof decks of different styles, areas, and functionality. You will find the project of your dreams.
At the same time, a roof deck is a complex project that requires financial investments, implementation time, and specialists' participation. Check all the pros and cons; if you are ready to solve possible difficulties, you will be satisfied.