TPO Roofing in Massachusetts: Qualified Flat Roof Experts
Nowadays, there are numerous modern ways of roof installation to choose from. Everyone is searching for energy-saving and durable material for the rooftop at an affordable price. TPO Roofing is one of New England's most popular roofing services for commercial premises. Single-ply membranes cover residential housetops as well.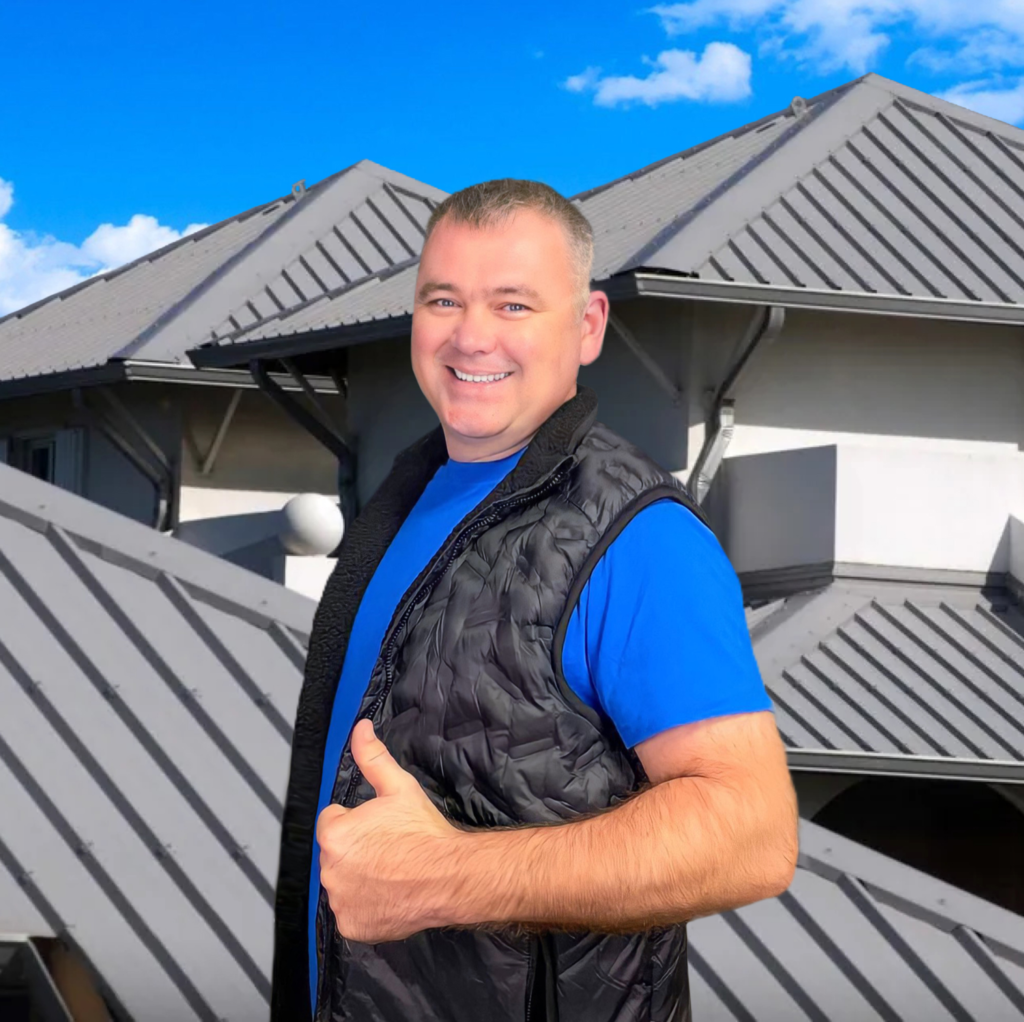 ID Flat Roof – The Company You Can Trust
Fill out the form and start your project today!
---
Call Now +1 (617) 299-0291 for a TPO Rubber Roofing FREE consultation or Request a TPO Roofing Estimate
---
Why Particularly Us?
We specialize in roof installation and repair of single-ply membrane roofs of any size and complexity. You can count on our comprehensive approach to your project regarding certified roofing services, including other types of housetop covering like EPDM systems, PVC-membrane renovations, and TPO roof restoration.
TPO is a durable material made of single-ply membranes. These rubber sheets for TPO roofing are fastened or adhered chemically on the commercial housetops more often. But if you are interested in this roofing option for your residence, we can recommend the best design and TPO type. Contact our managers to discuss your order. We will form a free estimation and visit the site to inspect the roof surface.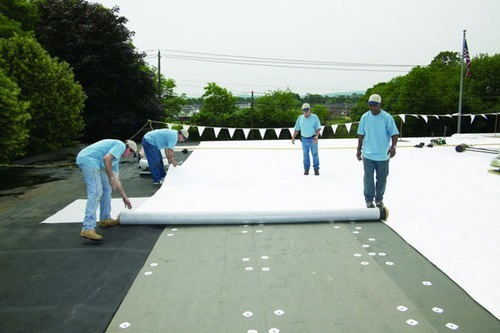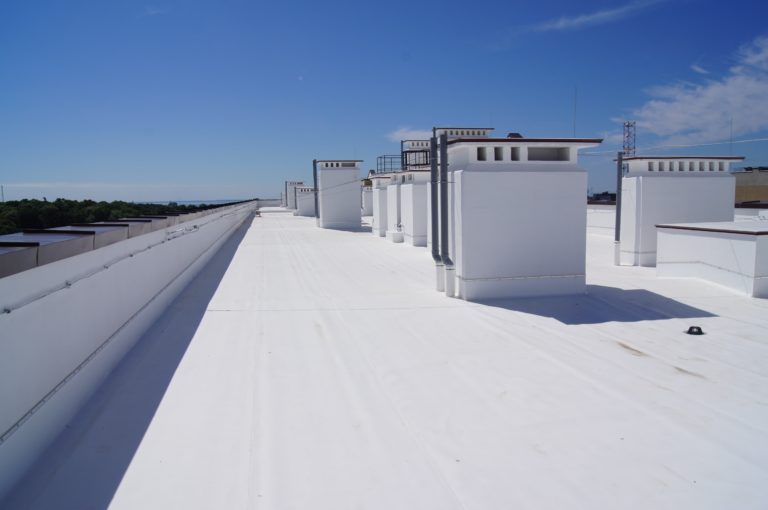 TPO Roofing Services We Provide
Single-ply membrane roofs have become increasingly popular in the modern market, especially when renovating commercial premises. TPO material for roofs is a single layer of synthetics with the addition of reinforcing scrim. It is worth mentioning that there are roofing sheets of different widths. Our TPO roof installers use single-ply membranes 10, 12, or 20 feet wide.
Our company's TPO flat roof experts roll up sheets of the necessary width and bring them to the commercial site where the installation will occur. The notable feature of the TPO roofs that thousands of Massachusetts customers like is their capability to reflect UV rays. Thus, single-ply membranes are the best material for creating natural reflective housetop surfaces.
TPO Roof Installation Process
We do not use glue or nails for TPO roof installation. This roof is made of single-ply membranes that are attached seamlessly with the help of the hot-welding technique. No water and air leaks will disturb you even during the heaviest rainfalls and snowfalls with severe winds. The TPO rubber roofing membrane installation requires cleaning and accurate preparation of the existing roof. Our specialists can install any TPO material according to customer needs and budget facilities. Among available variants for commercial premises are:
Thermoplastic Polyolefin (TPO);
Ethylene Propylene Diene Terpolymer (EPDM).
It is worth noting that EPDM roofing installation is more prevalent among average homeowners. In contrast, TPO housetops are the mainstream of the 21st century for commercial objects. We perform the best roofing services in Ma and specialize in installing EPDM and TPO roofs simultaneously. You can ask our certified roofing experts to add insulation and improve the energy-saving properties of your new housetop.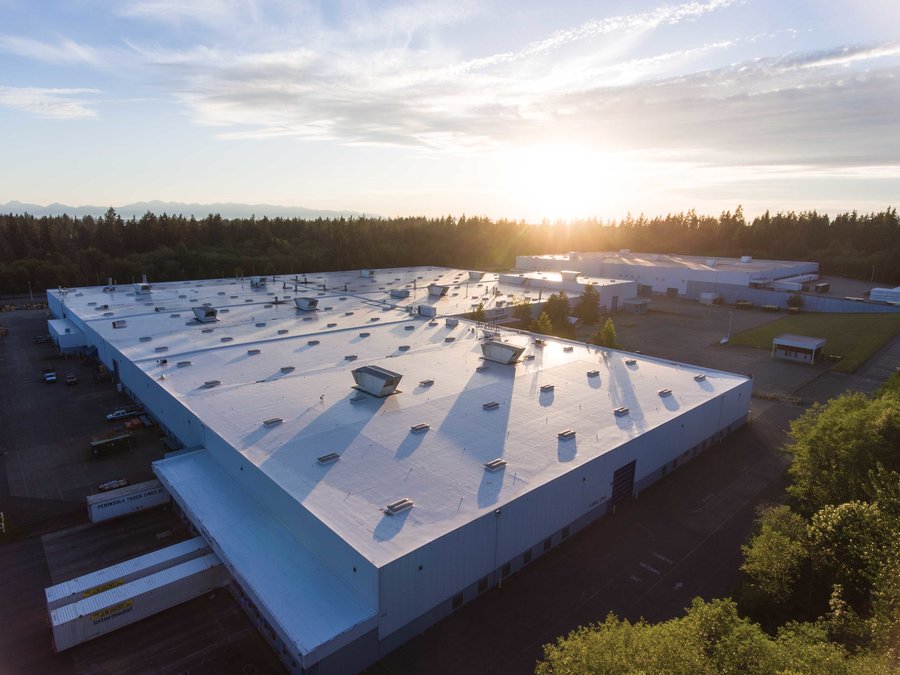 How Much Is It to Install TPO Roof in MA?
Our pricing policy is affordable for average American families and big corporations with bulk orders. We install single-ply membrane roofs for $3.5-$7 per square foot. The final cost can vary if the customer asks our team about additional options like gutter system installation or insulation.
Our local TPO flat roof installation experts are ready to assist you with the TPO roof replacement, TPO roof repair, or installation of a new TPO roof. You will stay pleased with the improved heat-saving properties of your new housetop. We guarantee a timely and highly professional final result. Enjoy an attractive look of your house and convenience indoors with TPO roofs installed by our dedicated team of specialists!
---
Please call +1 (978) 381-3838 for a TPO Roofing phone consultation or Request a TPO Flat Roof Installation
---
What People Say About ID Flat Roof
ID Flat Roof replaced two flat old leaky tar roofs with PVC membrane roofs 10+ years ago, and the roofs still seem brand-new, despite sun beating down on them in the summer and heavy snow loads in the winter. The hot welding technique they use for seams is awesome – never any problem with leaks or anything else. Plus, they added a slight slope to the roofs so that they now drain properly, and they also did railing posts and flashing so that the railings could be installed properly. They are very professional and skilled, and they stand behind their work with an excellent guarantee.
Susan V and Dan Sheehy
ID Flat Roof - The Company You Can Trust
Fill out the form and start your project today