Asphalt Shingles Roof Repair, Replacement and Installation
Asphalt roofs made of solid and load-resistant shingles are very popular among homeowners. Our company offers various asphalt roof repair, installation, and renovation services.
Speaking about asphalt shingles roof renovations, our dedicated team offers repair, replacement and installation of any type of shingles. Modern manufacturers produce very durable materials that are suitable for covering both residential and commercial premises. ID Flat Roof corp is certified by one of the largest manufacturers of quality GAF asphalt roof tiles.
Our roofers will install a new asphalt housetop or repair your existing one to make your building energy-efficient and well-protected.
Our specialists are here to bring your remodeling vision to reality for the roof. Asphalt shingles roof repair will not take much time and will not cost too much.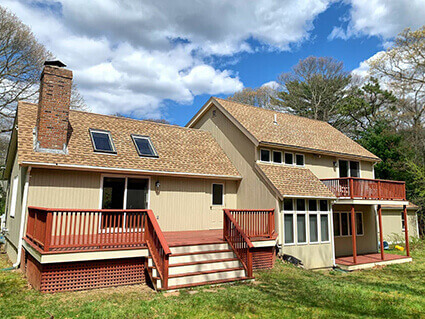 Asphalt Shingles Roof Repair Cost
Our standard rate for Asphalt shingles roof and other types of roof repair is $495 and includes the roof inspection, leakage inspection, and up to two hours of repair work with all materials included in the price.
If more damage is discovered during the repair than is expected and the repair requires more time, it is $195 per additional hour.
If the repair is too big to be finished in one day or requires a lot of materials, a special price would be offered.
Most of the roof repairs we perform do not require more than one visit and can be performed on the same day.
In comparison with other roofing companies in Massachusetts, our company obtains affordable prices.
The average cost of asphalt shingles roof replacement and restoration can be provided by our professional. Call our professional to get a free quote and find out more about our reasonable pricing formation!
Asphalt Shingle Installation
We always start with preparation for the installation scope of works. Our roofing specialist will inspect the surface and do every needful measurement procedure. Then, the professional crew of roofers is going to undertake the installation of any type of shingles. The most popular asphalt roofing materials in MA regions including such towns as Brookline, Boston, Norwood, Sharon, and other areas are:
✔ Luxury shingles — occasionally called premium shingles.
✔ Dimensional shingles — sometimes called architectural or laminate shingles.
✔ 3-tab shingles — also referred to as three-tab shingles.
It is worth noting that we always take into account customers' requirements and desires. Our experts can only recommend something new to cope with annoying challenges and solve any problem with constructional elements efficiently. Everything depends on the clients' demands. Together with asphalt-shingle rooftop installation, our certified roofing contractor offers roof replacement, repairs, and other renovation services of all types of roof. If necessary, our roofers will come for emergency roof repair. Call us to place an order and ask additional questions about your project.