EPDM Roofing: Top Maintenance Hacks for Homeowners
Everyone dreams about an exceptionally spacious and convenient house. It goes without saying that your home is the best place in the world. As a responsible homeowner, you might have something on your mind in the context of roof maintenance. Of course, a housetop is the guarantee of your convenience indoors and a well-regulated microclimate inside your residence. And EPDM roofing will help you with this.
Rubber roofing becomes more and more popular among citizens of any US state. CPA, PVC membranes protect premises from ever-changing weather, storms, heavy rains and snowfalls, other external factors. Today we are going to take a closer look at EPDM roofing – a mixture of the EPDM polymer, carbon pigment, oils, and other additives.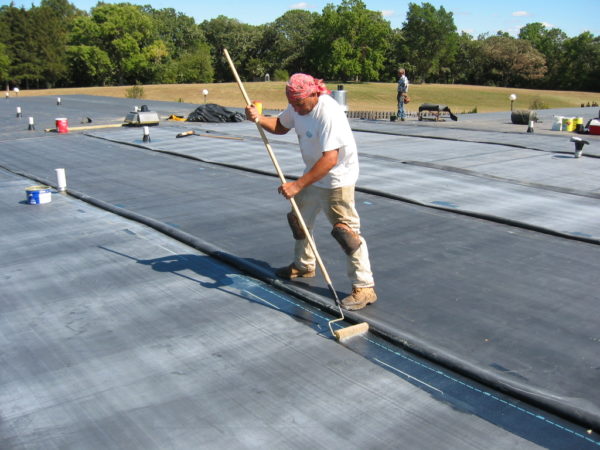 EPDM Roofing Systems for American Homes
More and more Americans count on EPDM roofs for their residential and commercial purposes. This is an ethylene propylene diene monomer roofing solution that is notable for its weather resistance and durability. The solid and extremely solid membranes are also used for bicycle inner tubes and radiator hoses.
EPDM roof systems can be installed in different ways. But the hot welding with the seamless mode of application is one of the most reliable. PVC membranes are not affected by shrinkage stress and seam failure. It makes EPDM roofing installation one of the best variants for flat and low-pitched housetops. Nevertheless, even such a heavy-duty and durable system requires maintenance.
Why Maintain EPDM Roofing Systems?
Despite the fact that rubber roofing membrane installation is a risk-free process with excellent final results, it is necessary to serve the rooftop regularly. Some EPDM roofing contractors state that membrane-like housetop construction will last for several decades without any need for annual maintenance.
This is the most common misconception because any roof should be inspected at least once a year. Annual maintenance help homeowners detect any challenging situation timely (damaged membranes, seals, other constructional elements) and prevent more serious problems with their rooftops. To sum up, regular check-up of the EPDM roofing system is useful for:
Its advantages are:
✔ Diagnosis of the existing roof and preventive measures (fractional repairs or cleaning);
✔ Detection of the weak spots of the rubber housetop (seam failure, worn membranes, damages);
✔ Cleaning of the EPDM roof to set it free from aggressive agents (chemicals, debris, etc.);
✔ Emergency repairs if necessary (to replace damaged membranes and other roofing components).
The annual maintenance of the rubber roof should be provided by the competent company that makes a specialty out of EPDM roofing installation and repairs. Find your local contractor and entrust inspection of your housetop to professionals. Contact ID Flat Roof if you are interested in high-grade services in the context of roofing of any type!
Additionally, each responsible homeowner can handle a scope of work to maintain the rooftop in the best condition. Here is a list of the most common hacks to serve the rubber membrane roof in great shape for years.
3 Hacks for EPDM Roof Maintenance
Clean your roof. It is easy to prevent debris blockages and water leaks yourself if you undertake cleaning of the housetop at least twice a year – in spring and in autumn.
Pay attention to the coating of EPDM. Use corrosive pretreatment for this purpose. Your roofing membrane installation contractor should use primers before applying the base coat.
Inspect the housetop on your own. Do not hesitate to check your roof visually in order to notice the first signs of deformations or component failure.
Remember that your residence requires expert assistance to serve you for a long time. Entrust EPDM roofing system installation, repair, and maintenance to the ID Flat Roof company!
---
Please call +1 (617) 299-0291 for a FREE phone consultation or Request an Estimate Today
---
What People Say about ID Flat Roof
ID Flat Roof replaced two flat old leaky tar roofs with PVC membrane roofs 10+ years ago, and the roofs still seem brand-new, despite sun beating down on them in the summer and heavy snow loads in the winter. The hot welding technique they use for seams is awesome – never any problem with leaks or anything else. Plus, they added a slight slope to the roofs so that they now drain properly, and they also did railing posts and flashing so that the railings could be installed properly. They are very professional and skilled, and they stand behind their work with an excellent guarantee.
Susan V and Dan Sheehy
ID Flat Roof - The Company You Can Trust
Fill out the form and start your project today