Main Features of Industrial Roofing Projects
The category of industrial buildings includes light and heavy industry facilities, warehouses and refrigeration buildings, data and telecom centers, buildings that mine resources and produce energy and so on. There are a lot of such buildings in Boston and Massachusetts, especially in industrial and port areas. Industrial roofing solutions are essential for these buildings to ensure their safety and longevity.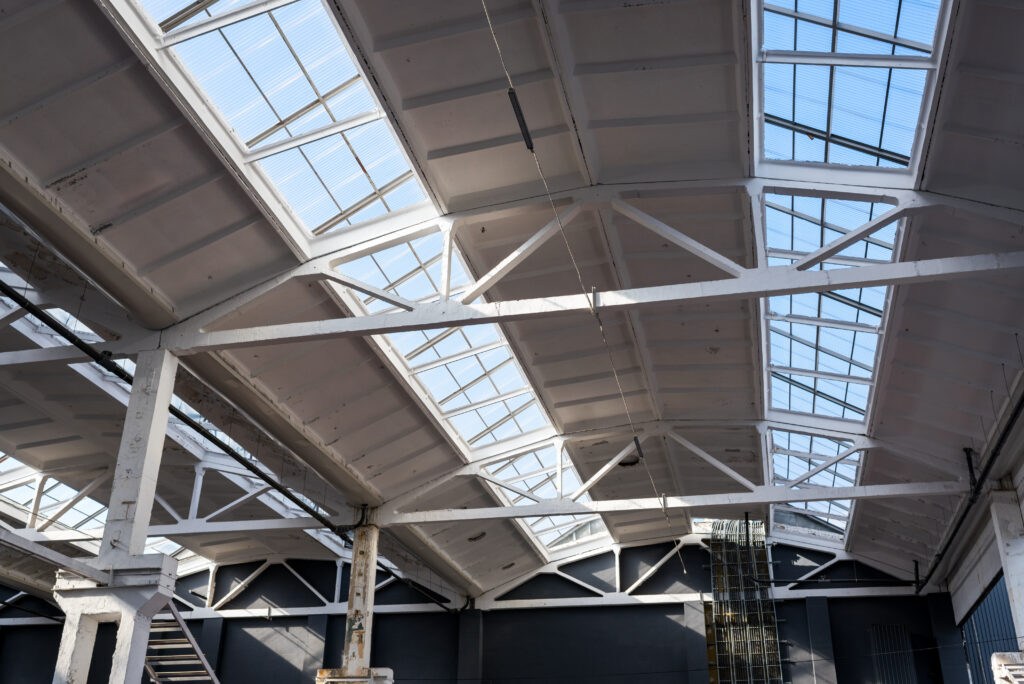 Expert Industrial Roofing Services for Commercial Buildings
Thanks to 20+ years of experience and high qualification, our industrial roofing company knows all the features of the installation and repair of any industrial roof.
Roofs of industrial buildings and commercial roofs, as a rule, have a large (up to 1 million square feet) area.
There are usually a large number of engineering communications, ventilation and climate equipment on the surface of industrial roofs.
Industrial roofs are flat roofs or low-slope in most cases.
Any commercial and industrial roof must be installed taking into account the specialization of the building and local building codes.
Industrial roofs must meet fire and environmental safety standards.
The roof covering of industrial roofs must be as durable and reliable as possible, since any leaks can stop production processes and even put under threat the safety of personnel and property inside.
ID Flat Roof: Entrust the Task to Professionals
The ID Flat Roof team carries out the following types of industrial and commercial roofing work:
Design of industrial roofs, taking into account the specialization of the facility
Installation of new industrial roofs using different insulation and covering materials
Partial and complex replacement of roofing material at industrial facilities
Urgent and planned industrial roof repairs
Our specialists have all the necessary permits and licenses for the installation and repair of industrial roofs in Boston and other cities in Massachusetts.

Our company has a full range of tools and equipment for the installation of industrial roofs of various types, any area and using any roofing materials available on the US market.
We are suppliers of tested roofing materials that are used for the installation of industrial roofs. For example, single-layer and multi-layer membranes (PVC, TPO), synthetic rubber membranes of different thickness, modified bitumen, BUR and so on.
We offer energy-efficient solutions and innovative industrial roof systems including 'green' or solar PV roofs. Our engineers and designers will design an industrial roof that will save on building heating in the winter and air conditioning in the summer months.
ID Flat Roof industrial roofing contractor provides a multi-year warranty (and a lifetime warranty for some types of coatings) for materials and services.
Our company works with roofing projects of increased complexity. All work is carried out by professionals and completed on time.
What industrial roofing materials do we work with?
PVC and TPO membranes (single-ply or with multiple layers of materials) – we recommend choosing this material as it is lightweight, waterproof, durable and requires minimal maintenance.
Corrugated or sheet metal is the most durable roofing material. Our roofers use fasteners and technologies that prevent corrosion.
BUR systems that are supposed to be one of the most affordable commercial roofing solutions.
Synthetic rubber is a time-tested technology which has modern alternatives as PVC.
Modified bitumen that is not the most environmentally friendly but inexpensive roofing technology that still can be found on some industrial buildings in Boston.
ID Flat Roof: We Are Ready to Install, Replace and Repair Industrial Roofs
ID Flat Roof is one of the most experienced industrial roofing contractors with dozens of completed projects in Boston and throughout MA.
We are in touch and ready to answer your questions around the clock. If you are going to install a new roof on an industrial building, if you want to replace the roofing material with a modern PVC membrane, or if you need an urgent repair of a leaking industrial roof 24/7, just give us a call.
Our roofers will inspect the roof and provide a free estimate ASAP.