Rooftop Decking: Elevating Your Outdoor Living Space in Massachusetts
Are you looking for a way to enhance your outdoor living space and make the most of your square footage? Building a rooftop deck is an excellent solution that increases your property value and offers a unique and comfortable space to entertain guests, relax, and enjoy the view. In this article, we'll explore rooftop deck ideas and designs, roof decking materials, and everything you need to know about building a rooftop deck in Massachusetts.
Why Choose Rooftop Decking?
Rooftop decking is becoming increasingly popular among homeowners as it offers a variety of benefits. Building a rooftop deck can add usable space to your home without expanding the footprint if you have a flat roof. Rooftop decks also offer stunning views and stay more relaxed than traditional decks due to the open-air design.
Moreover, a rooftop deck provides a perfect spot to entertain guests or relax outdoors without leaving your home. You can create an outdoor oasis on your rooftop, complete with an outdoor kitchen, built-in seating, and water features.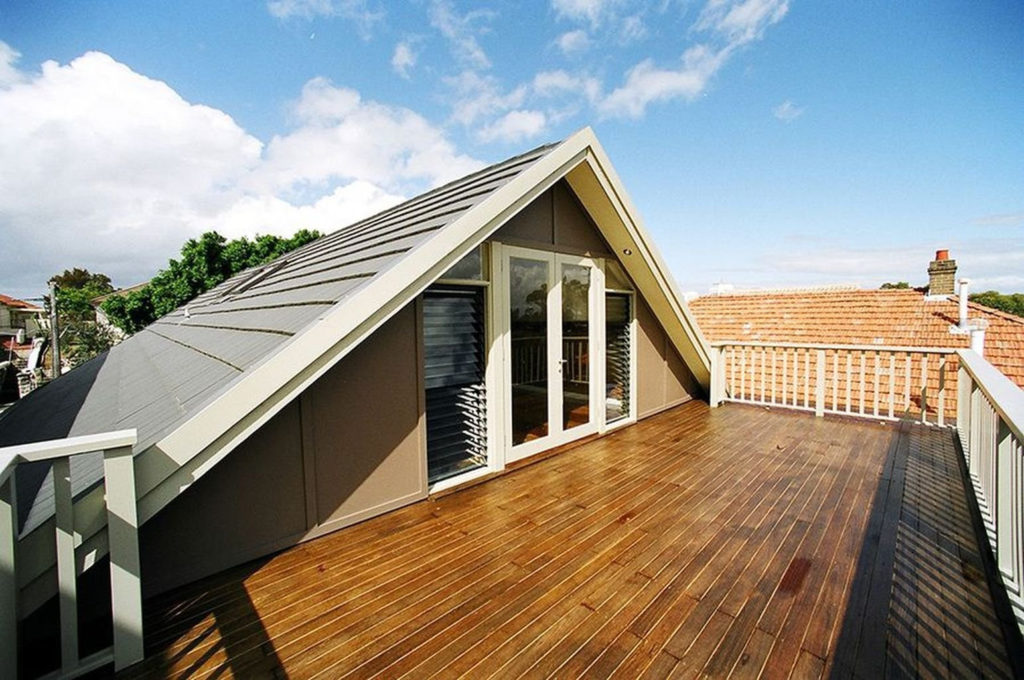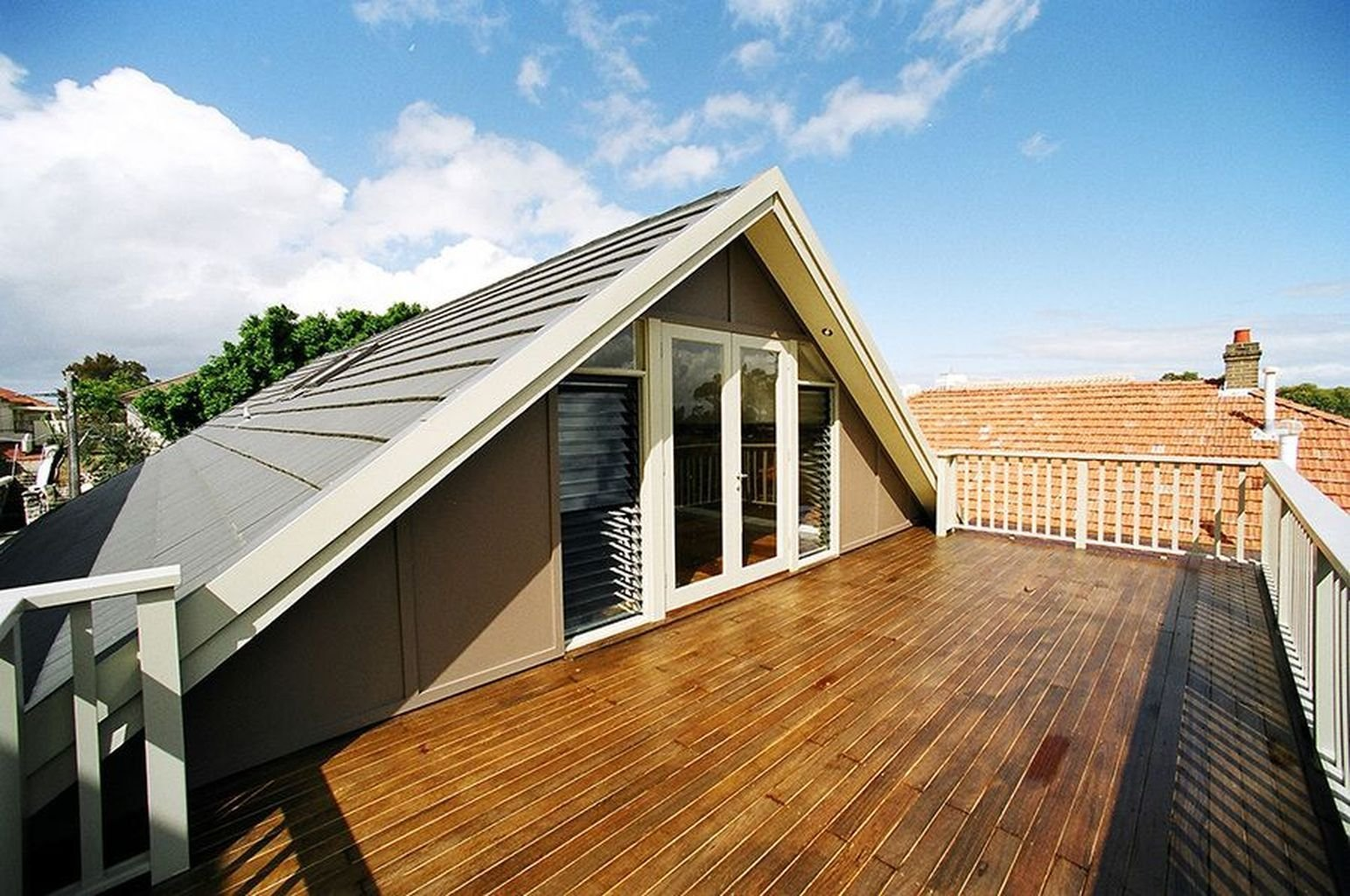 Building a Rooftop Deck
Before building a rooftop deck, it is essential to ensure that your roof is structurally sound and can support the added weight of a deck. You should also check with your local building department to obtain necessary permits and follow local building codes. Here are some critical considerations for building a rooftop deck.
Local Building Codes and Permits
Before starting your deck project, check with your local building department to obtain the necessary permits and follow local building codes. Some cities may have specific regulations regarding roof decks, such as setback requirements or maximum square footage.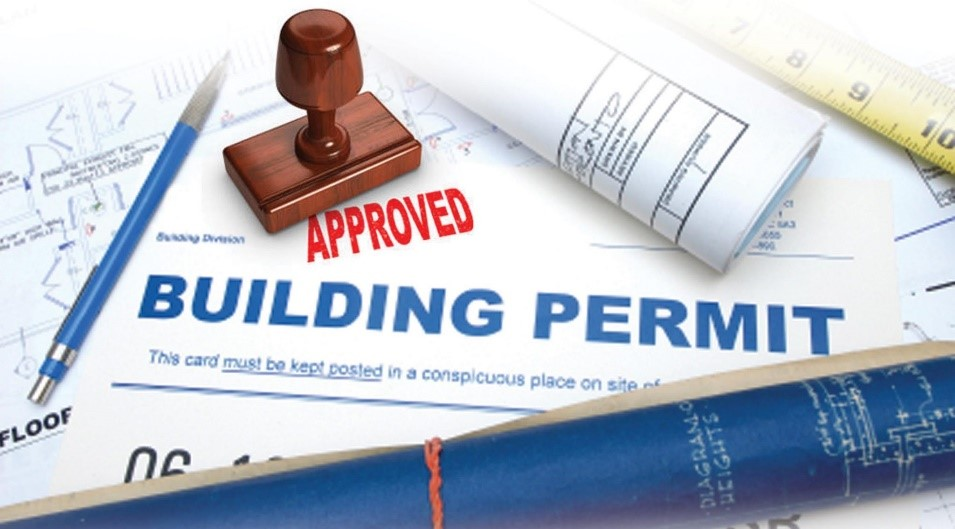 Roof Deck Construction
A rooftop deck can be constructed in several ways, including with built-up roofs or floating decks. Built-up roofs are typical in urban areas and consist of a waterproof membrane covered with insulation and a protective layer of gravel or pavers. On the other hand, floating decks are not attached to the roof and are supported by adjustable pedestals.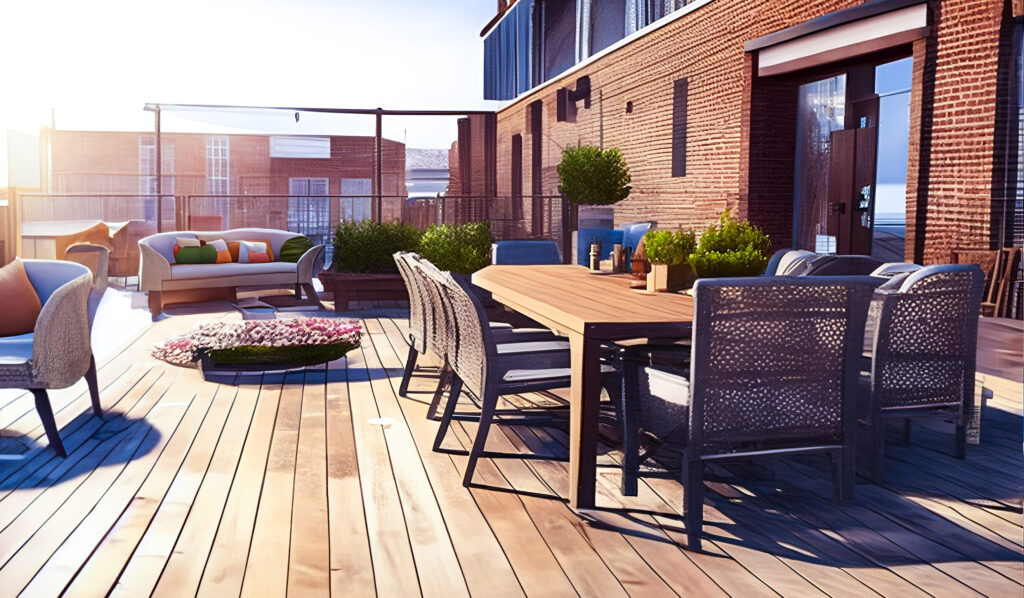 Roof Decking Materials
When it comes to selecting a roofing material for your rooftop deck, you have several options to choose from. The most common roofing materials used for rooftop decks include:
Built-Up Roofs (BUR)
Built-up roofs are the most traditional type of roof used for decks. They consist of several layers of roofing felt and hot-mopped asphalt or coal tar. BUR is an affordable option but has a shorter lifespan than other materials.
Pressure-Treated Wood
Pressure-treated wood is an excellent choice for homeowners looking for cost-effective and natural-looking decking material. However, pressure-treated wood requires regular maintenance and is susceptible to water damage, making it a less durable option.
Composite Decking
Composite decking is popular due to its durability and low maintenance requirements. It's made of a blend of plastic and wood fibers and is resistant to fading, staining, and mold. However, composite decking is pricier than other materials, making it a more significant investment.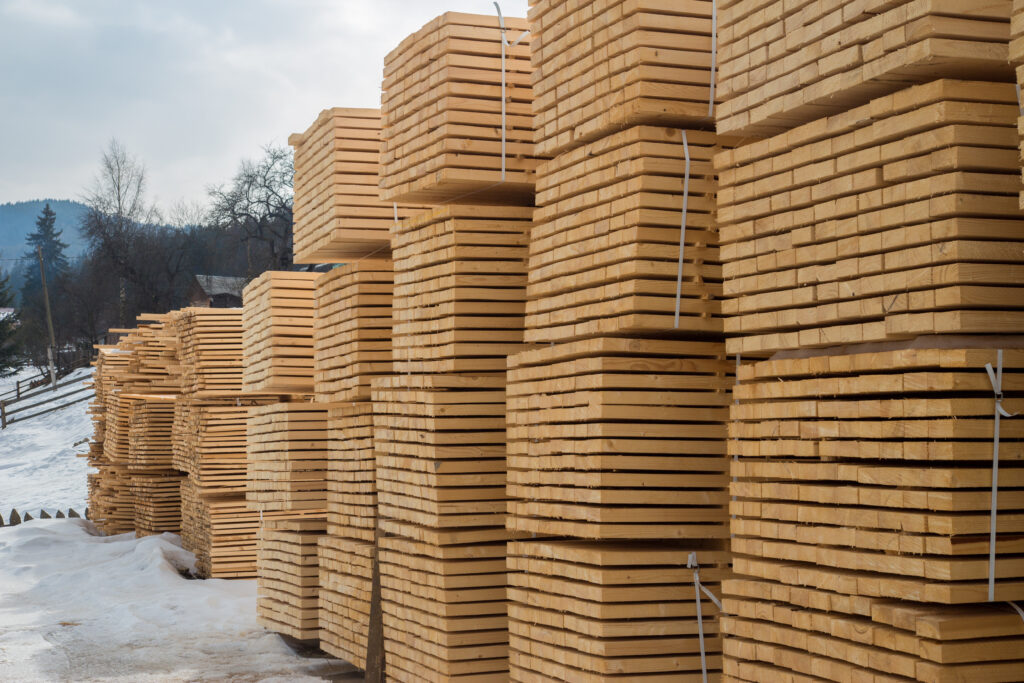 Rooftop Deck Ideas and Designs
A rooftop deck can be customized to your needs and preferences. Here are some rooftop deck ideas and designs to inspire you:
Outdoor Living Space
A rooftop deck can be transformed into an outdoor living space by adding comfortable outdoor furniture, potted plants, and lighting. You can also incorporate a fire pit or fireplace for a cozy ambiance.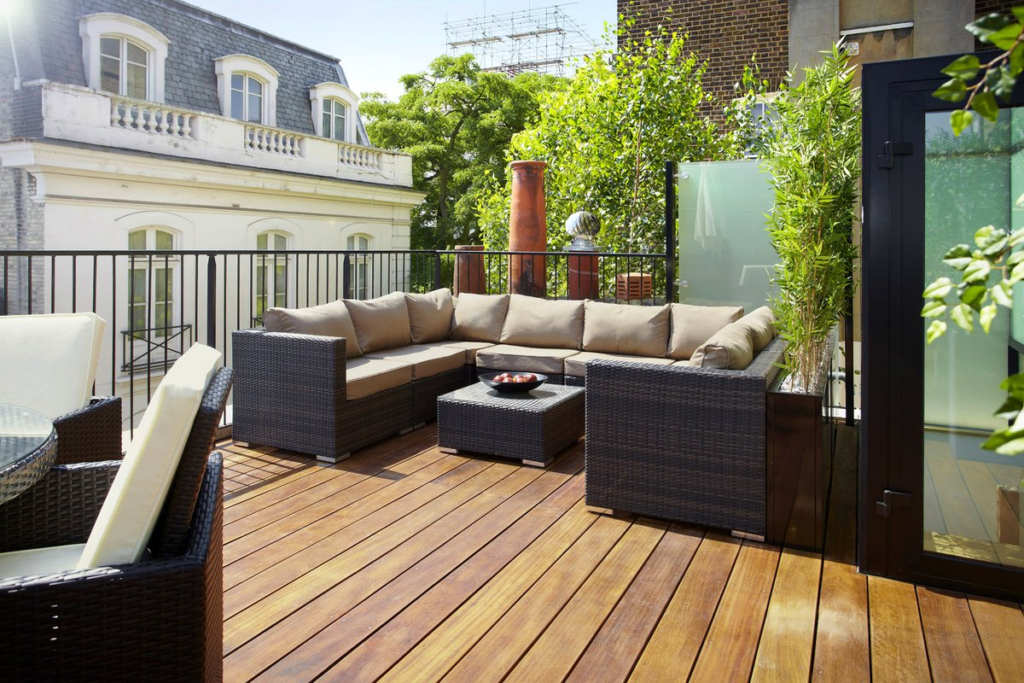 Built-in Seating
Built-in seating can be a great addition to your rooftop deck, as it maximizes the use of space while providing comfortable seating for guests.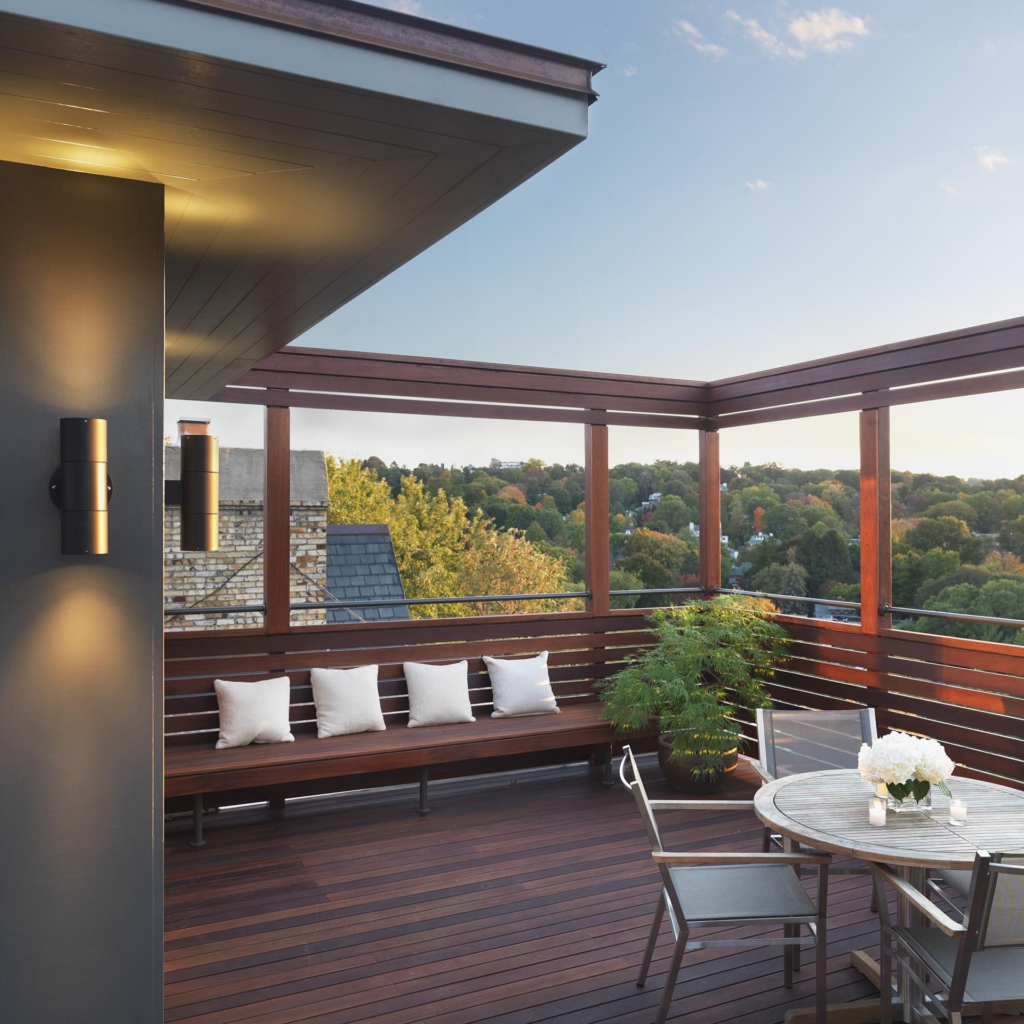 Building a Rooftop Deck in Massachusetts
Building a rooftop deck in Massachusetts can be a great way to add more outdoor living space to your home. Not only does it provide a place to relax and entertain guests, but it also adds value to your property. However, before embarking on a deck project, there are several things you should consider.
Choosing the Right Decking Material
Choosing a suitable decking material is one of the most important decisions when building a rooftop deck. Many decking material options are available, each with pros and cons.
Some popular roof decking materials include pressure-treated wood, composite decking, and PVC decking. Pressure-treated wood is a budget-friendly, durable option that requires less maintenance than other materials. Composite decking, on the other hand, is made from wood fibers and recycled plastic, making it resistant to water damage and insect infestations. PVC decking is also a good option for rooftop decks as it is lightweight and can stay more relaxed than other decking materials in the hot summer sun.
Designing Your Rooftop Deck
Once you have chosen your decking material, the next step is to design your rooftop deck. Consider the square footage of your roof and how you want to use the space. Do you want to include a seating area? How about a pergola? These are all things to consider when designing your rooftop deck.
You should also consider the style of your home and neighborhood when designing your deck. A deck that blends with the surrounding architecture will look more natural and aesthetically pleasing.
Choosing Lighter Colors
Regarding rooftop deck ideas, choosing lighter colors for your decking boards can be a great way to stay cooler in the summer sun. Darker colors absorb more heat, making them less comfortable to walk on barefoot. On the other hand, lighter colors reflect more heat, making them more comfortable to walk on and less likely to retain heat.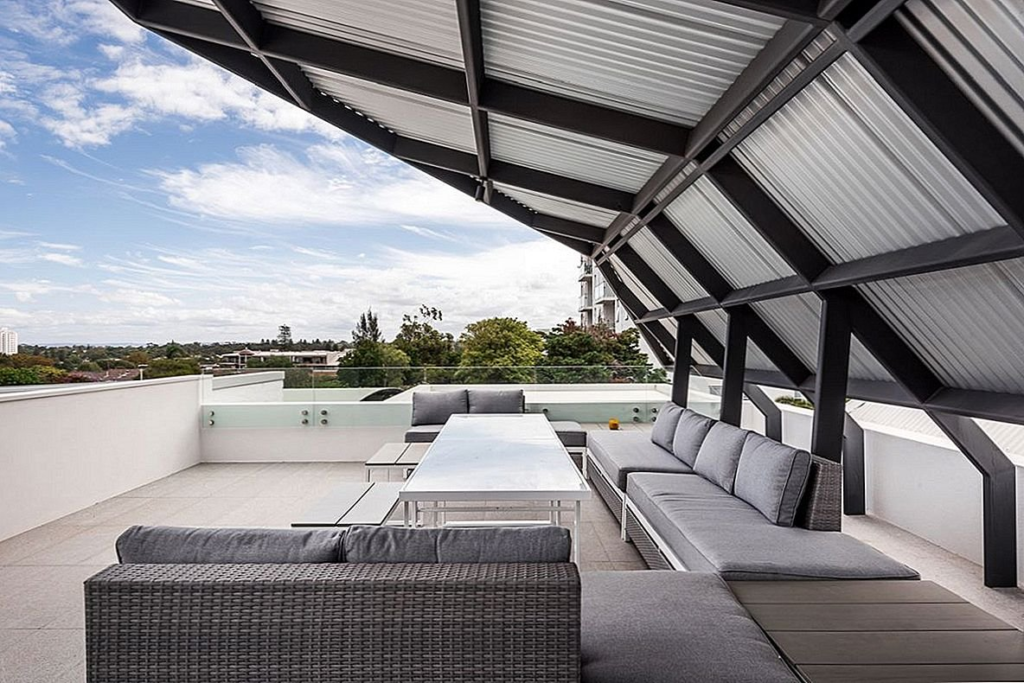 Protecting Your Roof
Another important consideration when building a rooftop deck is protecting your roof. Flat and built-up roofs are the most common roofs used for rooftop decks, but they require special care to avoid water damage.
To protect your roof, ensure your deck is installed correctly and that water can drain off the deck quickly. Additionally, you may want to consider installing a rubber membrane or a protective layer underneath your deck to prevent water from seeping into the roof.
Local Building Codes
Finally, check your local building codes before starting your rooftop deck project. Building codes vary from city to city and state to state, so ensuring your deck meets all local safety requirements is essential.
Maintenance Tips for Your Rooftop Deck
Regular maintenance is essential to keep your rooftop deck in good condition. Here are some tips:
Sweep the deck regularly to remove debris and leaves.
Check for water damage and make any necessary repairs.
Pressure wash the deck to remove dirt and grime.
Apply a sealer every few years to protect the deck from the elements.
Conclusion
Building a rooftop deck in Massachusetts can be a great way to add more outdoor living space to your home. By choosing the suitable decking material, designing your deck with your needs and style in mind, and taking the necessary steps to protect your roof, you can create a beautiful and functional outdoor space to enhance your home's value and quality of life.