Flat Roof Repair: Some Tips & DIY Ideas for Flat Roof Owners
Lots of people live in houses with flat roofs. Every commercial building has a flat roof. At first glance having a flat roof is an excellent idea as it can expand the area of your house and provide you with extra space for a lounge zone, terrace, or something like that. Yet experienced homeowners can tell you the truth: a flat roof is a double trouble.
Let's discuss the peculiarities of flat roof repair and give you some tips.
Why Can a Flat Roof Leak?
Every roof tends to leak sometimes. Flat roof leaks are worse as there are fewer opportunities to run the water down from the surface than on any sloped roof. The water collects on the roofing, and the results of roof leaks can be more ruining for the whole house. In the worst-case scenario, the amount of water collected on the flat roof can lead to its widespread destruction, roof collapse, and the following flat roof replacement. You can try to guess the costs you'll face in that case.
So it is better to provide regular flat roof inspections to avoid the scenario we've depicted.
There are several reasons why your flat roof may leak and requires repair.
✅ Water damage is the most impactful reason for roof leaks. Heavy rains often ruin even the most reliable roofing.
✅ Winds and hurricanes also increase the chances of leaks. If you live in the Tornado Alley area, be especially careful.
✅ Faulty drainage construction. The main reason for the damage is standing water. If there's no adequate drainage, it will stand after each rainy day, making your roof leak.
✅ Low-quality of materials or flat roofer's work. Cheap materials, low-grade fastenings, and membranes can cause roof damage.
✅ Age. Time ruins everything, and your roof is no exception. So it is better to provide regular inspections to repair your flat roof in time.
Forewarned is forearmed. It is better to know how to repair a flat roof in advance to use this knowledge when needed.
The Type of Material of Your Flat Roof: How Does It Impact Leakages?
The second crucial thing to consider when planning flat roof repair is your roofing material. The most common options are as follows:
✅ PVC.
✅ Rubber covering, aka EPDM.
✅ Modified bitumen, aka asphalt.
✅ Built-up roofing (tar and gravel covering).
✅ TPO.
You are lucky if your flat roof is made of EPDM, as you need less effort to mend it. Besides, it is one of the most durable roofing types for flat roofs. You need more skills and tools for TPO and BUR roofing as these roofing types contain several layers and need special repair fastenings. The same is true for PVC roofing. Modified bitumen roofing consists of asphalt and special solvents combined and laid with the help of tar and open flame. So if you have no skills in mending that type of roofing, it is better to call a professional to repair it. It is also a good idea to get more information about your flat roof material in advance using Wiki sources.
You can also use our flat roof calculator.
If you live in the USA, then with a probability of 99%, one of these materials is installed on your roof:
• Rubber (EPDM or ethylene-propylene). This material resembles a car tire in composition and characteristics. It is made from the same raw materials, so repairing a rubber roof is as easy as fixing a car tire. All you need is equipment and a bit of experience. The average rubber roof cost is low, but this material damages ecology.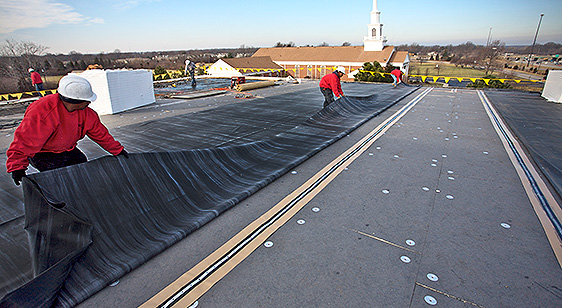 • Tar and gravel or so-called BUR roof. Built-up roofing (BUR) is the oldest technology on this list. The base of BUR roofing is a durable fabric with bitumen and various mineral additives. Some still use this roofing material today, although it can be seen mostly on old houses from the 70-80th.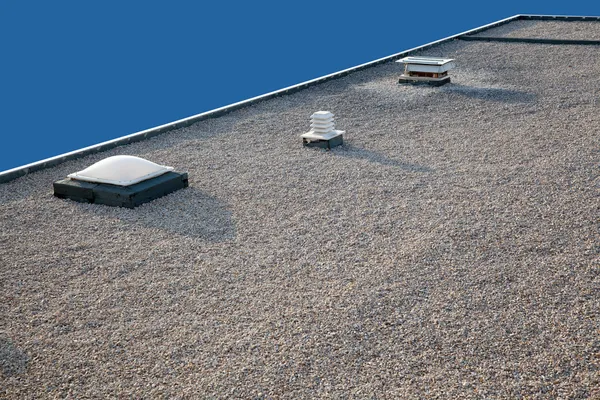 • Modified Bitumen. One of the most common types of roofing in commercial real estate. A modified Bitumen Roof consists of asphalt mixed with rubber and synthetic additives. This material usually is installed using the torch-down method.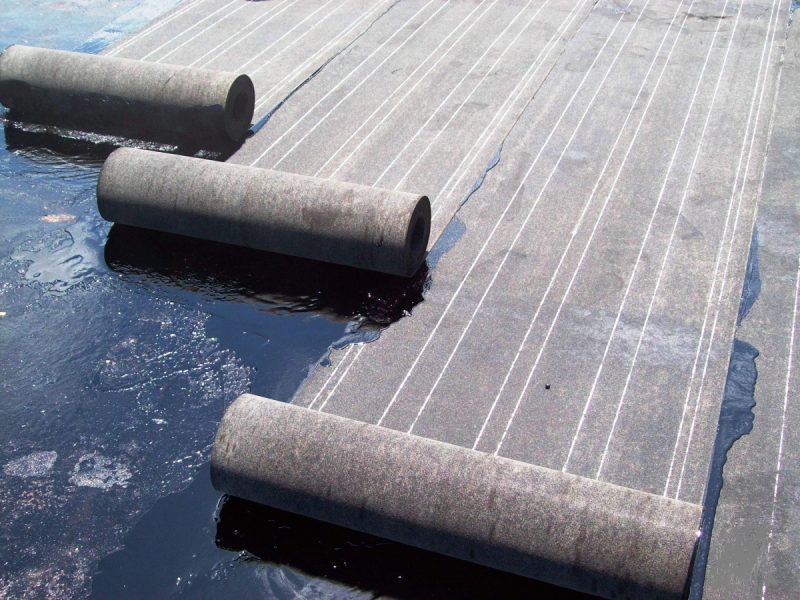 • Thermoplastic Polyolefin Roof or so-called TPO. This modern single-ply material is based on durable and flexible synthetic polymers. TPO is perfect for flat roofs due to its strength, tightness, and durability. Unlike many other roofing materials, energy-efficient TPO membranes can be white – they reflect sunlight and do not heat the building in summer.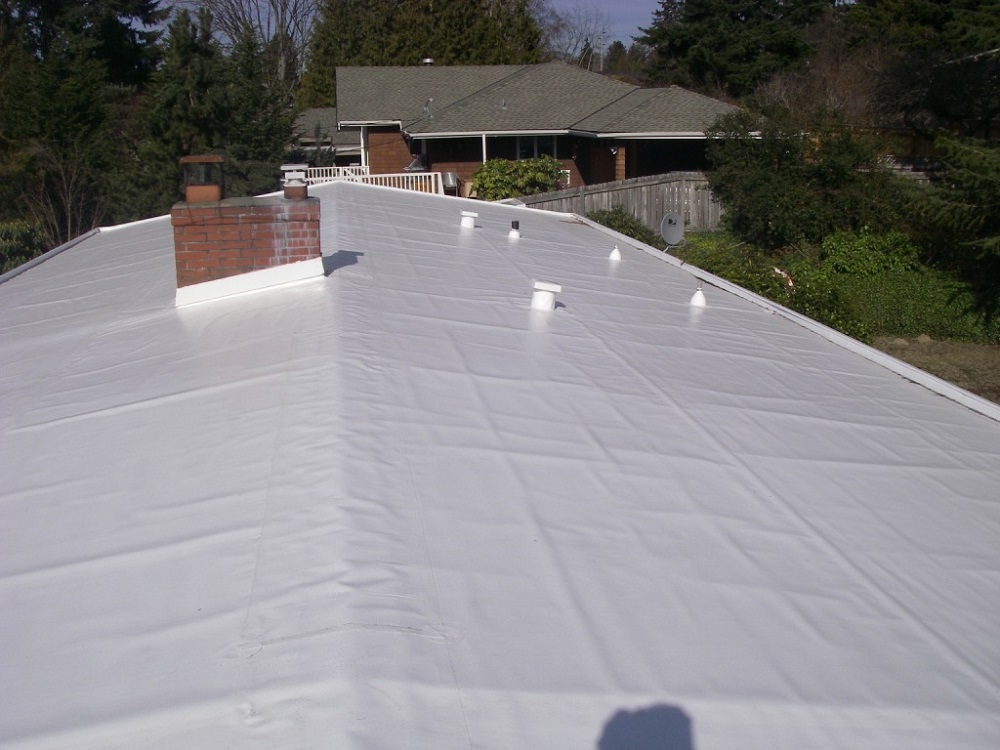 • Polyvinyl Chloride, or PVC, is another material excellent for flat roofs. As a rule, a PVC membrane contains several layers (usually two) reinforced with polyester. The basis of the material is solid and durable polyvinyl chloride with various additives, which give the roofing material additional elasticity and UV protection.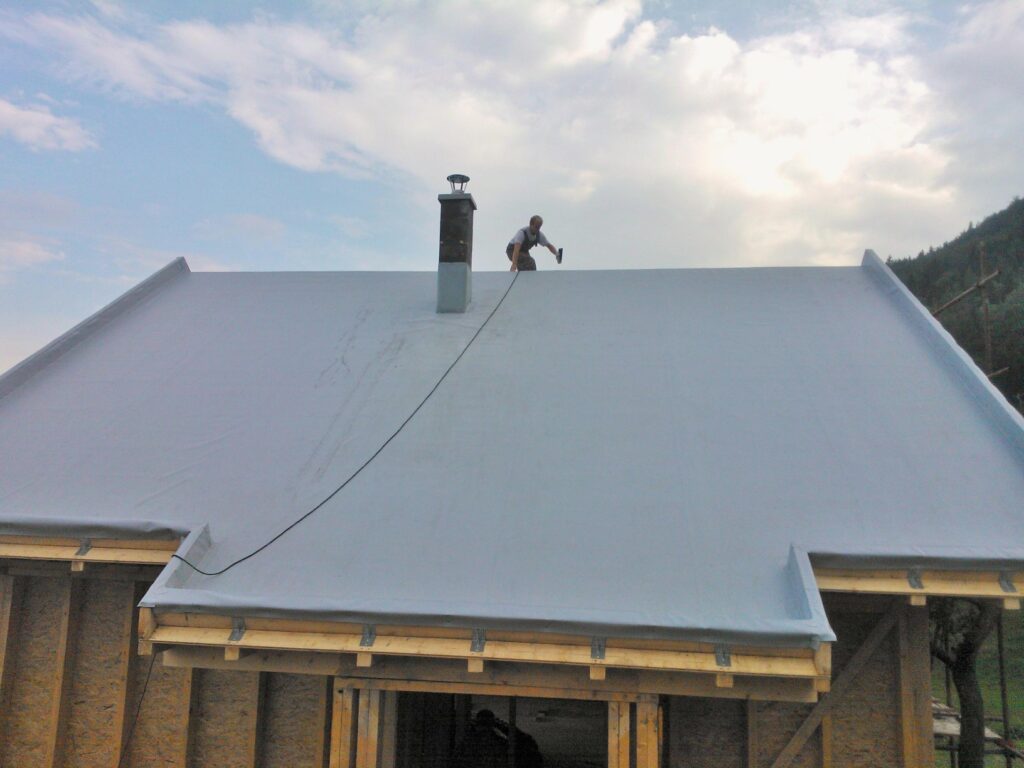 If you have construction or DIY repair experience, you can fix minor damage and leaks in these roofing materials.
But it's better to call roof contractors for more severe repair tasks or complete replacement of the roofing material.
Providing Roof Inspection: A Small To-Do List for Flat Roof Repair
What should you start with when your flat roof leaks? A roof inspection, no need to say! How to do it? Let's go over it step by step.
Consider the age of your roof. If it is old enough, it may be hazardous to inspect it yourself.
Examine inner premises for leaks on ceilings. Create a plan to mark leaking areas on it and match it with the outer roof plan.
Get on your roof and examine its surface, paying exceptionally high attention to marked places. It's essential to inspect every crack thoroughly.
Remember to check your homeowner's insurance policy to claim compensation if its terms include roof leaking.
DIY Tips
Think about skills and experience. Calling the professionals is the right decision, even if a minor repair is required, so you save time and effort. If you have any doubts that you can do the job in the best possible way – do not hesitate to contact the experts.
Flat roof repairs always involve work at heights: exercise safety precautions and extreme caution. Do not attempt to repair an icy or slippery roof – it's hazardous. In this case, call professionals who have safety and other specialized equipment.
Moreover, you will need inventory and tools to repair a flat roof. Get a solid and reliable ladder and the help of another adult who will insure you.
TPO and PVC materials can only be repaired with specialized equipment (like heat air-gun) and professional skills. Technical services can only repair leaks, holes, rips, and other damage to TPO and PVC roofs.
Determining Roof Leaks and Ways How to Fix Them
For various roofing systems, damages can look different. In any case, it is worth starting a repair of your flat roof if one of the following features is noticeable.
✅ Standing water on the roofing.
✅ Cracks on the roof's surface.
✅ Holes in the covering.
✅ Parts of roofing lose integrity.
✅ Heavy debris on the roof.
After you perform the inspection, it will be easier to take further steps to fix a leaking flat roof. Let's do it!
Clean the area of a possible leak. Remove all the debris, damaged and cracked roofing parts.
Dry it out. You should only repair thoroughly dried roofing. In another case, you may have even more trouble with mold and the rotting of a membrane or insulation layer.
Remove the damaged roofing segment to replace it with a new part of the roofing material.
Cut the segment of new material. Remember to replace the insulation layer if there is one.
Nail or fix the new segment on the roof surface. Use the fastening that suits roof material, i.e., roofing cement, nails, anchors, etc.
In case of minor damages, repairing a flat roof is straightforward. Yet, it is better to call a pro for more extensive damage. Some may say it is expensive, but you may spend more time and money on DIY tasks. Wrong decisions and lousy repairs will require more effort from a specialist to fix all the mistakes.
How Much Does a Flat Foof Repair Cost?
We recommend determining the project's cost and materials before starting construction or flat roof repair.
Modern materials like PVC, TPO membranes, and EPDM can be expensive. In addition, the total estimate includes the cost of roofing work. Always compare the roof repair cost with how much it's to replace a roofing material with a modern equivalent.
Repairs require more time and effort and may be more expensive than replacing old material. The new energy-efficient roofing material may require more investment, but it will save you money on bills or even increase the property's market value. Finally, not every roof is cost-effective and possible to repair. Sometimes installing a new roof is the only way.
Although DIY flat roof repair may seem like a good option, calling professionals is the best choice in most cases. Professionals give guarantees for their work, which means that you will not worry about the appearance of new leaks after the first heavy rain.
5 Tips on How to Fix Flat Roof Leakages
Here are also some valuable tips for your cheap flat roof repair. Enjoy them and get more results from your DIY practices.
If the damage is complex and requires full-fledged roof replacement, it is a good idea to reconstruct your roof to create a slight slope. Even a small angle will help remove still water on the roof surface.
Remember the drainage system. If there is one on your flat roof, clean it regularly.
Accurately mount the flashing around all chimneys, ventilation holes, and other protrusions constructed on the roof's surface. It will save you money in the end.
Do not act without a plan. Make it logical and consistent at each step, from inspecting the roof and calculating an average repair cost to removing old roofing and laying patches of a new one.
If things are going badly, apply for a professional roof repair service.
Repair or Replacement?
Experience has shown that most roofing companies will convince you that patching or repairing your roof is not an option. It's true that, in some cases, fixing an old and leaking roof makes no sense. But before planning a complete replacement, answer the following questions:
In what condition is the roofing material? How worn is it over the entire area? If your roof is over 15-20 years old, it may be worth changing the material thoroughly. The first leaks usually occur after 10 years of operation.
What caused the damage or leakage? If a strong wind damaged only a small section of the roof, there is no point in changing every square foot of material. But if it was hail that damaged the roof over the entire area, that's another matter.
Can you patch the damaged area, or is it too big to repair? If you can use patches, it will save you a lot of money.
Conclusion
Fixing a flat roof is a mandatory routine for any owner as this type of roofing is especially vulnerable and susceptible to leaking issues. Take your toolset and define your roof covering material. Make a plan and act consciously to provide repair measures. If the damaged area is large, think twice about repairing it yourself. Hiring a roofing contractor and delegating the task to a professional may be easier and more cost-effective. Having a flat roof is not a tragedy, but keeping such a roof's integrity requires more attention and effort.
FAQ