Reach New Heights with a Career in Roofing
Roofing can be a fun and rewarding job. ID Flat Roof Academy teaches you how to do it right. We show you how to do different kinds of roofing and how to stay safe while doing it. The teachers will help you learn everything you need to know so that you can have a successful career in roofing!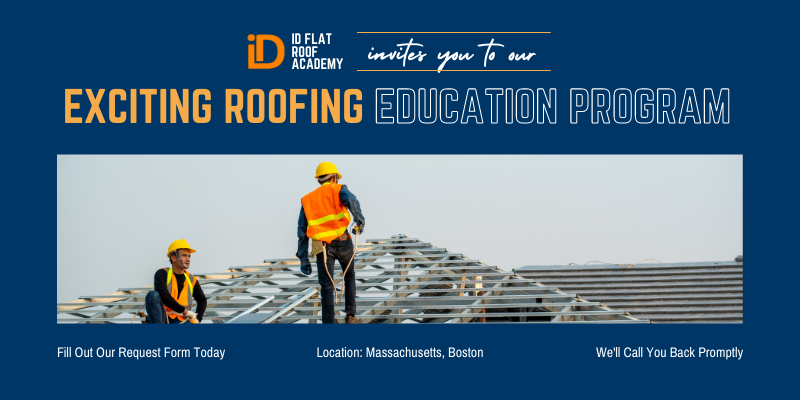 ID Flat Roof Academy
Welcome to the ID Flat Roof Academy!
We want to help people who want to start or get better at roofing by giving them lots of lessons and practice.
Our instructors are knowledgeable professionals who will provide students with everything from fundamental installation skills to advanced repair practices.
Our detailed program encompasses many roofing materials, such as asphalt shingles, metal roofing and flat roof systems. Additionally, students will discover the value of appropriate ventilation and insulation, as well as how to perform routine maintenance and examinations.
Apart from standard classroom lessons, our students will also be able to hone their abilities by taking part in real-life projects. This practical experience is necessary to prepare them for the rigors of the roofing industry.
The ID Flat Roof Academy is the ideal place to begin or expand your roofing knowledge and skills. We provide flexible timetables and financing options that can assist you in achieving your objectives.
Be a part of the roofing industry's future today! Join us and begin your journey towards a successful career in roofing. Enroll now!
The roofing industry is a well-hidden gem in the construction industry
The roofing trade is a secret standout in the engineering sector. It supplies a broad array of possibilities for those hoping to make a profession out of it. Roofers are responsible for applying and sustaining rooftops on private and official properties, as well as executing renovations when necessary. This kind of labor requires mastery of various roofing materials, equipment, and strategies.
At ID Flat Roof Academy, we offer comprehensive education and training to equip you for a rewarding career in roofing. Our courses encompass all facets of the industry, from installation and repair to maintenance and inspections. We also have hands-on sessions with actual projects so you can hone your skills for success in this profession.
Average Roofer Salary in Massachusetts by Education Level
The average salary for a roofer in Massachusetts varies depending on the level of education and experience. According to the Bureau of Labor Statistics, roofers with a high school diploma or equivalent earn an average annual salary of $39,000. Those with some college or an associate's degree can expect to make around $45,000 per year. Roofers who have completed a bachelor' s degree can expect to make an average of $53,000 annually.
The roofing industry is a great career choice for those looking to make a living while doing something they love. With the right training and education, you can become a successful roofer in Massachusetts and enjoy a rewarding career. Enroll in our ID Flat Roof Academy today and start building your future!
Is this the right fit for me?
The ID Flat Roof Academy offers an in-depth curriculum that covers all aspects of roofing materials.
Training includes hands-on experience with real projects.
Flexible schedules and financing options make enrollment convenient.
So, if you're ready to take the next step in your career, join us today and become a part of the next generation of roofing professionals!
Join the Roofing School Community
Social Pages