Metal Shingles is a roofing material that is rapidly gaining popularity among owners of residential property, townhouses and country houses in MA.
According to statistics, the demand for metal shingles roofing has been growing every year for the past 20 years and today 7 out of 10 owners of residential houses with sloping roofs choose this material as an alternative to asphalt shingles, concrete clay or wooden shakes. What is the reason?
Shingles for roofs have a ton of practical benefits. What is more, a range of steel roofing options lets you choose the right collection for any house, including shingles that mimic copper, slate, cedar and other premium materials. There are hundreds of color schemes, shades and textures, from classic to trending.
We at ID Flat Roof recommend paying special attention to shingles if your home's exterior as well as durable and reliable roofing are important to you.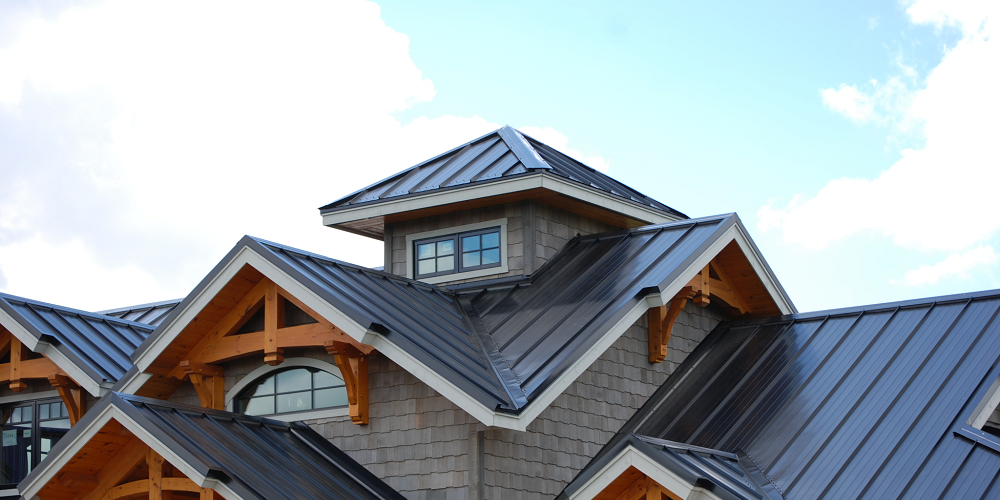 Benefits of Metal Shingles Roofing
The service life of shingles is decades without exaggeration. Modern shingles are coated with a special polymer that protects the metal from corrosion and other negative impacts.
If the roofing shingles are installed correctly on a reliable roof frame and underlayment, in accordance with building standards, then they are more likely to serve several generations of your family.
With metal shingles you'll get complete protection against rain, snow and wind. Modern shingles are set up to withstand any type of weather. Professional roofers will install the roof so that it is 100% protected from leaks and wind uplifts.
The catalog of shingles includes dozens of collections – from plain shingles that suit modern buildings in hi-tech design to collections that imitate traditional roofing materials – copper and clay tiles, slate, wood, asphalt shingles and so on.
Shingles are a practical alternative to other well-known roofing solutions. If you are planning to renovate or replace the roofing material, then you can install the shingles on the existing roof frame. All you need is to remove old material, inspect the roof condition, prepare the base and mount shingles.
Attention! Installation of shingles on the old base requires checking the condition of the roof frame and underlayment by professional roofers. They will make sure that there is no rot and other damage as well as calculate the loads.
Modern metal shingles are installed quickly. A strong and tight structure is created due to the interlocks system and special fasteners.
Standing Seam or Metal Shingles?
There are several types of metal roofing. The most popular in the US are metal panels connected using so-called standing seams, as well as modern roof shingles with interlocking connection.
Both options are reliable, durable and have a very long service life, but each approach has its own pros and cons.
For example, the installation of panels with standing seams requires the use of special equipment. Not every roofing company deals with it. In addition, the appearance of these panels differs from "traditional roofing", which is why some homeowner's associations (HOA) do not allow the installation of such roofing.
Aesthetics of metal shingles is more traditional as this material imitates classic roofing materials. With roofing shingles, you get all the benefits of metal roofing without the hassle of the limitations of most homeowner's associations in MA.
Metal Shingles VS Asphalt Shingles and Ceramic Tile
When comparing metal shingles with old school roofing solutions like asphalt shingles, wood or ceramic tiles, metal materials have undoubted advantages.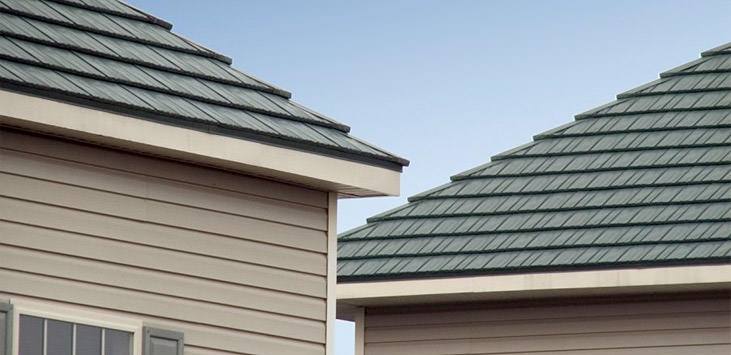 First to mention is increased service life, which is 2.5 times longer than that of asphalt shingles on average.
Secondly, the weight of steel roofing shingles is much less than that of analogues made of asphalt, and even more so of ceramic. The light weight puts less pressure on the roof frame and walls of the building. In addition, the lower the weight of the roofing material, the faster and cheaper its installation.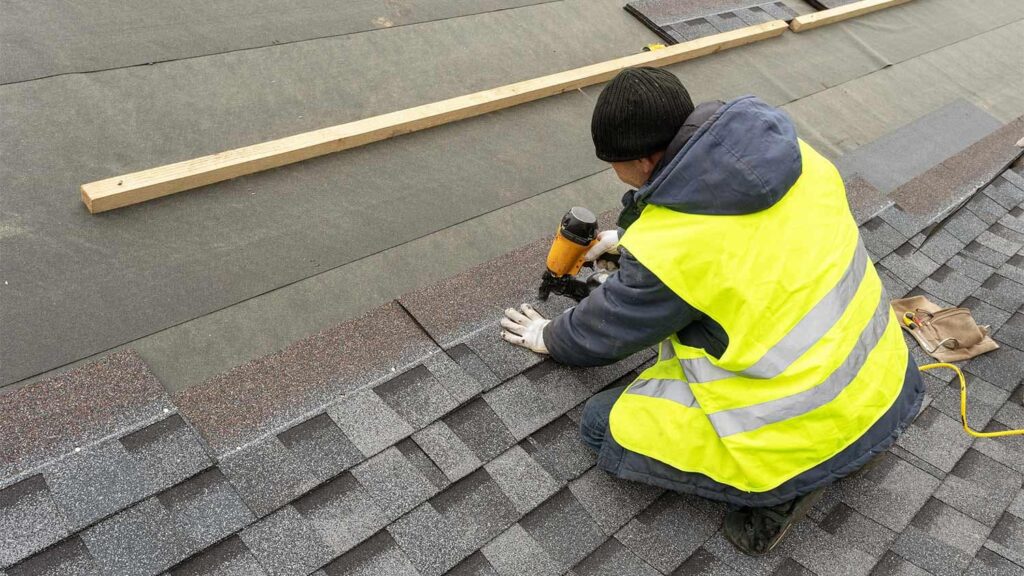 Thirdly, some US manufacturers offer energy-efficient metal shingles solutions (with a special reflective coating) that allow you to save on cooling your house and electricity bills in the summer.
The next advantage of shingles is their resistance to low temperatures and temperature extremes. Ceramic tiles are not recommended for use in regions with severe frosts.

Finally, modern metal shingles are attached not only to each other but to the roof surface with special fasteners that do not leave holes or gaps. Such a roof remains completely protected from leaks and uplifts.
Get all the benefits with ID Flat Roof
ID Flat Roof has been installing shingles roofing in MA for over 15 years. Our roofers know all the advantages and features of this roofing material.
Our company cooperates with trusted US manufacturers of metal shingles. We closely monitor the appearance of new products on the market and offer the best solutions. We offer lifetime or multi-year warranties on most materials available.
Our roofers will help you to select the right roofing material for your project, taking into account architectural features, HOA requirements and your personal wishes.
We offer a wide range of shingles roofing services – from project development and installation of a new metal roof from scratch, to repair, partial renovation and complete replacement of shingles roofs using top-tier materials.
Our roofers work with projects of any complexity – with roofs of any size, with flat and sloping roofs, with skylights, gutters and chimneys.