What Type of Flat Roof Components are Used on Buildings?
5
minutes
Choosing flat roof components for a new or renovated building is one of the most critical stages in construction.
If you choose, the roof will serve you for up to 50 years without leaks, critical damages, deformations, and other unpleasant incidents. Some modern flat roof components will save money on your electricity bills constantly.
If you make the wrong or hasty choice, you most likely will be repairing your roof every season, getting rid of leaks, the building will be too hot in summer, and you will be spending extra dollars on air conditioning.
Are you afraid to make a mistake and choose the wrong material for the roof? Ask the professionals for help – we will answer all your questions, tell you about the options, and help you with the right choice.
Is there an ideal flat roof component?
It's worth starting with the statement that no 'ideal material' exists for any roof and any industrial or private house. You must select the appropriate option in each case, considering the architectural, technical, construction, financial, and other features.
We have been working with roofs for many years, and we know which materials are better to choose in your case and what advantages and disadvantages each flat roof component has. Feel free to ask for advice.
What flat roof components cover roofs?
Several standard options are actively used in Massachusetts and throughout the United States.
Note. We will not consider innovative options that are not too much in demand – such as green roofs or roofs with solar panels, focusing on more popular options.
These are modern PVC or TPO membranes with a wide range of benefits, a time-tested rubber roof, or metal sheets. Let's take a closer look at the pros and cons of each flat roof component by comparing the basic parameters.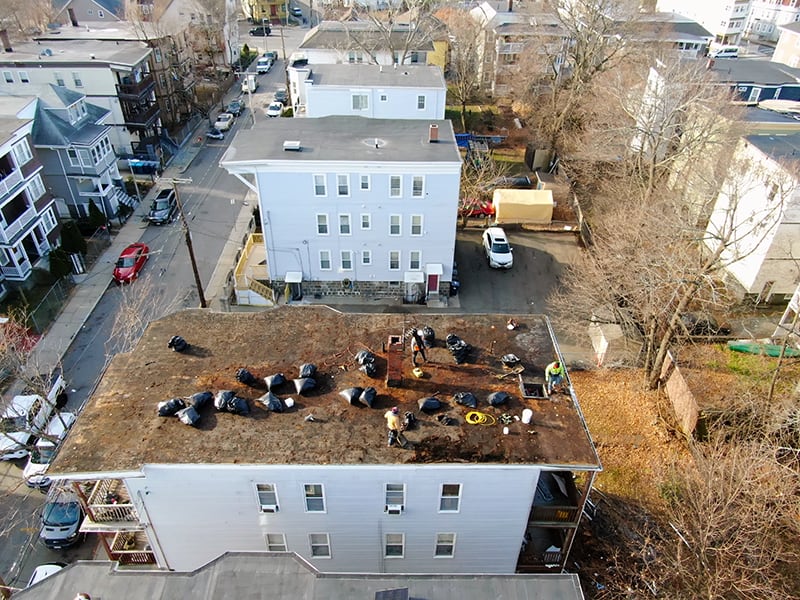 Briefly about the primary materials
Rubber roof (EPDM) is a material that has served people for 40 years. It is the cheapest, easy, and quick to install but also easy to damage. If the rubber roof is black, it will heat up in hot weather – it's not good if you don't want to run your air conditioning 24/7 in summer.
PVC and TPO membranes are made from different chemical raw materials but have similar properties. Both materials are quick and easy to install, even on large roofs. They cope perfectly with any weather and are durable and watertight. Note that PVC has better puncture (depending on thickness) and chemical resistance, and TPO is more environmentally friendly.
PVC is a modern roofing that has taken the best from all materials. They are environmentally friendly, water and weather resistant, and, importantly, due to the unique reflective properties of the material, such a roof reduces the cost of cooling the building.
Metal (steel, aluminum, copper) is the most durable material. If professionals performed the installation, such a roof would be completely sealed and stable. It will ignore mainly all negative influences. However, metal roofs are not the cheapest. In addition, the metal is heavy and often requires building frame reinforcement.
1. Price of flat roof components
The cheapest option is EPDM roofing, and the cost makes this material so familiar. However, it has its drawbacks.
PVC and TPO are only slightly more expensive than rubber roofing, but in many aspects, they are better than their aging rubber counterpart from the 80s. In addition, as mentioned above, energy saving PVC Roof is more expensive but saves your budget on electricity bills. To install such a roof is like investing with dividends.
Metal costs differently. Thin steel sheets are not expensive but weak in physical deformation and corrosion (if they do not have a proper protective coating). Copper is the best metal for roofing, but it is cumbersome and the most expensive.
2. Installation speed
Let's start with rubber roofs. In the past, EPDM roofs were installed with adhesive liquids or mechanically. Today, rubber roofs are installed fully adhered or with specially formulated seam tapes. Installation speed is average.
A more modern solution is a membrane roof. Adhered installation or heat welding technology ensures PVC's geometric stability and tightness. There are alternative methods of building – mechanical fastening. But it has its drawbacks. PVC Roofs are installed faster and easier than anyone in the most reliable way.
Metal roofs require special assembly equipment that seams metal sheets hermetically without leaving holes. The quality and speed of installation depend on the professionalism of roofers, but such an installation cannot be called the fastest.
3. Appearance
All modern roofs are attractive. The exception is the "classic" black rubber roofing installed in industrial facilities.
PVC and TPO are available in several base colors. Such tops look neat if laid on a roof without folds or bubbles.
Metal roofing, especially copper, is a special status. Such a roof looks very beautiful but requires a lot of investment. Moreover, copper is heavy, and only some buildings can hold such a roof.
4. Durability of flat roof components
EPDM roofs can last up to 20 years if used carefully. This material is susceptible to even minor mechanical and chemical influences. In addition, it can crack and bulge over time.
Metal is a solid, durable roofing material that is difficult to damage mechanically. Metal's only enemies are corrosion and chemicals.
PVC, especially modern PVC Systems, is protected from various negative influences. They are also resistant to moderate mechanical damage, but their durability depends on the thickness of the membrane.
5. Fire safety and thermal conductivity
EPDM burns well. Fireproof EPDM materials are usually multi-layer, with a particular fire-resistant layer. But they also lose their fireproof properties after 4-5 years. Additionally, black rubber roofs get very hot in summer, heating the building itself – impractical.
Metal roofs do not burn but heat up even more under sunlight. Even if you don't live in the southern region, metal roofing can dramatically increase your air conditioning costs.
PVC roofs are inherently fire-resistant, but TPO ones are not. One of the advantages of modern PVC Roofs is their ability to cool the roof by reflecting UV rays. You will pay less for electricity every summer in a house with such a roof.
6. Lifetime and Warranty
Rubber roofing usually lasts 20 years, PVC roofing 20-30 years, and metal roofing from 10 to 50 years, depending on the corrosion resistance.
The service life of the material and the warranty period directly depend on the specific manufacturer, the specific model of the material, and the policy of the roofing company.
We recommend contacting those roofing companies that offer a long-term guarantee, both for the work itself and for the selected flat roof components.
Which manufacturer brand should you choose?
It is highly desirable to purchase products from American manufacturers with a reputation in the market and positive reviews, including professional recommendations.
We cooperate with leading manufacturers of roofing materials for flat and low-slope roofs. We have unique partnerships with suppliers of building materials so that we can offer the best roof prices on the market in the region.
Conclusion
As you can see, when choosing the ideal material for the roof, you need to be guided by a set of factors.
In some cases, it is OK to choose a budget, inexpensive materials. Still, in others, it's better to find innovative solutions, like PVC System, which requires more investment in the beginning but will pay off after a few years.
We recommend that you consult with our specialist. Call an expert, tell us about your project, ask your questions, and find out what material and what brand will be the best solution in your case.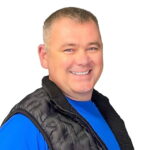 Denis is the driving force behind ID Flat Roof, a leading company in Boston specializing in flat roof repair and installation for over 20 years.
Expertise:
Denis excels in PVC, TPO, EPDM, and rubber roofing. His meticulous approach ensures quality and customer satisfaction.
Innovation:
Denis incorporates cutting-edge solutions like skylights and solar PV roofing.