Metal Roof Installation Attleboro | ID Flat Roof MA
This beautiful two story house an Attleboro, MA featured a lot of custom made brick masonry such as fences, walkways etc. No wonder, when the time came to replace the roof the owner decided to go with red. A Tamco stainless steel stone crest slate texture shingles in gorgeous Sequoya Red color were picked along with matching trim and flashings.
There was also a custom-made perforated drip edge ordered, to ensure the proper roof ventilation. There was also a standalone garage and shed that needed reroofing with the same metal shingles.
First of all we had to strip two layers of existing asphalt shingles and inspect the roof deck for any rot damage.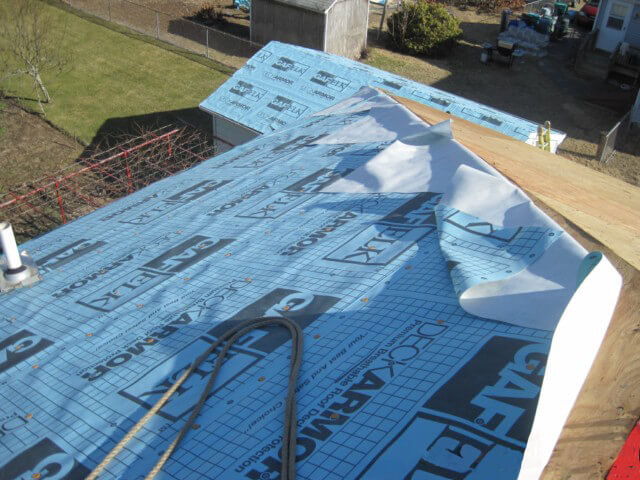 In general, it is a good idea to inspect a roof deck before installing a permanent solution such as metal shingles or IB membrane. After the strip was done we installed GAF Deck Armor breathable underlayment to make sure it was watertight. After putting drip edge and trim in place we started installing shingles themselves.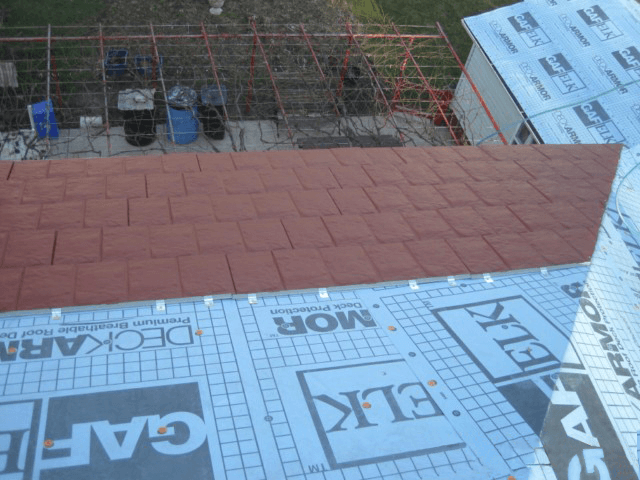 Two chimneys were flashed with custom made flashings from the color matching trim coil.
The shingles are interlocking, which means that they have locks on all four sides and each shingle in this system is held in place with six other shingles. After the shingles where done a metal ridge caps were installed on all ridges.
As the result – beautiful new roof that matched the house and brick fence with a lifetime warranty.