Attleboro, MA Roofing Services by ID Flat Roof
The city of Attleboro in Massachusetts includes lots of private houses that need roofing services as a part of their maintenance. Besides, lots of housing in this area are constructed using a flat roof plan. That makes the choice of roofing contractors in North Attleboro, MA a bit tough as not all roofers know exactly how to install or restore flat roofs.
Fortunately, there is ID Flat Roof, a reliable contractor that offers all kinds of roofing services for flat roofs both for the owners of private houses and commercial buildings in Attleboro.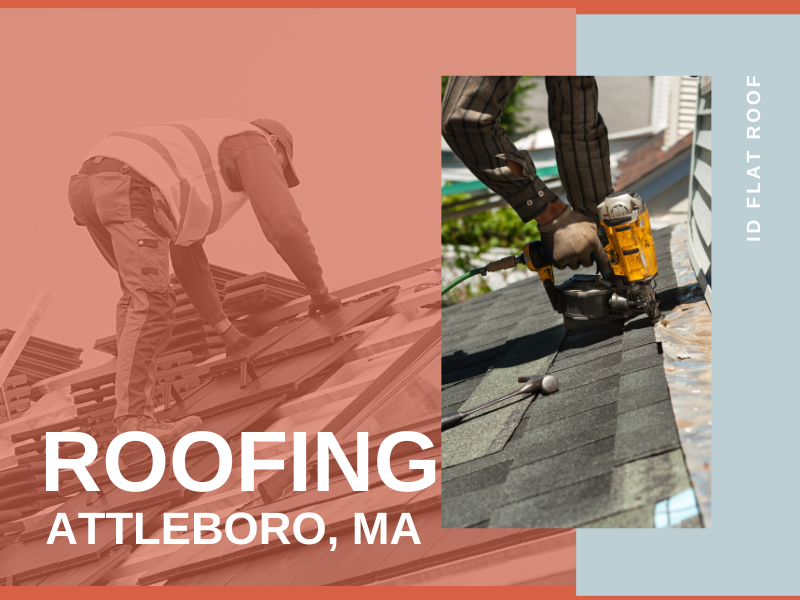 What Types of Flat Roof Do We Work With?
The first question that we should focus on when talking about roofing in Attleboro, MA, is what kind of roofs we deal with. Our company provides services for repair and installation for flat roof owners. That is not eventually as we engaged professionals with a wide experience in flat roofing to make our services tailored for the needs of homeowners who have flat roofing. Besides, we offer services for commercial roofing in Attleboro, MA. As usual, commercial properties also have flat roofs. So, we can say that the main focus of our company is on flat roofs. Yet if you need to repair your roof with a slight slope, our pros can consult you and provide the services you need. To get in touch, just contact us via phone numbers listed on our Contact page.
As for more specific detailing in our work, we offer installation and repair services for flat roofing in Attleboro, MA, including the following types:
Metal roofing for Attleboro residents,
Bitumen roofing,
Besides, we offer custom-tailored solutions for complex roofing constructions. This includes choosing various installation and repair technologies and materials to gain the perfect result.
Specifics of Flat Roofs and What Should Be Considered When Choosing the Material for It
One more question our customers often ask concerns the selection of material for flat roof installation. Based on our experience and roofing practices, we decided to highlight the most reliable types of flat roofing that we use in our work.
Flat roofs have their specific features that determine the choice of technologies and materials for roofing.
This type of roof construction has no slopes or minimal slopes so water and snow don't slide from it and tend to gather on the roof's surface.
Thus, flat roofs need a drainage system to be installed to protect them from pooling on the surface.
Besides, flat roofs often are used as an additional house space to install a balcony or a terrace on it. That's why roofing material should be durable and compatible with probable metal construction installation.
Energy efficiency is a cornerstone in today's architecture trends. For flat roofing, it is crucial to make it sealed and choose a material with low heat dissipation. In this case, the interior of the premises will be kept warm in winter, and in the hot season, the roof will not heat up and heat the interior rooms.
We use these principles when we carry out flat roofing work. Besides, ID Flat Roof is an Attleboro, MA roofer that uses only the finest quality reliable materials. For our customers, we offer the following options for flat roofing materials:
Bituminous roll materials. They are non-flammable, inexpensive, and waterproof. Due to the simple installation and material features, it can be mounted directly on top of the old roofing. Such a roof will last 5-10 years and it is resistant to mechanical damage.
PVC membrane roofing and other polymer coatings. PVC membrane roofing lasts up to 25 years and can be installed in any area. It is tolerant to extreme temperatures, has high waterproofing, and can be installed in several techniques. We select the best options based on the characteristics of your roof.
Metal roofing is a classic. We can also install it on your roof to ensure the integrity and reliable leak protection.
Repair Services for Flat Roofing in Attleboro, MA. What Is Crucial to Know
Besides an overall roofing installation, we offer our help in roof repair for Attleboro, MA residents.
Our services include preliminary diagnosis of leaks, assessment of damage to the roofing, assistance in the selection of material, as well as direct repair measures. Our experts perform all work on time and use reliable tools to provide high-quality repair for the roof of your home.
How to Choose the Best Attleboro, MA Roofer to Get Services From
You may be also interested in how to choose a contractor from the list of Attleboro roofing companies, as there are several of them in the market. We offer you to follow several tips we've highlighted.
Always start by comparing offers from several companies. That way you can choose the best services and not overpay for them.
Carefully read the terms of service to avoid additional fees and surprising requirements from a contractor when the process is already started.
Feedback from other residents of Attleboro will come in handy because you can read a real assessment of the company's work in them. Advertising is good but reviews are better for making a decision.
A good contractor is always ready to provide a portfolio of their work. If you see real objects, the roof of which was mounted by the contractor, you will be able to evaluate the results of his work.
But things can be even easier! It is enough to contact our company, and you no longer have to look for a reliable roofing contractor. Our experts will quickly provide you with a full range of services for the roofing project, the selection and purchase of materials, roofing installation, and repair. We give a guarantee for our work and are ready to provide you with examples of our projects in different parts of the city. Our staff will come to your home to take measurements and diagnose the condition of the roof if you need repairs. We work in all areas of the city including North Attleboro and promptly travel to our customers.
Metal Roof Installation Attleboro
This beautiful two story house an Attleboro, MA featured a lot of custom made brick masonry such as fences, walkways etc. No wonder, when the time came to replace the roof the owner decided to go with red. A Tamco stainless steel stone crest slate texture shingles in gorgeous Sequoya Red color were picked along with matching trim and flashings.
There was also a custom-made perforated drip edge ordered, to ensure the proper roof ventilation. There was also a standalone garage and shed that needed reroofing with the same metal shingles.
First of all we had to strip two layers of existing asphalt shingles and inspect the roof deck for any rot damage.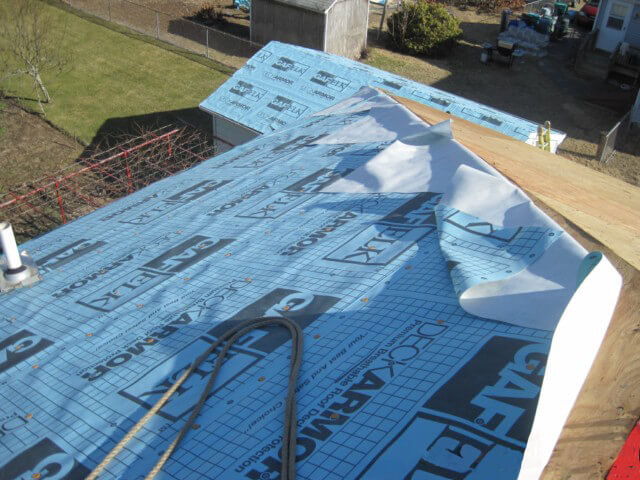 In general, it is a good idea to inspect a roof deck before installing a permanent solution such as metal shingles. After the strip was done we installed GAF Deck Armor breathable underlayment to make sure it was watertight. After putting drip edge and trim in place we started installing shingles themselves.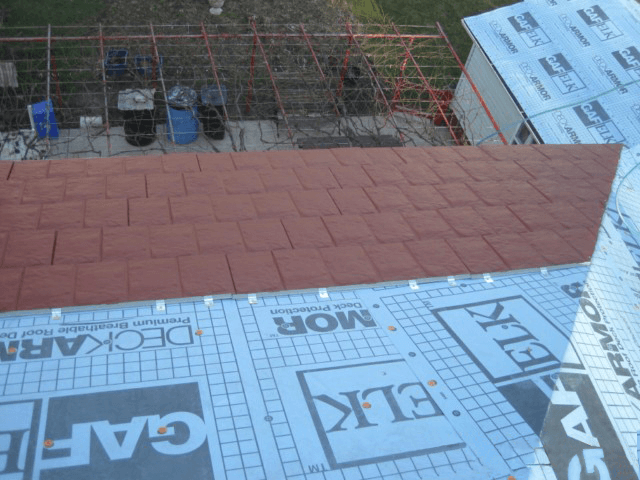 Two chimneys were flashed with custom made flashings from the color matching trim coil.
The shingles are interlocking, which means that they have locks on all four sides and each shingle in this system is held in place with six other shingles. After the shingles where done a metal ridge caps were installed on all ridges.
As the result – beautiful new roof that matched the house and brick fence with a lifetime warranty.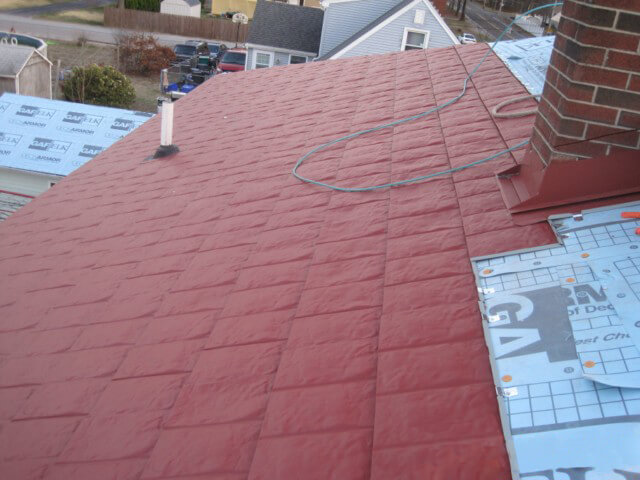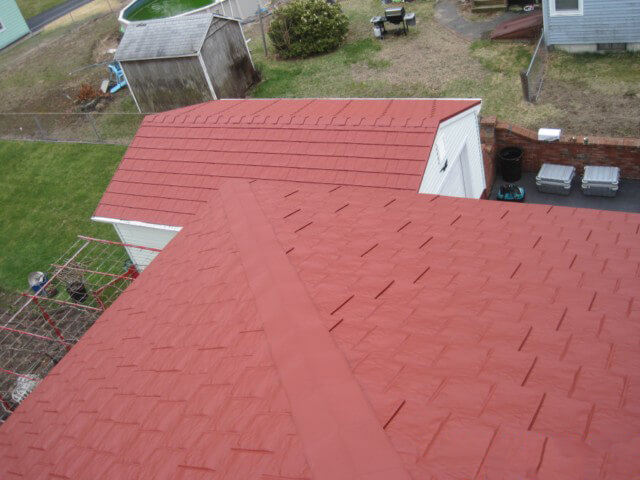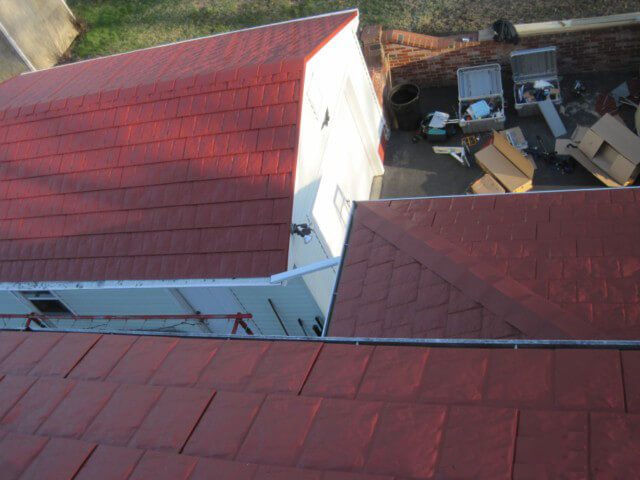 Contact Us Right Now
We have the most affordable prices, and the quality of roofing services that we provide meets the highest standards. If you need to cover a flat roof of complex configuration, make repairs in hard-to-reach places of the roof, or improve the mistakes made by the previous roofing contractor, we are ready to help you. ID Flat Roof is your trusted contractor for roofing in North Attleboro, MA and other locations in and around the city.