Floating Rooftop Deck
4
minutes
Flat roofs are typical for residential and commercial real estate in the US. In addition, they have various advantages that a property owner can use, like an opportunity to turn the roof, porch, or shed into a patio or terrace. All you need to do is to install a safe and sightly floating rooftop deck. If done right, it will provide you with a zone to relax and hang out with your friends and increase the market value of your property.
Do you want to install a floating rooftop deck? ID Flat Roof provides a full range of roofing services, including installing plastic and wooden floating decks over flat roofs. Need additional 100% leak protection? Our roofers will install a maintenance-free PVC underlayment membrane with hot-air welded seams.
Contact our consultants and tell us about your plans. Considering your requirements and budget, we will offer the best options for floating rooftop decks.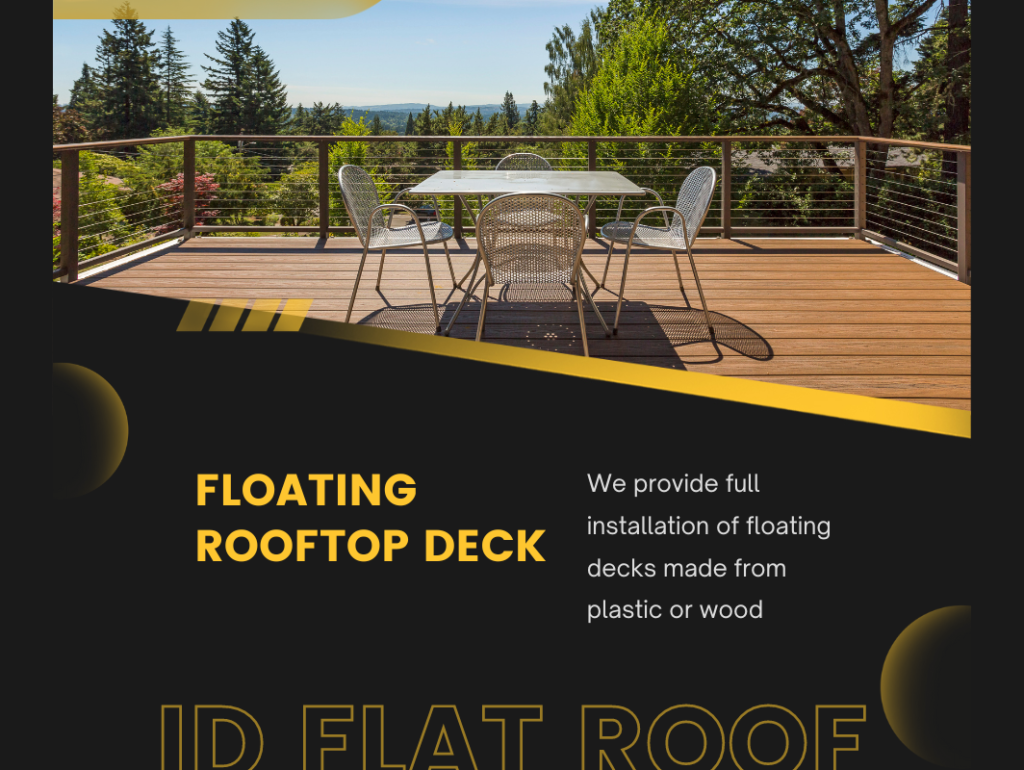 Want to build a deck on a flat roof?
First, check if the roof structure can withstand the appropriate weight. Contact our roofer, and they will inspect your roof when convenient.
After goes the waterproof membrane installation over the top of the roof. We recommend using modern PVC membranes, which are stronger and more durable than rubber or EPDM counterparts. PVC membranes will reliably protect the roof from leaks, so you do not have to spend a lot of money on dismantling the deck in case of leaking problems.
Then comes fastener installation for the floating deck and roof design with maximum protection from wind uplift and mechanical damage. We often use the pedestal support system, but it all depends on the roofing project and architectural features. We will design the floating rooftop decks as robust, comfortable, and reliable as possible.
Need drainage? If necessary, our roofers will design and install a drainage or snow melt system to prevent water from accumulating on the roof surface. We use unique technologies that maintain the underlayment membrane tightness, so your roof will not leak in any weather.
The next step is the deck installation. You can choose the most suitable one, including natural wood or plastic. Not sure which flooring to choose for your floating porch or patio roof? We offer proven solutions from the best manufacturers in the US and will find something fitting your tastes and budget.
If necessary, our roofers will mount any additional structures on your rooftop deck, including sliding doors, railings, drip edges, etc.
Take a look at a completed floating deck flat roof project
We have been installing floating rooftop decks for 15 years and are working with all popular materials. We recommend paying attention to modern energy-efficient technologies and materials with a lifetime warranty.
PVC Roof Installation Under Floating Wooden Deck in Sudbury
Sometimes rubber is used for floating deck installation. But eventually, adhesive in the seams of the rubber roof lets go, and homeowners face costly and labor-intense repairs when they have to take the whole deck apart and then rebuild it.
A great alternative to the rubber roof is a PVC membrane with hot-air welded seams. It will create a permanent maintenance-free solution because the seams will never break.
Project Description
Two-level deck over a newly built garage.
23 railing posts.
Two sliding doors lead to the deck.
4″-wide extra strips of the membrane for future deck slippers.
Materials used
1/2″ fan-fold styrofoam.
80-mil white PVC membrane with ChemGuard technology and fleece back.
Mechanically attached assembly.
3″ PVC coated drip edge.
Custom-made post flashings.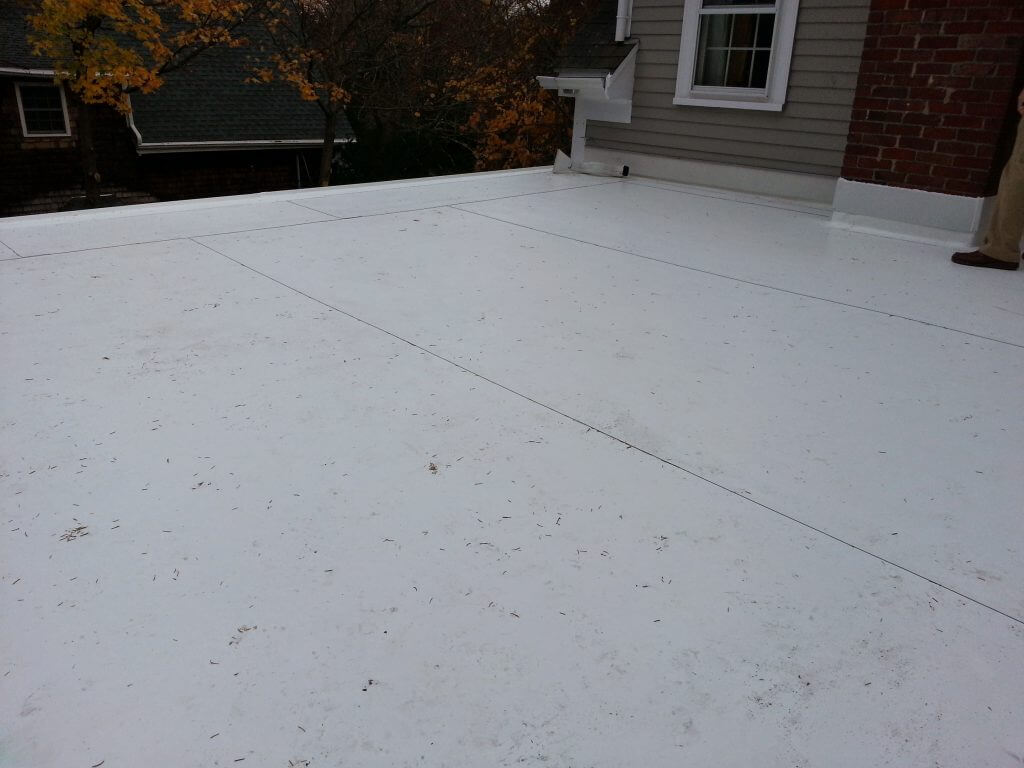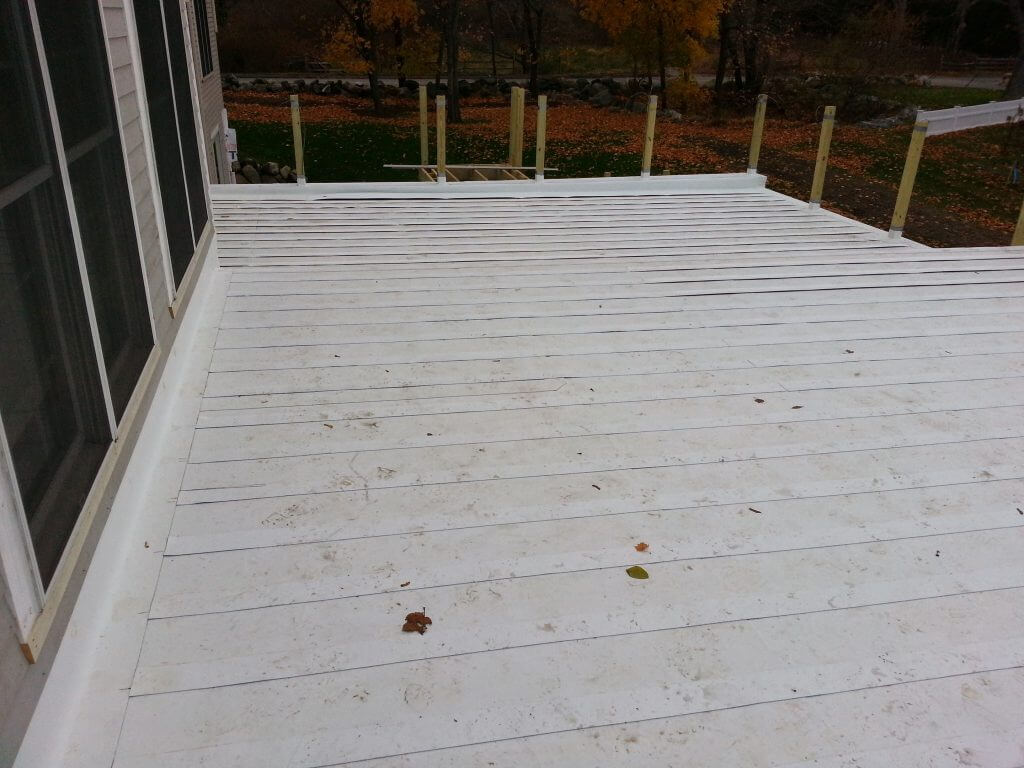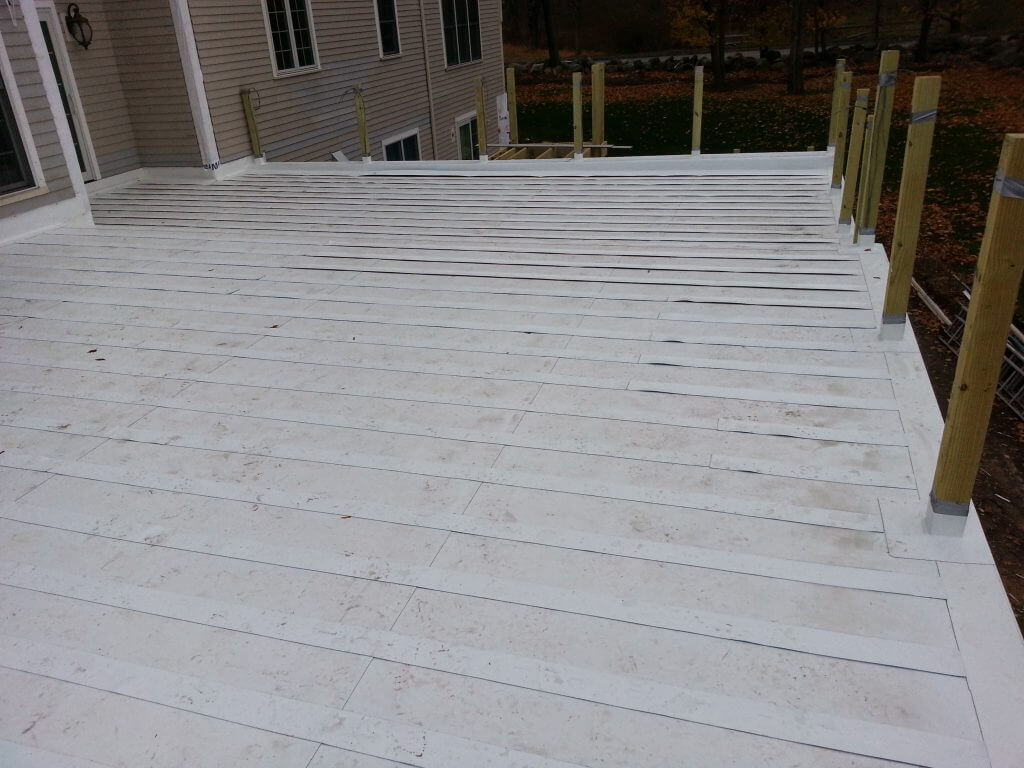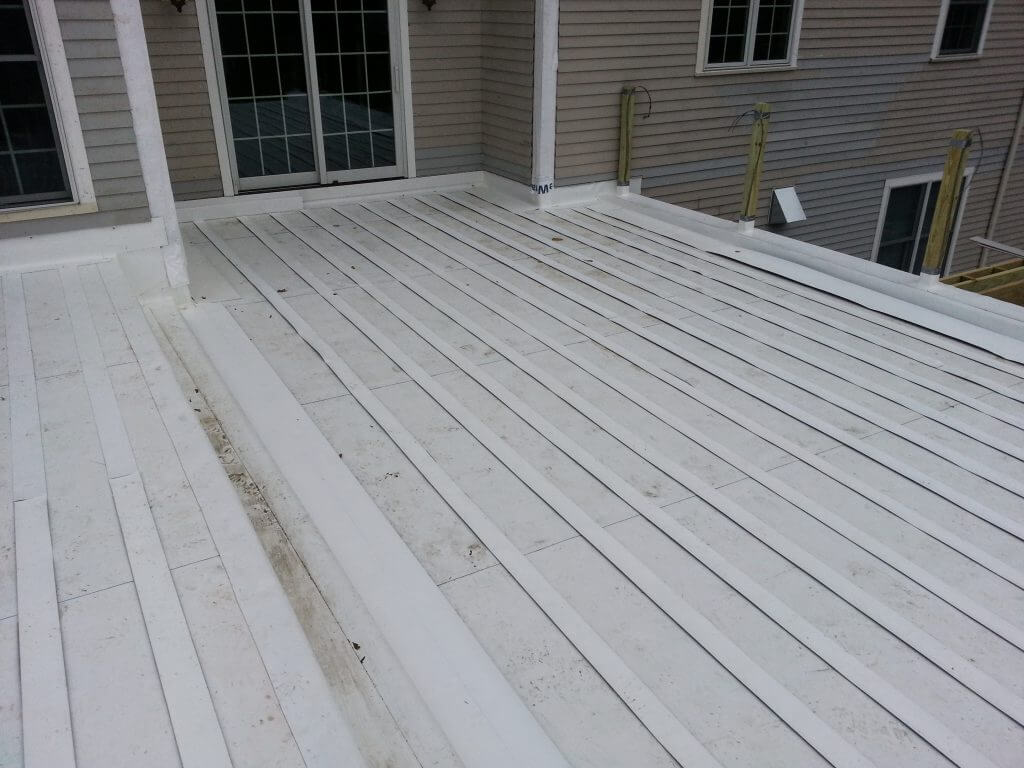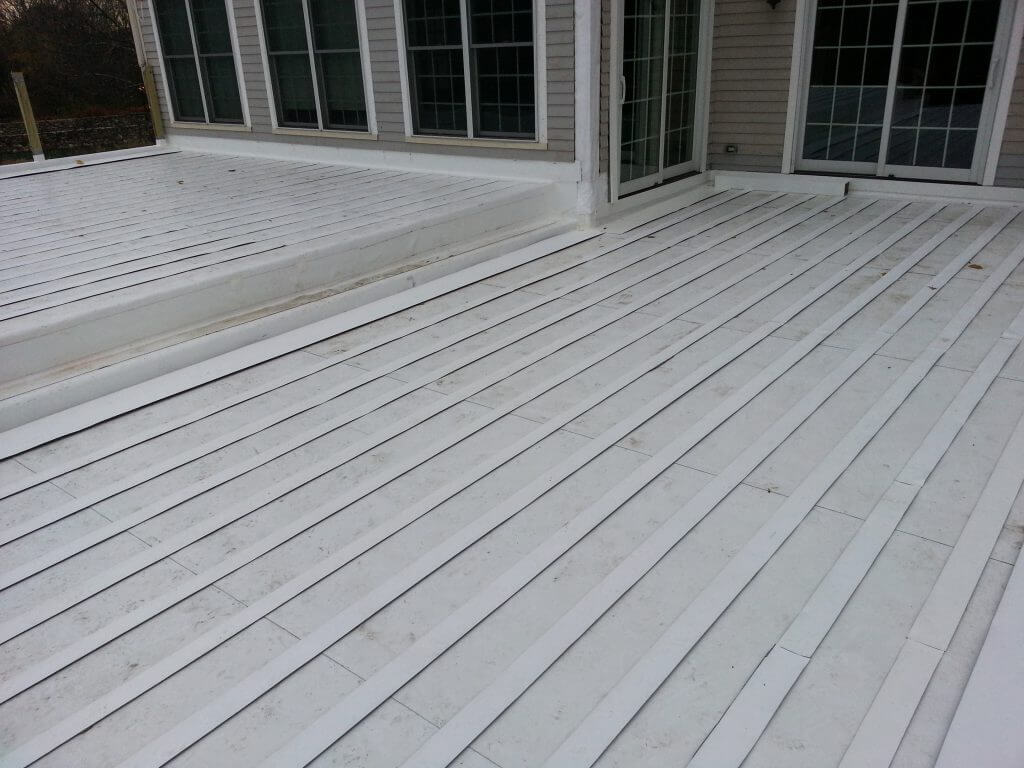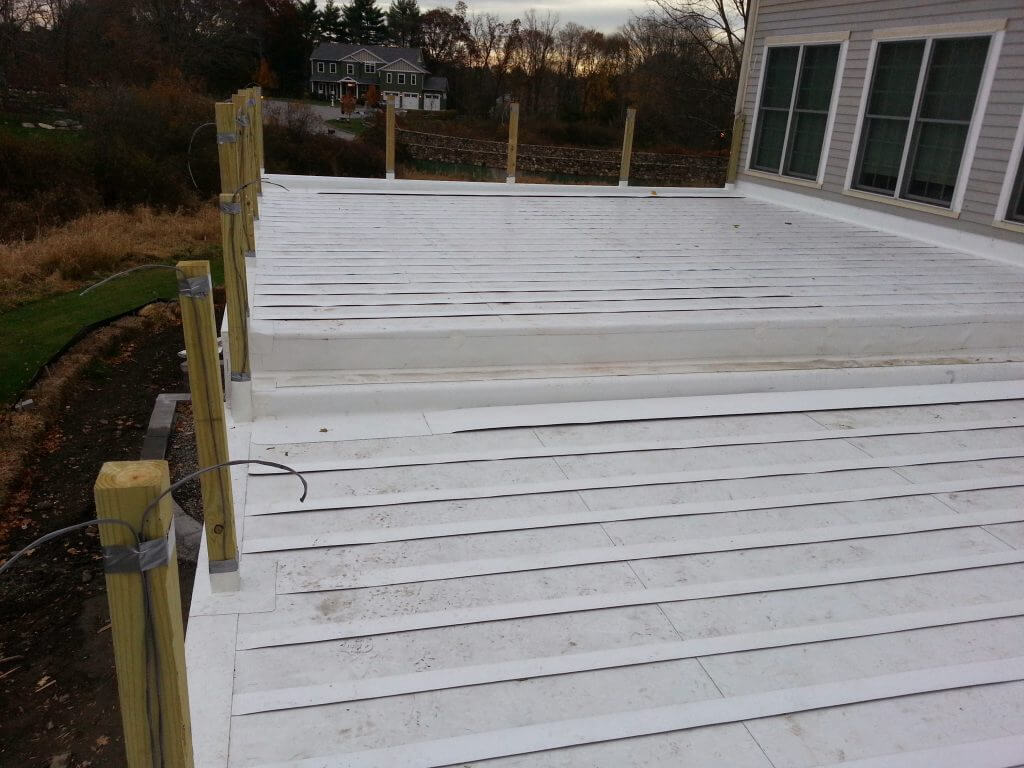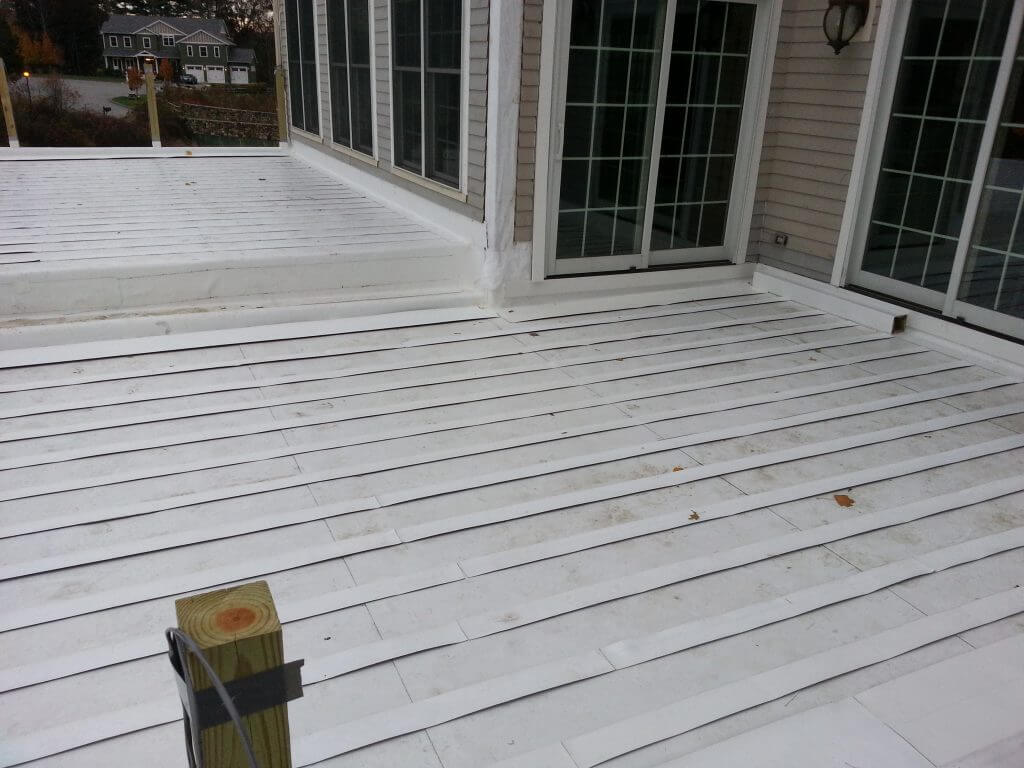 Do you want to install a floating rooftop deck?
Call our consultant, tell us about your plans, and get help from an expert. Our specialist will come to you at a convenient time, check the roof, and make an estimate. Estimating is Free.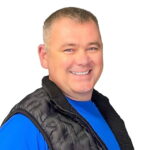 Denis is the driving force behind ID Flat Roof, a leading company in Boston specializing in flat roof repair and installation for over 20 years.
Expertise:
Denis excels in PVC, TPO, EPDM, and rubber roofing. His meticulous approach ensures quality and customer satisfaction.
Innovation:
Denis incorporates cutting-edge solutions like skylights and solar PV roofing.