Metal Shingles and PVC Membrane Roof Installation – Wayland Roofing
The time-tested roofing materials that have been used ubiquitously over the past 50 years are still installed on the roofs of millions of homes across the US. Wayland MA, with its 5,000 private homes, is no exception. And we are roofing contractors Wayland MA.
While these old-school materials are a satisfactory option in most cases, we at ID Flat Roof recommend looking into more modern and right-on alternatives. Especially now when US manufacturers offer a lot of options for residential and commercial flat Wayland roofing projects.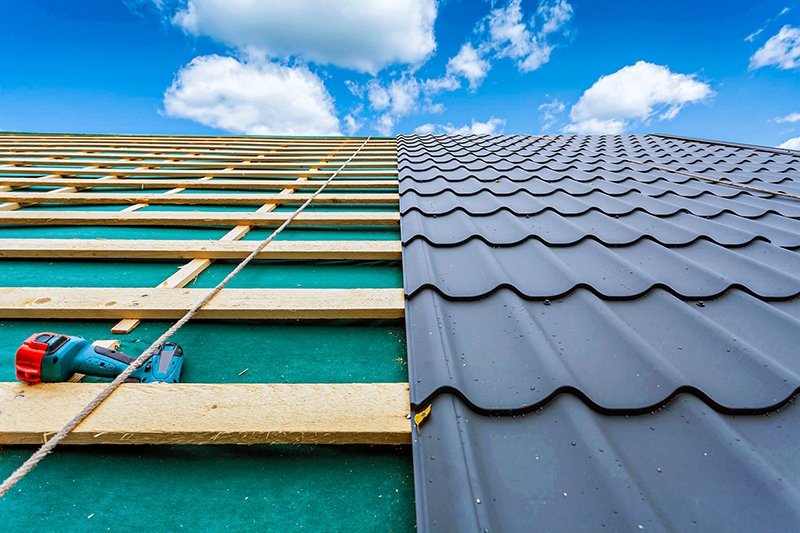 ID Flat Roof: Wayland roofing services from A to Z
ID Flat Roof – is a local 'near me' roofing company in Wayland MA. Our roofing company has been installing and replacing roofs in Wayland MA as well as throughout Massachusetts for over 15 years.
We have successfully completed hundreds of roofing projects over this time:
Installation of new roofs from scratch on private houses and commercial buildings
Partial or complete replacement of roofing materials regardless of roofing area
Roof repairs – urgent repairs, fixing leaks, preventing ice dams, etc.
Our team works with Wayland roofing projects of any complexity and offers a full range of roofing services in MA region.
Our experts prefer to use not only time-tested technological solutions, such as asphalt shingles or rubber roofs, but also modern materials with the best qualities and long service life. Like PVC membranes and PVC decks, metal shingles and sheet metal.
In addition, our specialists are engaged in the installation of additional roofing elements for comfortable life in Wayland MA like skylights and roof windows, gutters, chimneys and so on.
All work is carried out by professional roofers with many years of experience, all permits and licenses. We provide a lifetime warranty on many of our work and materials. Call our specialist and tell us about your planned roofing project.
Roofing Services: replacement and renovation
One of our main competencies is replacing old roofing materials that are damaged, worn, leaking, moldy or algae covered.
Asphalt roofing in Wayland is a great example of traditional private home roofing widespread in our region. Old asphalt roofs are also a reason to think seriously about roof renovation.
This material has been popular for many decades and remains one of the most affordable roofing solutions. Asphalt 3-tabs covering is inexpensive, delivered in different colors and design solutions, quickly mounted and replaced. But is it really that good, and does asphalt roofing in Wayland have alternatives?
We will use a specific example to explain why asphalt shingles roofing in Wayland is not always the best option in the article below. In short, asphalt shingles have a limited lifespan, require seasonal maintenance, and are prone to algae. In addition, asphalt shingles are only suitable for roofs with a relatively large slope because material is not suitable for puddles and standing water.
Whether you're building a new home or planning to replace an old roof, ID Flat Roof recommends looking into more modern solutions. For example, PVC membranes (instead of plywood underlayment) and metal shingles (instead of asphalt shingles).
PVC membranes with metal shingles on top have their undeniable advantages – a very long service life, no need for constant maintenance, attractive and stylish appearance and resistance to negative environmental conditions. If installed professionally, PVC membrane completely protects your property against leaks, and metal shingles retain their appearance and strength for at least 40-50 years.
Roof Installation in Wayland MA: Metal Shingles and PVC Membrane
This single-family home in Wayland, MA is a classic example of why asphalt roofing is a poor choice for a pitched roof and why metal shingles, although initially higher priced, are a worthwhile investment and could be the last roof system you ever need to purchase.
Old school asphalt shingles: not bad, but definitely not the best material for today
As you can see from the before photos, the 3-tab asphalt roofing has unsightly black stains that many people mistake for mold, when in fact the black stains are caused by a blue-green alga that feeds on components of the asphalt shingles.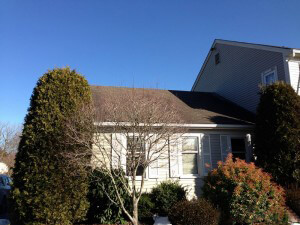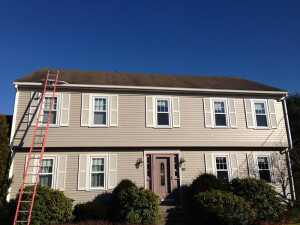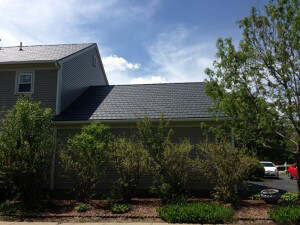 The black stains are an accumulation of dead cells from the algae, Gloeocapsa Magma, and once embedded into an asphalt roof are a pain in the neck to remove and keep at bay. The asphalt roofing had also failed and the result was areas of rot in the plywood and wood fascias.
That is why the house owner was looking for qualified roofing contractors in Wayland MA to replace roofing covering with modern, long-lived and algae-free alternatives.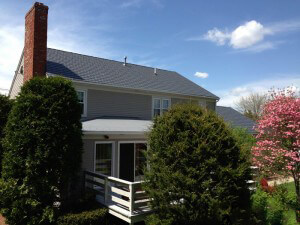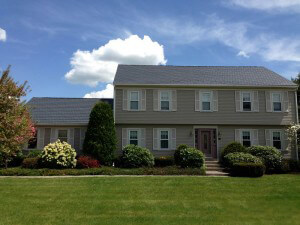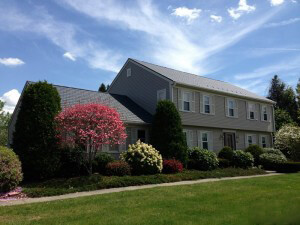 ID Flat Roof offers a wide range of residential and commercial roofing services in Wayland MA. Our specialists inspected the object and agreed on a work plan.
Project description: step by step roof replacement in Wayland MA
The first task to do is to dismount the failing asphalt covering
The next step for our roofer was to remove damaged underlayment plywood
Old underlayment was replaced by Deckarmour synthetic material
The final step was to install new roofing material. We recommended to the client to install Vermont Blue metal shingles in the Stonecrest Slate profile from TAMKO. These metal shingles are durable, require no maintenance, algae-free and really stylish.
Our roofers also installed new seamless gutters along with an 80 mil gray PVC flat roofing system with a lifetime materials warranty to the low sloped areas.