Metal Shingles Roof Installation Melrose MA
Metal shingles are a premium roofing material which becomes more and more popular among homeowners because of it's advantages and benefits.

This particular house had about 20 years old asphalt shingles roof, which was about time to replace. Because the old shingles were red and the homeowner liked the color of the roof we decided to go with Sequoya Red Tamco Metalworks shingles in the Astonwood profile.
Once the old roof was removed we discovered that the roof deck was made out of wood planks. It was in pretty good shape overall, almost no rot damage which shows that roof wasn't leaking on the regular basis.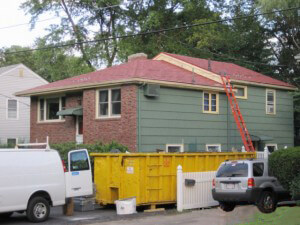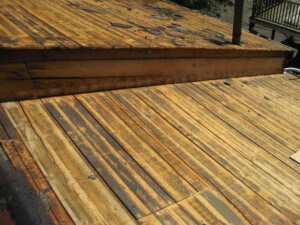 There were, however, gaps between the planks, and because metal shingles are held in place with clips and nails, and in some of the rows nails could land in those gaps, we decided to install ⅜ inch plywood on top of the existing deck.
After new plywood was in placed we installed breathable GAF DeckArmour underlayment.
Once this underlayment is installed the house is proved from leaks for up to six months, because it doesn't let water in, but at the same time allows vapor to escape from under.
After that it we had to do a repair on a chimney. Chimneys and other roof penetrations should be an area of extra attention because majority of the leaks happen in these areas.
We took off a couple of brick rows, reinstalled them, and re-pointed the chimney. Color matching chimney flashing and counter-flashing was made using prefabricated sidewall and trim coil.
We always use the same color trim (such as sidewalls, rake gables, drip edges, and valleys) for all our metal roof installations.
Two rows of snow-guards were installed above each entrance to protect these areas from falling snow, as the roof surface is very smooth and snow tends to slide down as opposed to accumulating on the roof.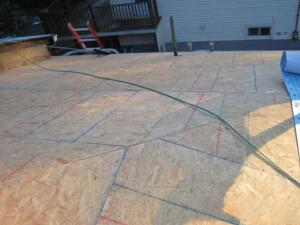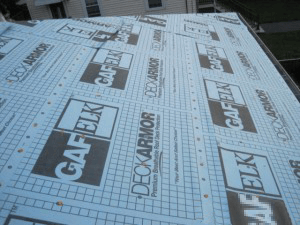 When all work was done house gained a very high-end look and one of the best roofing materials, which definitely going to increase its resale value and take one of the worries off of the homeowners' mind.
Sequoya Red is also what Tamko calls a "cool color" meaning that these shingles will keep the house cooler during the summertime, which will result an a smaller electrical bill.