Metal Shingles for Melrose Roofing as the Best Idea
Do you want the roof in your house to be durable and protect you from weather fluctuations? Be sure that it is easy when you apply for the services of an experienced roofer in Melrose. Our company provides roofing services throughout the whole state to help homeowners in their strive to protect roofs from leakages and damage.
ID Flat Roof provides all kinds of services as a Melrose roofing service provider. We work with all types of properties which construction includes flat types of roofing. We thoroughly choose materials for each project we handle and provide a guarantee for our work.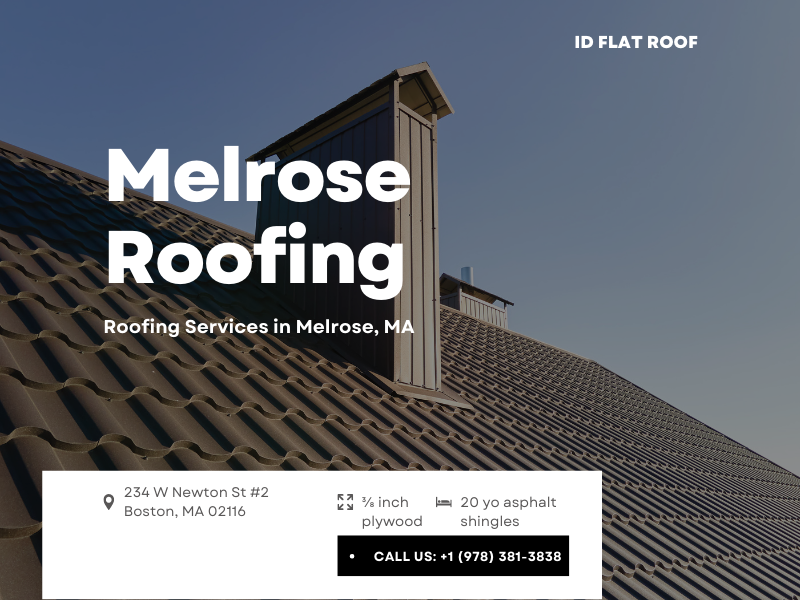 Types of the Most Reliable Roofing Materials We Use in Our Work
The very start of our work is in choosing the most effective type of roofing and thus, materials for it. Today, flat roofs are incredibly widespread as they offer a homeowner lots of benefits in a row. These benefits include obtaining more effective space on the roof to use it as a balcony, a terrace, or an outbuilding to place on it.
Besides, that type of roofing is cheap and offers lots of options to choose from. In our company, we work only with the highest quality materials for flat roofs including the following:
PVC membranes today are one of the most popular roofing materials. PVC membranes make it easy and quick to lay the roof, use several laying technologies at once, and their strength and energy efficiency are very high. This roofing material will last more than 20 years with proper installation. In addition, the PVC membrane can be easily replaced in case of damage and wear, which makes roof repairs quick and inexpensive.
Metal shingles are also actively used today to cover a flat roof. This material has many advantages. Its light weight is especially appreciated, because the coating weighs no more than 5 lb per square foot. Also, an important advantage of metal shingles is the simple installation process. At ID Flat Roof, we install metal shingles roofing in the shortest amount of time. The strength of the metal shingle is very high, which also adds points to it, as the best material for roofing. It can withstand heavy loads and is not afraid of mechanical damage. Just like the PVC membrane, the metal shingle has a low coefficient of thermal expansion, which allows it to be used in a wide temperature range. It is possible to use metal shingles on roofs with a minimum slope, and we use new technologies to ensure that the roof made of this material is reliable and durable.
Roll types of a roof are also in demand today. Inexpensive roofing options such as tar paper or asphalt pavement allow for quick installation. Their advantages, in addition to low cost, are the ability to lay a similar type of roof in a space with complex geometry.
Roofing Services in Melrose, MA by ID Flat Roof
We do understand that each homeowner wants for their roofing in Melrose, MA the fullest scope of services from one provider. That is what we offer to our customers. Our company can be your reliable ally in roofing installation and maintenance. The range of services that we offer includes as follows:
Roof inspection and leakage detection services. Our technicians will go to your home to provide overall inspection of the roof to conclude whether it has damages that require repair or if you need to get all the roofing replaced.
Consulting on the choice of roofing materials and installation types. We give you more than our skills in roofing services. We offer you information that is crucial for maintaining your roof. Our expertise is at your service.
Roofing installation. Our company carries out a full range of works on the installation of a roof on any object, regardless of its area and purpose. We will conduct a preliminary inspection, dismantle the old roof if necessary, and develop a roofing project for your facility. At the same time, our masters will select and install the roofing that will be the most reliable and effective.
Roof repair. We understand that nothing lasts forever under the moon. But sometimes a roof repair will be a better solution than a full replacement. Our specialists will assess whether the roof is repairable, carry out all the work to restore the integrity of the coating, and provide a guarantee for their work.
Maintenance of the roof. We can help you maintain the integrity and strength of your roof. Regular maintenance allows homeowners to extend the life of the roof and have peace of mind about the reliability of the roof.
Arrangement of the drainage system of gutters and gutters. For a flat roof, this service is especially important, since the lack of a slope leads to the accumulation of rainwater and snowdrifts on the roof. And they can violate the integrity of the roofing. ID Flat Roof experts will design the most efficient drainage system for your home so that your roof lasts as long as possible.
All our services you can get today. Just ask for a consultation and schedule a visit of our specialists by choosing the most convenient time slot for you.
Why Choosing Us Is the Best Idea
The ID Flat Roof is considered the best roofer in Melrose, MA for a reason. Our work has already been highly appreciated by many clients. Here are 5 reasons why our company is the best roofing contractor in Melrose.
We provide a full range of services for private homes and commercial properties.
We develop each project from scratch and pay attention to the smallest details.
Our specialists are constantly improving their skills. We study the latest technologies and use them in our work.
We work only with high-quality roofing materials and fixtures.
We have fair prices that will allow you to get quality services at an affordable price.
Do you want to verify this? Our portfolio contains many successful projects. For example, you can see an example of our work in Melrose below. We carried out the installation of a metal roof for our clients using non-standard solutions.
Metal Shingles Roof Installation | Melrose Roofing
Metal shingles are a premium roofing material which becomes more and more popular among homeowners because of it's advantages and benefits.

This particular house had about 20 years old asphalt shingles roof, which was about time to replace. Because the old shingles were red and the homeowner liked the color of the roof we decided to go with Sequoya Red Tamco Metalworks shingles in the Astonwood profile.
Once the old roof was removed we discovered that the roof deck was made out of wood planks. It was in pretty good shape overall, almost no rot damage which shows that roof wasn't leaking on the regular basis.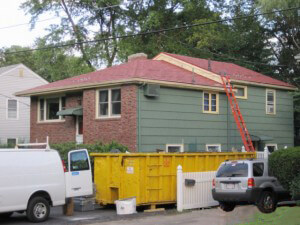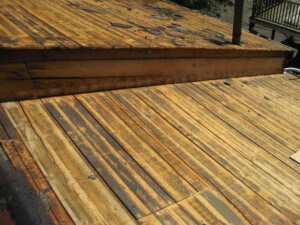 There were, however, gaps between the planks, and because metal shingles are held in place with clips and nails, and in some of the rows nails could land in those gaps, we decided to install ⅜ inch plywood on top of the existing deck.
After new plywood was in placed we installed breathable GAF DeckArmour underlayment.
Once this underlayment is installed the house is proved from leaks for up to six months, because it doesn't let water in, but at the same time allows vapor to escape from under.
After that it we had to do a repair on a chimney. Chimneys and other roof penetrations should be an area of extra attention because majority of the leaks happen in these areas.
We took off a couple of brick rows, reinstalled them, and re-pointed the chimney. Color matching chimney flashing and counter-flashing was made using prefabricated sidewall and trim coil.
We always use the same color trim (such as sidewalls, rake gables, drip edges, and valleys) for all our metal roof installations.
Two rows of snow-guards were installed above each entrance to protect these areas from falling snow, as the roof surface is very smooth and snow tends to slide down as opposed to accumulating on the roof.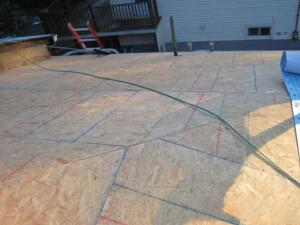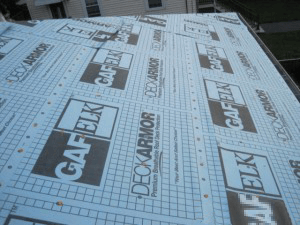 When all Melrose Roofing work was done house gained a very high-end look and one of the best roofing materials, which definitely going to increase its resale value and take one of the worries off of the homeowners' mind.
Sequoya Red is also what Tamko calls a "cool color" meaning that these shingles will keep the house cooler during the summertime, which will result an a smaller electrical bill.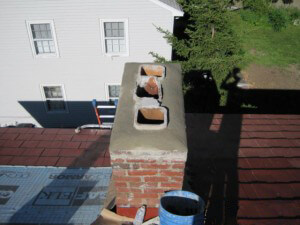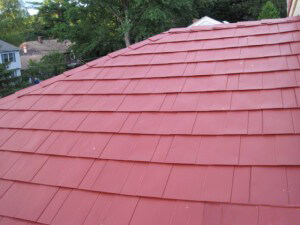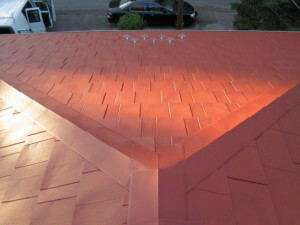 As you can see, choosing a reliable one from roofing contractors in Melrose, MA saves you money and effort. Keeping your roof intact is a key factor for your home to be a safe and cozy place for living. And this depends much on the skills and experience of roofers. Get the best roofing services from ID Flat Roof to be sure that your roof is OK.