How to Choose and Style Deck and Patio Awnings
6
minutes
Deck and patio awnings are indispensable elements of the outdoor area around your house. It can be a permanent, retractable, or portable construction. You can select from various designs, materials, colors, and features. In this article, we'll tell you about the available types of awning and their functions. We'll share awning design ideas and explain which factors impact the pricing.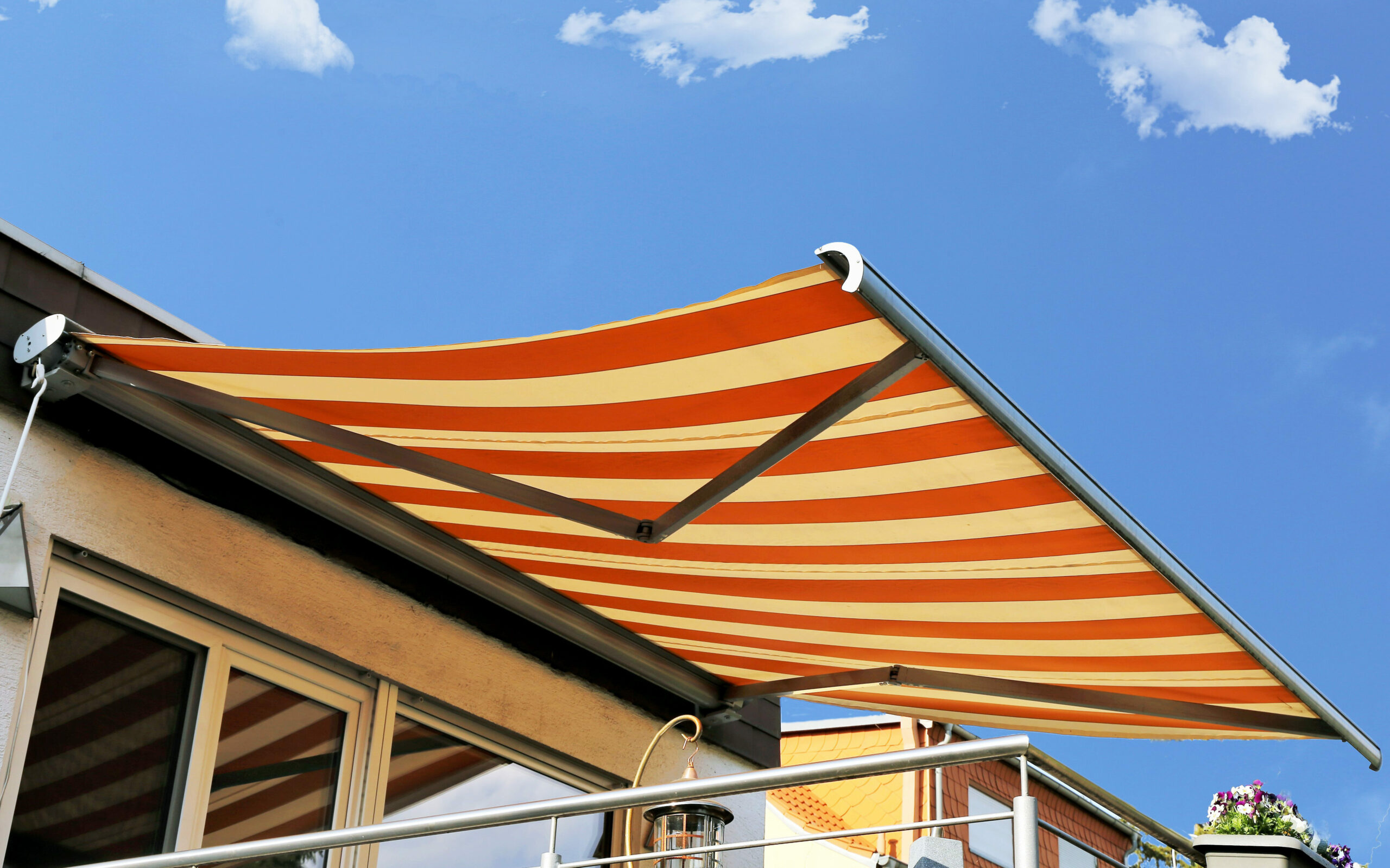 Critical Functions of the Awnings
Deck and patio awnings perform three main functions:
Protect yourself from the sun and glare when you're outdoors.
Prevent your furniture and other decor items from fading. It's relevant for the objects in the open and those inside the house. The awnings don't let sun rays in.
Cool down the air temperature inside your house. You won't have to pay enormous bills to use air conditioning.
And, of course, they make the outdoor living area cozier and more beautiful.
Deck and Patio Awnings Pricing
Here are the three factors that impact the price of deck and patio awnings:
Size. The larger it is, the higher the expenses.
Materials. Metal is more expensive than canvas. Waterproof fabrics cost more than regular ones.
Extra features. The simplest awnings lack them. Their advanced counterparts can have weather sensors, heating, lighting, phone app controls, etc.
The most affordable option is to buy one or several umbrellas. They're foldable, portable, and light. You can place them anywhere in your garden or on the roof.
Permanent constructions, such as a gazebo, tend to be the costliest. Be ready to pay professional contractors to install them. The materials won't be cheap either.
Deck and Patio Awning Varieties
Deck awnings are available in three varieties:
Portable
Stationary
Retractable
Below, we'll analyze the specifics of each one in detail.
Portable
This category includes not only umbrellas but also shade sails and canopies. As we already said, they tend to be the most affordable. Finding the optimal style and color for your deck or patio won't be a problem.
Portable awnings are perfect for compact areas. Even if you lack a place for a gazebo, you can always put an umbrella somewhere.
If you rent your house, the landlord might not allow you to modify it. In this case, a deck and patio awning umbrella that doesn't require complex installation comes as a life-saver.
Stationary
On the one hand, fixed patio awnings require less maintenance than their retractable counterparts. On the other hand, taking care of them is still necessary. Each material has its pros and cons:
Polycarbonate lets in the natural light but blocks sun rays. It's durable. On the flip side, it lacks the charm of raw materials. Besides, it's not the best option from an ecological point of view.
Metal can serve you for decades. But it's prone to dent and rust. Also, it absorbs heat. On a sizzling hot summer day, you'll need a cooling system. Otherwise, it will be a challenge to stay under the awning.
Cloth fades under UV rays and wears off because of rain. If you use it, you might need to change it frequently. For some people, it's an advantage. They can replace the cloth every season, creating new vibes for their patio. It's a cheap and easy type of renovation.
If you opt for a stationary deck and patio awning construction, you can attach it to your house, pergola, or gazebo. Make sure to place it at a high level, above windows and doors — it's essential for the aesthetics and the convenience of usage.
Normally, people avoid attaching the awnings to the walls where the main entrance to the house is located. You might not be able to relax when others are constantly coming and going in front of your eyes.
Retractable Deck and Patio Awnings
It's the most common option. When you don't need it, you fold it and enjoy the sun. Feel free to retract the awning when it becomes too hot or begins to rain.
The construction consists of a support assembly and a cover. When retracted, both are stored inside a cassette either fully or partially. Whole storage ensures better protection of the material.
Here are the main facts to remember about different materials:
Galvanized metal is the best choice for windy areas because it's solid.
Aluminum frames are slightly more robust and weigh less than galvanized metal.
Polyester is suitable for small awnings but might sag on larger ones.
Vinyl-coated fabrics will protect you from rain.
Fabrics without vinyl coating can withstand only light precipitation.
Canvas is the least prone to fading compared to most other fabrics.
Fabrics can be glued or sewn. The latter will serve you longer.
Some automated awnings feature remote control. Others require you to approach them and push a button to launch the retraction mechanism.
A manually retractable awning costs less than an automated one. The larger it is, the more effort you'll have to apply to handle it. If a storm arrives suddenly, you might lack time to operate the awning. A strong wind might damage it.
Awnings with weather sensors can warn you about an approaching storm. Such sensors need regular replacement, but they're genuinely helpful. Some models allow you to program the sensors. When they detect a storm, they automatically hide the awning inside the cassette to keep it safe. Of course, such models are rather costly.
Don't Miss Our Latest Articles on Roof Decking
Design Ideas
Below, we'd like to share a few deck and patio awning design ideas:
Get a minimalistic white awning. It will add a Mediterranean flair to your patio. The white color looks stunning when combined with unfinished wood. Your deck will have a laid-back and, at the same time, sophisticated feel.
Consider cordless shades. They will make the space airier. Just don't forget to remove them when the wind becomes strong.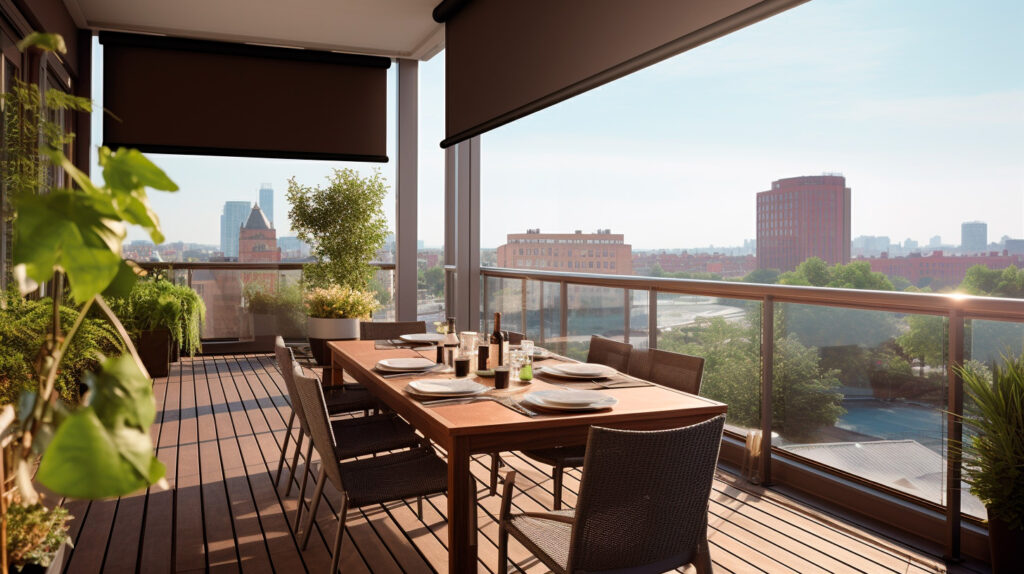 Use curtains. If the deck is large enough, you can zone it with curtains. For instance, make the inside part fully private and the outer one open. Or, you can separate the lounge area from the reading nook. Alternatively, you can hang curtains around the perimeter of your deck so that your neighbors won't be able to see you.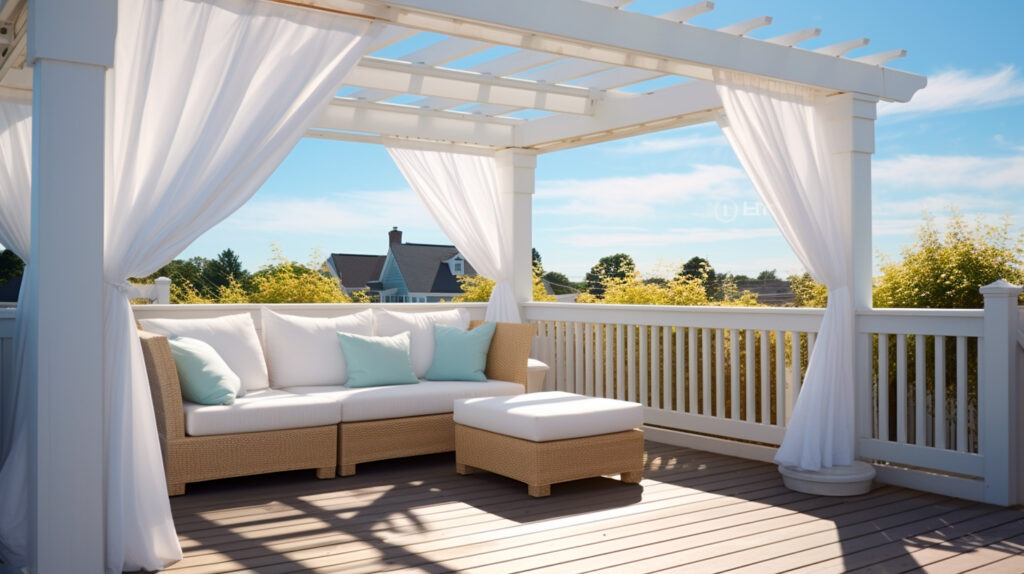 Get gingham curtains. They look incredibly gorgeous when paired with a wooden deck. Such curtains create a friendly and relaxed atmosphere. It would be great to buy cushions made of the same fabric.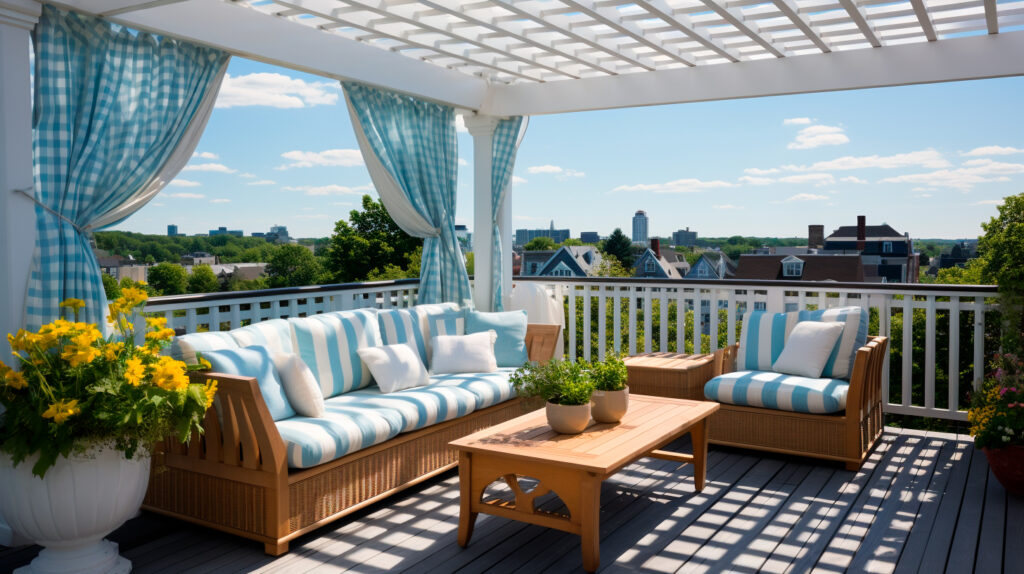 Add siding. Let it be the same siding as on the exterior walls of your house. Such a solution is perfect for decks that aren't attached to the house but are located a bit away from it in the garden. You'll create an ensemble that shares a typical style.
Attach a fan to the ceiling. This tip is relevant for stationary awnings. It will help you stay fresh on hot summer afternoons and evenings.
Buy string lights. It's a top recommendation for those who love romantic dinners as fresco. In addition, you can place candles on trays. Artificial fire is much safer than its living counterpart.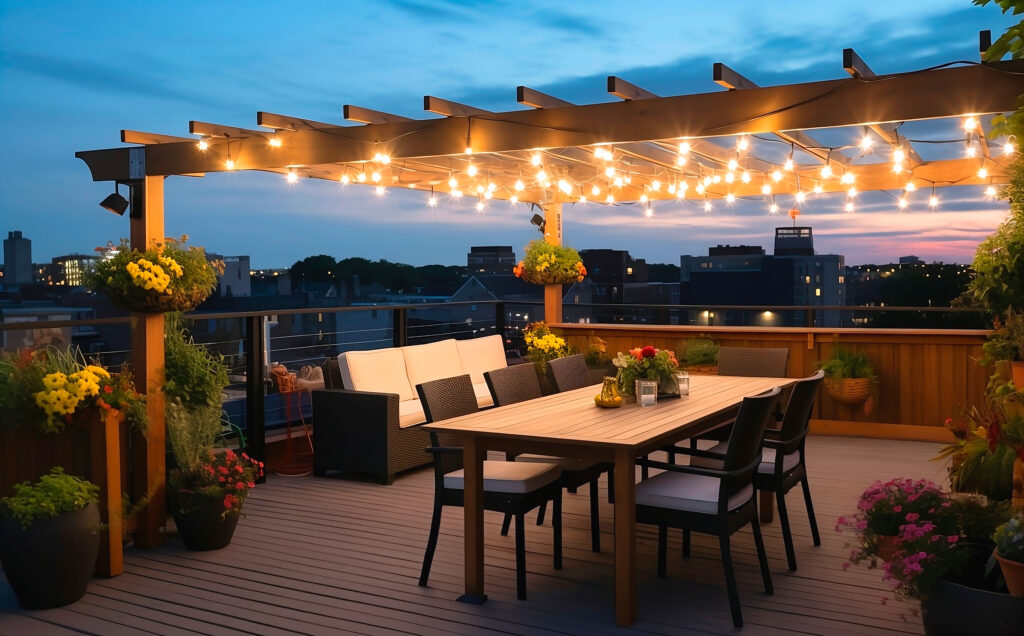 Bring planters. You can hang them on the floor or other horizontal surfaces. Colorful flowers will add magic to your patio. Alternatively, you may grow herbs there that you'll use for cooking. If you aren't good at gardening, think of buying artificial plants. They look just as awesome as natural ones but don't require any maintenance.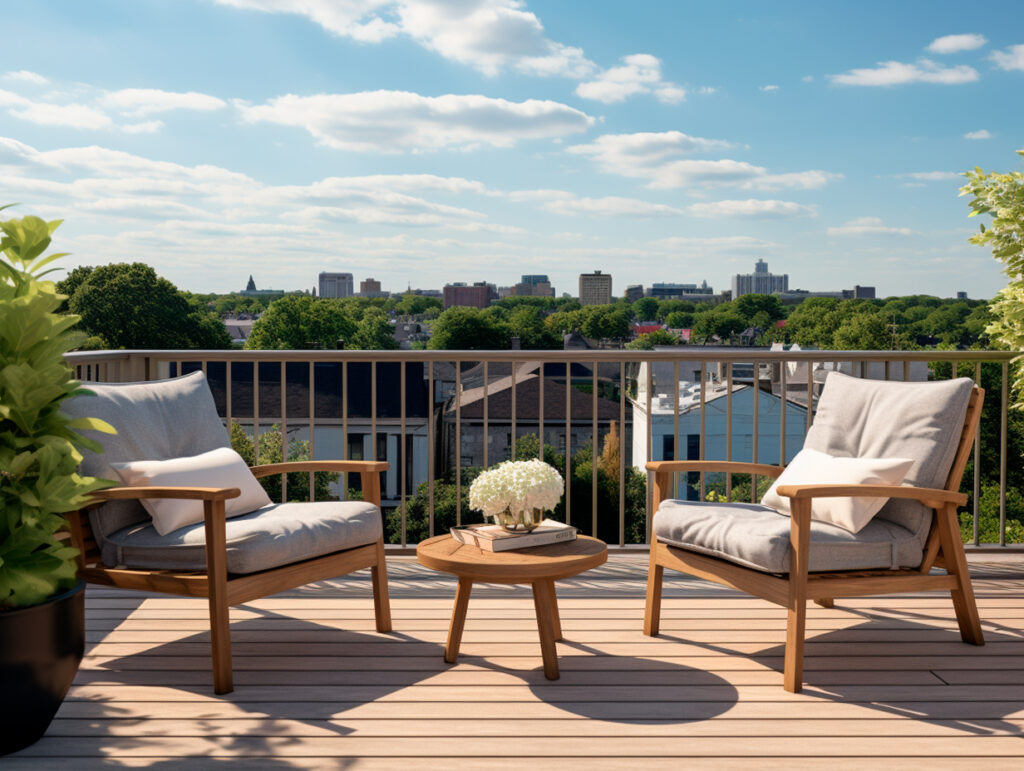 Hang a rope swing. This idea will be helpful if your deck is spacious enough and the awning is fixed. Both kids and adults will enjoy the swing.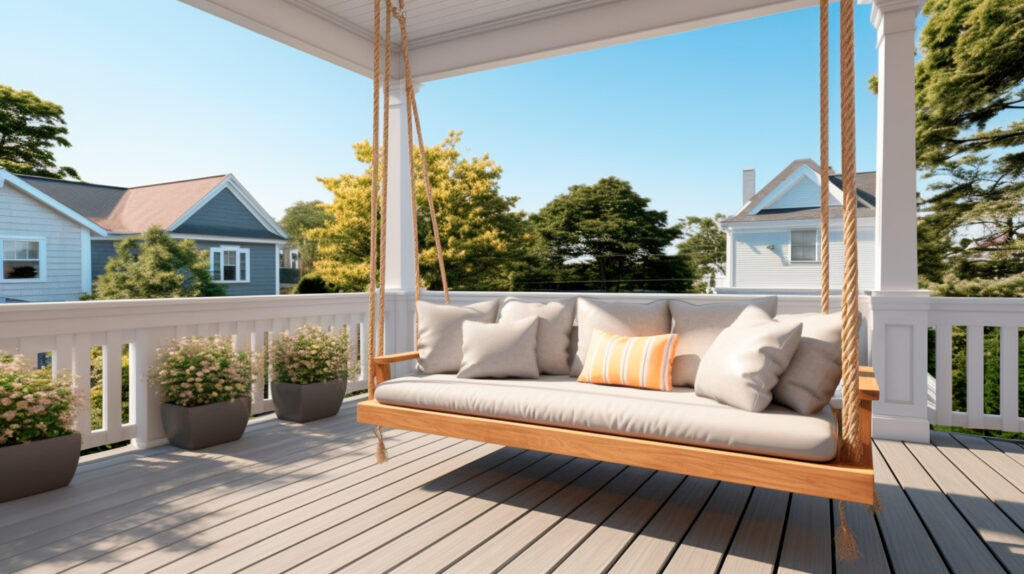 Experiment with colors. If the floor of your deck or patio is patterned, opt for a neutral awning. If the existing construction is neutral, buy bright accents to create a delicious contrast. These can be pillows, cups, or rugs, for example. Designs with colorful stripes will make the patio more cheerful.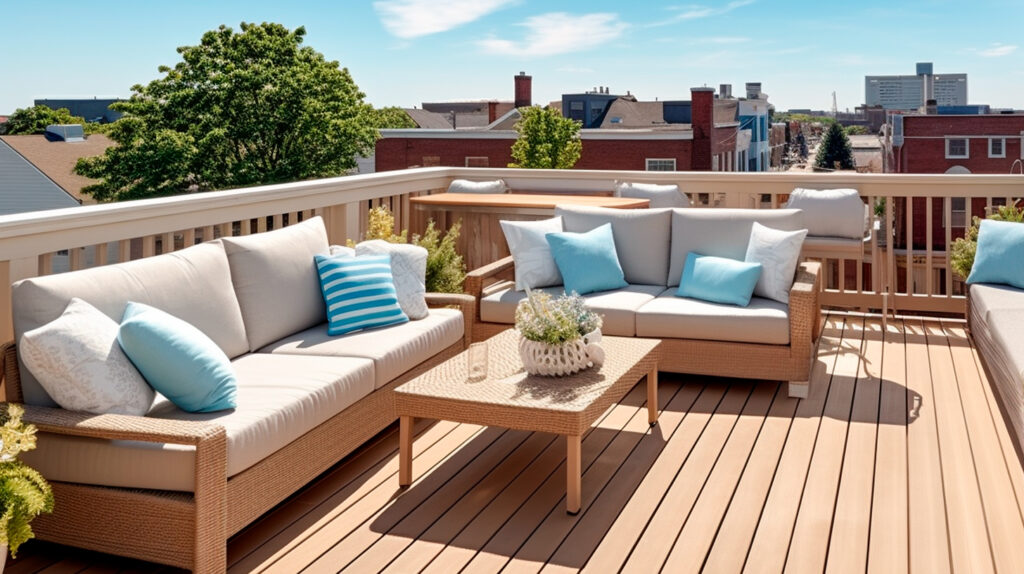 You can find thousands of stylish photos to use on the Internet as inspiration.
Final Thoughts
Deck and patio awnings protect you from the elements. They make the area around your house look classier. You can choose from portable, fixed, and retractable options. All of them are available in various sizes, styles, and materials. The cheapest ones are controlled manually. Their most premium counterparts are automated and have extra features like weather sensors. There will be hardly any limits to your creativity regarding design.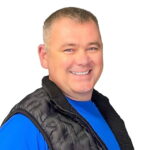 Denis is the driving force behind ID Flat Roof, a leading company in Boston specializing in flat roof repair and installation for over 20 years.
Expertise:
Denis excels in PVC, TPO, EPDM, and rubber roofing. His meticulous approach ensures quality and customer satisfaction.
Innovation:
Denis incorporates cutting-edge solutions like skylights and solar PV roofing.