Shed Dormers Roofing: How to Choose and What to Do With It
The ability to expand the space of your home is invaluable. For many families, the problem of increasing usable living space is particularly acute. If you have children, you need a separate office for remote work, or you just want to create a recreation area in your home, you should think about how to increase the usable area of ​​​​your house. One of the most effective solutions, in this case, is the shed dormer with flat roof.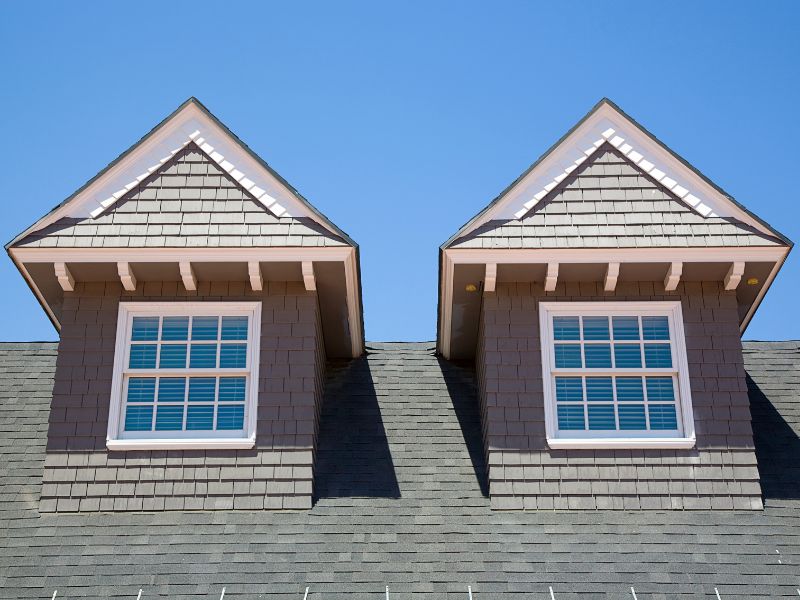 This term refers to an extension located on the upper floors of the house. Moreover, the design of the shed dormer and the roofing options for it can be very different.
It is dormer roofing that becomes one of the most difficult tasks in the design and construction of shed dormers. The integrity, reliability of the roof, the choice of materials for the roof, and the quality of the roofing installation largely determine how energy efficient and comfortable the dormer will be for living. At ID Flat Roof, we know exactly the answers to the most exciting questions about a shed dormer roof. Let's talk about them in more detail.
What Is Shed Dormer and What Options of that Construction Are the Most Effective for Living Space Expansion
There are two basic methods how to expand the living space on the upper floor of a house.
Extension of the wall below that allows the creation of a full-fledged room. Just imagine that you extend the wall below and get a kind of terrace. Then all you need is to build the walls and to get a proper dormer roofing for the construction.
Another kind of shed dormer can be bumped up from a roof plane. In that case, you get a kind of a mezzanine or an attic attached to the roof plane. This looks more stylish yet requires more attention to the choice of roofing materials than a flat roof dormer.
What to choose in that case? That depends much on the initial plan of the construction and, foremost, on the height of the shed dormer's window height related to the eave height of the house. In any case, developing a shed dormer with a flat roof is easier.
Benefits of a Shed Dormer With a Flat Roof
Shed dormer not only allows you to equip a cozy and functional room under the roof. Due to its flat roof, this option receives several important advantages at once.
Proportional ceiling height and room area. Attics are often not very comfortable for life due to the slope of the roof. A shed dormer with a flat roof is completely devoid of this drawback.
Skylights are one of the most costly construction items. And you must admit that installing a roof window on a pitched roof will cost you much more, and there will be more requirements for such a window than for a shed dormer with flat roofing.
Roof options for a flat dormer are much more diverse. To begin with, you can use the most inexpensive types of roofing from rolled asphalt or bitumen, and then everything is just up to your imagination. It can be decorative tiles, corrugated boards, and polycarbonate sheets. At ID Flat Roof, we strongly recommend using a PVC membrane as roofing for dormers with flat roof construction. It will definitely be a good solution in terms of price and quality of the roof.
Why You Shouldn't Use Shed Dormer Flat Roofing Rigid Roofing Materials
We may agree that clay tiles or metal roofing look more attractive. It's in fashion. Yet it is still a bad idea when it comes to a flat roof on a shed dormer. Why so? It is worth paying attention to the roofing material recommended for the attic or a shed dormer. Roofs should be not only good-looking but also practical and functional which means they should be energy-efficient, durable, warm, and no water leakages are allowed in them. For example, the use of rigid metal roofing materials, such as metal tiles, corrugated boards, seam roofing, and others, is not recommended. Why?
There are several reasons for this:
Thermal conductivity quality. Metal is not famous for its thermal insulation qualities and transmits heat. And this means that you will need to apply a thick layer of insulation, which is more expensive. Otherwise, the attic will be cold in winter and hot in summer. That's opposite to comfort, isn't it?
High noise level. Everyone has heard the sound that metal makes when rain falls on it. The noise is loud and obnoxious. No one will be pleased to live in an attic when the rain drums on the roof and does not give rest.
So it turns out that when installing an attic, it is recommended to use a soft roof, bituminous roofing, or, that is the best idea, PVC membrane.
Merits of a PVC Membrane Roofing
A shed with a flat roof should withstand several factors to provide the homeowner with maximum comfort. These factors are as follows.
Absence of extraneous noise. High sound absorption is a must for a shed dormer because this room is most often used as a bedroom.
Protection against heating. There is nothing worse than an overheated roof that radiates heat into the interior. Since the shed dormer is the highest room in the house, it heats up the fastest. And for the roofing of this room, low thermal conductivity is especially important.
Good insulation. This applies to both waterproofing and thermal insulation. A shed dormer roof should not allow heat from the inside to escape to the outside. As well as it should not give access to moisture.
– High strength. A flat roof often suffers from the accumulation of debris and debris on it, the sticking of snowdrifts, and icing. And in regions where there is high activity of hurricanes and tornadoes, wind resistance is also required for shed dormer roofing.
Separately, it is necessary to draw attention to the features of the materials for the work and the specifics of the arrangement. There are a few rules to keep in mind here:
All materials for work with the dormer should be light in weight so as not to load the structure.
Wooden elements are necessarily protected by impregnations and antiseptics, in order to avoid rotting.
Finishing inside is done with lightweight profiles and drywall.
Thermal insulation materials should be of high quality and light.
It is important to provide high-quality waterproofing and vapor barrier.
To meet all these conditions, it is worth choosing a PVC membrane as flat roofing for a shed dormer. The advantages of this roofing material are diverse.
It has high moisture resistance;
Good strength indicators;
Optimal elasticity and extensibility;
Resistance to ultraviolet radiation;
Resistance to aggressive environmental influences;
Wide operating temperature range from -35 to +80 degrees;
A sufficient level of vapor permeability ensures stable diffusion of moisture;
It complies with the standards of regulations for the fire safety of objects.
The combination of these features makes PVC membrane a win-win idea for flat roofing on your shed dormer.
Besides, in ID Flat Roof, you can evaluate a real case of shed dormer roofing installation using a PVC membrane we've provided to a household in North Attleboro.
PVC Roof Installation on Shed Dormer North Attleboro MA
A shed dormer is a very popular way to expand a living space without building an addition. Shed dormers have almost flat or very low pitched roofs, and if covered with regular roofing materials, like asphalt shingles or rolled asphalt, they tend to leak and allow ice dams to build-up. A rolled PVC membrane is the great solution to prevent leakages and ice dams. Not only it is designed for flat and low sloped roofs, it also carries the lifetime material warranty and has an extra benefit of reflecting a lot of sunlight, keeping cool the space under.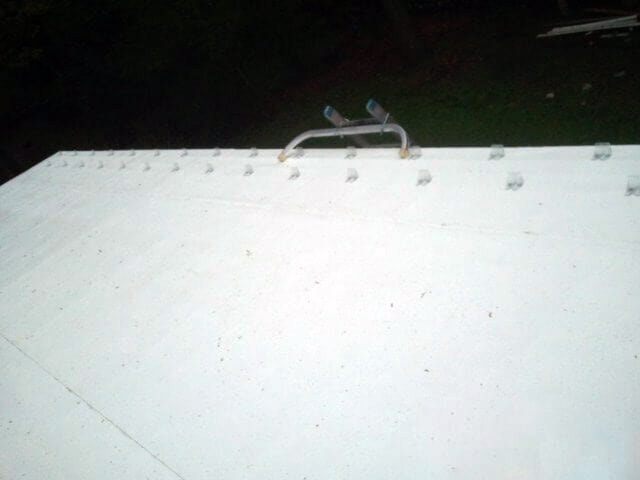 For this project, we decided to go with a 50-mil white PVC membrane, mechanically attached over ½ inch Styrofoam insulation. Originally there was one layer of asphalt shingles on the roof, but since the roof deck was in a great shape, we decided to leave them and go over the top, which essentially cut the cost for the homeowner. We cut back shingles along the edges, removed the old drip edge, and installed 6 inch wide pressure-treated nailer to allow proper PVC coated drip edge installation. In this case, we decided to weld membrane directly to the drip edge (as opposed to the method when drip edge goes on top of the membrane and then the 6-inch stripes are welded over), and we used extra screws every 6 inches to hold drip edge in place really tight.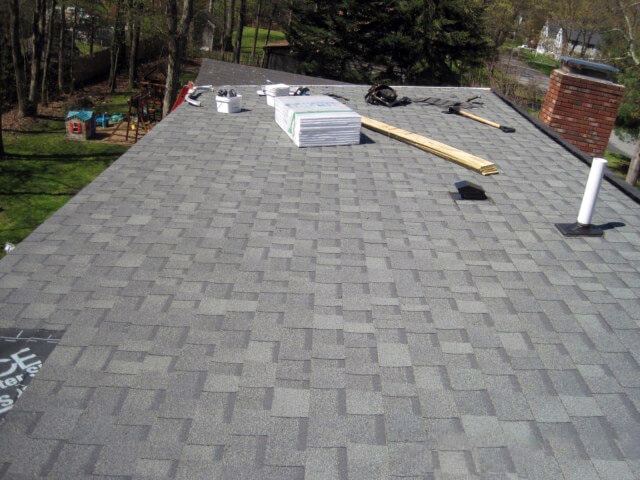 Because this roof had a ridge vent on it, we installed a pressure-treated 2×4 stud along the ridge and wrapped it with pre-welded PVC flashing piece, to serve the purpose of a substrate for the new ridge vent and ridge cap installation.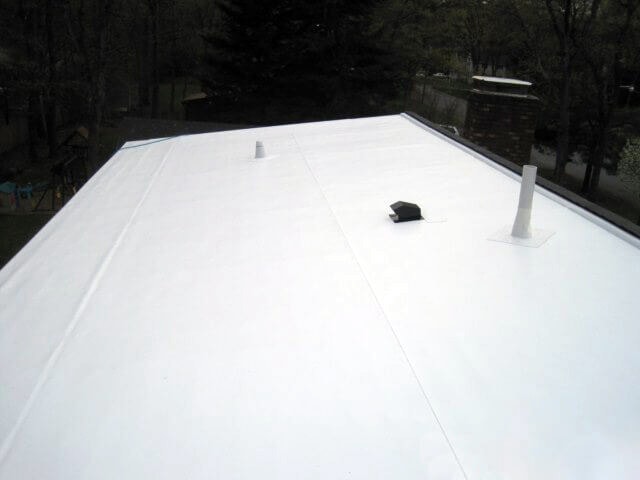 Another possible problem is snow slide during the winter. Usually, it is not a problem on the flat or almost flat roofs but shed dormers usually have a substantial pitch (somewhere between 2 and 4). In addition, a wet PVC membrane is pretty slippery. These two issues can be causes of snow slide formation. Since our client had a big porch under the roof section where work was done, we decided to install plastic snow guards – every foot in a staggered formation. To ensure the proper installation, we installed another piece of 6-inch pressure-treated nailer one foot above the one along the edge prior to the membrane set up. We used special screws with rubber gaskets to hold the snow guards in place and we also used SolarSeal 900 sealant between the snow guard and the roof to cover the screws up. We also installed two 5 inch two-way vets to ensure proper condensate evaporation from under the membrane.
As you can see, developing the project of a shed dormer is not a daunting task when you know what materials to choose for it. In the case of the choice of roofing, it is a PVC membrane roof that meets the most sophisticated requirements of a homeowner for the comfort and energy-efficiency of a shed dormer.