PVC Weston, MA, Roofing Repairs and Installation
4
minutes
Before a PVC roof membrane installation, it is necessary to install any insulation board. We use EPS foam or ISO insulation during Weston roofing repairs in Massachusetts. These two insulation boards have R-values ranging from 4 to 6. They help reduce heat loss and provide a more stable and long-lasting solution.
Various Ways to Install PVC Roofs | Weston Roofing
There's a wide range of methods to install a PVC membrane. The most common one is to use a hot-air welder. It ensures that the seams are strong and prevents wind blow-off and leaks. When choosing the right time to install the roof, consider the temperature of the welder. Since the temperature of the process is very important to ensure that the bond is strong, it should be adjusted upward in the winter.
Hot-air welding on all roof surfaces ensures the material overlaps will last longer than those on other roof systems. This method is also more cost-effective than the use of solvent-based glue. Since you can do it in the winter, it does not require adhesives, which can prevent installation or roof repair.
Weston Roofing Repairs – Fully-Adhered Assembly
A simple method of roof membrane installation using a unique adhesive usually involves attaching a membrane to the substrate with a short adhesive strip. However, this method can be hazardous if the membrane gets loose due to moisture under it. It can cause the adhesive to break and allow wind blow-off.
Although the wind's chances of causing a blown-off roof are minimal, the consequences of this can be severe. It can cost thousands of dollars to replace a damaged roof. To minimize this risk, you should use a full-adhered roof installation method.
This method suits cases when screws and other types of hardware can't easily attach to the PVC membrane. In this case, you should connect the insulation board to the roof using adhesive. This method we used while performing Weston roofing repairs will allow you to minimize the roof deck damage.
A fully-adhered roof membrane along the perimeter will improve the wind uplift and prevent the formation of flutter. This method eliminates the risk of this happening in a mechanically-attached system.
Caution: A fully-adhered roof membrane should only be used if the ambient temperature is at least 40 degrees Fahrenheit. If the temperature reaches over 40 degrees, the adhesive will freeze and cause delamination and bubbles.
Mechanically-Attached PVC Roof
Another way to install a fully-adhered roof membrane is by using barbed plates and heavy-duty screws. This method ensures the wind won't tear off the roof. This method is ideal in an area with high wind speeds.
Ballasted Installation PVC
A ballasted installation is similar to a traditional roof membrane installation in that it involves laying the roof membrane across the substrate while a ballast holds it in place. This type of roof membrane is usually made of materials such as washed river rock and concrete pavers.
PVC Roof Installation in Weston | ID Flat Roof, MA
Unlike the majority of homeowners, our client did his homework. He had a problem with his rubber roof (which was only a few years old and yet had multiple leaks along the skylights, chimney, and lower side of the top) and was looking for a permanent and more efficient solution. He already knew about the material, so after some consideration, we decided to go with a 50-mil white PVC Membrane, mechanically attached.
Another issue he had was the upper bedrooms getting too hot during the summer, so we chose a 3.3-inch ISO insulation. Another reason for choosing such insulation was the 30% tax credit that Massachusetts offers.
After the two layers of the old roof removal (old rubber and rolled asphalt under it), we discovered that water significantly damaged the roof deck.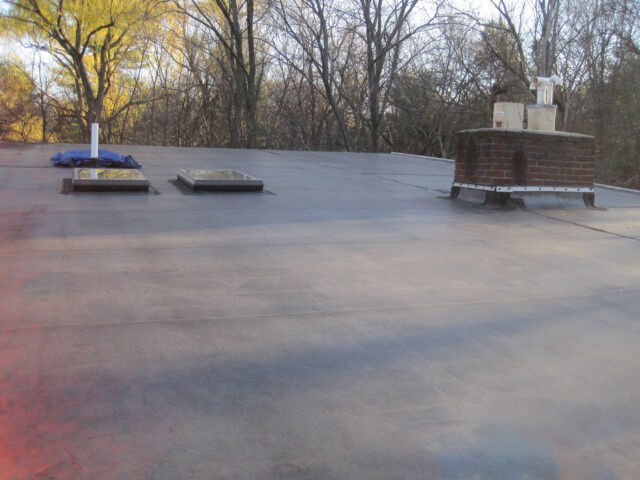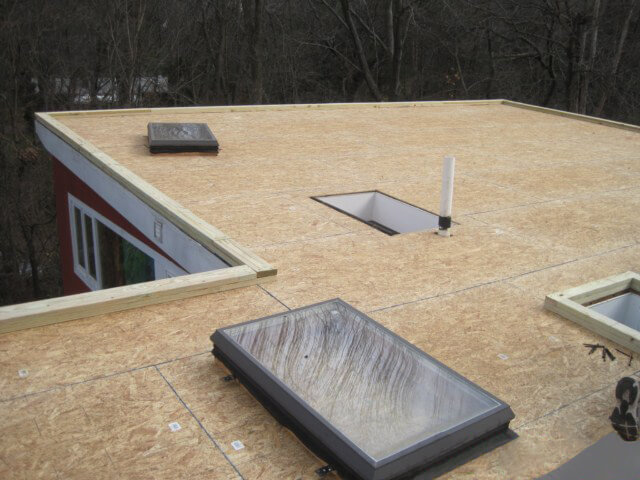 Water was getting under the rubber constantly, so some of the fascia boards had to be replaced, and a new 3/8 inch plywood was installed over the old roof deck.
While performing Weston roof repair, we also decided to raise and tilt all three skylights to prevent snow from covering them during the winter, so we built the new skylight curbs.
Tilting the skylights also prologs their service life because if they are too flat, water will sit on their surface for a long time, little by little getting under the rubber seal and gradually destroying it, especially during winter. And finally, we built 3.3-inch pressure-treated parapets along the roof's perimeter to match the new insulation height and serve as a nailer for the drip edge.
In this Weston roofing project, we installed the PVC membrane using the mechanically attached method, a 6-inch PVC pipe through the roof for the future range hood and used pre-manufactured PVC flashings for the pipes.
Using pre-manufactured outside corners, we flashed Skylight curbs and the chimney with the same membrane as the main roof.
Then our roofers installed aluminum counter-flashing on the chimney, a gravel stop along the three sides of the roof to prevent water from getting off the top on the sides, and a regular drip edge along the lower side.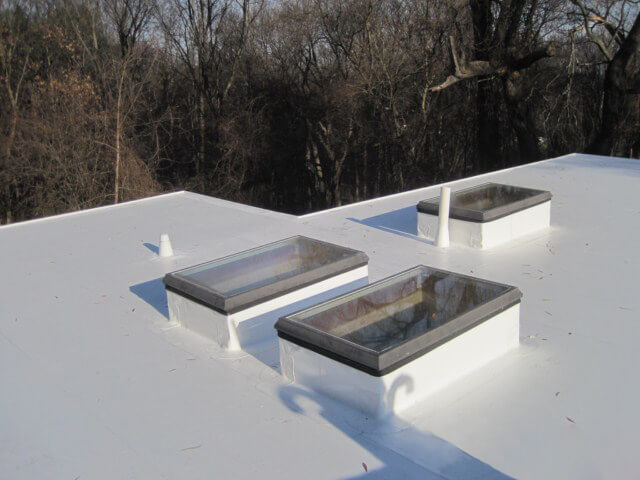 The new aluminum fascia was installed to cover up the new parapets. And finally, we installed a new 6-inch seamless gutter with two 3×4-inch downspouts to handle the water load from the roof. ID Flat Roof completed this Weston roofing project in late November with temperatures swinging around 32 degrees Fahrenheit – well below the threshold allowed for EPDM rubber.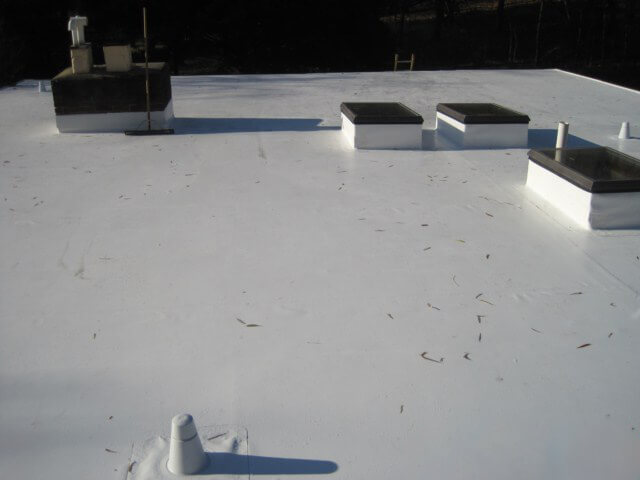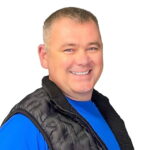 Denis is the driving force behind ID Flat Roof, a leading company in Boston specializing in flat roof repair and installation for over 20 years.
Expertise:
Denis excels in PVC, TPO, EPDM, and rubber roofing. His meticulous approach ensures quality and customer satisfaction.
Innovation:
Denis incorporates cutting-edge solutions like skylights and solar PV roofing.