PVC Roof Installation in Weston | ID Flat Roof MA
Unlike majority of home owners our client really did his homework. He had a problem with his rubber roof (which was only a few years old and yet had multiple leaks along the skylights, chimney and lower side of the roof) and was looking for a permanent and more efficient solution. He already knew about the material, so after some consideration we decided to go with 50-mil white IB PVC Membrane, mechanically attached.
Another issue that he had was the upper bedrooms getting too hot during the summer, so 3.3 inch ISO insulation was chosen to address that. Another reason for choosing such insulation was the 30% tax credit that Massachusetts offers.
As the two layers of old roof were removed (old rubber and rolled asphalt under it) we discovered that there was significant water damage to the roof deck.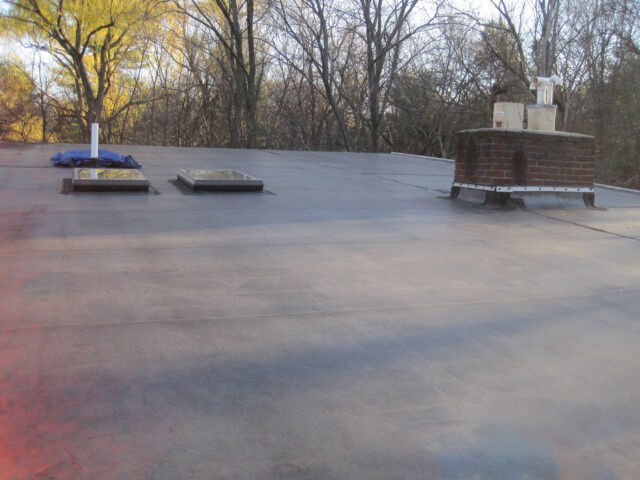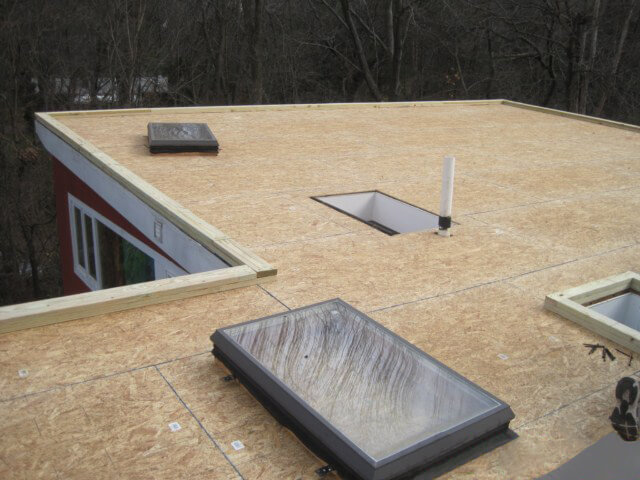 Water was getting under the rubber constantly, so some of the fascia boards had to be replaced and new 3/8 inch plywood was installed over the old roof deck.
We also decided to raise and tilt all three skylights to prevent them from getting covered with snow during the winter, so the new skylight curbs were built.
Tilting the skylights also prologs their service life, because if they are too flat water would sit on its surface for a long time, little by little getting under the rubber seal and gradually destroying it especially during the winter time. And finally 3.3 inch pressure treated parapets were built along the perimeter of the roof to match the new insulation height and also to serve as a nailer for the drip edge.
PVC membrane was installed using the mechanically attached method, pre-manufactured PVC flashings were used for the pipes and the 6 inch PVC pipe that was installed through the roof for the future range hood.
Skylight curbs and chimney were flashed with the same membrane as the main roof using pre-manufactured outside corners.
Aluminum counter-flashing was installed on the chimney. Gravel stop was installed along the three sides of the roof to prevent water getting off the roof on the sides and regular drip edge was installed along the lower side.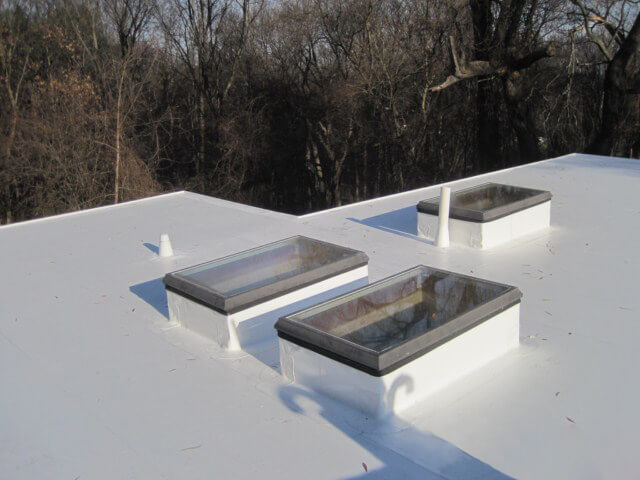 New aluminum fascia was also installed to cover up the new parapets and finally new 6 inch seamless gutter with two 3×4 inch downspouts was installed to handle the water load from the roof. This project was done in late November with temperatures swinging around 32 degrees Fahrenheit – well below the threshold allowed for EPDM rubber.