Outdoor Decking: How to Build a Neat and Long-Lived Deck in Boston
Reading Time:
5
minutes
Outdoor decking is a well-known architectural trend among homeowners in Boston and Massachusetts. The high demand for modern decks is easily explained: you may get a comfortable space for family recreation, entertainment, parties, romantic dinners, and BBQs near your house or in the courtyard by investing a relatively small amount without style and area restrictions.
In addition, professional contractors usually install decks promptly, and the service life of these structures is at least 20-30 years. Are you already ready to order a deck? Good. Let's compare standard decks and materials and consider which option suits you best.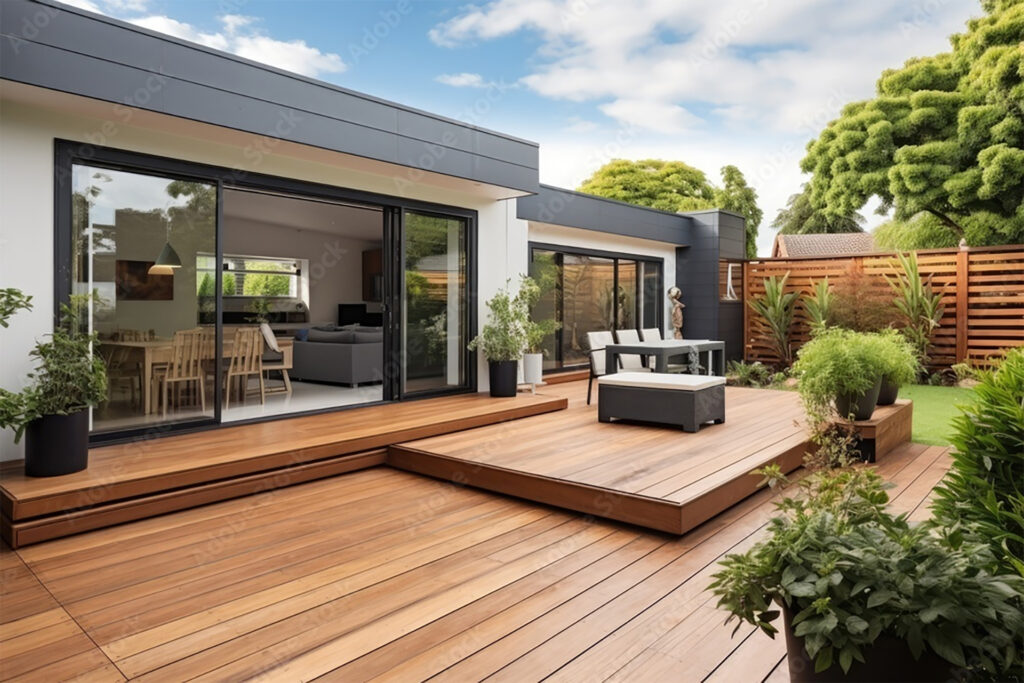 Outdoor Decking: Several Trendy Types
Free-standing structure. This type of deck looks like a frame on piles or supports with flooring made of boards installed at ground level or a low height. If the deck surface height is above 1 foot, the deck generally has railings and stairs.
An extension to a porch or a house. This type of deck is prevalent in our state, as you get additional space with minimal financial investment. You can go to the deck right from the living area, finding yourself in the open air in a few steps.
Outdoor pool decking. This type of deck is designed to create a comfortable relaxing space near the pool. In addition, unique boards with an anti-slip surface make your time around the pool safe and comfortable.
Flat roof decking. One of the most exclusive types of outdoor decking is a deck installed on a flat roof of a building, on a loggia or balcony. In this case, builders first check the roof frame and building itself to ensure it can withstand the additional load of the deck. Railings for such decks are a must-have option.
Materials for Outdoor Decking: What to Choose?
You probably want your outdoor decking to last many years without requiring special care, repairs, or renovations. It is quite possible, but installing the structure professionally and selecting suitable coating materials is essential. Outdoor decking boards have to be: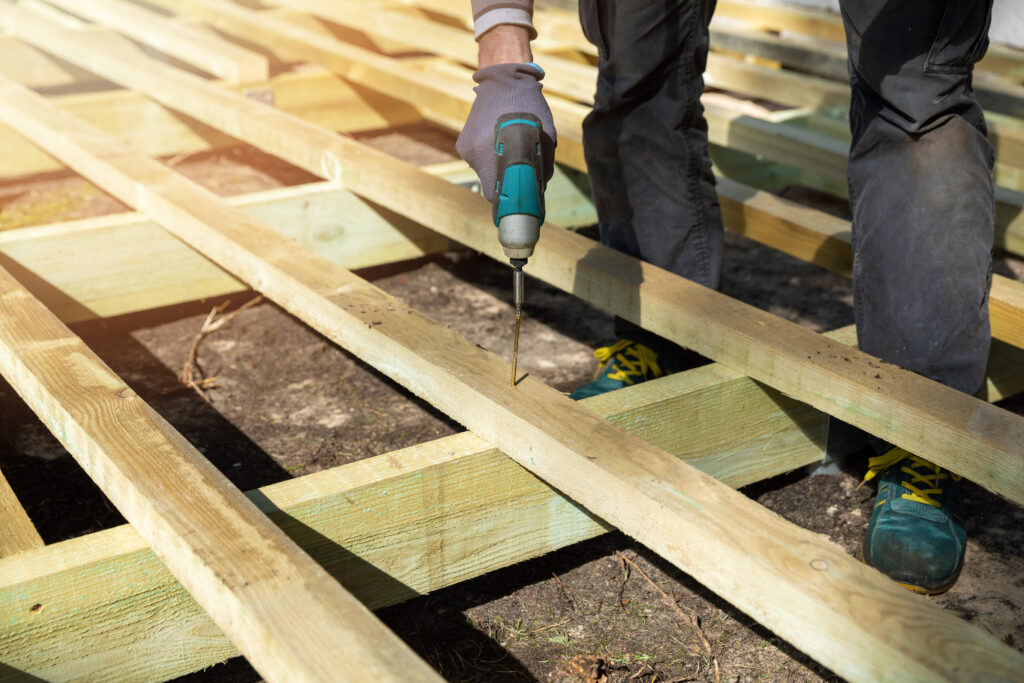 Resistant to water and moisture. Since outdoor decking is installed in the open air, smoke, rain, fog, and snow will periodically fall on the surface of the boarding decks. The material must be completely resistant to moisture. If you choose natural wood as the material, the level of moisture absorption should not exceed 5%.
If the material does not absorb or almost does not absorb moisture, you most likely wouldn't see mold and mildew on its surface (including on the ends and back of the boards).
Wear resistance. The coating material must withstand the loads that occur when walking on it. Durable materials resist mechanical wear and tear and last at least 20-30 years. Synthetic materials do not wear out as quickly as natural wood.
We recommend choosing coatings with an anti-slip effect. These surfaces are better suited to walk on even if they are wet.
UV resistance. As a rule, decking is installed outdoors in areas exposed to sunlight.
Almost any material will eventually begin to fade in the sun. Natural wood can be repainted or coated with special wax. Synthetic materials are not re-painted usually, and if they are severely faded under the influence of UV, they should be replaced.
Geometric stability. Natural materials expand, bend, twist, and change geometric shapes under the influence of temperature changes and changes in humidity. Synthetic materials and heat-treated wood are more stable. However, natural wood can band or even crack if installed wrongly or exposed to harmful factors all the time.
Appearance. Nowadays, manufacturers offer a wide selection of materials available on the US market. You can choose almost any coating texture, pattern, and shade. In addition, some materials can be painted, waxed, varnished, or stained.
Outdoor Decking Materials: Your Guide to 3 Standard Options
Natural wood. Oak, ash, larch, and teak are used for decking. Exotic wood species are used less often because they are pretty expensive. Also, wood can be additionally heat-treated or impregnated with particular protective substances. Follow the manufacturer's recommendations during installation and usage, as this impregnated wood can be toxic to people and pets. Generally, the wood is covered with varnish, wax, and paint, which should be renewed every few seasons.
The advantages of wooden coverings are the following: a relatively long service life, a stylish texture that fits into any interior, and the ability to paint the surface in any color, making it unique.
PVC coating. This coating is made from entirely synthetic raw materials. The advantages of PVC materials are a service life of more than 30 years, wear resistance, and complete immunity to moisture. However, if you choose PVC coatings, you will be limited in color options. What is more, it may fade in the sun.
Composite boards (hollow or solid). The third coating type is a combination of natural wood and synthetics. Composite boards are made from plastic particles mixed with wood products and special glue. This coating may imitate natural wood. Also, such committees are more stable under temperature changes; they do not rot and do not attract insects.
Some contractors offer outdoor decking installation with aluminum coating, but commercial property owners more often choose this material.
Unleash Your Creativity: Exciting Decking Stories
Expert Tips & Insider Recommendations: Elevate Your Decking Experience
Specialists should design a drainage system at the initial stage of the outdoor decking project. If not done, rainwater and melted snow will accumulate in puddles on the deck's surface. It can lead to mold appearance and even to structure frame damage.
You may want to install lighting in the outdoor decking area. Ask your contractor to add the installation of wiring and lighting fixtures in the estimateю. You can equip a grill area if necessary, but fire safety regulations must install it.
If necessary, install sun canopies on the outdoor decking area.
Don't forget about installing railings. Specialty contractors will offer several popular options, including trendy glass railings, panel railings, cable railings, practical 'drink rails,' and wood, plastic, and composite fences.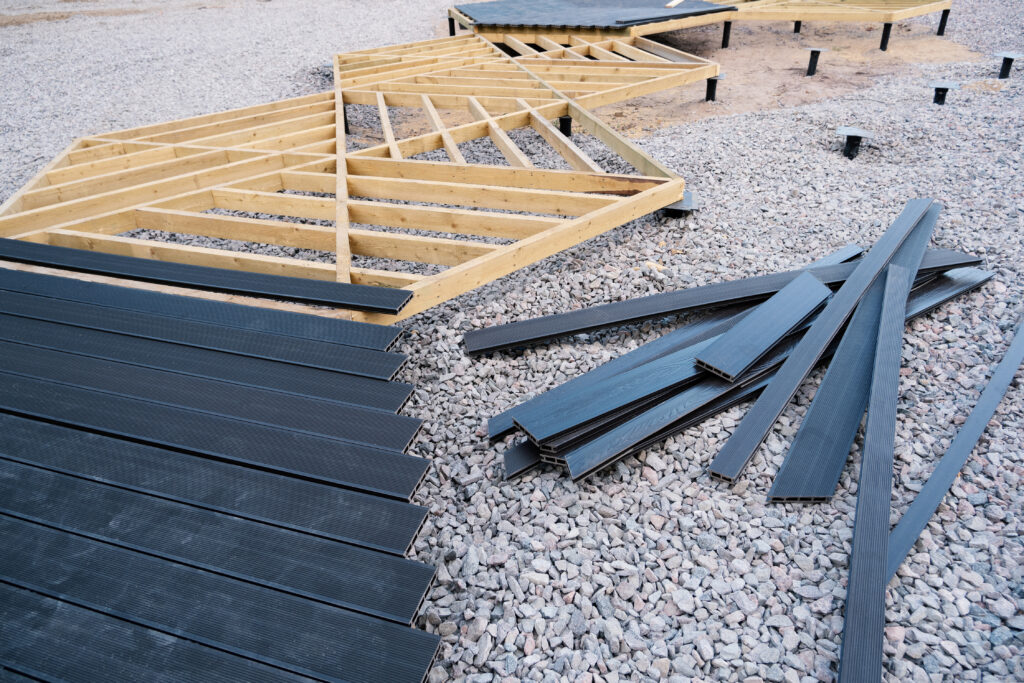 Conclusion: Consult with Pros for the Best Results
Outdoor decking is probably the best outdoor addition available to any homeowner in Boston.
However, we recommend that you carefully study the offers and available options and consult with professionals who will tell you about the intricacies of different projects and the advantages of materials available in MA.
Outdoor Decking FAQ
How much does outdoor decking cost?

The final cost depends on several factors – deck area, installation location, additional tasks (railings, grill zone, drainage, etc.), and the contractor's pricing policy.

Can outdoor decking be installed on soil or grass?

No, outdoor decking is installed on a stable frame, since the ground surface may not be stable enough. In addition, the coating should not come into contact with grass and wet soil. If necessary, a lawn/garden area should be additionally prepared before installing a free-standing outdoor deck.

How to maintain outdoor decking?

It all depends on the coating material. Natural wood requires the most attention. It needs to be periodically coated with protective agents. Heat-treated wood, composite materials, and PVC require less attention. In addition, it is advisable to remove debris and clean outdoor decking gutters at least several times a season.

Who designs and installs outdoor decks?

Specialized contractors carry out the design and installation of outdoor decks. Several companies in Boston install all types of decks. Contact the contractor's consultants to do the design and prepare an estimate for you.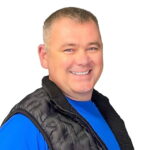 Denis is the driving force behind ID Flat Roof, a leading company in Boston specializing in flat roof repair and installation for over 20 years.
Expertise:
Denis excels in PVC, TPO, EPDM, and rubber roofing. His meticulous approach ensures quality and customer satisfaction.
Innovation:
Denis incorporates cutting-edge solutions like skylights and solar PV roofing.