Porch Decking, Decor and Furniture: How to Choose Them for Your Boston House
Reading Time:
6
minutes
Do you want to create a cozy outdoor space by your house? Think about a porch. It's more compact than a standalone deck but can be as beautiful and welcoming. A front porch can significantly transform the looks of the building and boost its resale value. A back or side porch can become the favorite place to relax for all your family members and guests. This article will share popular porch design ideas for Boston, Massachusetts, including insights on the best porch decking material. You'll get to know which decking material to opt for, which decor elements to add, and which color palette to consider.
Large Classic Front Porch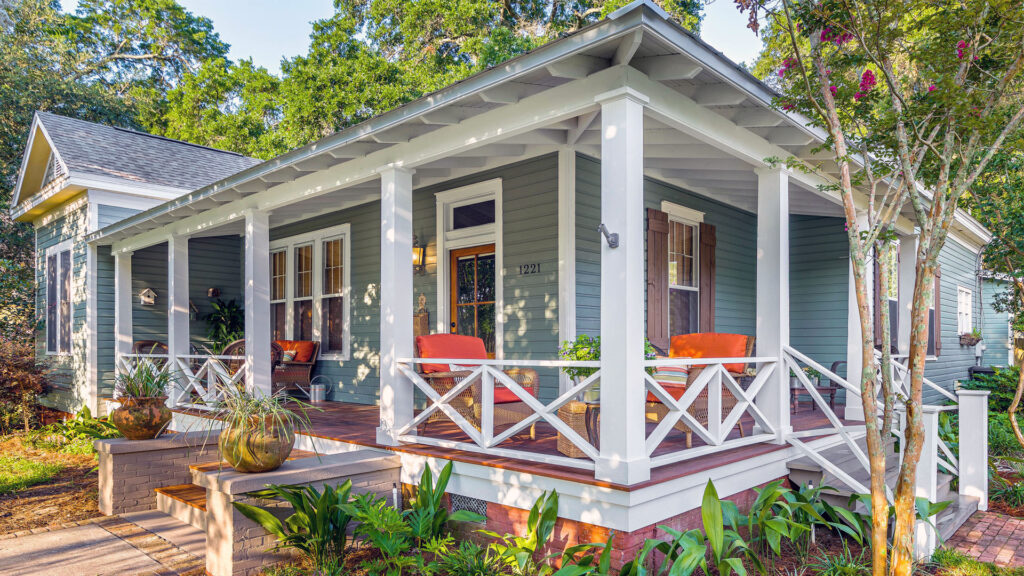 This idea works wonders with buildings of traditional or transitional styles. Does your house have two-story windows and stone columns? Let the deck area frame them. It will look stately and remain relevant for many decades ahead.
Keep your porch symmetrical. For instance, you might be tempted to arrange a play area for kids in the left part of the deck and an open bar for adults in the correct part. Such an idea won't work with a classic deck. It would be better to move the play area and the bar to the patio behind the house and keep the front porch more formal.
Colonial-Style Porch
Add a spindle-style railing to your covered porch. Paint the railing white and install dark rocking chairs on the deck. Add more black and white contrasting details, such as lamps or tables. Such a design can be "reasonably tropical" without excessive extravaganza.
Add a flat roof porch for a modern flair, pairing a white spindle railing with dark chairs and monochrome accents for a subtle tropical vibe.
Cedar Deck for a Modern-Style House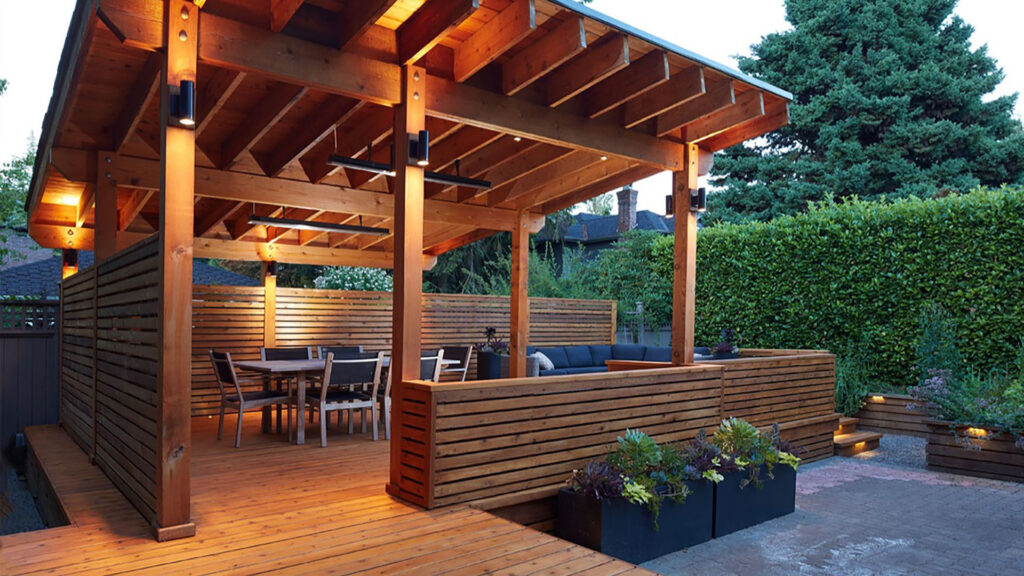 Porch flooring made of natural wood looks incredibly classy. No composite decking will ever be able to beat it when it comes to aesthetics. No two decks look the same, which adds visual intrigue. On the flip side, this material requires regular maintenance, and you shouldn't walk on it barefoot because of splinters. Compared to other wood varieties, cedar looks more contemporary. It's a popular choice for porches of modern-style houses.
Wide-Plank Rustic Deck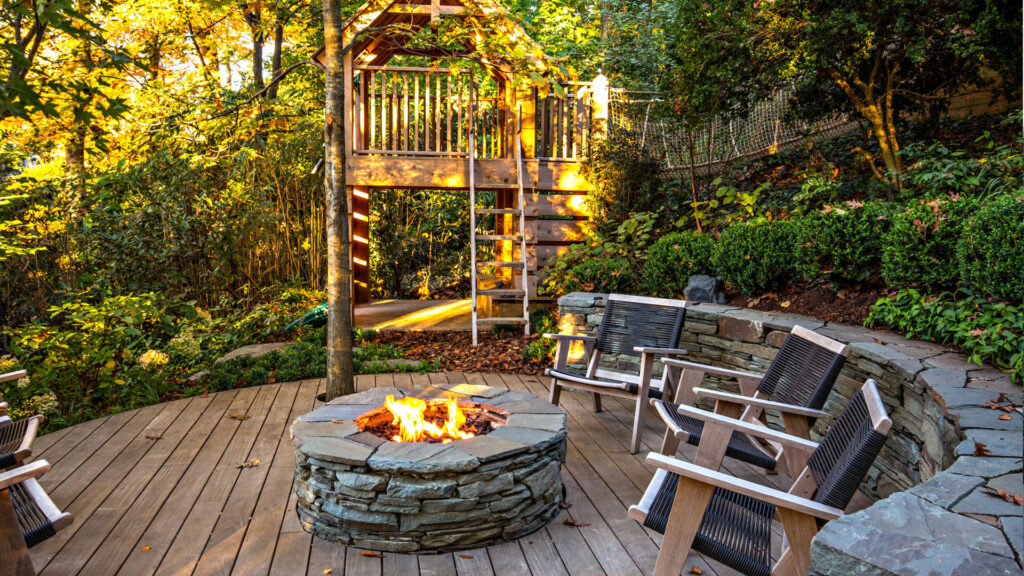 The narrower the planks, the more formal the space looks. Wide ones will add rustic charm to the porch. Opt for boards of a light shade to emphasize the relaxed vibes. The wood species doesn't matter too much in this case. Avoid installing a railing around the seating area unless the porch is located too high above the ground. The lack of railing will enable you to enjoy unspoiled views.
Add ornate details — such as fancy window trims, to prevent the design from becoming dull. Paint the door with a contrasting color for a cinematographic feel. The building will resemble a lovely faraway farmhouse even if you live in Boston, Massachusetts.
Front Deck with Natural Stone and Shingled Siding
The three pillars of this design concept are real wood porch decking, shingle-style siding, and natural stone. Such an exterior looks organic and welcoming. It perfectly fits highly functional porches that are used regularly. Add a roof or another covering to provide shelter from sun rays, rain, and snow.
Porch with Matching Benches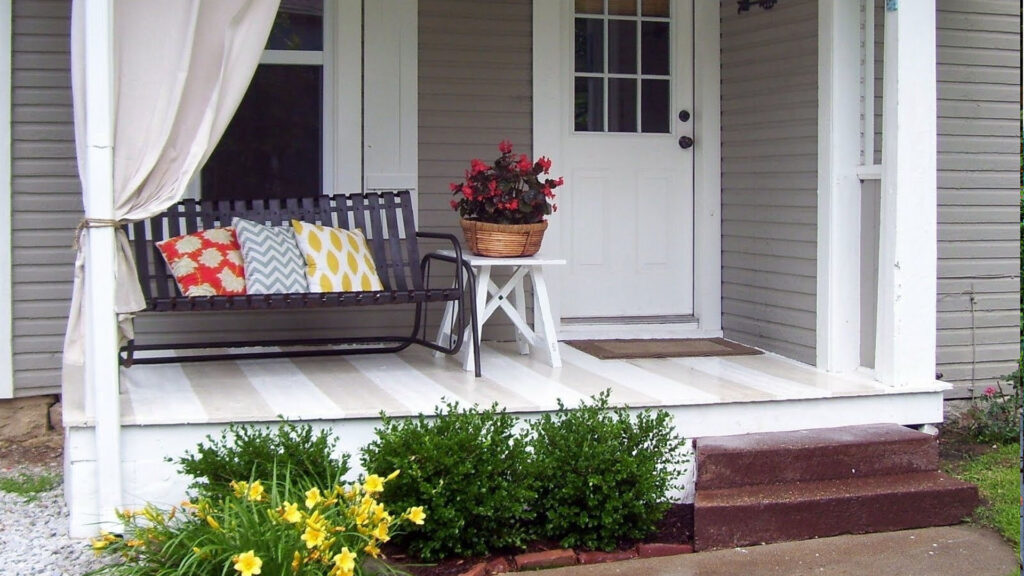 It's a superb idea for homeowners who don't want to spend a large budget on their porch design. If the deck is large enough, place two or more matching benches there. Make them from the same material as the decking boards — natural wood should be a spot-on option. Such an approach makes the benches visually smaller and blends them with the background. You get an impression of a larger space filled with air. If the porch is not elevated, consider doing without railing to further accentuate the illusion of an expansive space.
Porch with Craftsman Decor Items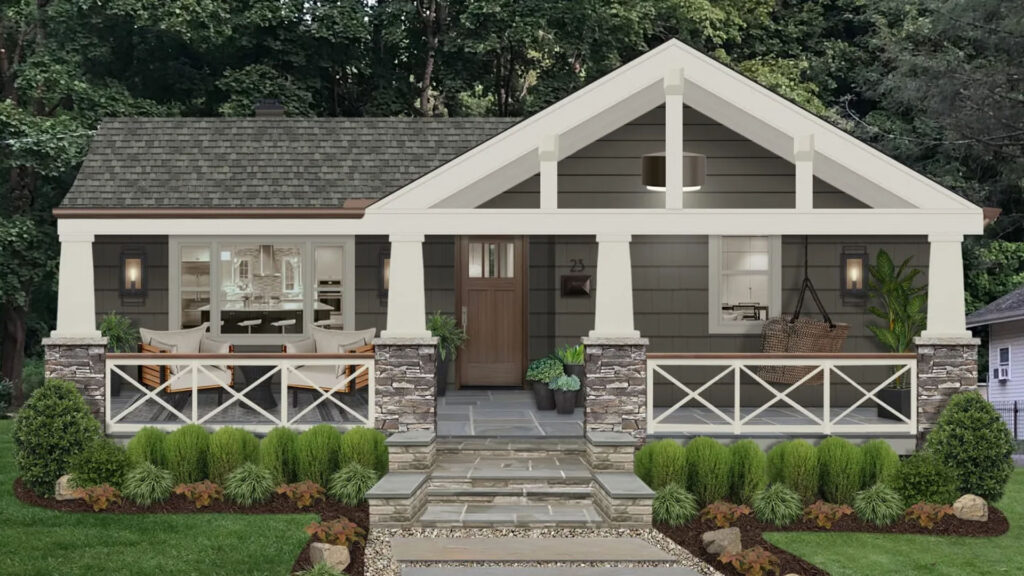 There are quite a lot of homeowners in Boston who can build or repair nearly anything. They know how to handle tongue and groove boards, stain and finish the flooring, install gazebos, and build awesome outdoor kitchens. For them, the porch is one of the best places to showcase their talents. They know how to accentuate the individuality of their houses by expressing their approach to creating, shaping, and combining decor items.
Alternatively, you can purchase unique handmade objects to decorate your porch. For instance, it can be columns made of wrought iron or carved wood, sculptures made of natural or artificial stone, or a custom-made lattice for climbing plants that can become one of your porch walls. When choosing such items, ask the vendor about the maintenance. Some are made for indoor usage — and others can withstand elements if you properly care for them.
Minimalist Porch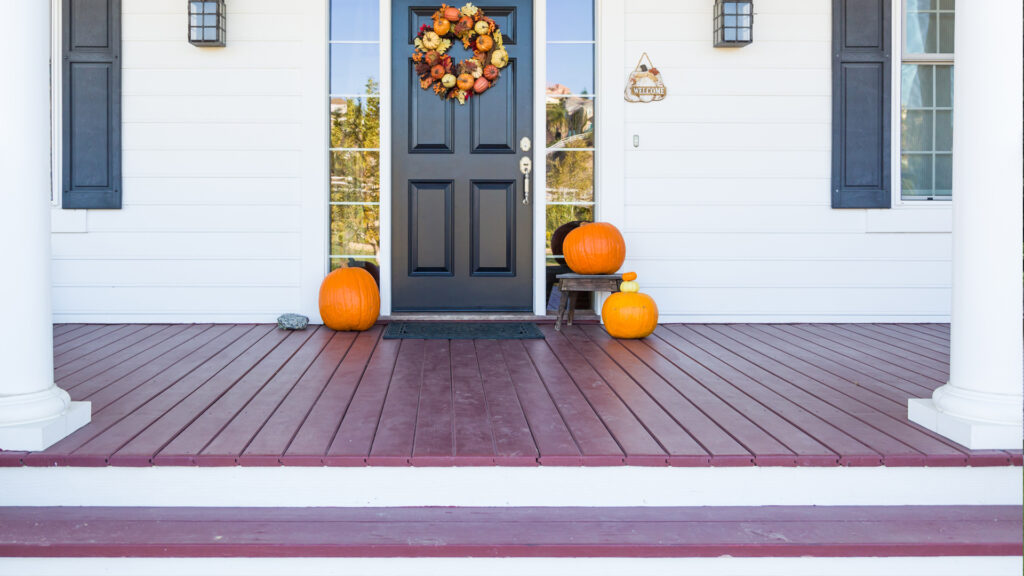 One of the most extensive merits of minimalist porches is that you can create them even on a tight budget. Avoid placing too much furniture there to accentuate the geometric shape of the deck. Dismiss the railing. Paint the door black or dark grey. Buy natural lumber for the porch flooring — or find an affordable alternative that mimics the lumber aesthetics.
Modern Side Porch
Front porches tend to be busy. People keep entering and leaving the house, often carrying things with them. Side porches, by contrast, are great for relaxation. Consider arranging an alfresco living room there. Place cozy seating and spread one large carpet or several smaller rugs. Install a brick fireplace with a beautiful electric fire. Black lacquer outdoor furniture on a wood deck will look incredibly stunning in such surroundings.
Elevated Front Deck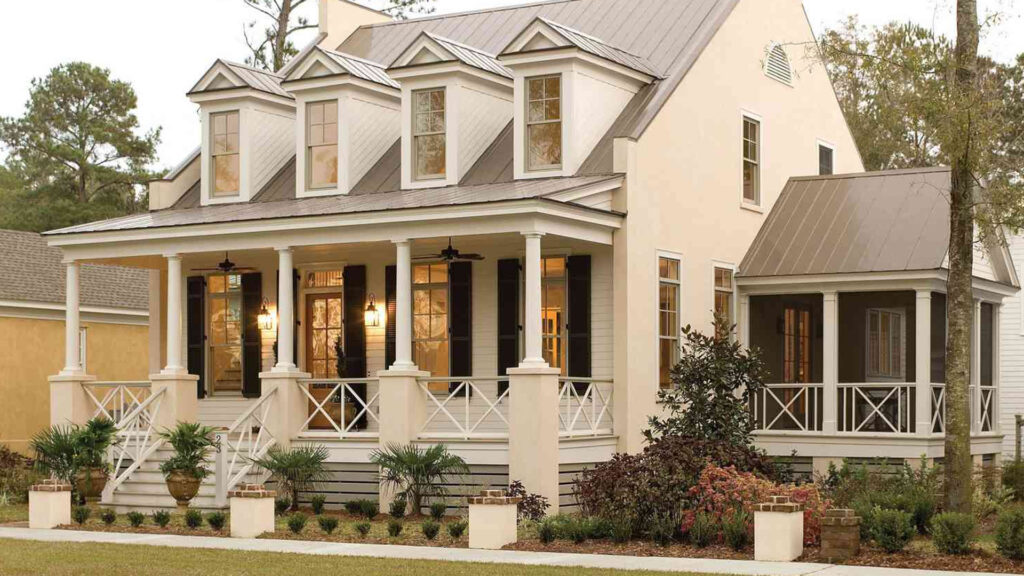 Such a deck creates a sense of grandeur. You may want to build it if your house is too compact or looks a bit lackluster. One of the best colors for this design idea is white. It adds more space and air to the picture. Think about using it for railings and stairs, for instance. Ornate elements such as the front door can become opportune design accents to the picture. Elevated decks typically feature much room for seating, so your guests should appreciate it.
Asian-Style Deck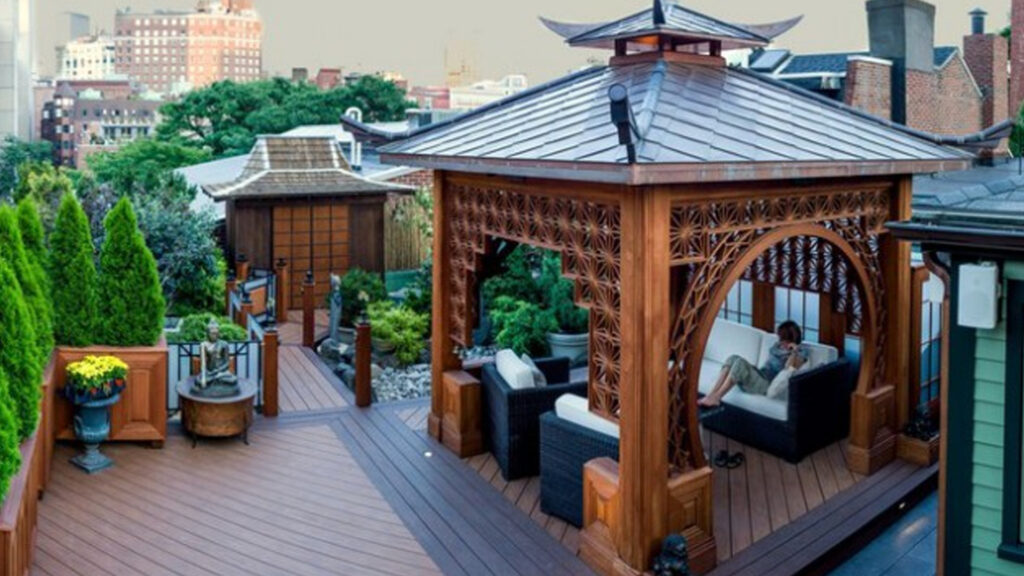 Clean lines are a signature feature of the Asian design style. Build them to prevent the benches from standing out from the overall picture. Place planters strategically all over the porch. If there is a staircase, make the construction as light as possible. Some stairs float in the air when you look at them from the right angle — it's one of the epitomes of the Asian style.
Porch with a Swing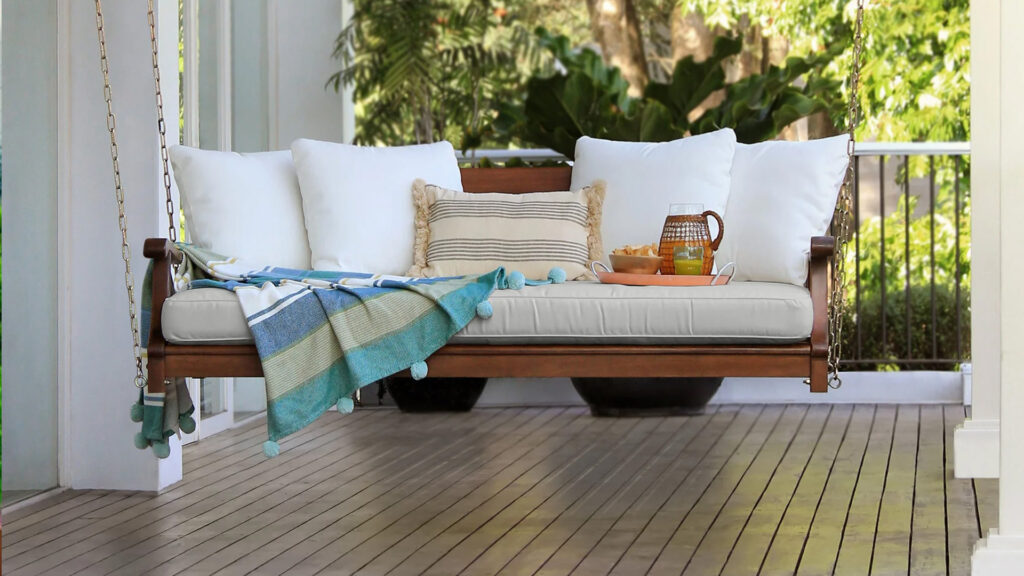 A swing takes a lot of space. You can implement this design idea if your porch is large enough. Place the swing at the end of the porch and not in the center — otherwise, you might struggle to find space for other furniture items. Don't forget to protect the swing from precipitation. Is there a roof over your porch? If not, think of a retractable or permanent awning.
Unleash Your Creativity: Exciting Decking Stories
Final Thoughts About Porch Decking and Design in Boston, Massachusetts
A front, side, or back porch will make your house more beautiful and comfortable. All your friends and family members will appreciate it greatly. For professional builders, incorporating a porch can significantly elevate the value and appeal of your residential projects. Feel free to choose from multiple design styles: classic, transitional, Asian, minimalist, сolonial, etc. Pay special attention to the flooring, railing, and color palette. These three elements will determine the overall looks and vibes of your porch.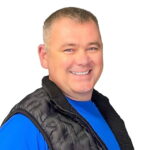 Denis is the driving force behind ID Flat Roof, a leading company in Boston specializing in flat roof repair and installation for over 20 years.
Expertise:
Denis excels in PVC, TPO, EPDM, and rubber roofing. His meticulous approach ensures quality and customer satisfaction.
Innovation:
Denis incorporates cutting-edge solutions like skylights and solar PV roofing.