PVC Flat Roof Installation Lincoln | ID Flat Roof
Reading Time:
5
minutes
Today, when building a house, architects and engineers often prefer a flat roof to other types of roofing. This option not only allows you to save on building materials and increase the living space of the upper floors or attics but also complements many modern architectural styles for which a pitched or domed roof does not fit aesthetically. At the same time, the flat roof installation has unique features because of the lack of slope, meaning higher requirements for loads and drainage.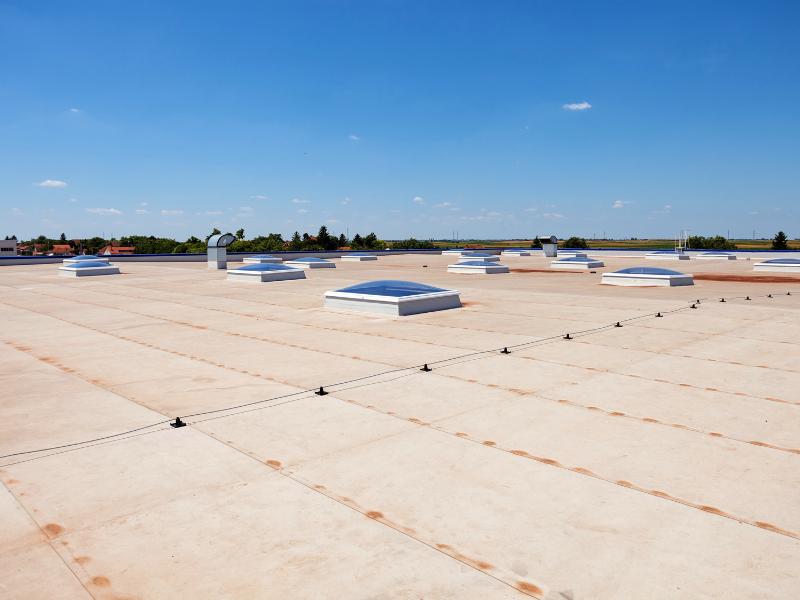 ID Flat Roof offers PVC roofing installation and replacement services throughout Lincoln, MA. We approach the design and implementation of flat roof projects from the perspective of professionals because, in addition to the basic requirements, you need to know what best materials for a flat roof replacement, how to install it correctly, and how further to maintain the integrity and strength of the roof.
Our team, over the years of experience in the roofing business, has come to an obvious conclusion. Today, PVC membrane is the optimal material for covering a flat roof. We will tell you more about what qualities make this material the best and how PVC membrane roofing is installed in Lincoln's climate.
What to Consider When Starting a Flat Roof Installation
Flat roofs are often used in modern high-rise buildings, administrative and industrial buildings, and suburban construction. In the latter case, they are most famous for low-rise buildings or outbuildings. They are indispensable for houses in Scandinavian or Japanese architectural styles, in high-tech, loft, modern, and minimalist projects.
However due to a weak slope or its complete absence, flat roofs must meet the following requirements to protect homeowners from poor weather reliably.
A flat roof should provide reliable protection against rain and meltwater and have a sufficient slope so that precipitation does not linger on it.
The structure should not deteriorate under the influence of severe frosts, the scorching rays of the sun, sudden temperature changes, and intense hail.
It should perfectly cope with the heat-insulating function.
All roof materials must be fire-resistant.
The roof must withstand heavy loads from accumulating snow, ice, or rain. Impact resistance is equally important to prevent leaks and protect it from falling branches or wind-blown debris.
The first step to meet all these conditions is to determine the best flat roof material and select a reliable manufacturer.
Choosing the Best Material for Flat Roof Replacement or Installation
Sheet or roll materials are usually the best for flat roof installation. These options were not chosen by chance as they are:
The most popular flat roof materials are asphalt, polyiso, and membranes (EPDM or PVC). Today, a PVC membrane is the best possible option for a flat roof. There are five reasons for this:
Its durability. PVC membrane retains integrity under the most difficult climatic conditions. It is resistant to winds and mechanical damage. The average service life of such material is at least ten years, but as practice shows, a membrane flat roof can last 50 years with proper installation and maintenance.
High vapor permeability and excellent waterproofing. If a professional contractor lays the PVC membrane on your roof, condensation will not occur. In addition, the PVC membrane does not require additional lining materials for waterproofing and vapor barrier.
Easy installation. A small set of tools is enough to install a PVC flat roof. First of all, rollers and a professional hot-air welder. Also, there are several methods of PVC roofing installation, depending on the design features and area. PVC membrane installation is effective on any roof area, including on top of other roofing material for roof repairs.
Incombustibility and tolerance to aggressive environments. PVC membrane has low flammability and does not deform when in contact with chemicals. It is enough to sweep snow deposits, fallen leaves, and debris for maintenance. In practice, this means compliance with high safety requirements and ease of use.
A minimum of seams further strengthens the design and minimizes the likelihood of leaks.
All these features make the PVC membrane an absolute must-have for flat-roof houses.
PVC Membrane as the Best Choice for Lincoln Flat Roofing
Choose PVC membrane roofing in Lincoln specifically for its high resistance to temperature fluctuations common to the local climate. It can withstand heavy rains and snowfalls while protecting the house from tornadoes and harsh winds.
The Sample of ID Flat Roof Roofing Installation in Lincoln
To ensure that PVC roofing fits your expectations, look at the project we recently performed in Lincoln, MA.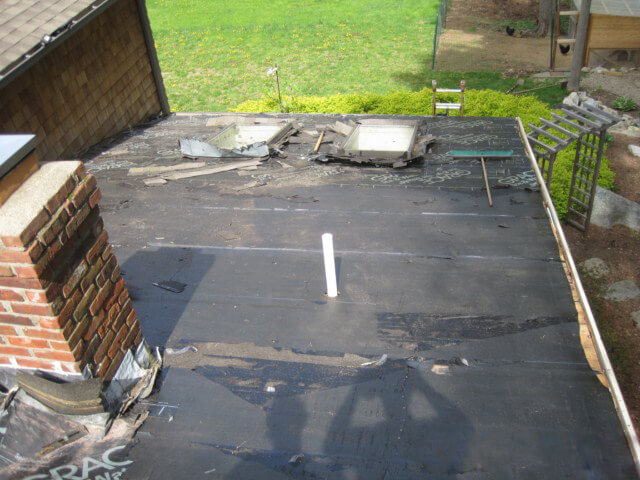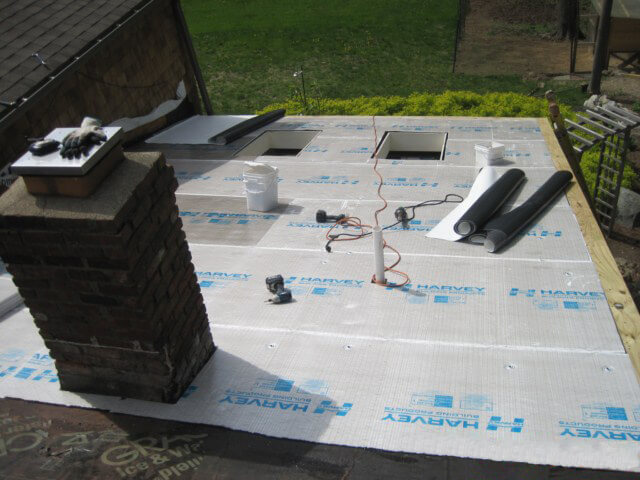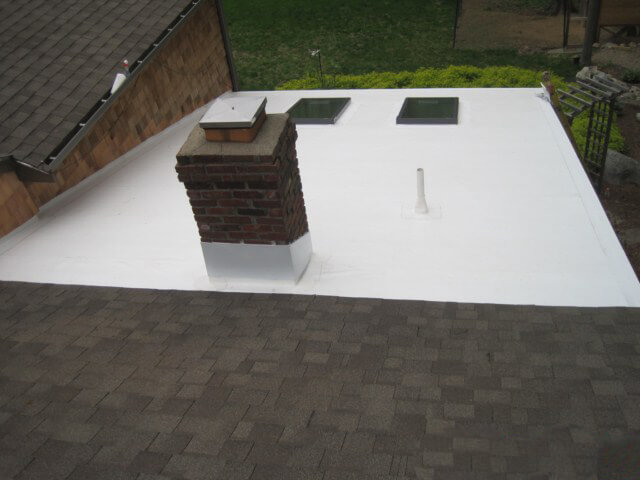 Our next project, a house in Lincoln, MA, has a several-year-old addition with a roof that changes its pitch from very steep at the top to almost flat towards a lower portion. The flat section of the roof had asphalt shingles, which created two problems: skylights started to leak, and massive ice dams started to form during the wintertime, allowing the thawing water to get under the shingles and inside the house. To fix these problems, we removed old asphalt shingles and installed a new 50-mil PVC membrane, mechanically attached over ½ inch Styrofoam insulation with bronze PVC-coated drip edge to match the existing fascia color.
Then, we installed the insulation and PVC membrane so that the upper part of the PVC flashing would go about 10 inches up under the remaining portion of the roof. We had to use a separate sheet (GAF Deck Armor) to avoid contact between the PVC membrane and asphalt shingles to avoid asphalt damaging the membrane.
On the chimney, we removed the old LED counter flashing. Then we installed new flashing made of PVC membrane with white aluminum counter flashing, two new skylights, and a bathroom pipe. We also had to remove about 10 inches of the existing red cedar siding to allow proper wall flashing installation.
After the installation, the roof became watertight, and the issues that forced the homeowner to replace it resolved themselves. If ice dams form again, water won't get under the roof because all seams are welded with hot air, creating a single piece of membrane on the top. And let's not forget the lifetime warranty IB PVC roofing material has!
PVC membrane for flat roofing is a win-win idea, especially regarding Massachusetts' natural climate in Lincoln, MA. When applying for experienced contractors' services, with the help of PVC membrane, your flat roof will be installed within a day. ID Flat Roof offers such a service. We guarantee all our clients the highest quality and speed of roofing repair or installation in Lincoln.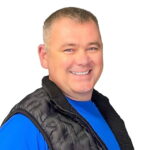 Denis is the driving force behind ID Flat Roof, a leading company in Boston specializing in flat roof repair and installation for over 20 years.
Expertise:
Denis excels in PVC, TPO, EPDM, and rubber roofing. His meticulous approach ensures quality and customer satisfaction.
Innovation:
Denis incorporates cutting-edge solutions like skylights and solar PV roofing.