PVC Flat Roof Installation Lincoln | ID Flat Roof MA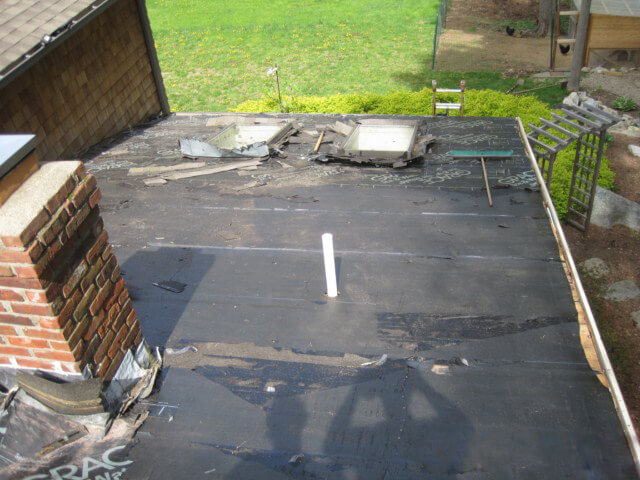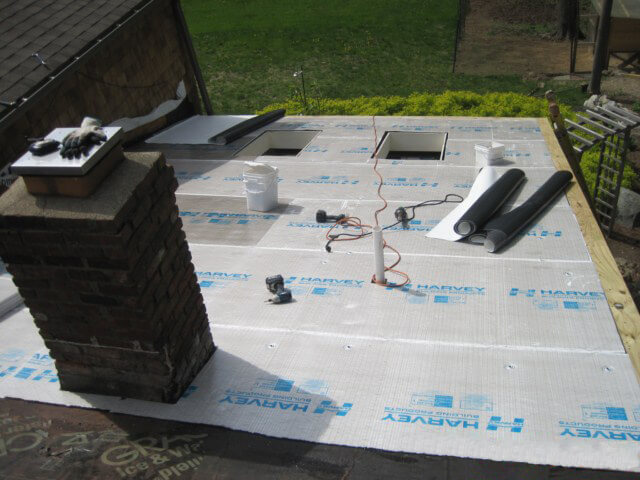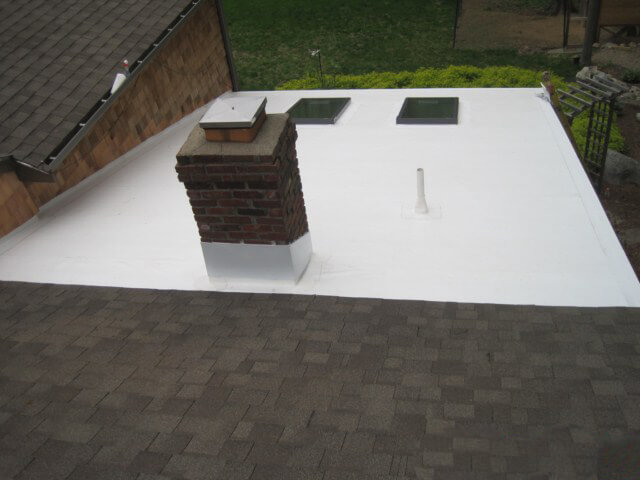 Our next project, a house in Lincoln, MA, has a several years old addition, with a roof that changes a pitch from being very steep in the top to almost flat toward a lower portion. The flat section of the roof had asphalt shingles, which created two problems: skylights started to leak and massive ice dams started to form during the winter time, allowing the thawing water to get under the shingles and inside the house. To fix these problems we decided to remove old asphalt shingles and install new 50-mil PVC membrane, mechanically attached over ½ inch Styrofoam insulation with bronze PVC coated drip edge to match the existing fascia color.
Once the old asphalt shingles were removed we installed insulation and PVC membrane, so that the upper part of the PVC flashing would go about 10 inches up under the remaining part of the roof. We had to use separation sheet (in this case we used GAF Deck Armor) to avoid the contact between PVC membrane and asphalt shingles because asphalt can damage membrane material.
We also had to remove about 10 inches up of the existing red cedar siding to allow proper wall flashing installation. On the chimney we removed old led counter flashing and installed new flashing made of PVC membrane with white aluminum counter flashing. PVC flashing was also used to install two new skylights and flash a bathroom pipe.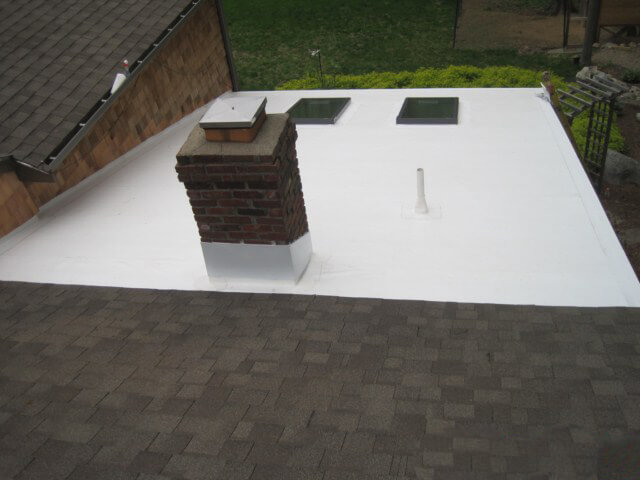 Once the installation was completed, the roof became absolutely watertight and thus resolving the issues that forced the homeowner to replace the roof. Even if ice dams form again, water would not find its way under the roof because all seams were welded with hot air, forming a single piece of a membrane on the entire roof. And let's not forget the lifetime warranty IB PVC roofing material has!