Flat Roof Installation: lead-in information
A flat roof, depending on the covering type and architectural features, can reliably protect the house from leaks and bad weather for 15 or even 50 years. To achieve maximum service life and enjoy almost zero-maintenance roofing, you should pay attention to professional flat roof installation in the first place. Let's talk about how to install a new roof as well as to replace worn-out material with modern EPDM membrane coverings.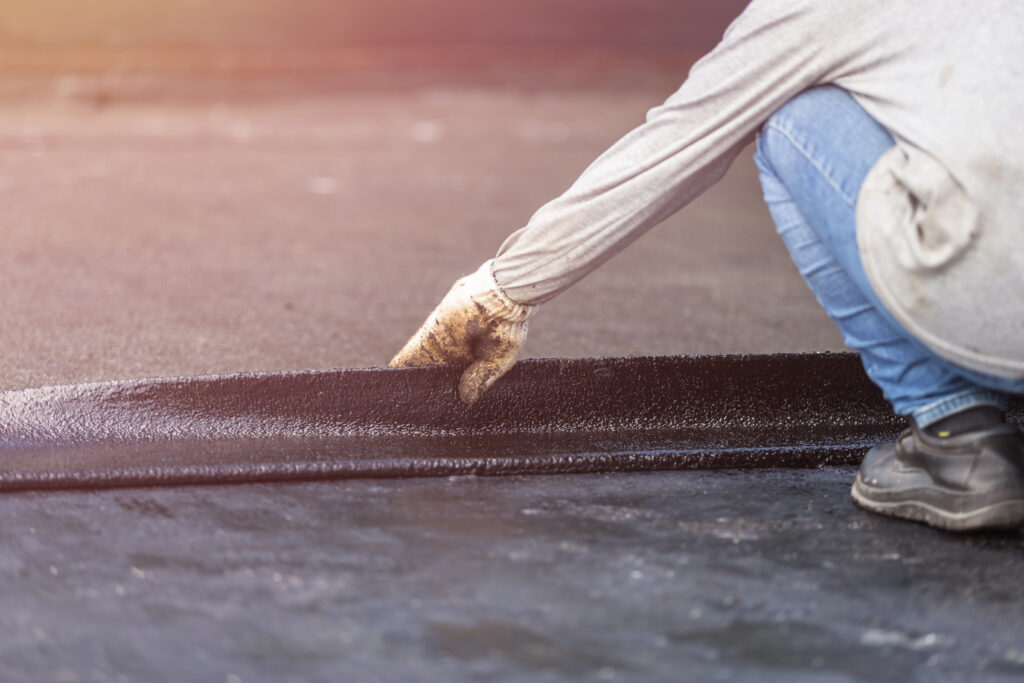 Flat Roof Installation Process: where to begin
Flat roof installation is required in several cases.
It could be the roofing project of a newly built commercial or residential building.
Installation is also required during partial renovation with replacement of roofing surface.
Damaged roofing surface is one more reason for new roof installation.
The main task of mounting any flat roof is to get a reliable structure that will shield the interior of the building from leaks, heat loss, street noise.
It is necessary to take into account the selected roofing material, the degree of damage (if you've noticed it), the type of roof and other factors at the initial stage to achieve mentioned goals. In addition, you'll surely need equipment and tools while installing or replacing any roof.
Attention! Roof installation is a complex task that requires compliance with safety rules for working at height and the skills of roofers. If you are going to install a new roof, replace most of the roofing material or repair roofing frame, we recommend contacting professional roofers.
What tools are needed to complete an installation?
A complete set of tools depends on many factors. Like the type of work you are going to do, type of roof structure and roofing pie, preferred roofing material installation approach and other nuances. Let's look at the basic set of tools needed to install or replace an EPDM-coated flat roof.
Despite the flat roof surface looks safe, in some cases it is necessary to use safety equipment.
Safety wear including glasses
Hammer, knife
Roller for applying adhesive
Measuring tape
Pry bar and spade (if demolition work is required)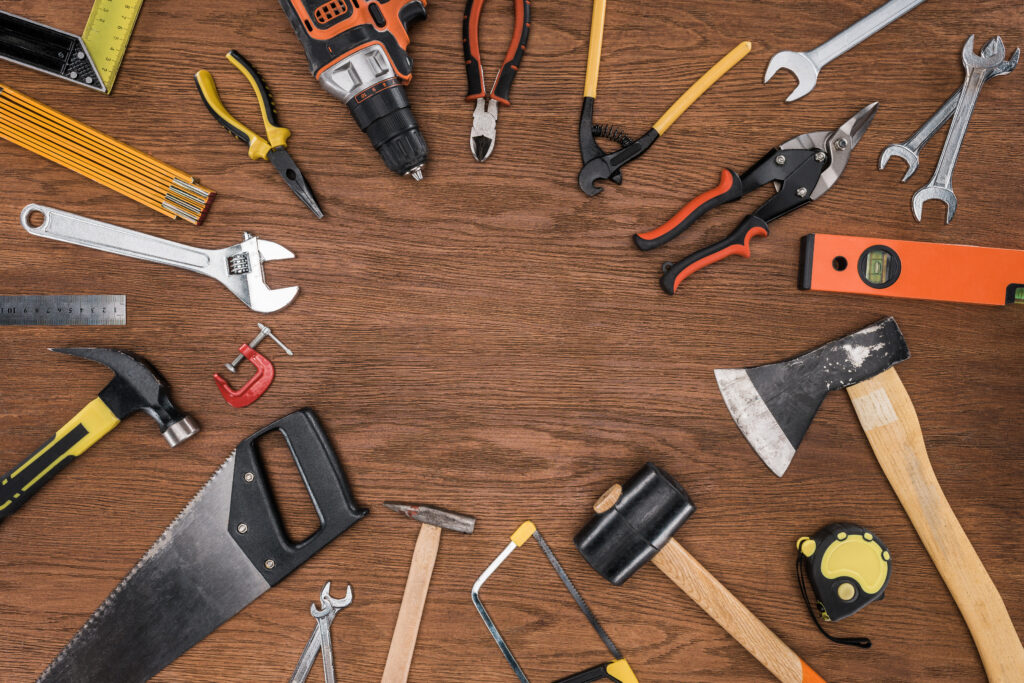 In addition, you will need a set of materials to replace your flat roof:
Roofing material. In our case, this is a single ply EPDM (ethylene propylene diene monomer) membrane.
Insulating material suitable for the selected roof type and local insulation requirements
Adhesive. As a rule, roofers use water-based adhesive. Follow the recommendations of the manufacturer of the adhesive for selected types of materials.
Joints, pry bar, roofing timber
Copper flashing
Flat Roof Installation: several common types of flat roofs
There are several types of roofs depending on structural features (roofing pie), thermal insulation, waterproofing and roofing.
Cold (insulation is located between joints)
Warm (insulation is located above the joints)
Inverted (with waterproofing membrane beneath the insulation)
Hybrid type of flat roof (with additional thermal insulation)
There are also curved, tapered, green and some other types of flat roofs.
Each type of roof has its own installation features. You can get detailed information about the methods of roof installation, depending on their type, from professional roofers.
Flat Roofing Installation: replacing an old roof
If you are planning to install a new roof you should start with dismounting.
Carefully remove the gutters and fascia before starting dismantling work. Try not to damage anything you may need later, including flashing, trim, or valley. On the other hand, tear off all the damaged and old material up to the sheeting around the roof perimeter.
Inspect the condition of the roof beneath. You should check the roof frame and underlayment. If you notice standing water, signs of rot or mold, you may need to replace the wooden elements or underlayment. If the roof frame is fine, you can proceed with the installation of a new roof.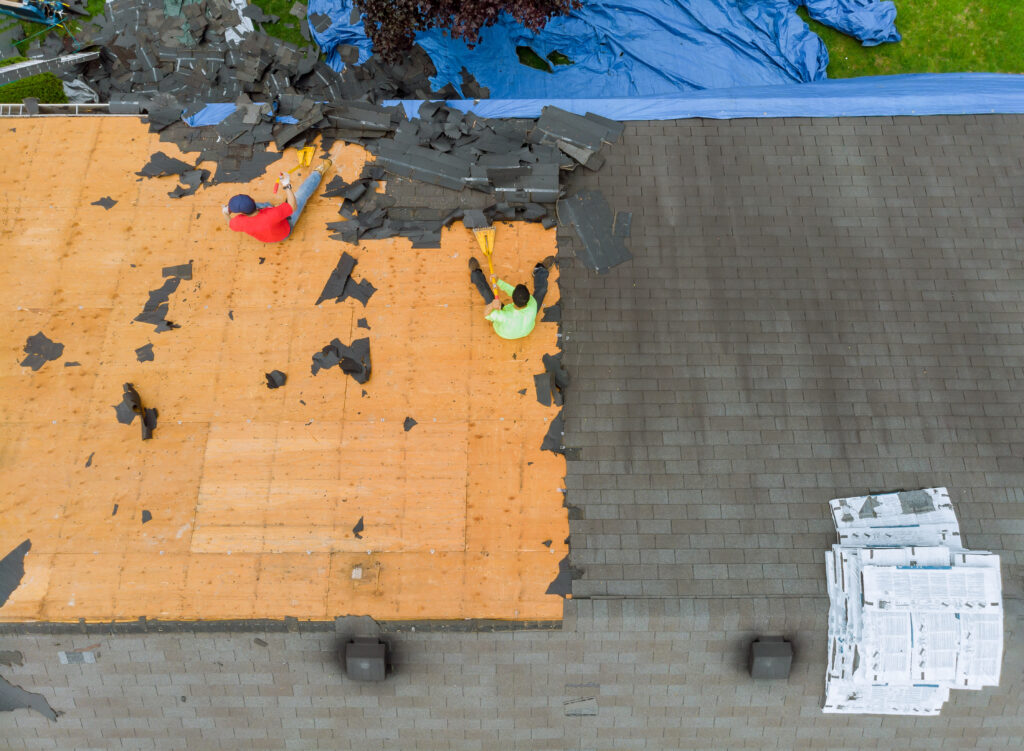 Installing a Flat Roof Membrane: EPDM
You can find many flat roof materials for flat roofs in local or online stores. For example, modified bitumen or BUR roof systems. There are a wide range of options even among the single-ply membranes – the mentioned above EPDM, as well as PVC and TPO (thermoplastic polyolefin). Each material has its own time-tested pros and well-known cons.
Advantages of EPDM materials:
Inexpensive
Sealed
Durable
Easy to mount
Please note that there are different brands of EPDM roofing membranes available in the US market. They differ in width, length, thickness, color.
If your budget allows, it is better to choose the thickest possible membrane, as it is more durable. If an energy-efficient option is one of your priorities, then it is better to choose a light gray or white coating instead of a black EPDM membrane.
Step-by-Step EPDM Roof Installation Guide
Prepare the roof surface. It should be cleared of debris, protruding nails and old roofing material.
Since you measured the roof beforehand, you already know how much material you will need.
Place the material in the center of the roof. It is recommended to spread the membranes, which are supplied in rolls, for some time so that they take the required shape.
Apply adhesive following the manufacturer's recommendations. It can be one-component or two-component. It is advisable to choose chemically safe water-based adhesive. It all depends on the type of adhesive, but generally you need to cover the whole surfaces prepared for installation with adhesive.
Install the roofing membrane over the areas with adhesive and make sure there are no air bubbles under the membrane. In most cases membranes are easy to install.
If you are installing a new roof from scratch, then before Step 1 you need to mount the roof frame, attach the plywood sheathing, and attach the underlayment on the plywood. After that, you can lay the membrane material.
Particular attention should be paid to the installation of copper flashings on the front edge, as well as gutters.
FAQ: Average Cost and Free Estimates
How much does it usually cost to install a flat roof?
Usually costs vary between $3,500 and $15,000 (for residential roofing) in 2023. In other words the materials cost and labor cost per square foot is from $5 to $10. The price tag is much higher for commercial real estate of a large area – from $20,000 to $90 000.
Why is the price range so wide?
The final estimate of installing a flat roof depends on the area of ​​the object, the structural type of roof, roofing pie, chosen roofing material and the pricing policy of the roofers.
Is DIY installation a reasonable option?
If you're looking to repair or renovate a small area of roofing and you are confident with your skills, tools, and experience, you can save money by doing the work yourself. However, if you need a complete replacement, installation of a roof from scratch or a major repair, we recommend contacting professionals. The recommendation is the same if you don't know how to install a flat roof at all.
How to calculate the budget of installing a roof?
If you do the installation on your own, the flat roof installation cost depends on materials and delivery costs. If it's high time to replace a roof and you want to contact roofing contractor, then visit its website and use the online calculator (the online calculator shows an approximate cost), or request a detailed flat roof replacement cost estimate. Usually both the calculator and the estimate are free.