PVC Low Pitch Roof Installation Newton
Without a doubt, Newton MA is one of the best cities close to Boston if you're looking for a quiet, family-friendly area with good neighbors and a restful atmosphere. And with the best Newton Roofing companies.
What else do you need to be completely happy? Maybe a private house which is believed to be the best option for a fulfilling life in the suburbs.
If you live in Newton City, you probably know that your house should meet local standards. Not only look neat but reliably protect your family from bad weather, rains in summer and snowfalls in winter. In other words, your property needs a reliable, durable and stylish roof.
Roofing company in Newton: Repair, Replacement and Installation Services
ID Flat Roof is a roofing contractor in Newton that provides a full range of roofing services in the city.
Need an urgent roof repair after a recent hailstorm? Tired of a constantly leaking roof? Want to replace worn-out roofing material with a modern alternative that does not need to be serviced and repaired every season?
ID Flat Roof experts will inspect the roof of your building and offer the best individual solution using top-tier materials and technologies. ID Flat Roof has all the necessary certifications for roofing in Newton MA.
Our company provide a full range of roofing services in Newton MA for residential and commercial property with flat and low-slope roofs:
Installation of new roofs (PVC, rubber, asphalt, metal, copper, slate),
Renovation of roofs with partial replacement of worn or damaged roofing material,
Urgent repair and elimination of leaks,
Complete replacement of roofing and insulation material (optional)
Installation of additional elements on the roof like drip edge, flashings, gutters (vinyl or metal).
Want to know more? Tell our experts about your roofing problems or plans, and we will make an estimate after the roof is inspected.
Roofing Services in Newton: When to Call the Roofers
Our experience has shown that there are several common reasons to call professionals for solving roofing problems in Newton.
First is a roof repair task. Roof repairs are required if the roof is damaged by bad weather or strong winds, a few shingles are blown off the surface, the roofing material is damaged by a fallen branch or hail. If you need urgent roof repairs in Newton, our team will come to you as quickly as possible.
Second reason to call roofers is serious roof damage. It is required if you are faced with a damaged roof frame or insulating layer. That is a widespread Newton roofing problem especially among old houses. The exact list of repair works is individual in each case. Specialists can draw up a work plan after a careful check of the roof.
Thirdly, it is worth contacting roofers if the roofing material is still good, but looks worn out. Our company is renovating and replacing roofs in Newton MA. Partial or complete replacement is an opportunity not only to update the exterior of the house, but also to increase its market value if you want to sell the property at the maximum price.
Fourth reason is installation of new elements on your roof. If you want to install new elements on the roof like drip edges, pipes, skylights and roof windows, flat roof decks, gutters and so on – you'd better call us.
Newton MA roofing services: Benefits You'll Get with ID Flat Roof
Our team of experienced and skilled roofers have been repairing, replacing and installing roofs in Newton for many years. We know all the features of the local flat and low-slope roofs, local climate and common roof problems.
We work with any popular roofing materials, but our priority is modern PVC membranes, which are ideal for flat roofs. This material is durable, strong, maintenance free, sealed, 100% leakproof, energy-efficient and eco-friendly.
We recommend PVC materials from the time-tested US manufacturer.
We successfully cope with any tasks, from design and roof replacement in Newton MA to urgent repairs to an old roof. Our roofers are ready to take on any challenge. Most urgent problems can be solved within several or even 1-2 hours.
Our roofers are licensed professionals who install gutters and skylights, including custom and premium solutions. During the renovation and installation, our specialists use modern methods and materials that protect against leaks, ice dams and so on.
PVC Low Pitch Roof Installation: Completed Project of ID Flat Roof
ID Flat Roof is a highly qualified local roofing company that provides a wide range of services from the design and installation of new roofs to roof replacement in Newton MA and renovation of old flat roofs, including the installation of skylights, chimneys and gutters.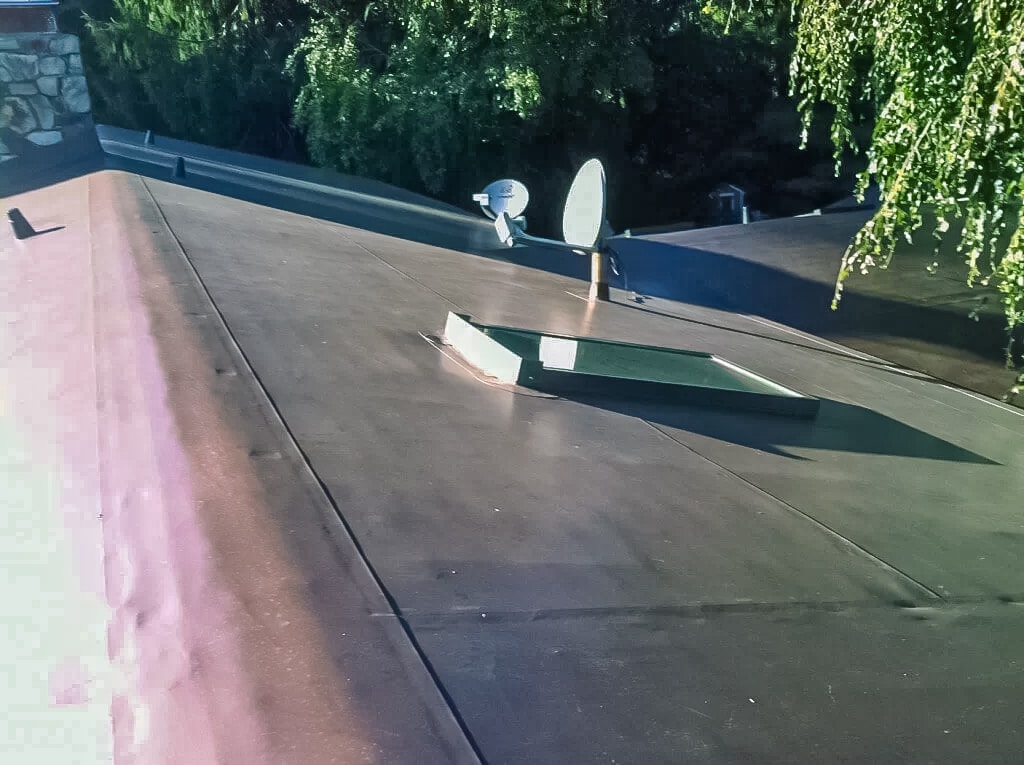 Project Description
The project was not quite standard, with its own complexities and nuances. Roofing project was a low pitch (3/12) roof with constant problems with ice dams along the roof edges and leaks in the valleys area. Moreover, it has:
asphalt shingles mounted
2 large chimneys
9 skylights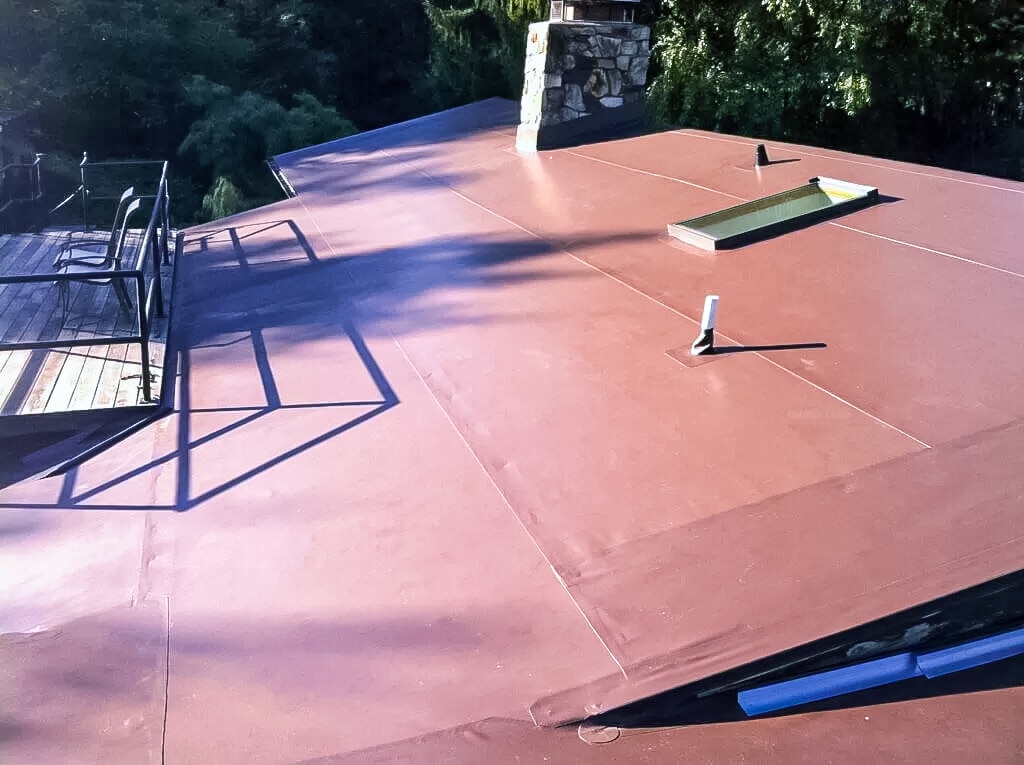 Materials and technique used:
80-mil Brown PVC membrane.
1/2″ fan-fold insulation. Insulating materials reliably protect the roof from leaks.
3″ Bronze PVC coated drip edge
Prefabricated color matching accessories: pipe flashing, outside and inside corners, 2 way vents.
Plastic snow guards over doors and along walkways for the comfort and safety of property owners.
Installation techniques used by ID Flat Roof specialists included mechanically attached assembly, barbed 2″ plates, hot-air welded seams.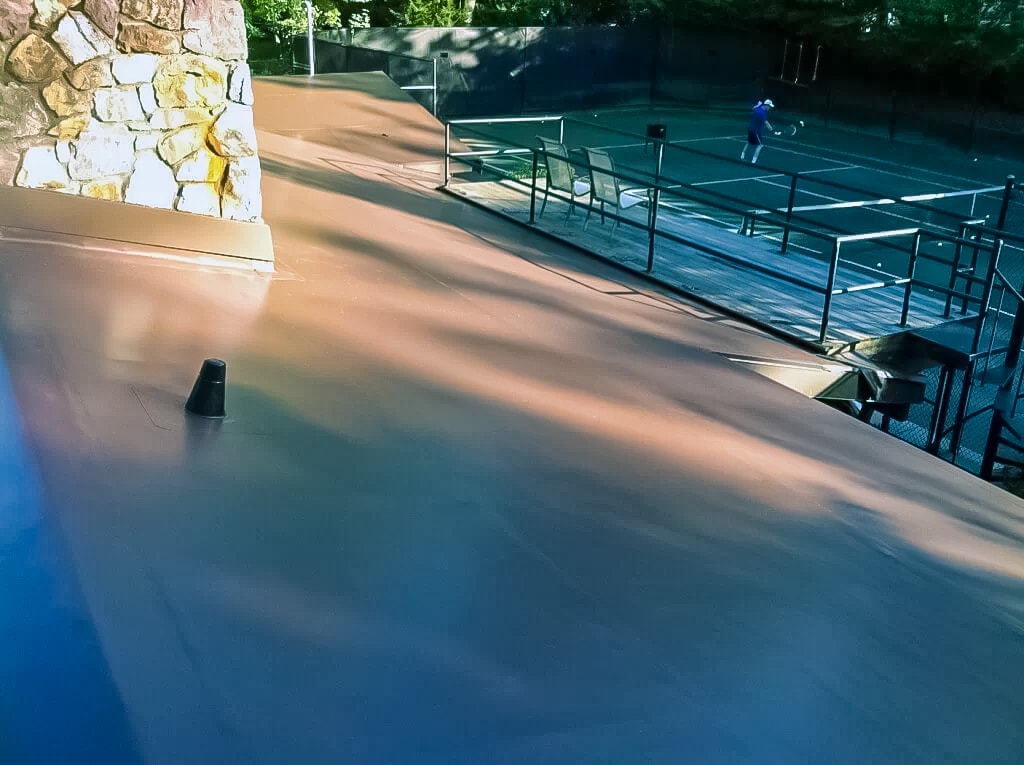 With the help of a professional approach, modern materials and roofing technologies, we managed to solve all problems with leaks and ice dams.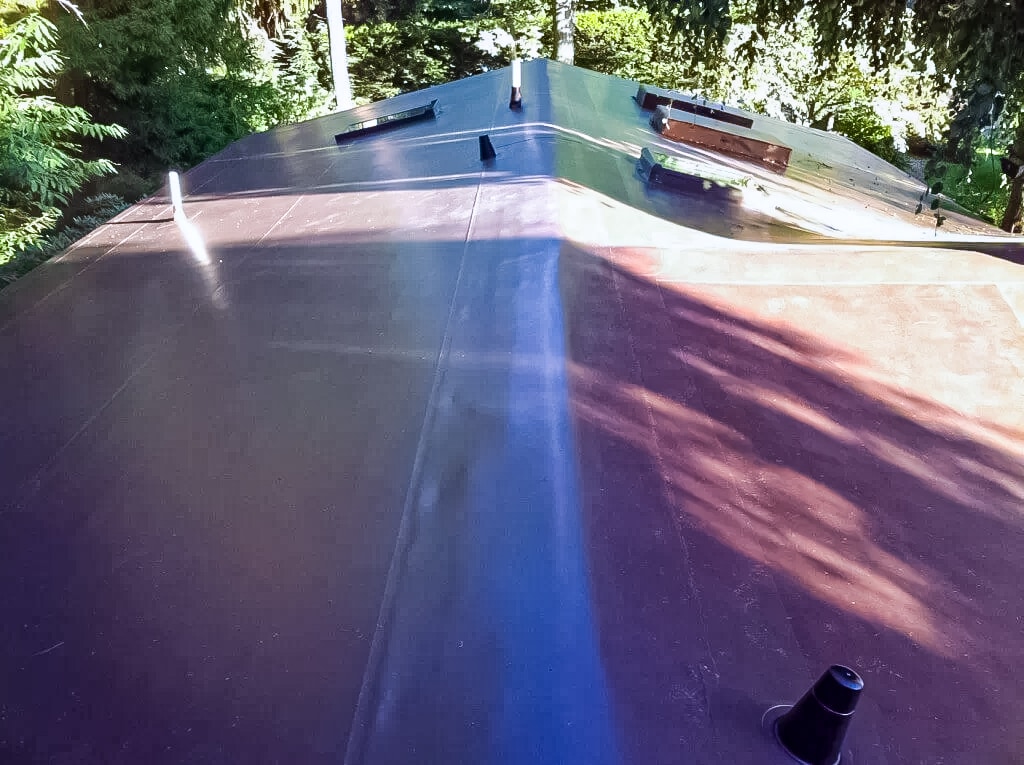 After the project was completed the roof withstood record-setting winter of 2014-2015 without a single issue and with no maintenance.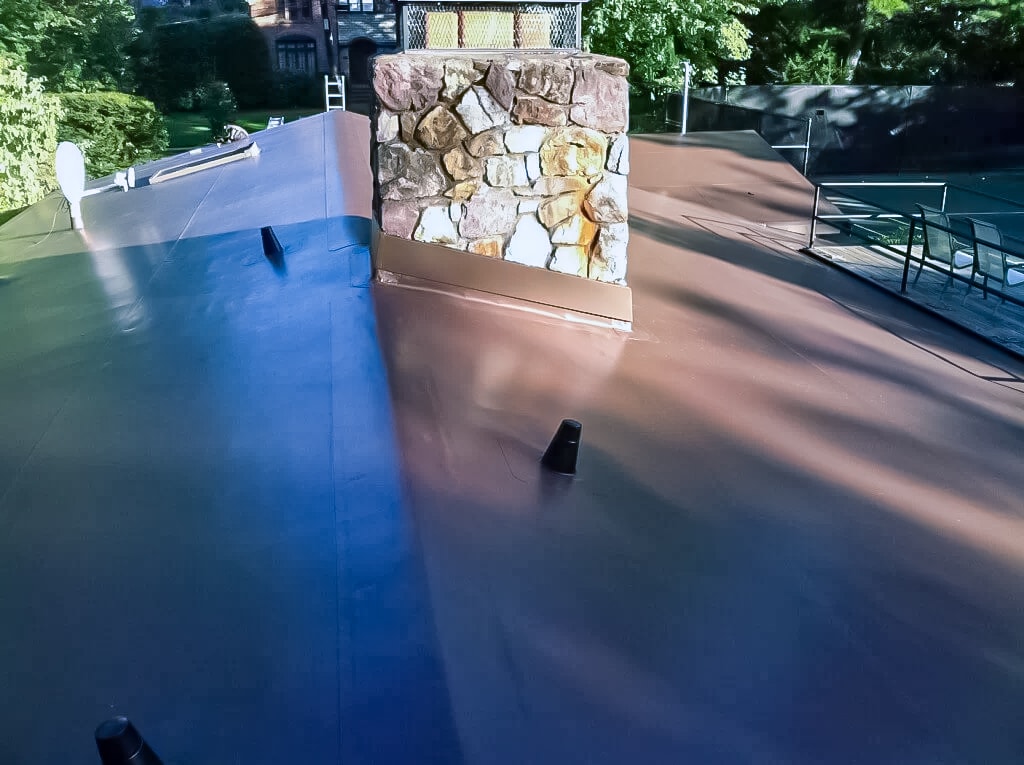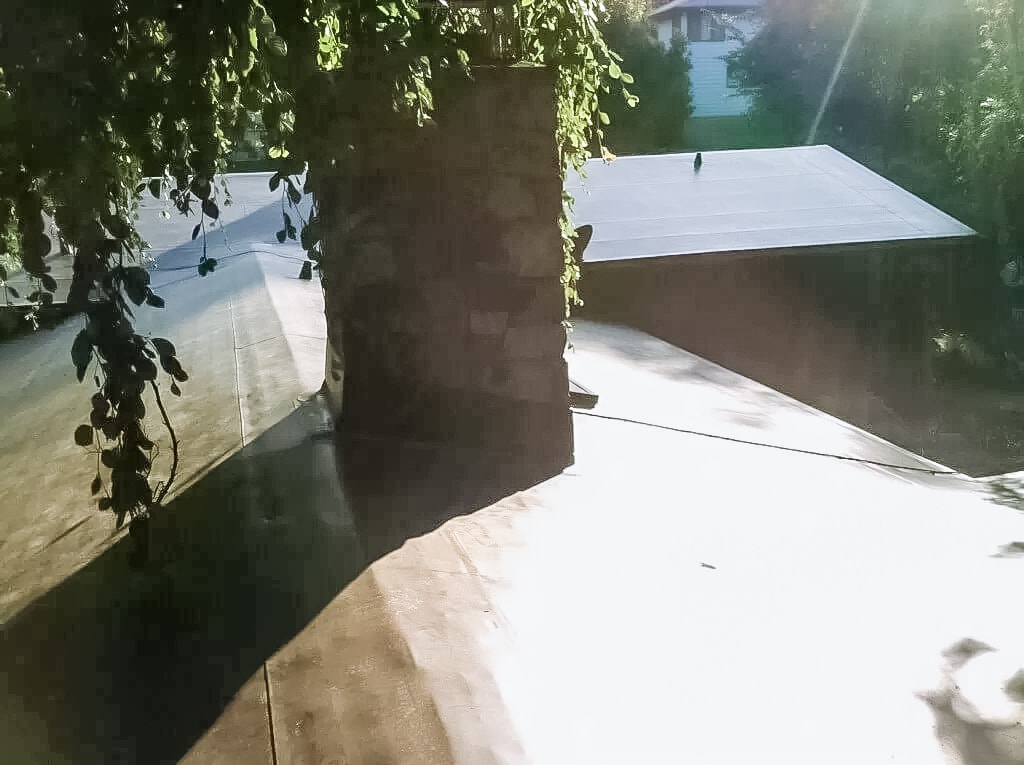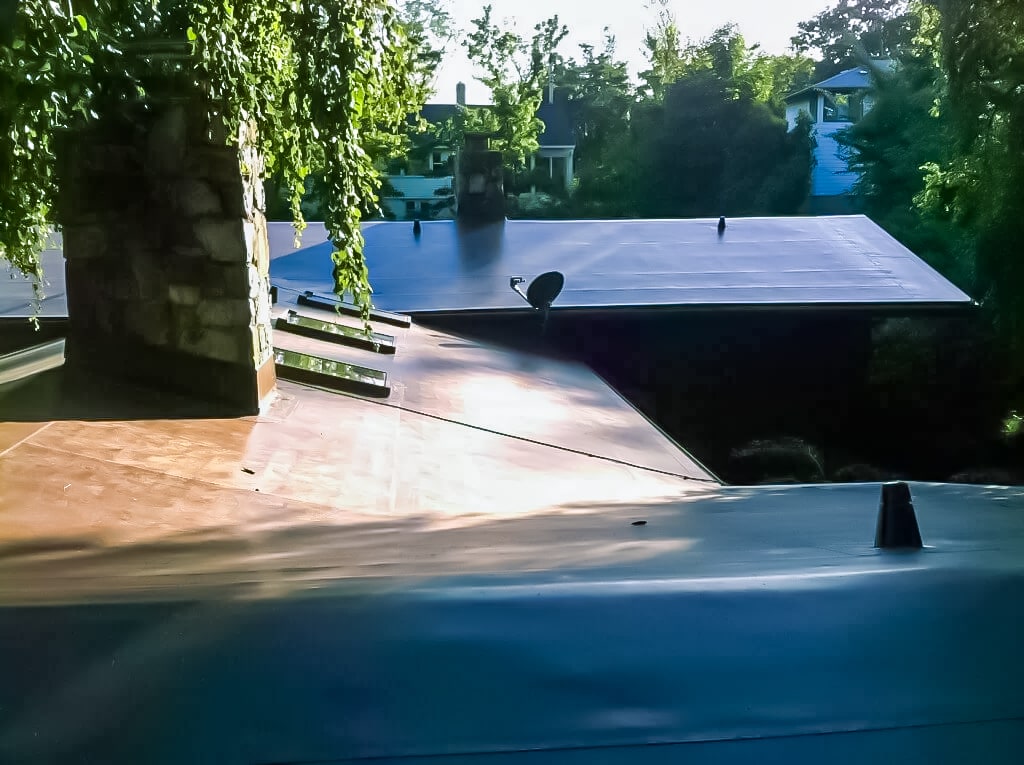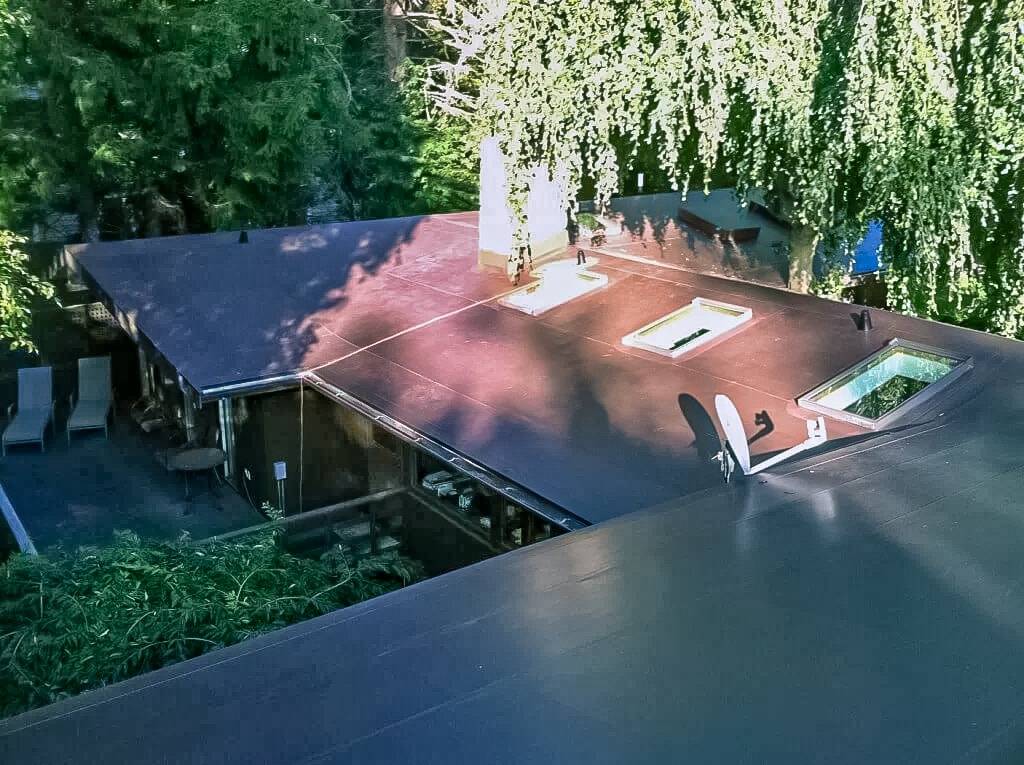 ID Flat Roof: Newton MA Roofing Services
A modern, reliable, durable roof is the key to the comfort and safety of your life in Newton, without exaggeration.
To make the roof of your house reliable and neat, we recommend that you pay attention to advanced roofing materials and techniques. One more important task in order to install or renovate roof is to find certified local roofing contractor
If you would like to learn more about roof repair, installation and replacement in Newton MA, call or email ID Flat Roof.