PVC Membrane Installation on Shed Dormer Flat Roof Wellesley
Getting your roof OK is a must for each homeowner. And this starts with the selection of the proper roofing for your roof type. When you need durable and reliable flat roofing in Wellesley MA, it is in ID Flat Roof you can get it. We offer you to get all the benefits of PVC membrane roofing which is among the top options for flat roofs today.
What Is PVC Membrane and Why Choose It for Your Wellesley Roofing?
PVC membrane is by far the most superior material for flat roof installations. Unlike rubber which relies on glue to hold the seams together, PVC membrane is fused together to form seams that are stronger than the material itself. Properly welded seams will never come apart – this is why all PVC membrane installations come with a lifetime warranty.
PVC aka polyvinyl chloride is popular in roofing for almost 50 years. Its advantages are numerous so that single-ply roofing material is still unsurpassed both for use in commercial and residential properties with flat roofs.
In its essence, a PVC membrane is a thin layer of a polymerized substance that is rolled in a reel. Its lightweight and ease of unrolling make it comfortable to install. But this doesn't mean the membrane has a lower life span due to its thinness. The construction of PVC roofing membrane consists of two layers of thin PVC with the layer of polyester as support placed between them.
PVC membrane can be used for both flat and low pitch roofs including roofs with shed dormers. A shed dormer is the most common way to increase inside space without serious reconstruction and always has either a flat or low pitch roof.
What Benefits a PVC Membrane Roof Has
There are lots of reasons to choose that material for Boston roofing in Wellesley MA. Let's highlight some of these benefits.
Cooling features. PVC when it is not painted has white coloring. Its structure and color prevent the roof from heating and help to remain the inner premises cooled on hot days. This makes PVC roofing a good idea for residential flat roofs. Besides, it can also be painted in any color you want.
Durability. Flat roofs made of PVC membrane have the longest life span among all the flat roofing options. If it is maintained regularly, PVC membrane roofing can last for three decades!
Wind resistance of PVC membrane is extremely high. With a proper installation, PVC membrane roofing can withstand even hurricanes of the III category.
Fire resistance. PVC can be hardly ignited. That is a benefit you may appreciate in seasons of wildfires.
Waterproof origin. PVC membranes rarely provide water leaks.
Ease of installation and maintenance. Due to its flexibility, a skilled Wellesley professional roof repair contractor like ID Flat Roof can install it in the shortest time.
Tolerance to fungi and mold. PVC is not affected by any bacteria or microorganisms.
Eco-friendly nature of PVC makes it also a good choice for those who care about environmental protection.
Installation of PVC Membrane Flat Roof in Wellesley MA
For PVC membrane coating, it is very important to follow all the installation rules. This will not only affect the reliability of your roof but also the likelihood of related problems. In particular, a properly carried out installation will help reduce the load on the roof covering during strong temperature changes, heavy rains, and strong winds.
Often, the installation of a PVC membrane on the roof is carried out in the following several stages:
Insulation installation. ISO or EPS foam boards of various thicknesses are often used as insulation. The task of insulation is to reduce heat loss inside the home.
The installers then choose one of the PVC membrane installation methods. This can be a fully-adhered method in which the membrane is attached using a special adhesive substance. This method requires increased attention to the insulation of the membrane since if condensation occurs under it, the roof boards can be damaged by mold and rotting. At the same time, it is the fastest and easiest installation method. The PVC membrane can also be installed using mechanical fasteners. This is the most reliable way of fastening, which will increase the resistance of the roofing to the wind.
After installation by any method, the PVC membrane is sealed with hot air. This allows you to make it seamless and increase its service life.
You can look at how a PVC membrane roof is installed, but it's better not to risk DIY, but to entrust the installation to a reliable Wellesley roofing company. We will be able to perform for you the laying of PVC membranes on roofs of any design complexity. The company offers you several advantages of our PVC membrane installation service at once:
High speed
Expert installers
Affordable price
We thoroughly choose the method of PVC membrane installation and create a project based on several features like the construction of the building, the type of roof and wall materials, the permissible load, and others. As a result, you get your flat or low-pitch roofing that will last for decades and provide your home with impeccable protection from heat, cold, winds, rains, and all the weather fluctuations.
Below you can see the basic proposals for a flat roof project with PVC membrane and the materials we use to work.
Project Description
Shed dormer with rolled asphalt roofing material
1 chimney – color matching PVC flashing, aluminum counter-flashing
2 pipes
Persisting problems with ice dams and ponding water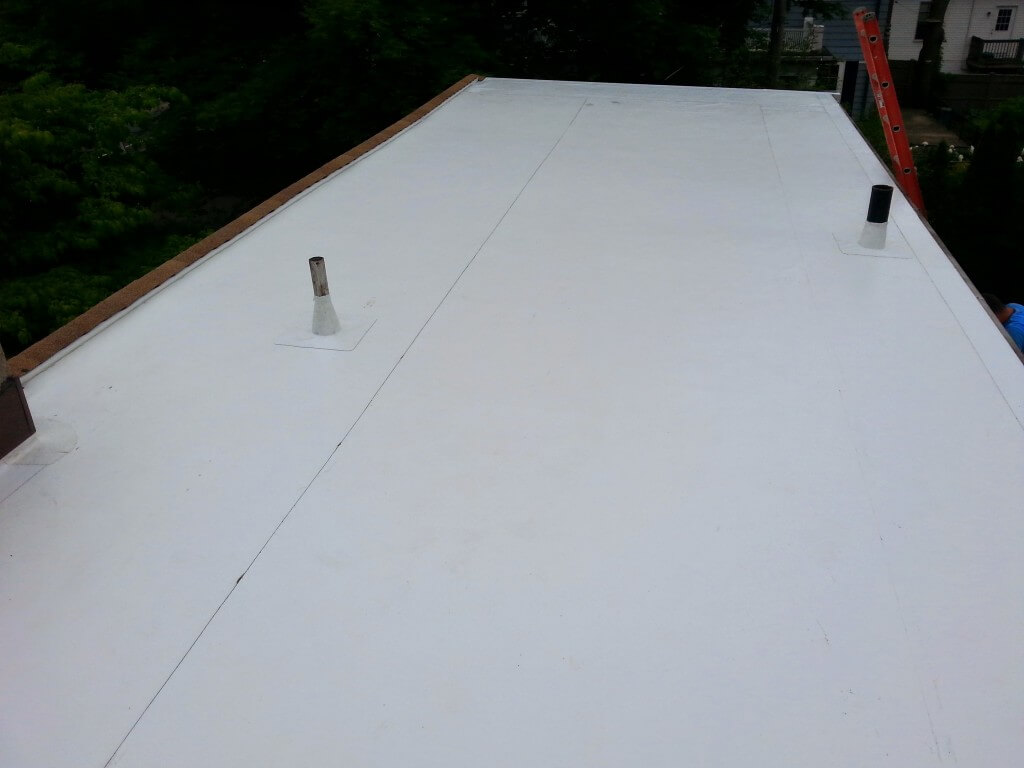 Materials used
Poly ISO tapered insulation with 1/8″ per foot increase
60-mil white PVC membrane
3″ PVC coated drip edge
PVC pipe flashing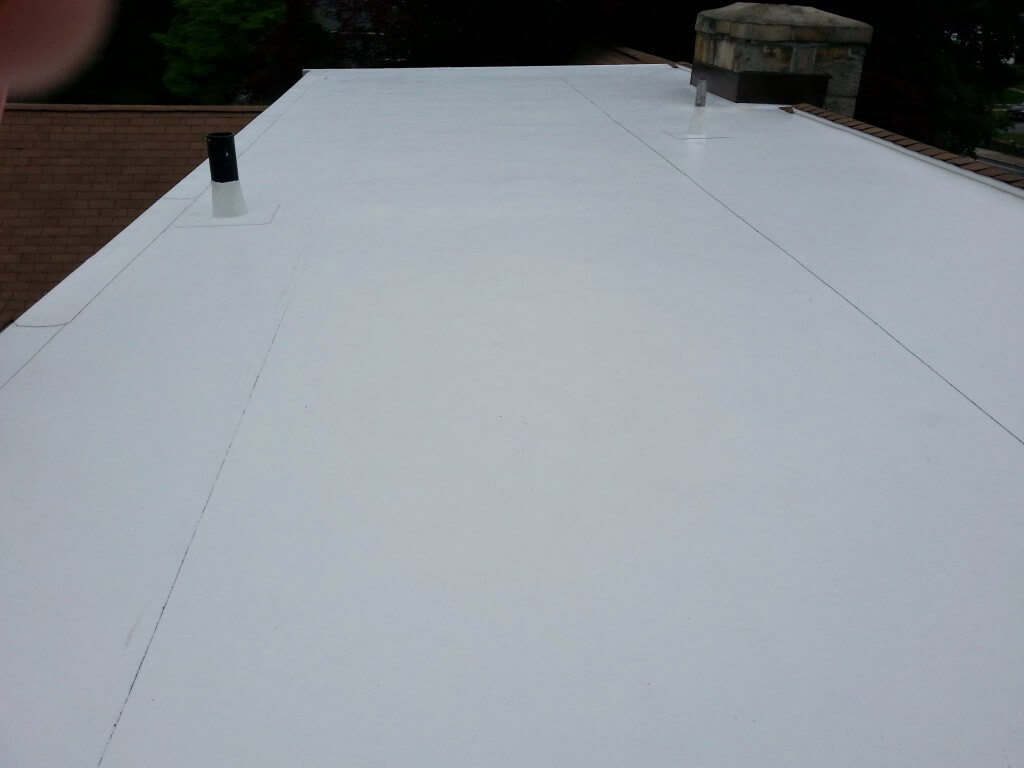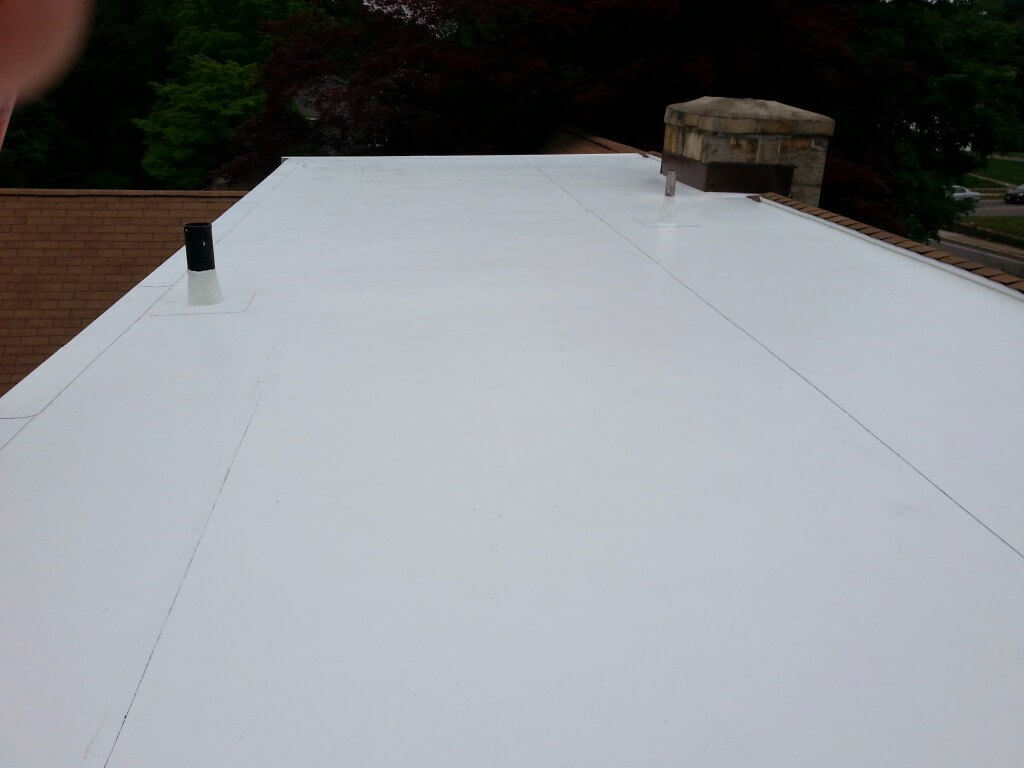 Get the best services from your dedicated roofing contractor in Wellesley, MA!