Roof Membrane: Advantages and Field of Application
Roof Membrane is a highly demanded material that is more suitable and economic than alternative metal, wooden, slate and other available roofing solutions.
The percentage of membranes on the US market is growing every year, reaching 85% in the commercial roofing category. In addition, such membranes as PVC and TPO are chosen increasingly for installing on residential estate, garages and outbuildings roofs.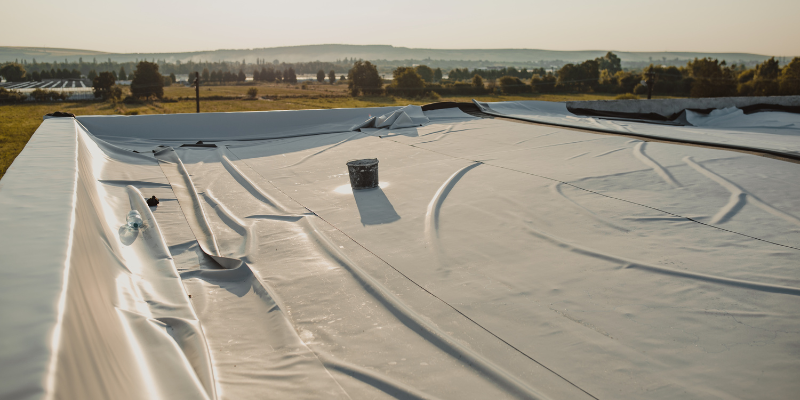 Benefits of Using a Roof Membrane and Its Practical Applications
Membrane roofing category includes both time-tested solutions (like modified bitumen) and modern technologies (like EPDM and other single-ply PVC, TPO membranes).
The scope of the technology is flat and low-slope commercial and residential roofs with a minimum slope angle of 1/2"-1/4" per foot. Such slope guarantees positive drainage as well as prevents the appearance of massive ponds.
Membrane materials are supposed to be the best choice for large commercial buildings, occupied roofs (restaurants, patios), residential buildings with terraces.
To add, professionally designed and properly installed membrane roofing has some certain pros:
membrane roof has a great level of anti-leaking protection;
membranes are specially designed to use on roofing surfaces with a very small angle of inclination;
fully adhered membrane is highly resistant to strong winds and protected from roof uplift;
membranes are resilient (not all of them);
membranes are light compared to metal and slate;
fast and easy installation;
market availability of membranes of different thickness and colors including energy-efficient coverings.
The specific list of advantages, expected lifespan and appearance of the roof depends on the chosen material.
Types of Flat Roof Membranes: Built-Up, Synthetic Rubber and Single-ply Options
US Roofers commonly work with several types of membrane roofing systems. Membranes differ in raw materials, installation method, 'roofing pie' and frame requirements.
1. Built Up Roofing Membranes (BUR) or Tar and Gravel Roofs. Old school roofing membrane has been mounted on American buildings for many decades. It is based on several layers of asphalt sheets (with optional aggregate surfacing and reinforcement), which are laid on an insulation base.
The service life of professionally installed and fully adhered BUR membranes is 10 to 30 years. However, this technology is believed to be not environmentally friendly at all. In addition, chemical compounds dangerous to humans are used during the installation process. The peak of popularity of this technology came in the last century.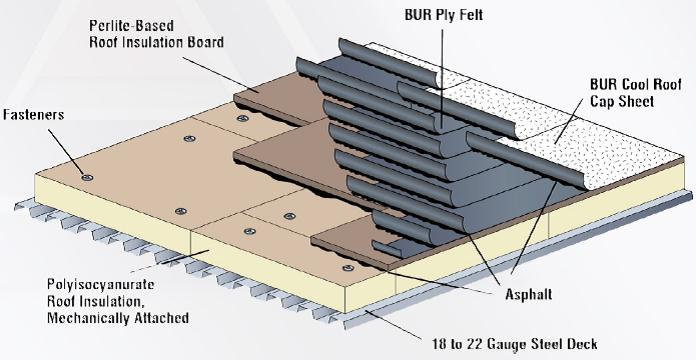 2. Polymer Modified Bitumen Membrane (one more specific term is Modified Bitumen). This membrane is supplied in rolls. The material consists of reinforced fabric with bitumen and polymer components in the structure.
Usually roofers use one of the time-tested modified bitumen membranes. The first one is Styrene-butadiene-styrene (also called SBS) and the other one is Atactic polypropylene (the short term is APP).
Although the installation of SBS or APP membrane is easier and faster than a built-up roof, you need to install at least two or even three layers of material for a better seal.
3. Ethylene Propylene Diene Monomer (usually shortened to EPDM or 'rubber roof' for simplicity). Most EPDM products are made from petroleum-based raw materials. It is a 45-60 mil thick single ply roof membrane.
Synthetic rubber roofing is not a new technology that has been tested for decades especially in commercial construction. Mounting EPDM membranes is easier, but this material is not ecological-friendly. In addition, there are health concerns surrounding EPDM membrane roof system use.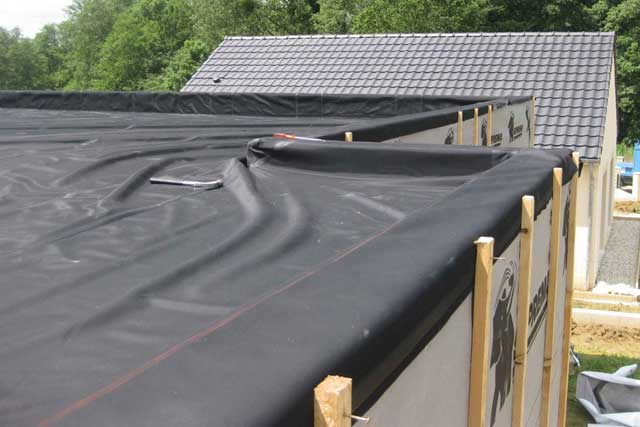 4. Polyvinyl Chloride membrane roofs (abbreviated name – PVC roofs). PVC roof membranes are reinforced single-layer membranes.
One of the main pros of the material is its immunity to bacterial growth. It is quite durable. To add, PVC is a chemically stable material, but it can still be hazardous to both people and the environment.
The thickness of PVC membranes can be different. Some manufactures offer up to 90 mil thick membranes, but the most common format is 40-60 mil material. The popular colors of PVC are white, light-gray and so on, because light colored membranes heat up less in summer.
5. Thermoplastic Polyolefin Membranes (also called TPO membranes). Unlike the EPDM, rubber and PVC membranes mentioned above, TPO is considered a more modern material. TPO membranes are watertight (the seams are welded during installation). In addition, mostly all TPO membranes are recyclable and more ecological-friendly compared to other materials mentioned above.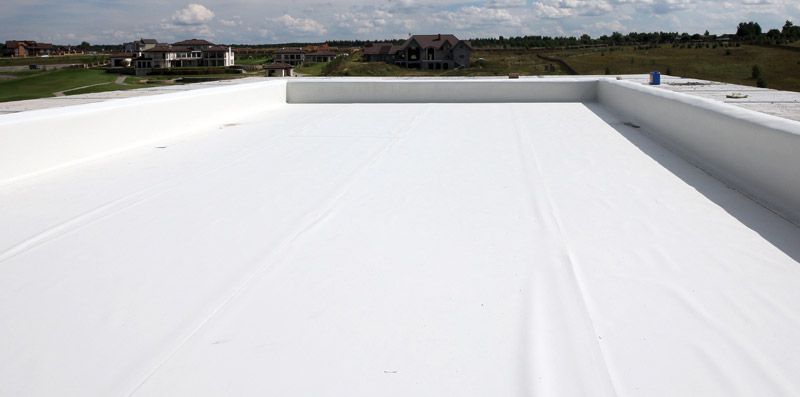 There are less popular technologies such as KEE roofing, Spray Polyurethane Foam (SPF), Liquid Membrane Roofing.
Roofers choose appropriate roofing membranes taking into account many factors. Not only the cost of material and installation, but the architectural features and area of the building, the type of roof underlayment and insulation, the method of installation and the compatibility of the membrane with other materials.
Roof Membrane Installation Tips
The mounting method depends on the chosen material. If you choose the wrong installation method, the life of the roof will be minimal.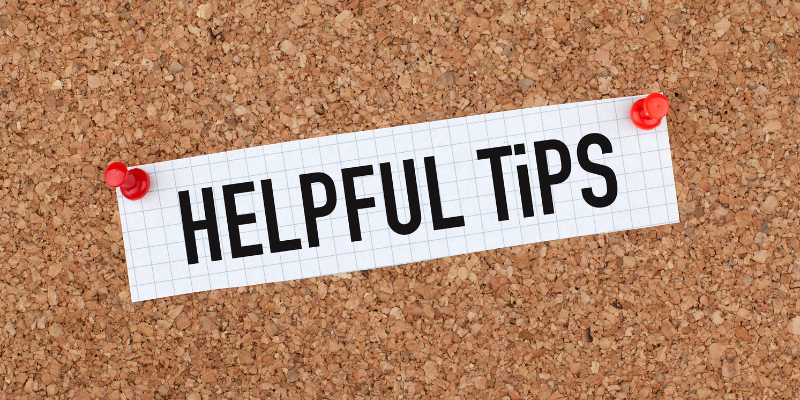 In addition, the installation of a roof membrane requires compliance with safety regulations. For example, if we are talking about rolled modified bitumen roofs, they are usually mounted on a base heated with a torch. BUR installation usually involves the use of hot bitumen. It can be dangerous and traumatic as well.
As we said above, there are environmental, health and fire hazards while installing mostly any roof membrane. Therefore, it is better to entrust the installation of the membrane roofing covering to professionals with the appropriate licenses, equipment and insurance.
Let's talk in more detail about the features of mounting single-ply membranes. They are usually supplied in the form of large sheets of material that are hermetically attached to each other on the roof surface.
Fully adhered method. In this case, the rolled or listed material is laid on an insulation layer, concrete or wooden substrates using proper adhesive agents. This installation method is the most financially expensive, but it is supposed to be the most reliable.
Mechanically fastened. This installation method demonstrates maximum protection against uplifts, but does not guarantee 100% protection against leaks. In order to achieve better tightness, roofers use special non-penetrating fasteners.
Ballasted. In this case, roofing material is covered with stone or concrete ballast, which reliably protects the roof from uplift and mechanical damage. The disadvantage of this installation method is the difficulty with possible repairs in the future. This method of installation has not been used often in recent years.
The installation method depends on the roof area, type of the roof, chemical composition and features of membrane.
Single layer materials are divided into two groups: Thermoplastic (become elastic when heated and can be sealed by heat-welding) or Thermoset (can only be seamed with adhesives). PVC or TPO belong to the first group while EPDM is thermoset.
Membrane Roofing Maintenance Tips
A professionally installed roof membrane can last up to 30 years or more. However, membrane roofing must be inspected, maintained and repaired in a timely manner.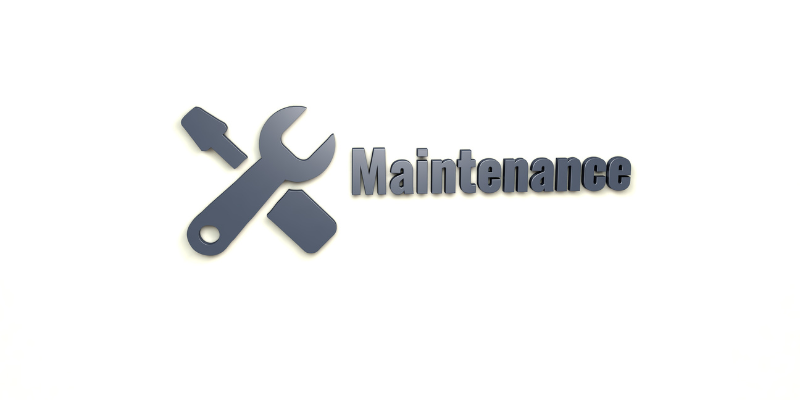 The thinner the layer of the roofing covering, the more frequently it is necessary to check the roof. In addition, it is recommended to inspect the roof after strong winds and heavy rains.
If water collects on the roof surface, it is recommended to remove it within 48 hours after rain. If this phenomenon repeats, renovation of the roof frame may be required.
Some roofing membrane materials are not-resistant to UV rays. Under the influence of sunlight, roofing membranes lose their elasticity, begin to crack, including in the places of seam joints.
Repair of membrane roofs on a small area (up to square foot) is carried out using patches or repair adhesives kits. If the roof is damaged over a large area, it is necessary to make a partial or complete replacement of the damaged covering (and underlayment insulation).
Conclusion
In conclusion, roof membranes are a reliable and efficient choice for roofing systems. They offer numerous advantages, including durability, flexibility, and weather resistance, making them suitable for a wide range of applications. Whether you are building a new roof or replacing an old one, a roof membrane is a cost-effective solution that can provide long-lasting protection for your property. It is important to carefully consider your specific needs and budget when choosing a roof membrane, as well as hiring a qualified professional to ensure proper installation.