Flat Roof Replacement Cost: Basics
Reading Time:
7
minutes
Despite technological progress, roofing contractors do not use everlasting and indestructible materials. It means that any roof structure, including flat roof replacement cost, will sooner or later require serious repairs or, at worst – even a complete replacement.
In the following guide, we'll share some tips concerning the importance of financial planning in roofing repair or replacement projects. Moreover, you will learn how to identify the main factors affecting the final estimate.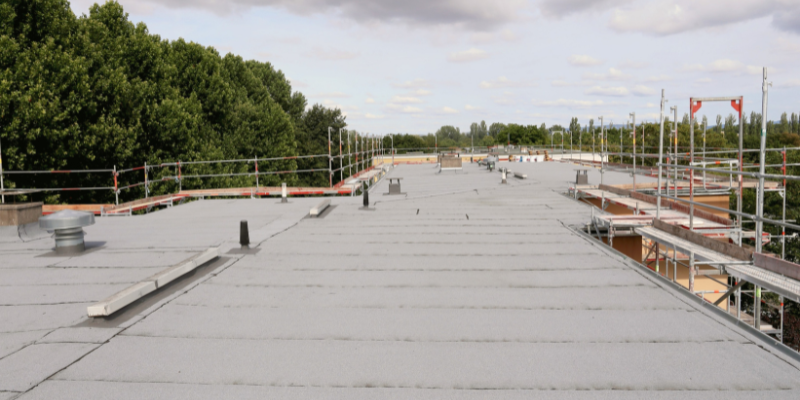 The Cost of Replacing a Flat Roof: An Overview
Flat roofs (roofs with almost zero angles on a slope) are prevalent. You can see them on office or commercial properties, multi-apartment buildings, shopping malls, hospitals, warehouses, and industrial facilities.
Low-slope roofing constructions are less common in the private real estate segment (unlike pitched roofs), but their demand has grown over the past years. Why?
You can find dozens of reasons to install a flat roof. And the first one is that you can find a variety of modern materials, such as durable single-ply TPO and PVC membranes, synthetic rubber, or polymer roofing decks on the US market. And they are specially designed for flat roofs.
In addition, time-tested roofing solutions like modified bitumen and asphalt roofs and old-school built-up roofs (BUR) are still in active use. You will also easily find roofing constructions made of steel, aluminum, copper, and natural slate in the suburbs with elite real estate.
Each cover mentioned above has advantages, limitations, and guaranteed service life. Another important criterion that directly affects your budget is the expenses of every-year maintenance, seasonal repairing, and partial replacement.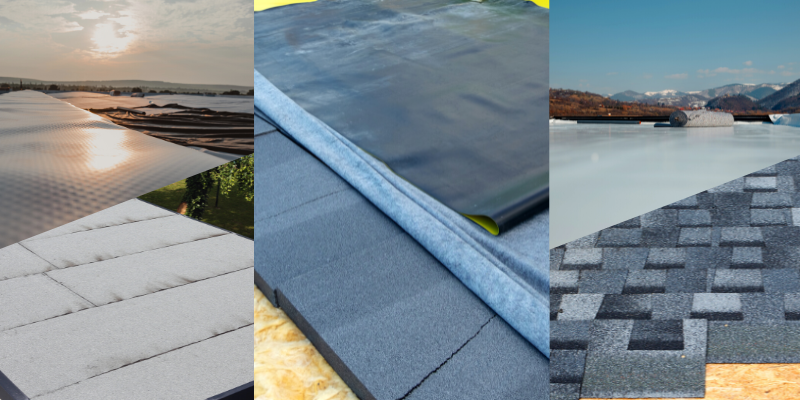 Cost to replace flat roof: make all the calculations in advance
1. It is strongly recommended to calculate service and material costs for those who plan to replace the old coating with modern materials in advance. Nine times out of ten, a complete replacement becomes a financially profitable investment that will pay for itself in 5-10 years, especially if the repair estimate of the roof is almost equal to the complete replacement.
However, sometimes replacing over a large area is undertaken, and you'd better limit yourself to repair or partial replacement.
2. Make all the necessary calculations and financial planning if you are going to build a new roof. Considering the expected lifespan of rubber, asphalt, TPO, or PVC, and average labor costs in your region, you can predict 'roofing' expenses in the foreseeable future. Furthermore, since the business's profitability depends on the maintenance cost, roofing calculations are essential for owners and tenants of commercial real estate.
Sometimes it is more reasonable to overpay and choose modern roofing material (like single-ply membranes) that will not need a replacement for the next 30-40 years. If you don't plan your expenses, you may choose technological solutions and roofing materials that will hit your wallet dramatically.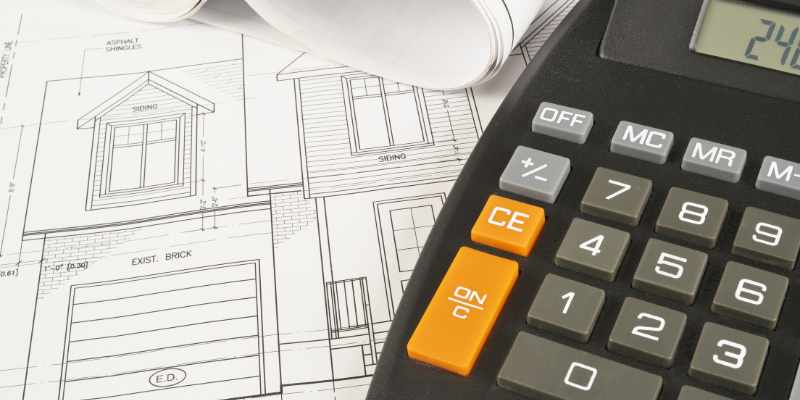 Three steps to get the exact cost of replacing or repairing a flat roof
Firstly, do your calculations. You will find average price tags for various roofing materials according to 2022-2023 data below.
Secondly, use online calculators. You can find and use them for free on the websites of local roofing companies. Although online services give indicative prices only, they will be helpful for further comparison of available options.
Thirdly, contact trusted roofing specialists in your city. As a rule, after checking the roof or the project, roofers make a detailed estimate with all prices and terms. We recommend contacting several roofing companies in your city and thoroughly comparing their estimates. Some roofing contractors offer free estimates without additional conditions.
Use the same calculation approach if you want to find out the flat roof repair cost.
Cost of flat roof replacement: numbers and statistics
The average cost to replace a standard flat roof on a private house ranges from $5 to $30 per square foot. This price includes the regular roofing material and the services of roofers for its installation.
In the commercial real estate category, the prices are usually lower. The average cost to replace regular low-slope roofs on commercial real estate in the US in 2021-2022 was between $5 and $9 per square foot.
However, note that many commercial objects are many times larger than residential buildings, so the final roof replacement estimate can also be much higher, up to $100.000 for a 10,000-square-foot roof (imagine how much you'll expect to pay with 500-900 thousand square feet buildings).
Please note that in some cases, the cost of replacing a roof can be higher than installing a new roof from scratch. The additional expense is the need to dismantle the old material, which can be highly laborious (BUR, modified bitumen, and so on).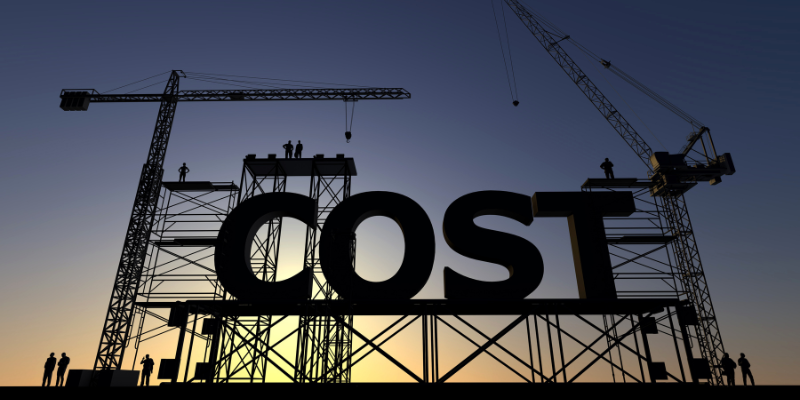 The cost of flat roof replacement: 5 factors to keep in mind
Cost and what is more important – the method of installation of new material
Removal and disposal of worn-out roofing material
Area and architectural type of flat roof
The complexity of the discussed project
The pricing policy of the contractor
Flat roof replacement cost: 7 popular materials
Rubber. Rubber roofing is a well-known material used in the US for decades. Moreover, the technology is constantly improving. Modern synthetic rubber coatings are durable, watertight, and elastic, lasting 45-50 years of service life. Replacing a rubber roof ranges from $4 without dismantling to $9 with dismantling the old material.
TPO. This membrane material has existed in the real estate category since the 90th. It has its advantages over PVC and 'traditional rubber roofs.' However, it has only been on the market for a short time, so there are no statistics on how long it will last. According to manufacturers, professionally installed TPO roofs last up to 30 years. On average, the expected cost of replacing a TPO in 2023 is $7 per square foot, but TPO flat roof usually costs a bit more.
EPDM. This material is mostly in demand in residential real estate with low-slope roofs. EPDM membranes are solid and easy to mount, even on a large scale. Still, they have their environment and use limitations. Some EPDM roofs can be replaced for $5 per square foot (for low-cost thin membranes), while others cost up to $15.
PVC. This synthetic material is supposed to be one of the most popular and universal single-ply roofing materials across the States. It is durable and watertight (if installed correctly). The average cost to replace a PVC roof is about $7-8.
Modified Bitumen. Despite the affordable price tag of this technology, replacement with a modified bitumen coating can be problematic due to the time-consuming dismantling. Installing a modified bitumen roof from scratch and without additional work costs $6 per square foot avg.
BUR. Due to installation features, old BUR roofs are difficult to remove, so replacing them can be expensive (choose the material to mount on BUR roofs from above). However, the cost of installing a new BUR roof is relatively low, averaging around $5.
Metal roof. Metal is one of the most reliable, stable, and long-lived materials used in roofing worldwide. If you protect a metal roof from corrosion and uplifts, it can last 100 years or more. However, the cost of replacing steel and aluminum roofing is high (up to $20-25). Installation and replacement projects of copper flat roof cost even more.
Type and area of the roof
Most roofing contractors you can find in the US offer discounts for large (5000 square feet and more) area roof replacements.
On the other hand, if you want to replace a small part of a roof, an extension roof, a garage, a terrace, a porch, or a patio roof, roofing companies may also increase the total cost of the replacement project. The reason is that even for a small project, they must deliver material, equipment, and a team of roofers.
The cost of work is also affected by the engineering features of the so-called 'roofing pie.' The type of 'roofing pie' depends on the specialization of the building and the region's climate.
Roofs can be cold (non-residential premises or attic), warm (attic room), hybrid, and inverted. It depends on thermal insulation, waterproofing (some cold roofs don't have them), the insulation, and the waterproofing location.
Long story short, warm roofs maintain a comfortable temperature in the attic, depending on where you live, whereas cold ones are cheaper. Replacement of a professionally installed warm roof will be more expensive than a roof without insulation.
FAQ
1. How much does replacing an old flat roof coverage costs?
According to statistics, homeowners pay 1-2 dollars for a square foot of new roofing material. However, premium solutions (copper, slate) cost 4-8 dollars and higher.
2. How much does it cost to replace a flat roof?
It all depends on individual factors, Such as the project's complexity, the material, and the pricing policy of the roofing company. Some sheets are easy and quick to install. Some roofing materials can be laid above old coating without dismantling. If the task is not challenging for the roofers, they will charge 1-2$ per square foot. If dismantling requires additional work on the roof framing, thermal insulation, or waterproofing, the roofing services can rise to 5-7$ without considering the average material costs.
3. What material to choose for replacement?
Consider the type of building, climatic and weather factors, your budget, and preferences. Some materials protect against leaks better; some are better resistant to mechanical damage, while others do not heat the house in the summer and do not fade in the sun. Modern membrane materials are easy to find in residential real estate. Cheaper BUR, bitumen, and other solutions are more suitable for the commercial estate.
4. Repair or partial replacement of an old roof?
As mentioned above, it depends on individual criteria, such as installed material, area, degree, and type of damage. Usually, it is unreasonable to replace the entire roof if it is enough to place a small patch over the damaged area. Timely repair costs less than replacement. Sometimes it is better to overpay for installing a new roof since permanent repairs to a worn-out structure will cost the same or even more. Remember the expected costs to install a new roof, including additional works like delivering and dismounting.
5. How to extend the life of the roof?
To not replace the roof every 5-10 years, you must carry out seasonal maintenance and repair minor damage immediately after you find them. Don't forget that even modern materials have their weaknesses. It can be corrosion (for steel roofs), and for some flat roof materials, it could be UV rays and mechanical damage. Protection from negative influences during the installation and regular maintenance is essential. In addition, contact local roofers and ask them to inspect and maintain a flat roof several times a year (or once a year if it is brand new).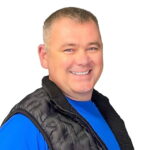 Denis is the driving force behind ID Flat Roof, a leading company in Boston specializing in flat roof repair and installation for over 20 years.
Expertise:
Denis excels in PVC, TPO, EPDM, and rubber roofing. His meticulous approach ensures quality and customer satisfaction.
Innovation:
Denis incorporates cutting-edge solutions like skylights and solar PV roofing.