All you need to know about rooftop decking in Boston
Reading Time:
7
minutes
Flat roofs have several advantages over gable roofing constructions, including creating rooftop decks. One of the critical advantages of mostly flat roofs is the ability to turn part of the roof or the entire roof into an area for relaxing, parties, entertainment, and meeting friends.
All you need to do to get additional usable area is to install rooftop decking and railings. This architectural decision has been a trend among homeowners in Boston and Massachusetts in recent years. Why? Let's try to find the answer.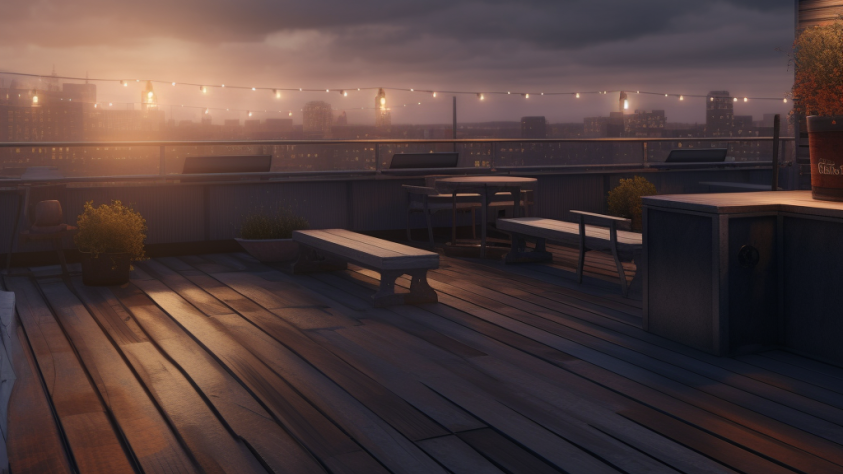 Rooftop decks: pros and cons
Imagine that your house will have an additional area not previously used. And we are not talking about a few extra feet but about the size of ​​another floor. Not bad. With rooftop decking, you can transform your roof into a patio, terrace, or private veranda for parties, barbecues, lounging, and relaxing.
If your house is in a scenic area, you can enjoy the outstanding view from the rooftop. For the same reason, rooftop decking is an excellent solution for outdoor terraces and balconies in penthouses and apartments on the upper floors.
Rooftop decking increases not only the living space but also the market value of the property. Durable materials and professional decking installation are suitable investments for selling your home. According to experts, rooftop decking can add up to 10% to the value of your home. However, the exact figures depend on many factors, so that the cost may rise.
The disadvantages of rooftop decking should be discussed separately.
Installation of rooftop decking requires a financial investment. The project's cost depends on the roof's square footage, coating material, and architectural features of the building. If you want to install lighting and furniture on the roof surface, this will increase the cost of the deck project.
Not all roofs are suitable for rooftop decking. This roofing covering can be installed on a flat roof with almost zero slopes.
What is more, you need an exit to your roof. Although roofing companies can add stairs, it is desirable to have comfortable access to the top from a room or attic. If no such exit exists, additional construction work may cost a pretty penny.
If the project does not provide rooftop decking, or if you want to install rooftop decking on the roof of an old building, you need to consult with experts first. They will inspect the roofing, roof frame, and other parameters. If the roof structure cannot support the load and weight of the rooftop decking, this can become a significant handicap.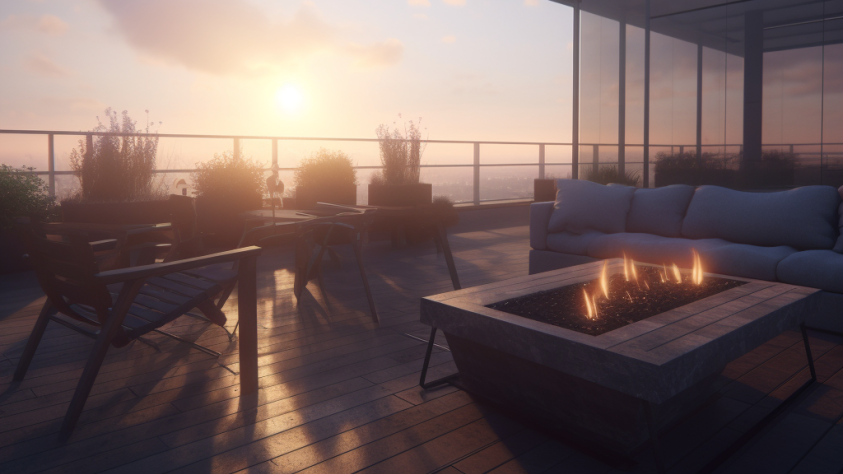 How can I use decking?
The roof deck provides an extra area you can use however you want. Many property owners with rooftop decking transform their roofs into terraces for sunbathing, parties, or BBQs. Ask your local roofer about more rooftop deck ideas.
You can place benches, tables, chairs, grills, and other outdoor furniture on such a roof. The choice of interior solutions is limited by your preferences only.
The roof area can also relax, meet friends, have a romantic dinner at sunset, and so on. A beautiful view of the surroundings, which opens from the roof, can be a great bonus.
In the case of commercial real estate, rooftop decks can be used as a restaurant or terrace café or as a seating area for business meetings.
Some rooftop decks ideas
Rooftop deck with access to the roof from the living room or bedroom. This is the best solution if the living space on one of the floors and the top are on the same level.
Rooftop decks with multiple levels and areas connected by stairs and walkways. This option is suitable for houses with extensions.
With rooftop decking, you can create a space for relaxation and entertainment not only on the roof of your house but also on outbuildings like a garage.
Think about your privacy. To avoid prying eyes, you can install opaque railings around the roof's perimeter.
Lighting fixtures can turn a rooftop decking into a place for romantic dinners and dates.
An outdoor kitchen or a grill area can also be installed on the roof. Follow fire safety precautions and check with roofers to create a safe place for BBQ or outdoor kitchens.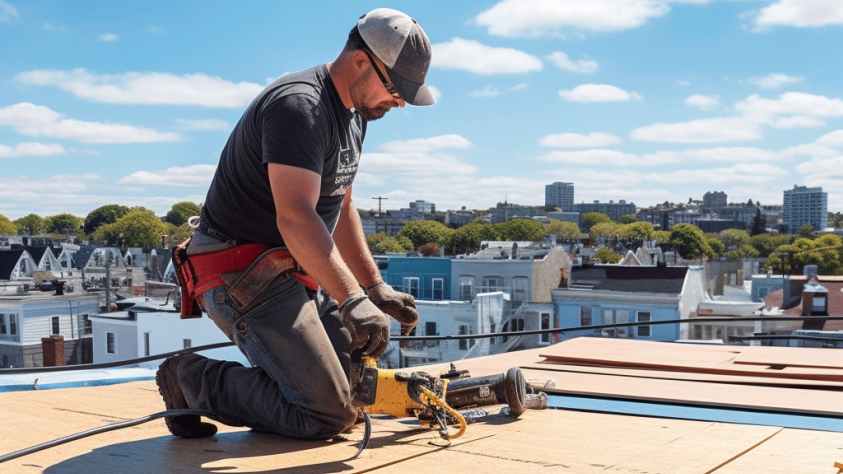 How to choose material for rooftop decking
Professional roofers use unique materials for the installation of house rooftop decks.
Natural and specially treated wood (hardwood decking or pressure-treated wood). These materials are considered to be premium decking material options.
Synthetic polymers or composite decking (100% no wood)
Granite, sandstones, and other natural minerals. These roof decking materials are almost eternal but weigh a lot, so natural stone finishes are unsuitable for every roof.
The decking boards must be durable, strong, and designed for active use. In addition, the material must withstand the negative environmental conditions in the open air – sunlight, wind, rain, and snow.
According to roofing companies, synthetic polymers are one of the best rooftop decking solutions. They do not wear out for years, are durable, and require less maintenance. Moisture and ultraviolet do not hurt these materials either.
The average service life of polymeric materials is 20 years or more. In addition, such materials do not require seasonal maintenance with varnishes and oils, like natural wood. And after all, they are comfortable to walk on.
Modern synthetic materials for rooftop decking can be of various colors and textures, including those that imitate natural materials. As energy-efficient solutions, light-colored coatings are available on the market. They do not heat the inside rooms in summer and stay more relaxed. Choose lighter colors to save on electricity bills.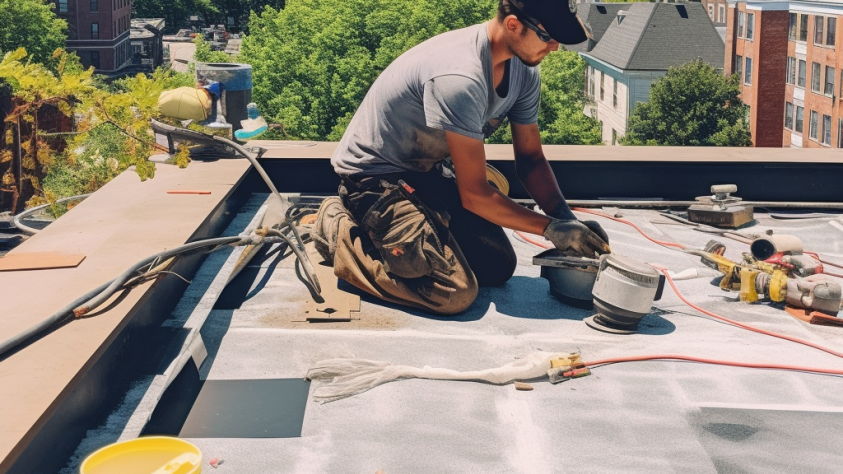 Installation features
Terms and cost of work depend on the roof's area and the project's complexity. However, building a rooftop deck requires special qualifications and experience.
It would be best if you considered the exit to the rooftop decking during the design stage. As a rule, the open roof is accessed through the door from the living room or the attic. A unique outdoor ladder can be used as an optional solution, but using such a ladder in the rain and snow is not so comfortable.
The choice of material for roofing decking depends on many factors as budget and individual wishes. Moreover, the choice of material depends on the coating installed on your roof. Some decks are suitable for built-up roofs, and some for PVC, TPO, rubber, or wooden tops.
Professional roofers design a drainage system to prevent standing water from collecting on the roof surface and under the roofing material.
Special roofing membranes are usually used as insulating materials, which protect the interior of the building from leakage and water damage. These membrane materials are mounted under the rooftop decking.
Roofers should inspect the roof frame and wall structure to calculate the maximum allowable load on the building and the roof.
When installing rooftop decking, skylights, chimneys, ventilation equipment, and utilities on the roof surface can be problematic. Learn more about available solutions from qualified roofers.
Any roof with rooftop decking must have railings. Otherwise, it will be unsafe to use the available space. Fences should complement the overall design and style of the building.
Consider whether it is worth putting electricity, gas, and water on the roof. As usual, the installation of engineering communications is carried out at the initial stage of the roofing project.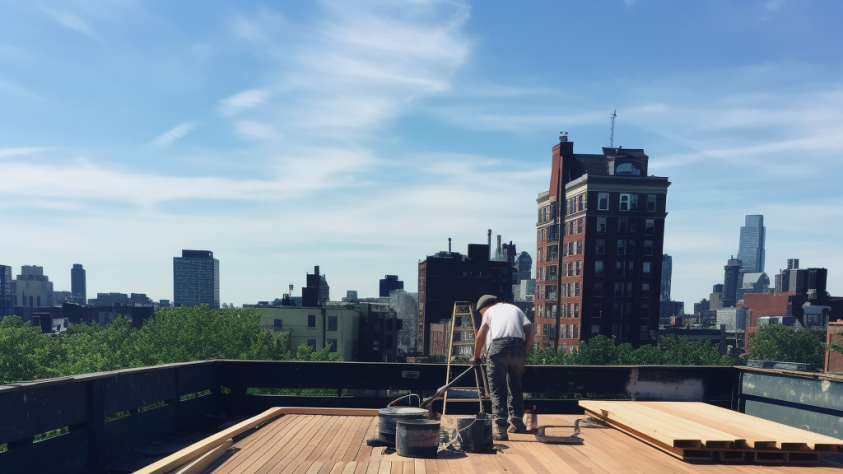 What to think about before installing rooftop decking
First, determine if local restrictions exist on installing rooftop decking in your area. Before carrying out any construction work, it is essential to clarify the project's compliance with local building codes in Boston and Massachusetts.
Secondly, think about how much roof area you are going to use. You can use only part of the roof as a terrace or transform the whole top into a private outdoor living space.
Contact the experts to prepare a project estimate. Despite all the benefits, rooftop decking can be expensive, especially if you need to dismantle the old coating and renovate the roof structure.
Thirdly, it is necessary to consider the region's climatic features, the number of heavy rains, and snow loads. We recommend contacting local roofers who know these nuances. Also, consider installing additional roof elements if you plan to use the available space all year round – sun and snow awnings and other shady retreats.
If you plan to install rooftop decking on an old roof, removing the old roofing and reinforcing the roof frame may be necessary. Roofers will check the condition of the underlayment and replace it if necessary.
Finally, consider roof maintenance. Rooftop decking should be cleaned of debris periodically. Ensure water does not collect on the roof surface after every heavy rain.
How to choose a rooftop decking contractor
Find a professional roofing company in Boston or another city in Massachusetts. We recommend contacting local roofers as you can check their reputation and see completed projects. If a roofing company has specialized in rooftop decking projects for years, it has a lot of photos of completed projects in the neighborhood. Ask roofers to show you trending rooftop deck designs.
Make sure the contractor has all permits and licenses for roofing services. The roofing company's specialists know what permissions the owner of the house, on which rooftop decking is going to be installed, needs to obtain from the local department of architecture.
A roofing contractor should have a wide range of coating materials available for projects ranging from traditional hardwood to modern polymer coatings.
Be sure to ask roofing experts to come up with an estimate. As a rule, the estimate is made after inspecting the roof and clarifying the project's features with the client.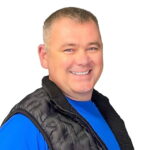 Denis is the driving force behind ID Flat Roof, a leading company in Boston specializing in flat roof repair and installation for over 20 years.
Expertise:
Denis excels in PVC, TPO, EPDM, and rubber roofing. His meticulous approach ensures quality and customer satisfaction.
Innovation:
Denis incorporates cutting-edge solutions like skylights and solar PV roofing.