Guide on How to Choose the Best Decking Material for Full Sun
Reading Time:
6
minutes
In summer, it can be hot in Boston, Massachusetts. There is nothing to worry about if there is a permanent roof or a retractable awning over your deck. But if the decking boards are exposed to direct sun rays, problems may arise. First, you might not be able to walk on them barefoot. Second, the color of the boards might fade quickly. Third, some options might crack and split when exposed to heat because the water they naturally contain evaporates. This article will tell you how to select the best decking material for full sun. We won't provide a detailed table of contents because we'll focus only on the key topics: which parameters to pay attention to and which materials to opt for.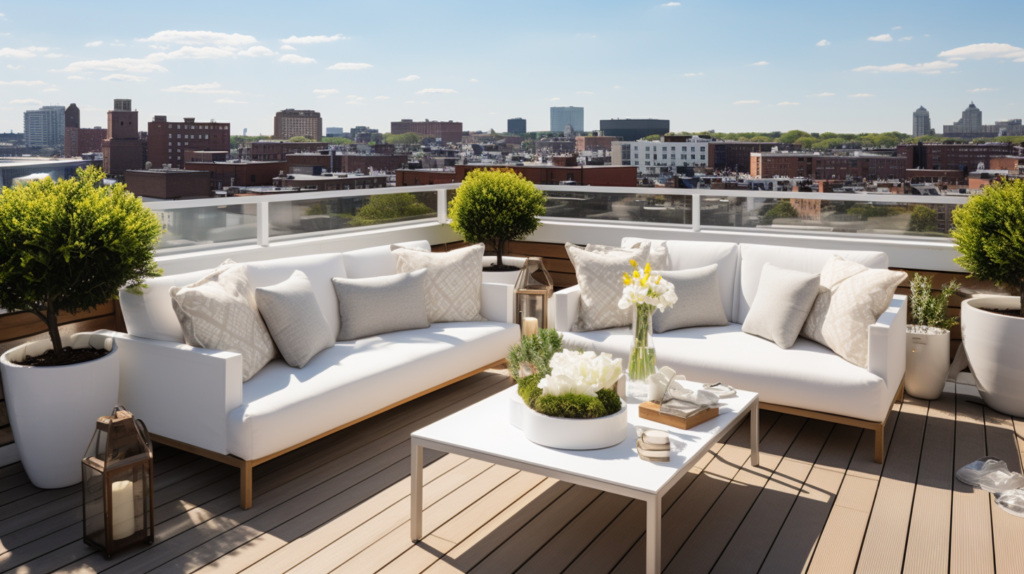 Essential Parameters of a Suitable Material for Full Sun
When selecting a decking material, analyze these three factors:
Color. Consider choosing light-colored decking if you don't want the boards to fade prematurely. Any dark shade absorbs heat much better than any light one.
Presence of a protective finish. If the boards lack it, be ready to paint and stain them more frequently.
Water resistance. After a heavy rain, the boards might wrap because of excess moisture. The intense heat that comes afterward might distort their shape even more. The gaps between the boards can become too broad. The surface of your deck can become uneven, and you might stumble over it.
It's hard to find a natural and maintenance-free material. Low-maintenance decking is synthetic. If you choose it, you'll need to sacrifice the aesthetics for the sake of the pragmatics. Traditional wood decking looks more premium — but you'll need to take regular care of it.
Best Decking Material for Full Sun in Boston, Massachusetts
Let's start with bright tips. Decks facing South or West tend to fade faster than those facing North or East. The former also gets hotter under the UV rays. Keep this information in mind when choosing a decking material.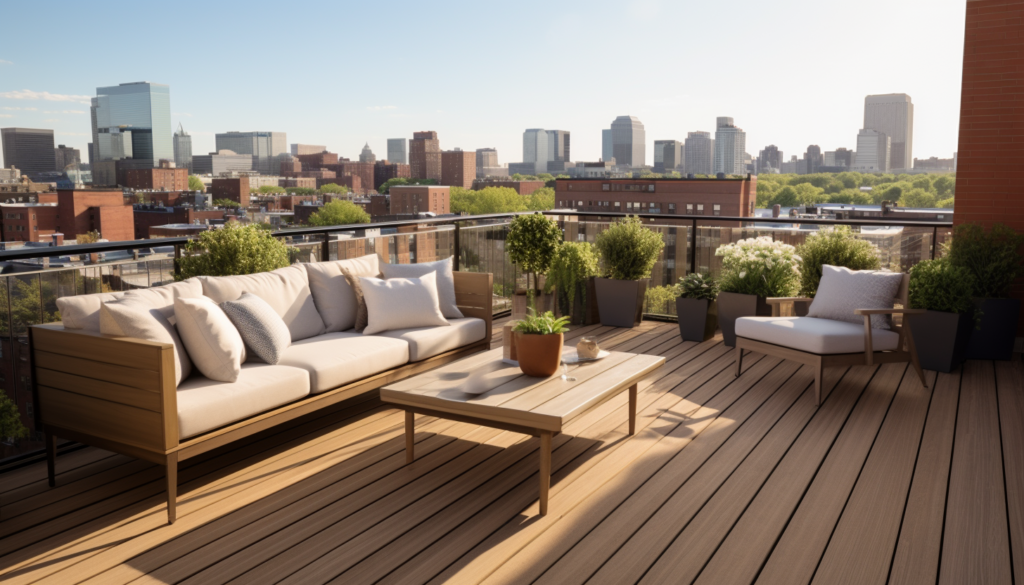 To cool down a naturally dark surface, try to paint it light-colored. You'll have to renew the paint every few years. Not everyone likes the idea of painting, though — many homeowners admire the organic wooden texture and color.
Below, we'll list the top decking options in Boston, Massachusetts, considering their sun resistance. Our selection doesn't include aluminum and PVC (the latter is made of vinyl). Both are popular decking options — and both become unbearably hot under the sun. You might accidentally burn your skin if a flip-flop slips off your foot.
Our list features wood varieties for all tastes and budgets. We can recommend several versions of natural or composite wood to you. Unless stated otherwise, the average life span of all the variants we'll mention is 20-25 years.
Ipe
This one is highly dense, complex, and durable. Only skilled professionals can handle it. With ipe, you'll be able to forget forever about moisture, rot, fungi, and insects. The boards won't split or wrap even when it's sizzling hot. Unlike the majority of natural alternatives, this material doesn't retain heat. You'll be able to walk on it barefoot comfortably.
Over time, the boards will fade if exposed to direct sun rays. To prevent it, you should systematically treat them with timber oil. If you fail to do so, ipe can surprise you. When other wood species fade, their color becomes dull. Ipe, by contrast, acquires a noble shade with a visual intrigue.
It's a costly material. It's unlikely to be available in the nearest shop in your neighborhood. But it can serve you for up to 75 years, so the investment should be worth it.
Cedar
Like ipe, this one is unlikely to become hot in the sun. Your family members, pets, and guests should appreciate it. Thanks to its natural properties, this wood species perfectly withstands moisture. It won't rot when it rains and won't crack under the sun.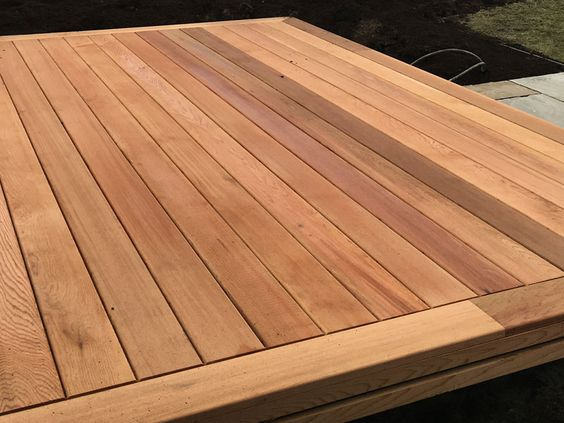 Cedar fades quickly. Frequent maintenance can prevent it. If you protect the boards from fading, they will naturally darken over time, adding rustic charm to the space.
Teak
This material is renowned for its water resistance. Not everyone knows that it's also spot-on for full-sun decks.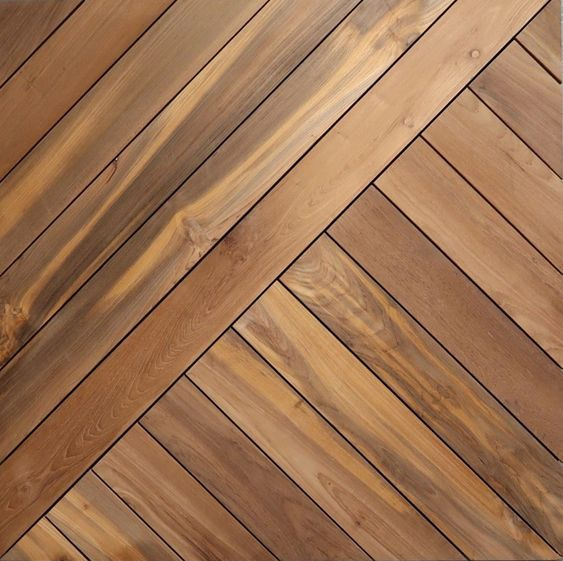 Teak contains oils and other components that prevent rot, mold, and insects. UV rays can damage it only in one way — by making it fade. However, it's easy to prevent it by oiling and staining the decks.
Acacia
People have been using this wood species for centuries in countries with tropical climates. It's suitable for making furniture, decor items, and construction elements. Make sure to seal acacia thoroughly — and you'll get an excellent deck.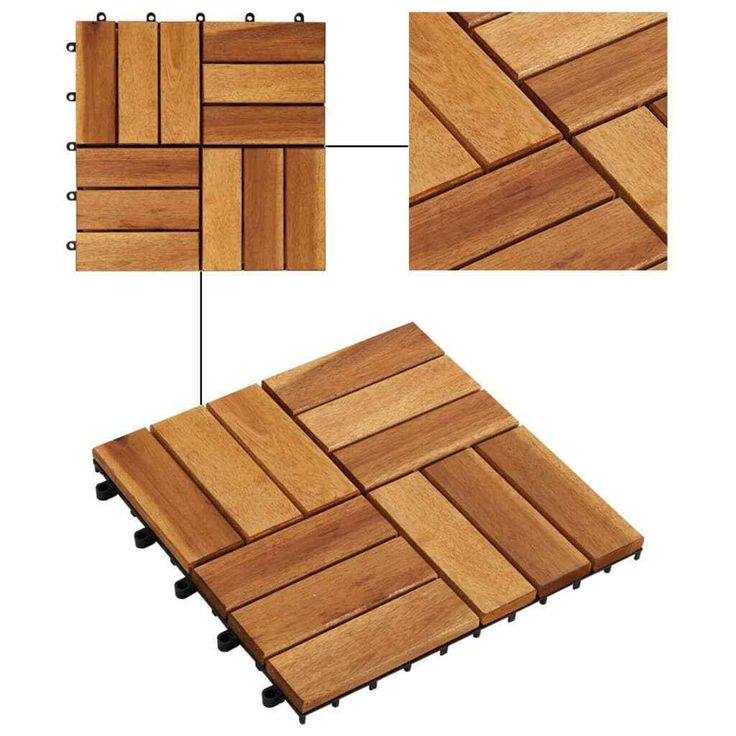 Eucalyptus
This one is durable, dense, and not prone to splitting. It contains a lot of natural oils that ward off pests and prevent moisture damage. Eucalyptus is naturally resistant to sun rays. You won't have to treat it as frequently as other wood varieties.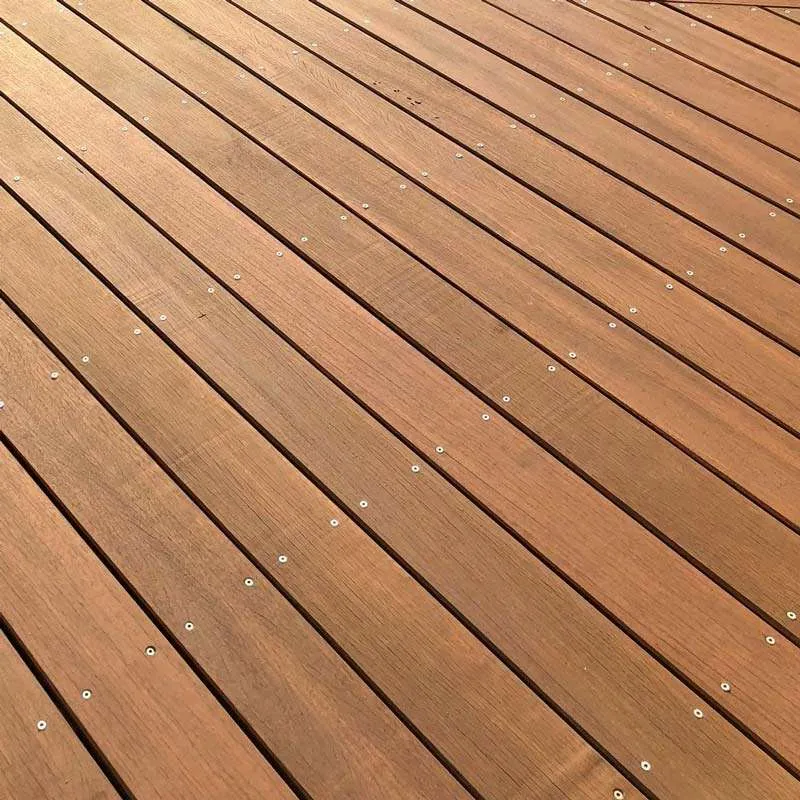 Conversely, it's tricky to work with this wood type. It's costly, and only selected vendors offer it. The length of the boards tends to be random, which complicates the installation process. This material requires drilling that only experienced contractors can cope with.
Best Decking Material for Full Sun: Pressure Treated Wood
It's a budget-friendly variant with no more than 15 years of life. Pine belongs to the higher price bracket range, and its performance characteristics are among the best in this category.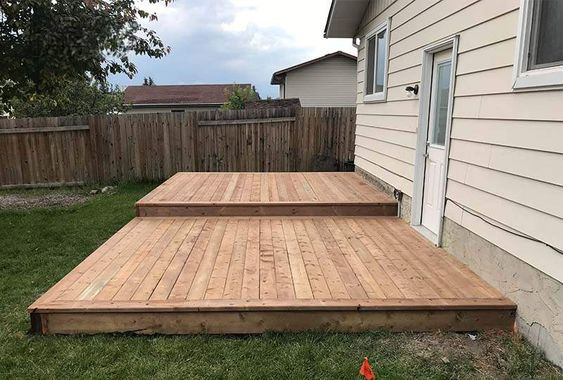 Manufacturers add chemicals to natural wood to protect it from all hazards, including heat, pests, and moisture. On the one hand, it's a great idea. On the other hand, if the deck catches fire, it will start releasing toxic fumes into the air. It can harm the health of humans, plants, and animals. Regular sealing should help you minimize this risk. Plus, sealing noticeably upgrades the looks of such boards.
Composite Deck Boards
There are dozens of composite decking brands to choose from. The available color palette of the boards is incredibly diverse. Manufacturers mix wood fibers with tiny particles of synthetic materials and add chemicals, including UV inhibitors. The result is durable and highly resistant to elements. It costs more than regular or pressure-treated wood. This material doesn't require sealing, and it's straightforward to take care of it. After you install the decking, it might fade insignificantly during the first six months. Then, its color will stabilize and won't change anymore.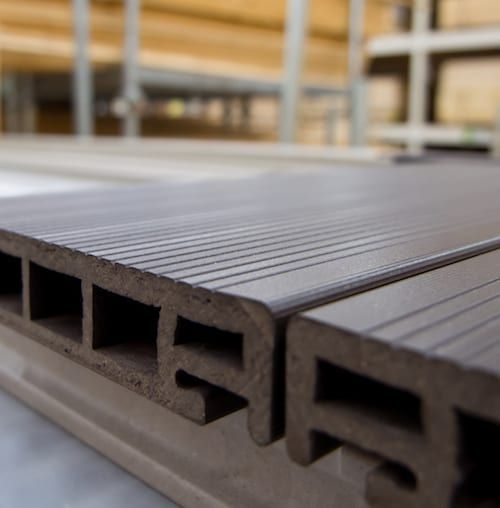 Capped composite decking is considered the best option. It features the highest protection level.
Previously, composite decking for full sun had one significant drawback. If you looked at it from a distance, it resembled natural wood. But at a closer glance, the difference was evident. Today, this issue is becoming less and less relevant. Top brands release beautiful boards that perfectly mimic the real wood surface.
Another potential shortcoming is heat absorption. It takes plastic only a few minutes to become hot. On a July afternoon, you might prefer to keep your shoes on. In this aspect, composite loses to real wood. Fortunately, selected manufacturers have found ways to overcome this challenge thanks to innovative technologies. Please consult your vendor about it.
Unleash Your Creativity: Exciting Decking Stories
Final Thoughts about best decking material for full sun
Choose a sun-resistant material if you don't want your deck boards to fade, crack, or become painfully hot under direct UV rays. Those who love natural wood should consider ipe, cedar, teak, acacia, or eucalyptus. Pressure-treated lumber contains chemicals that enable it to withstand elements. Composite options consist of natural wood powder mixed with synthetic particles. All these variants look appealing and are suitable for hot weather. They differ in price, maintenance, and performance features. To ensure you're making the best choice for your specific needs, it's advisable to consult with professional contractors who can guide you through the selection process. Explore the market and find an ideal solution for your taste and needs!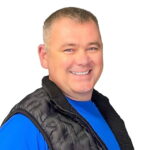 Denis is the driving force behind ID Flat Roof, a leading company in Boston specializing in flat roof repair and installation for over 20 years.
Expertise:
Denis excels in PVC, TPO, EPDM, and rubber roofing. His meticulous approach ensures quality and customer satisfaction.
Innovation:
Denis incorporates cutting-edge solutions like skylights and solar PV roofing.