Composite Flooring Guide: The Best Option for Decks in Boston
Reading Time:
4
minutes
Deck is an architectural trend of the last 30 years and is one of the best additions for any Boston country house. A spacious terrace on the porch, a cozy veranda, a patio, or even a gazebo on the roof – you can choose among many deck options, and each of them is good in its way. All you need to enjoy your new extension is to find a specialist contractor and choose the best flooring material. Next, we will explain why composite flooring deserves special attention in this context.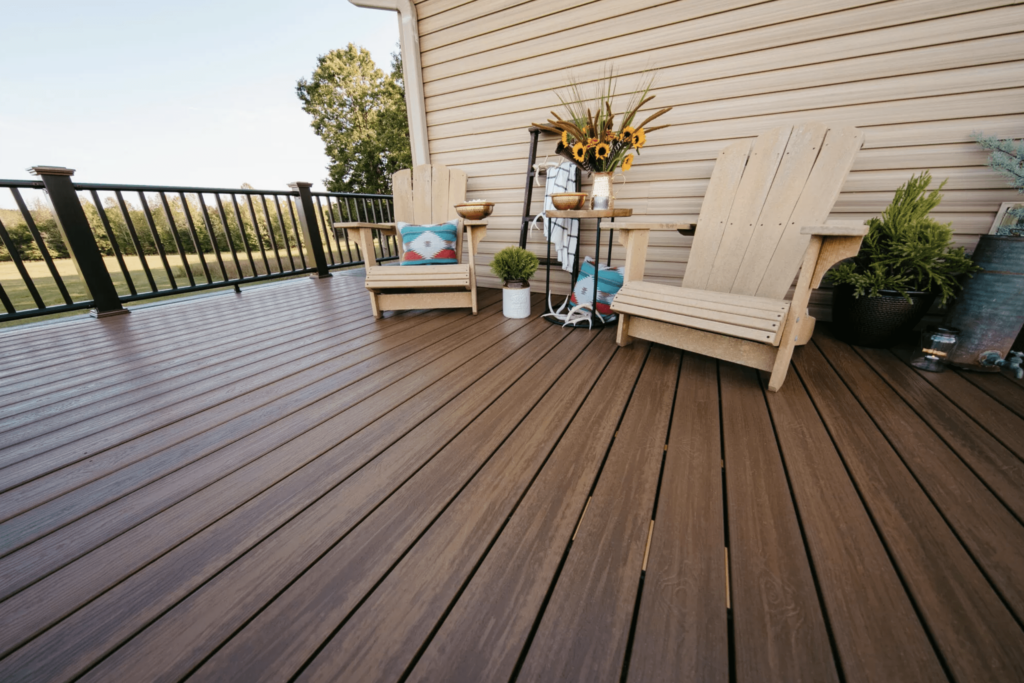 Composite Flooring: Basic Information
Composite materials used in construction and interior decoration consist of natural and synthetic components.
Using several components simultaneously improves the material's properties, increases its service life, and makes the flooring more durable and immune to harmful environmental factors.
Composite flooring is made from polymer particles, natural wood fiber, and a unique environmentally friendly substance (PVC, polypropylene, etc.) that binds them into a homogeneous structure. The percentage of wood fiber in the composition is usually 40-50%, but there are coatings with a higher wood content of up to 70%.
Manufacturers also add stabilizers and dyes to the material. Optionally, the material for indoor installation, like laminate flooring, is covered with a decorative or protective membrane.
As a result, we get a durable and long-lasting coating for interior spaces, porches, patios, freestanding, and roof decks. You can learn more about composite coverings for verandas in this article.
Composite Flooring: Probably the Best Material for Any Decks
Considering Massachusetts's climatic conditions, composite flooring's average service life is at least 15 years. Some manufacturers guarantee that their coating will last 20-30 years.
Composite flooring is a universal material with any texture (smooth, matte, with an anti-slip effect) and shade (from white to charcoal black), including imitation of cedar, oak, and larch. Nowadays, you can find hundreds of different flooring models from a dozen brands that will ideally suit your interior style and budget.
Composite materials are suitable for outdoor use Thanks to particular components in the compound. Such flooring does not absorb moisture, which means they are water resistant and does not rot or mold. In addition, the synthetic analog of wood is not damaged by termites and other pests. This material can be used at any temperature, considering the Boston climate.
Composite flooring is a hassle-free material. It fades slowly in the sun, retains its shape, and does not crack. You will not need to paint the boards every season, cover them with special protective waxes, and replace those boards that have begun to rot. You can clean the surface using high-pressure washers and cleaning products (or just water and soap).
Composite flooring is faster and easier than installing deck boards made from other materials. Some series of floorings have unique grooves for quick installation. Polymer boards do not require additional treatment after installation.
Composite Flooring vs. Natural Wood Boards
Let's face it: natural solid wood flooring is a beautiful material with a good reputation among homeowners nationwide. However, it has several disadvantages that make it not the best choice when installing decks.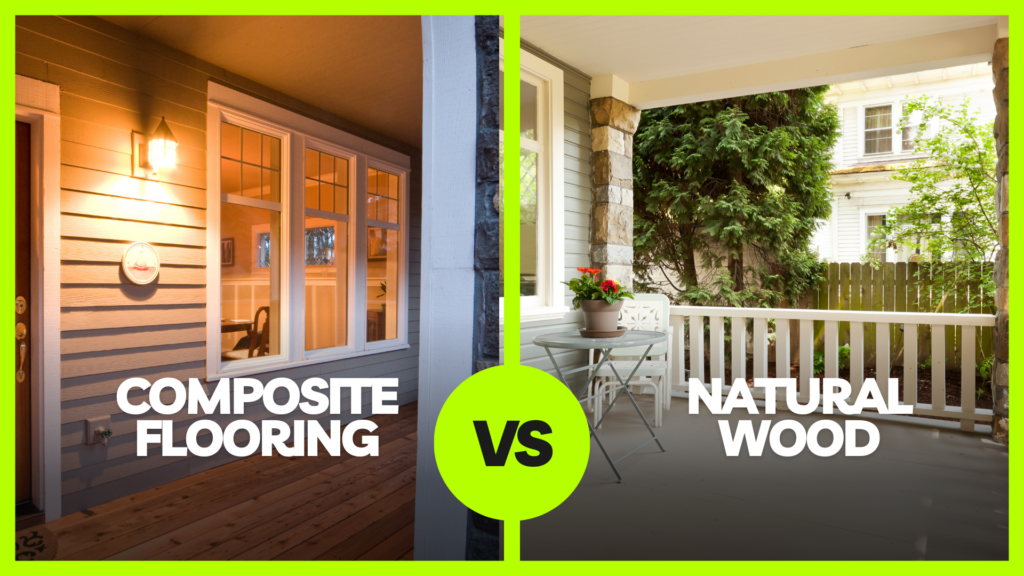 Wooden coverings are suitable for the decorative finishing of interiors and rooms with stable humidity and minor temperature differences. Even specially treated boards you install on an outdoor deck should be replaced or repaired after some time. They will either change color, begin to rot or become moldy.
Natural material, even from highly durable wood, changes shape due to changes in temperature and humidity. Boards curl, crack, bend, swell, or shrink. When choosing natural wood, homeowners are unaware of how much effort is required to keep the natural material in good condition.
Wood is durable, but it wears out faster, mainly if you actively use your terrace or veranda. Composite materials are more durable, so they are usually chosen for installation in high-traffic areas.
Despite all the advantages, the wood flooring requires constant maintenance. Every season it is necessary to repair/replace damaged or rotten areas of the coating (including on the back side or at the ends of the boards). You should use various protective agents with wooden decks – varnishes, impregnations, and paints. That is time-consuming.
Hardwood floors, mainly made of pressure-treated wood, are costly. Composite coatings are usually cheaper than exotic or pressure-treated woods (depending on the series and brand).
Finally, keep in mind that the use of wooden flooring contributes to deforestation. If you are concerned about environmental issues, we recommend choosing composite materials.
Unleash Your Creativity: Exciting Decking Stories
What Composite Flooring to Choose
There are several popular types of composite flooring that you can purchase from local contractors in Boston.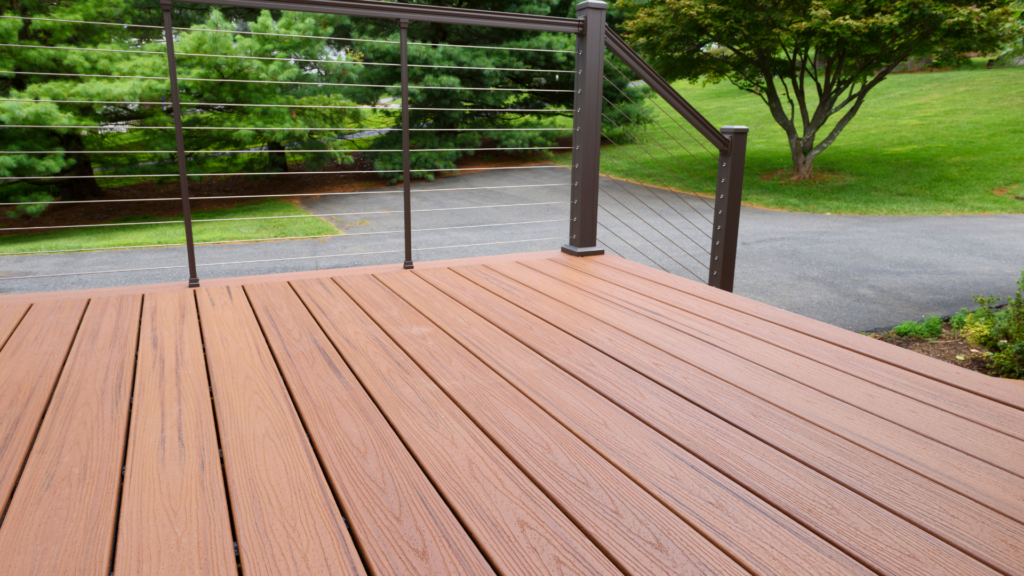 Hollow and monolithic boards. Hollow and monolithic boards have different resistance to constant and impact loads. Flooring with increased load resistance is chosen for commercial areas, piers, and bridges.
There are two popular methods for installing composite flooring – seamless installation using special fasteners or installation with ventilation gaps between the boards. If you install a deck in outdoor places with high humidity, we recommend installation with ventilation gaps. Composite tile size is usually standard, but you can also find non-traditional boards–extremely wide or long planks.
Composite flooring is a universal material. The color and shade of the surface typically imitate cedar, redwood, or exotic woods, but in recent years, more and more homeowners are choosing minimalist tones – from gray to white.
Different series of composite flooring are suitable for interior decoration and use on open terraces and verandas.
When choosing composite flooring, especially for interior interiors, ensure the manufacturer has certificates confirming environmental safety and fire resistance.
FAQ: Frequently Asked Questions About Composite Flooring
Can I install composite flooring myself?

If you have woodworking skills, most likely, you can build a deck out of composite materials. However, it is worth remembering that a deck consists not only of flooring boards but also of a frame and a drainage system, which professionals must design.

What is cheaper – wood or composite flooring?

Composite materials are the best option for most decks. However, composite decking can be more expensive than softwood alternatives. Yes, composite materials have a lot of benefits, but if you are building, for example, a temporary deck, you can get by with cheaper options.

What is the service life of composite flooring?

According to manufacturers, the minimum service life of properly installed composite flooring is 15 years.

Can composite flooring be painted?

Most composite decking models are not designed to be painted. Therefore, we recommend you compare all the available flooring options and choose various colors that suit your interior. To change the deck's appearance, you must change the entire covering. Therefore, take your time and consult with the designer.
Composite flooring is one of the best materials for any deck, both indoors and outdoors. Compared to wood, composite flooring is more practical, durable, and hassle-free.
Contact a local contractor in Boston, check a catalog of available coatings, and order several sample materials you like. You'll likely find something that fits your budget and exterior demands. Do you still have questions? Contact local contractors; experts will answer any questions about wood floors and composite flooring.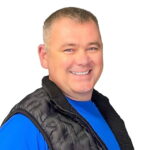 Denis is the driving force behind ID Flat Roof, a leading company in Boston specializing in flat roof repair and installation for over 20 years.
Expertise:
Denis excels in PVC, TPO, EPDM, and rubber roofing. His meticulous approach ensures quality and customer satisfaction.
Innovation:
Denis incorporates cutting-edge solutions like skylights and solar PV roofing.