EPDM Rubber Roofing: probably the best coverage for a flat roof
6
minutes
Roofs with a low or almost zero level of a surface slope are a rational architectural solution for commercial facilities and residential properties. Modified bitumen, asphalt shingles, metal sheets, single-ply membranes, and EPDM rubber roofing are time-tested and traditional materials for such flat roof projects.
Moreover, so-called 'membranes' are the most practical and universal solution for most buildings in recent decades.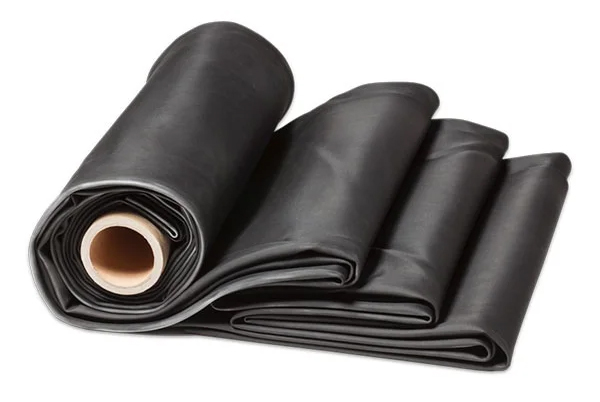 EPDM membranes: general information
If you don't want to go deep into the specifics of technological processes, then think of EPDM as an elastic membrane or synthetic rubber. While natural rubber consists of raw materials, the main compounds of EPDM are synthetic.
In the United States, there are several varieties of EPDM membranes for flat roofs:
Black (more common) and white
45 mil and 60 mils thick. Extremely durable membranes (up to 90 mils thick) are for exceptional cases.
The width of roll media is typically from 7.5″ to 40-50″. The variety of widths options depends on the brand.
Synthetic rubber has two main 'competitors' in roofing membranes – PVC and TPO. However, EPDM differs from other popular flat roof membrane solutions in its manufacturing method and characteristics.
EPDM vs. PVC. PVC is a thermoplastic material with robust seams over the entire surface. On the other hand, EPDM has better weather resistance. In addition, PVC membranes are more expensive.
EPDM vs. TPO. TPO is another thermoplastic membrane. The advantage of TPO is long-term geometric stability. However, the cost of TPO is much higher than the cost of synthetic rubber.
Why Is EPDM Rubber Roof Better?
EPDM rubber roof coating is not an innovative material that has appeared in recent years. Commercial (primarily) and residential building owners have enjoyed synthetic membranes' benefits for several decades. The reason for stable demand for EPDM is the complex advantages, which are greater than the potential disadvantages.
Durability. The thicker the roofing membrane, the longer its service life. This rule is correct for all membranes, including TPO and PVC. The average service life of EPDM rubber roofing membranes, protected from mechanical damage, is 15-25 years. Some manufacturers claim that their EPDM rubber roofs last up to 50 years.
Tip: choosing a more expensive and thicker EPDM can be a good investment.
Flexibility. One of the main advantages of EPDM roofing is its flexibility. Although the coating may shrink and crack over time, EPDM is a geometrically stable material. In addition, synthetic rubber is suitable for installing on roofs of complex geometric shapes.
Resistance. The high-quality roofing membrane is resistant to temperature extremes and frost, as well as to hot weather during the summer months. EPDM operates in any climate zone in our country.
Tip: white membranes heat up less in the sun than black coatings. The choice of such material will allow you to save on electricity in the summer months.
EPDM coating is watertight. It reliably protects the internal structure of the roof and the interior from moisture and leakage.
Tip: EPDM coatings can shrink over time. The seams that connect EPDM membranes can also lose their tightness over time. Periodically check the roof's condition and make repairs if necessary.
Low cost. The cost of an EPDM rubber roofing coating depends on the brand, the thickness of the membrane, as well as the method of installation (fully adhered, ballasted, or mechanically attached). Compared to other single-ply membranes, the cost of EPDM material and installation will be lower in most cases.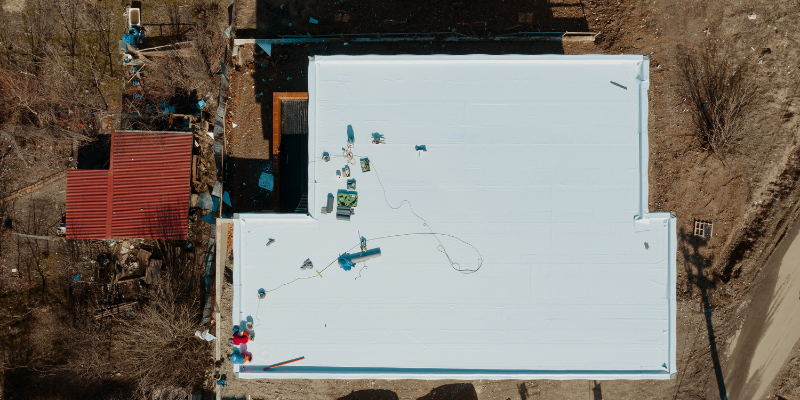 Do EPDM materials have disadvantages? Yes, just like any other material. EPDM is less geometrically stable than PVC and metal. Over time, the membrane may crack or shrink, losing its tightness. In addition, EPDM is susceptible to certain chemicals. After all, it is challenging to call synthetic rubber the most environmentally friendly material.
EPDM Rubber Roof: Installation Tips
Professional roofers choose one of the EPDM roofing rubber installation methods depending on the area and type of roof (vented or unvented, hot, cold, or hybrid), the architectural features of the building, and the chosen material.
Although simple and quick installation is one of the advantages of membrane roofing materials, we recommend contacting roofing contractors.
Here is a sample work plan for installing fully-adhered black and white membranes.
Prepare the roof surface. There should be no debris on the surface.
Install drib battens (near gutters), wall upstands, and drip trim.
Apply an adhesive following the manufacturer's recommendations (you can find different types, including two-component products)
Mount the synthetic rubber roofing membrane material in the selected area. Make sure there are no air bubbles under the membrane surface.
When the EPDM membrane is mounted, set the flashing type. Make sure that the seams in the joints of the membranes are tight.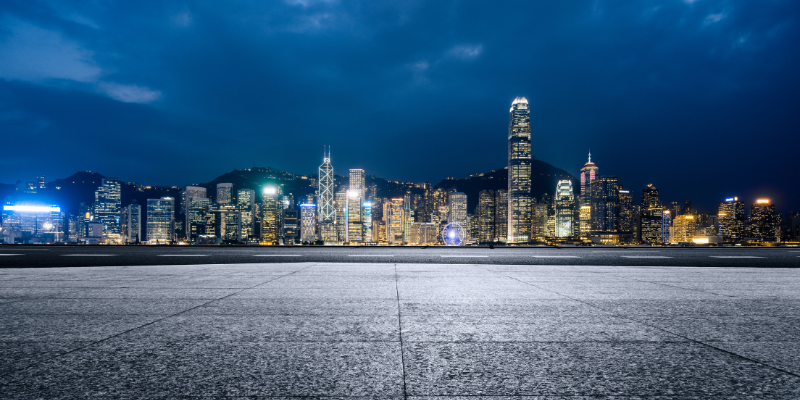 Tip: EPDM requires a specific temperature for installation. Never install the roof in cold weather, as low temperatures adversely affect the adhesive.
EPDM Rubber Roof: a few words about the cost
The final cost of any roofing project depends on several individual and local factors.
We recommend that you contact several local roofing companies and ask them to give you an estimate that you will receive after the roof inspection free of charge.
The average cost of an EPDM membrane this year is $5 per square foot (excluding delivery and installation). PVC and TPO, which we discussed above, cost 40-60% more on average.
In some cases, the cost of the material can be lower ($3-4), and in the case of extra thick membranes, much higher – up to $13-14 per square foot.
The average cost to install new EPDM roofs ranges from $4 to $6 per foot. If additional work is required, such as removing the old roofing, add $1-2 per foot to the final estimate.
How to Extend the Life of an EPDM Roof
Synthetic rubber coverings require minimal maintenance. If you check them a couple of times a season, carrying out minor repairs, you will extend the roofing system's life by 10-15 years.
Remove debris from the roof surface.
Periodically use cleaning agents on the surface that do not contain substances incompatible with EPDM.
Use a protectant suitable for EPDM roofs.
Check the roof's condition and make minor repairs using patches or roofing supplies.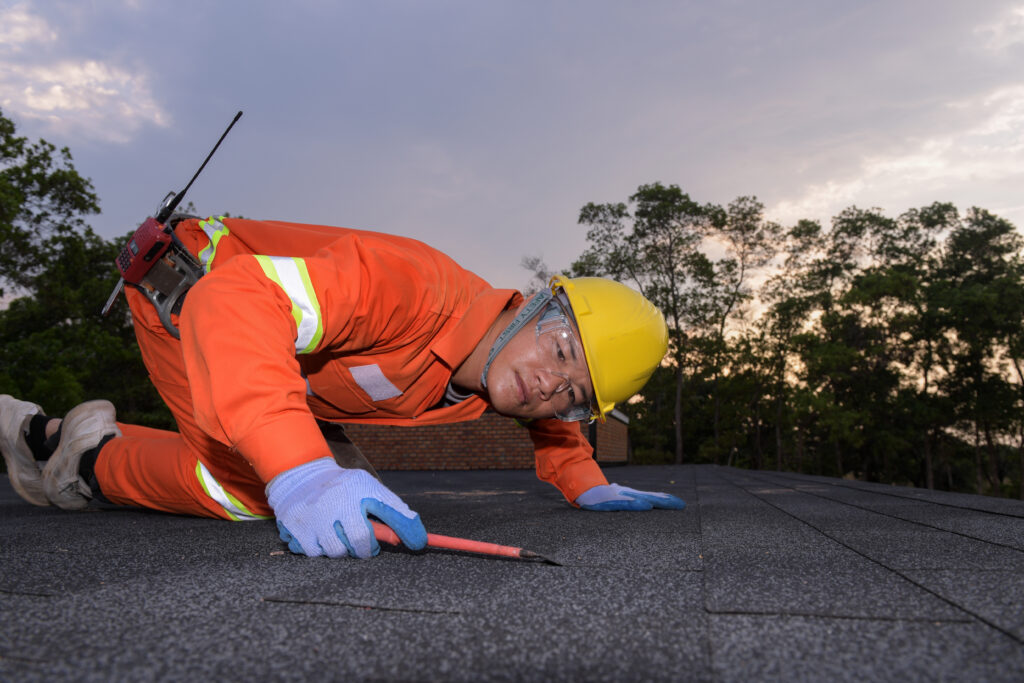 Attention! Roofing (even on a flat roof surface) can be dangerous. Follow the safety precautions for working at heights. It is even better if you entrust the maintenance and repair of EPDM roofing to professionals.
EPDM Rubber Roofs for Residential Property
Although rubber roofs are perfect for commercial buildings, they have recently found their place in the residential real estate segment.
Non-exploited flat roofs often use EPDM. Also, this material is optimally suited for verandas, garages, sheds, porches, and other outbuildings with a flat roof.
Don't choose a black EPDM membrane. Instead, get energy-efficient white coatings for large residential buildings.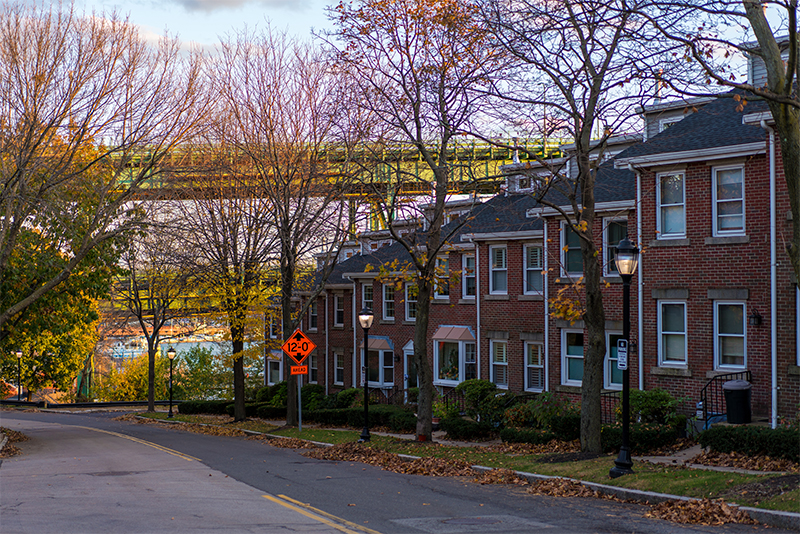 Conclusion and Recommendations
Indeed, EPDM can be the most efficient and cost-effective solution for your home.
At a relatively low cost, rubber roofs reliably protect the house from leaks and bad weather for decades. They require minimal maintenance and are suitable for a variety of building designs.
However, EPDM materials have their limitations and disadvantages. Choosing the material accurately and adequately for the roof to serve you for many years and not require annual repairs is necessary.
We recommend contacting your local roofing company if you are considering choosing EPDM as your roofing material. Let professionals check your project and calculate the estimate. Experts will tell you more about the advantages of the EPDM material compared to alternative TPO/PVC solutions and help you select reliable roofing membranes for your project.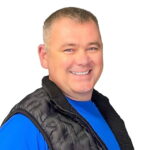 Denis is the driving force behind ID Flat Roof, a leading company in Boston specializing in flat roof repair and installation for over 20 years.
Expertise:
Denis excels in PVC, TPO, EPDM, and rubber roofing. His meticulous approach ensures quality and customer satisfaction.
Innovation:
Denis incorporates cutting-edge solutions like skylights and solar PV roofing.