Flat and Low Slope Roofing Materials
Our company is a professional roofing contractor and proven roofing material supplier in Massachusetts. Over the past 21 years, we have renovated and installed hundreds of roofs in residential and commercial properties all over the region. In this post we want to tell you about low slope roofing materials.
We specialize in flat and low-slope roofs. We prefer to use only modern and Energy Star rated materials.
We have all the necessary licenses to carry out roofing works of any complexity on commercial and residential real estate, including CSL and required insurance coverage. We always provide our clients with full package guarantees, both for materials and work.
PVC: durable and resistant to elements
PVC – membranes based on polyvinyl chloride with various plasticizers. The main advantage of PVC is tear and break resistance. Not the cheapest option.
The main manufacturers of PVC materials in the USA are Duro-Last, Seaman Corporation, Flex Roofing Systems, GAF.
PROS:
1. Quite durable.
2. Mostly any PVC-membranes are reinforced.
3. Excellent insulation from moisture and leaks.
CONS:
1. Loses flexibility and cracks over time.
2. Burns out in the sun.
3. More expensive than EPDM or TPO membranes.
4. Can be mounted on the prepared surface only. Cannot be installed on asphalt-based roofs.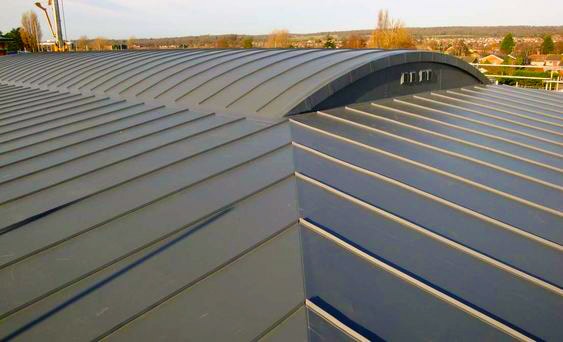 Low Slope Roofing Materials – TPO: cheaper than PVC
TPO or thermo-plastic olephine is a type of laminated roofing rubber that has been in active use for many years. TPO is believed to be cheaper alternative of PVC but with its own limitations.
The main manufacturers of TPO low slope roofing materials are Carlisle SynTec, GAF, Johns Manville, Firestone.
PROS:
1. Cheaper than PVC.
2. Can be used in regions with severe frost in winter.
3. Manufacturers offer white TPO membranes which do not heat up the roof during the summer.
CONS:
1. Can be installed on a prepared, clean roofing surface only.
2. Not the longest service life even if installed properly.
3. TPO can shrink over time. You should check the TPO roof periodically to notice cracks and leaks.
4. Not the easiest material for installation.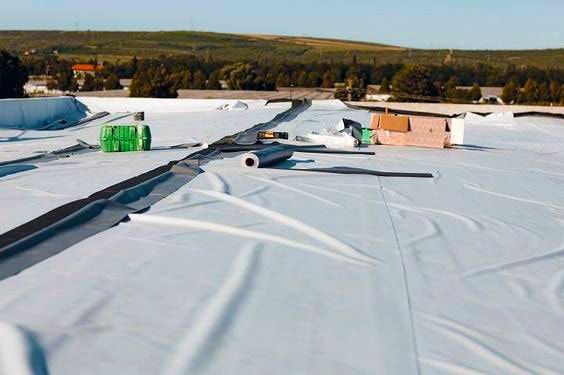 EPDM: the most inexpensive product
Ethylene Propylene Diene Monomer (EPDM) also called Synthetic Rubber roof is a material common in all states. It is flexible enough, easy to install, suitable for large roof areas. This material can be installed over old bituminous roofs.
The main brands of EPDM low slope roofing materials are the following: Carlisle SynTec, Firestone, GenFlex.
PROS:
1. One of the cheapest materials.
2. Easy to install – using special glue or mechanically.
CONS:
1. Service life – about 10-15 years.
2. During the summer months, this material gets very hot from the sun's rays, heating up the entire house.
3. Susceptible to mechanical damage.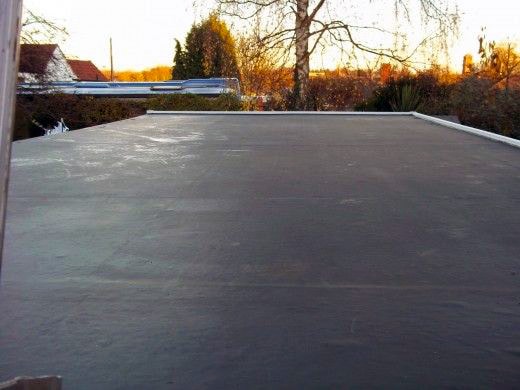 PVC Roofs: Energy Star and lifetime warranty
PVC Roofing is a modern low slope roofing material that has no analogues with similar energy-efficient options. It is a single layer acrylic coated PVC membrane with plasticizers, fire retardants, UV stabilizers and other innovative additives which provide almost eternal service life, clean reflective surface, flexibility and 100% leakage protection.
We believe this material is the best solution for mostly any flat and low slope roofs. Especially if you want to save money paying electricity bills.
The cost of PVC Roofs depends on the selected membrane – 50-mil white Roof, 80-mil membrane, and so on.
PROS:
Energy efficient. Thanks to the unique technology, membrane roofs allow you to save on electricity bills in the summer.
Ecologically clean.
Durable and long-lasting. A roof with such material does not require constant maintenance. Our company installs roofs with lifetime warranty.
It copes well with any bad weather – including snowfall and icing, stormy winds and rainstorms.
Large selection of membranes directly from the manufacturer. We will offer you the optimal material of any thickness, texture, color and style. Your home will become the pride of the entire area.
Installation and repair is fast and require only 1-2 days.
CONS:
Membrane Roofing System is not the cheapest material on the market. However, if we compare the savings on electricity bills, in the long term, the modern membrane turns out to be even more profitable than the budgetary options like EPDM, TPO, Tar, Gravel, and so on.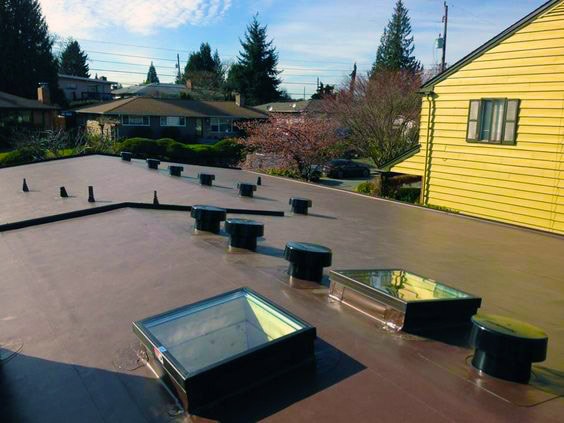 Deck Shield: perfect covering for exploited roofs
Deck Shield is the most reliable and durable roofing option for patio and exploited flat roofs. If you want to go out to your open roof or even have picnics there periodically, this is the most fitting material.
PROS:
Deck Shield provides reliable protection against leaks even in heavy rain.
Slip proof texture allows you to walk on this material all year round.
Fast installation and maintainability.
CONS:
This material is only suitable for flat roofs.
Requires professional installation, which will prevent the appearance of leaks and cracks in future.
Solar PV Roofing: the roof that produces electricity
Solar Photo-Voltaic Roofing is not the most popular, but very promising type of material for flat roofing. PV Roofing panels generate electricity by converting the sun's rays and it is believed to be the clearest energy.
For maximum efficiency, Solar PV Roofing can be installed on the Membrane Roofing System. This way you will both save energy on air conditioning and use the "clean" energy generated by solar panels.
PROS:
You can provide electricity not only to your house, but also to other houses (with a large roof area)
Surplus energy can be sold.
Your home will become practically independent from power grids.
CONS:
Such material is quite expensive.
The maximum efficiency of the panels is available in the summer only.
Solar panels require maintenance.
Solar panels must be mounted on a prepared surface with good insulating properties.
Installation of solar panels and repair of faulty elements is not the fastest measure.
Green roofing: the 'greenest' option and your own garden
Environmentally friendly solutions have been a trend in recent decades. A green roof is an opportunity to acquire your own lawn or even a garden, using the entire area of ​​a flat roof.
PROS:
1. You will have your own garden or lawn where you can relax or spend time with friends.
2. Your home will look attractive.
3. Green Roofing is the most environmentally friendly solution available.
CONS:
1. Green Roofing is suitable for buildings with large roof areas.
2. Green Roofing requires constant maintenance.
3. Before installing such a roof, it is necessary to additionally install drainage and other communications necessary for plants.
4. Installation of Green Roof cannot be quick, as a complex of works is required.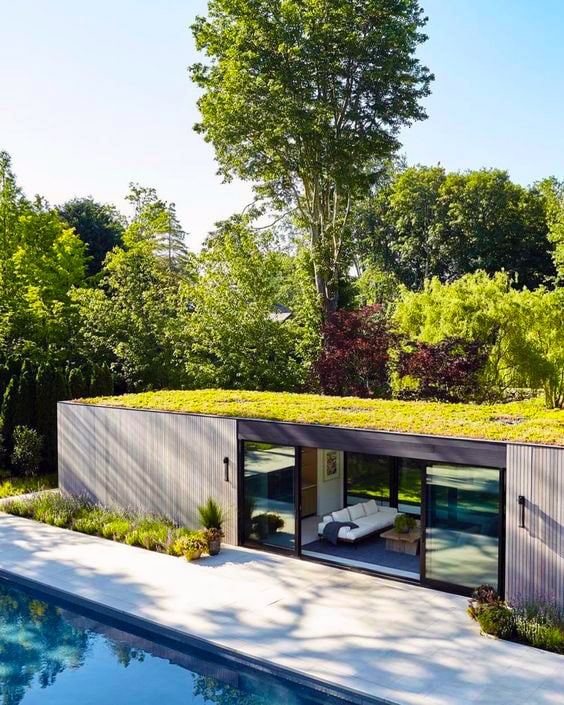 Metal Roofs as a Low Slope Roofing Material: solid and long-lived
The metal shingles is an excellent solution for low slope roofs. The main material can be galvanized steel, aluminum, copper. There are several varieties of metallic roofing materials, including stone coated, corrugated or tile-look shingles.
You also need to pay special attention to the preparatory work for the installation of a metal roof, including synthetic lining materials for ventilation and additional thermal insulation.
PROS:
Metal is a very durable material, especially if the roof is properly protected against corrosion.
The metal is very durable. Such a roof will withstand even strong mechanical damages.
CONS:
Metal, especially copper, is quite expensive.
Metal roofing can be heavy. Metal exert a load on the roof frame and the walls of the building, which must be designed to withstand this load.
Installation of metal shingles requires special equipment. Repairing and replacing a metal roof is also considered a challenge as a large area of ​​coverage needs to be changed.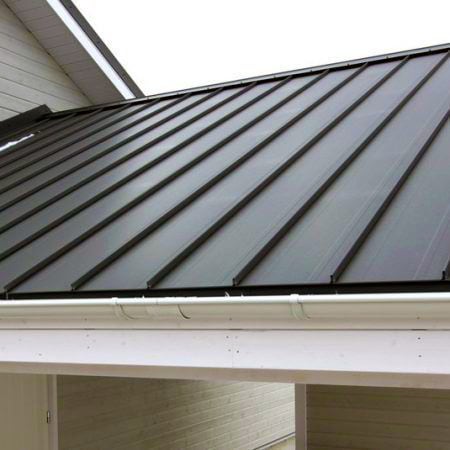 Other low slope roof materials: 'old-school' materials
Built-up-Roof, Bitumen, Torch Down roofing are options that have been used in the past. Some roofing companies still use them today, but they have many disadvantages compared to their modern counterparts. The installation of old roofing materials is usually long, not-friendly for the environment and dirty. Mentioned material have poor anti-leaks and physical damage protection.
We prefer to use only modern and personally tested materials from leading American manufacturers in our work.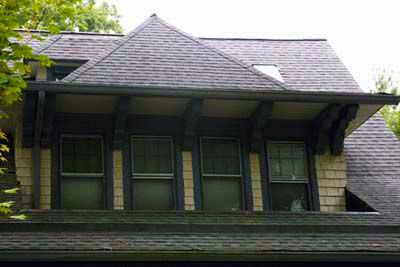 How much will my new roof cost?
To save your time, we suggest you calculate the estimated cost yourself using an online calculator. Choose the main parameters – and in a second the program will show you the approximate cost of the roofing works, taking into account the selected materials.
To find out the exact cost, contact our specialists by phone or chat. Describe the project, tell us more about your property, and we will offer the most practical solution. If it is possible to calculate the cost remotely, we will immediately announce the estimate.