Everything You Need to Know about Deck Staining in Boston
4
minutes
Looking for a comfortable place to relax in the fresh air, enjoy a glass of wine at sunset or have a barbecue with friends? Then decking is exactly what you need. Boston has several popular decking options: decks on flat roofs or balconies and decks at ground level (either an extension to the house or free-standing island areas in the garden). Like any part of your house, decking requires your attention and seasonal care, repair, cleaning, or even renovation. What is more, you should pay special attention to deck staining.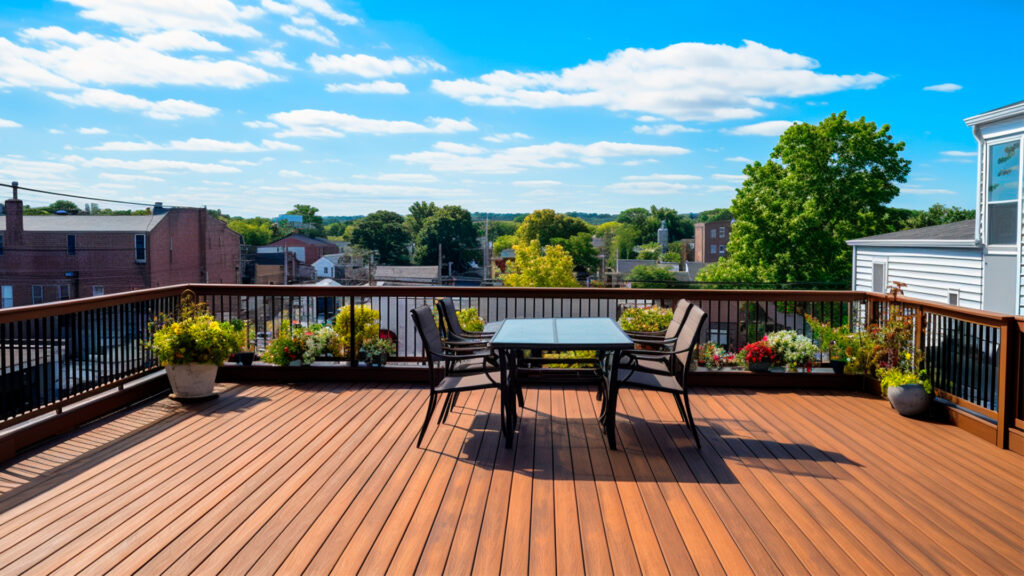 What Deck Materials Need Stain Protection
We have three popular types of decking in Massachusetts – natural wood, composite decking (approximately 50% wood particles and 50% recycled plastic), and synthetic materials (100% PVC). You can also find aluminum decking, often installed on commercial buildings.
Synthetic materials like PVC do not require additional protection with varnishes or stains, making deck staining unnecessary for these materials. Composite decking can be painted (depending on the brand and product). If composite decking is used in high humidity conditions or outdoors, choosing unique products resistant to ultraviolet and moisture is recommended, often used in deck staining.
Wooden decking mostly always requires staining that provides additional protection. Next, we will explain why this home improvement task is critical.
Decking Stain: Reasons to Stain Your Deck
Wood is a durable, geometrically stable, aesthetically pleasing material that fits perfectly into any exterior. Wood decking never goes out of style and suits any architectural style.
At the same time, wood can be affected by many negative factors:
The exterior wood fades in the sun in one season (or even in several weeks)
Wood absorbs rainwater and moisture from the air. Wet wood begins to rot and mold.
Deck boards can change shape, bend and buckle due to temperature or humidity changes. This is a factor to consider if you plan to install wood decking in the Boston climate.
Some animals and insects destroy the wood
The surface of the wood decks may crack, become rough and be uncomfortable to walk on over time.
Special high-quality stains and paints protect the material from all negative factors. As a result, the service life of the wood terrace or patio increases several times.
Don't Miss Our Latest Articles on Roof Decking
Deck Staining Expert Recommendations
Use only stains and paints designed for wood deck surfaces. Paints for interior decoration are not suitable.
Paints should be water-repellent and protected from fading in the sun (UV protection).
Not all painted surfaces can be washed, especially with pressure washers. However, you can use them to remove layers of old paint before renovation.
When it comes to deck staining, it's necessary to treat decking boards not only from the front side. The back and ends need special protection too. You can use special impregnations for the back side, less often – paints. The ends of the terrace boards are usually protected with paint or special wax, which is an important part of the deck staining process.
Note! In addition to paints, oils and waxes are used to protect decking. Depending on the manufacturer and brand, oils and waxes have anti-slip, tinting, antibacterial and other features.
What Decking Stain to Use
Attention! Some paints can be used for outdoor work only, with the obligatory use of protective equipment and compliance with safety rules.
Decking paints can be water-based (can be washed with pressure washing equipment), oil-based, alkyd, latex, polyurethane, and so on. To add, you can use various varnishes.
Depending on the chosen product, you will need to apply several or one coats of stain.
What color to choose? The most popular and long-terming trends are brown, from oak to chocolate, yellow, gray, and white. The trending stain color is black.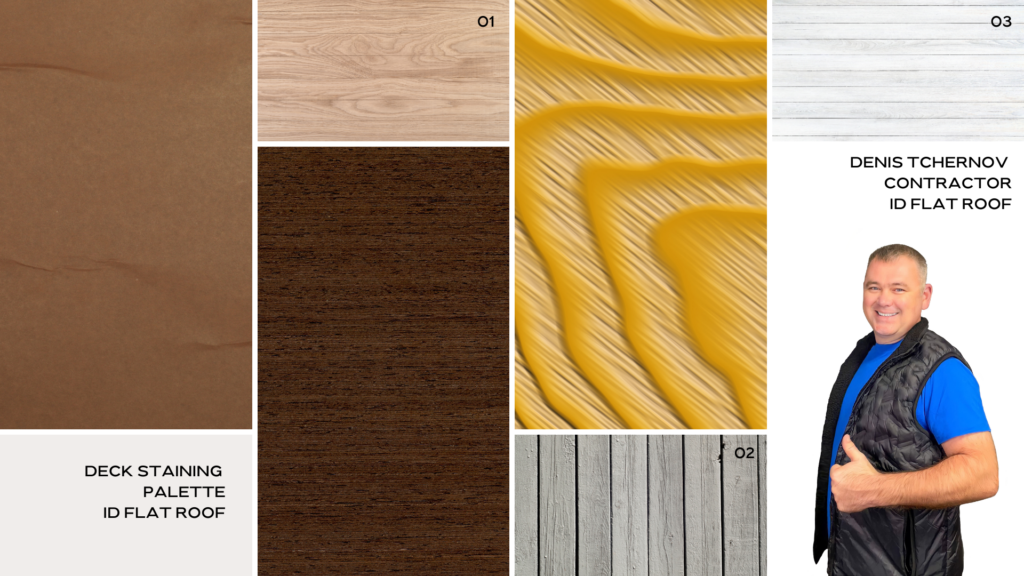 As we said above, there are also transparent stains for decking. If you want to keep the color and texture of natural wood, choose transparent or semi-translucent stains and special sealers.
On the other hand, you can change the tone of natural wood to a darker tone with the help of special wood stains.
DIY Guide: Learning How to Stain for Deck Staining
Get ready to work in advance – gloves, goggles, a respiratory mask, sandpaper (including lightly sanded one), wood cleaner, paint roller, paint pad, brushes, and some cloth (to remove lap marks). This is the minimum.
Prepare the deck surface for staining. Ensure the surface is free of old paint or existing stains, chips, protruding nails, and other metallic elements. Sand the surface, wash it with a garden hose, and let it dry.
Newly installed wood decking should be stained as soon as possible.
Be sure to read the instructions for the paintwork product and follow the manufacturer's recommendations. As a rule, the application method, drying time (some stain dries within a few hours, others dry after a few days), paint consumption, safety rules, and other advice are printed on the paint package.
Check the condition of the decking surface once a month. The surface must be repainted at the first sign of peeling paint. Even new decks require seasonal renovation.
Considering the climatic conditions in Massachusetts, re-painting and renovation of the decking is required every one and a half to two years.
Remember that old and new paint may not be compatible with each other. The surface must be carefully prepared and sanded if you use different types of paints.
Pay special attention to decking areas that are not exposed to the sun. These areas require additional protection against mold and rot.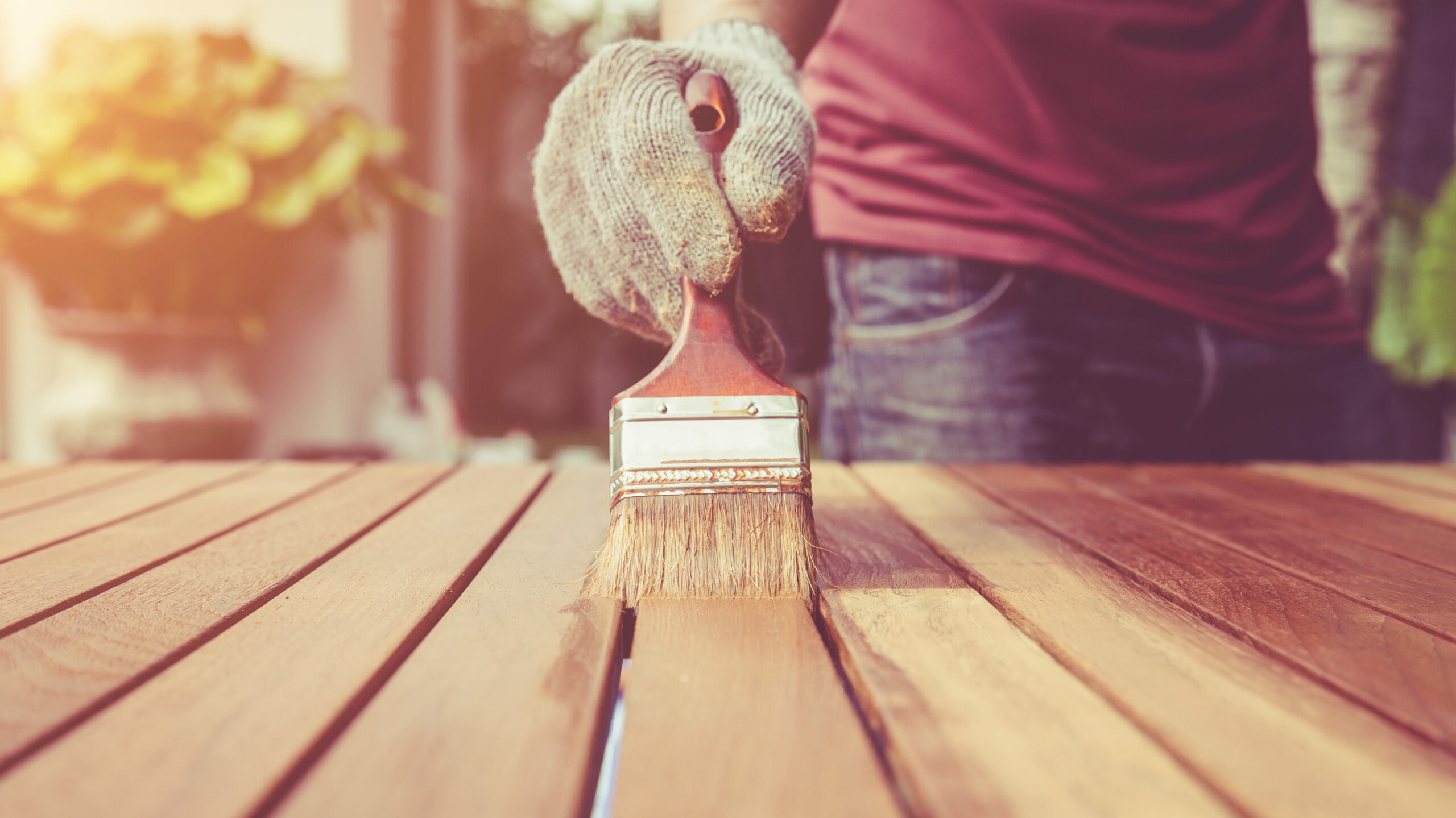 Conclusion: Need Help? Call professionals
Staining is an important stage in the installation or maintenance of wooden decking. It is necessary to repaint the surface of the decking to protect it from rain, rot, and insects once a year or two. You risk spending thousands of dollars on repairs or a complete deck replacement if this is not done.
Decking must be stained correctly, considering safety precautions and choosing the right stain materials. We recommend contacting professional contractors in Boston who installs decking or provide seasonal decking services.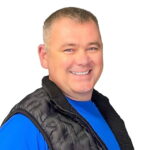 Denis is the driving force behind ID Flat Roof, a leading company in Boston specializing in flat roof repair and installation for over 20 years.
Expertise:
Denis excels in PVC, TPO, EPDM, and rubber roofing. His meticulous approach ensures quality and customer satisfaction.
Innovation:
Denis incorporates cutting-edge solutions like skylights and solar PV roofing.