Explore Roof Decking Ideas to Build Your Ideal Outdoor Sanctuary
Reading Time:
4
minutes
Creating the perfect outdoor sanctuary can be an exciting and overwhelming task. With so many options, getting lost in the sea of choices is easy. However, one of the most important decisions you'll have to make is choosing the suitable roof decking for your outdoor space. If you're looking for inspiration and ideas, you've come to the right place! In this article, we'll explore everything you need to know about roof decking ideas to build your ideal outdoor sanctuary.

Wood Decking

Composite Decking

PVC decking
First and foremost, it's essential to understand the function of roof decking. Roof decking is the foundation of any outdoor space and provides the support and structure for your roof. When choosing a suitable roof decking material, there are several factors to consider, such as durability, sustainability, and aesthetics. Let's look at some of the most popular roof decking materials available.
Pros and Cons of Wood Decking for Your Outdoor Space
Wood decking has been a popular choice for many years. It's versatile, durable, and comes in various colors and styles. However, wood decking requires regular maintenance to prevent rot and decay, and more sustainable options exist.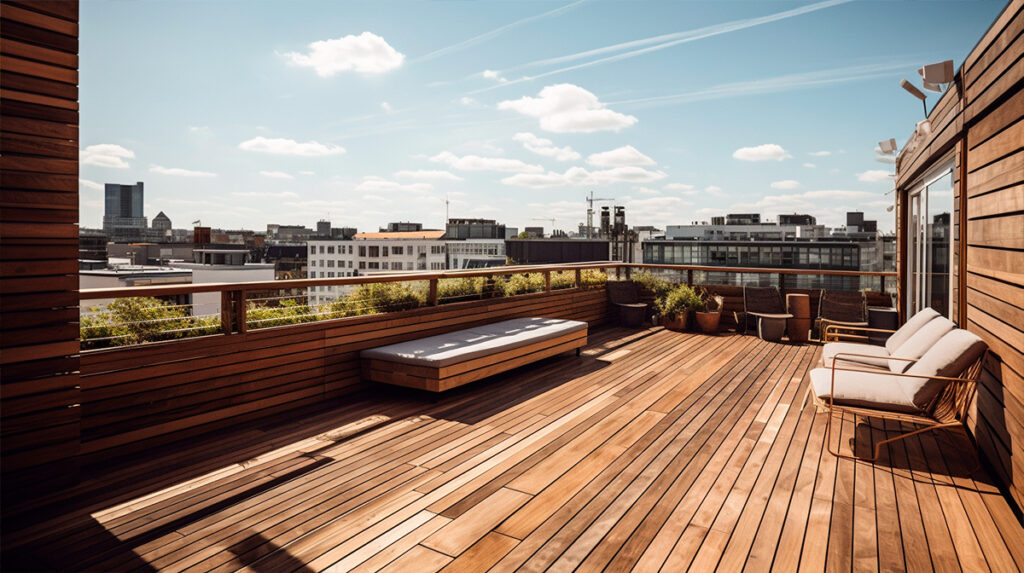 The Benefits of Using Composite Decking for Your Outdoor Space
Composite decking is a newer option that's gaining popularity. Made from wood fibers and recycled plastic, composite decking is durable, low-maintenance, and eco-friendly. It also comes in various colors and styles, making it a versatile choice for any outdoor space.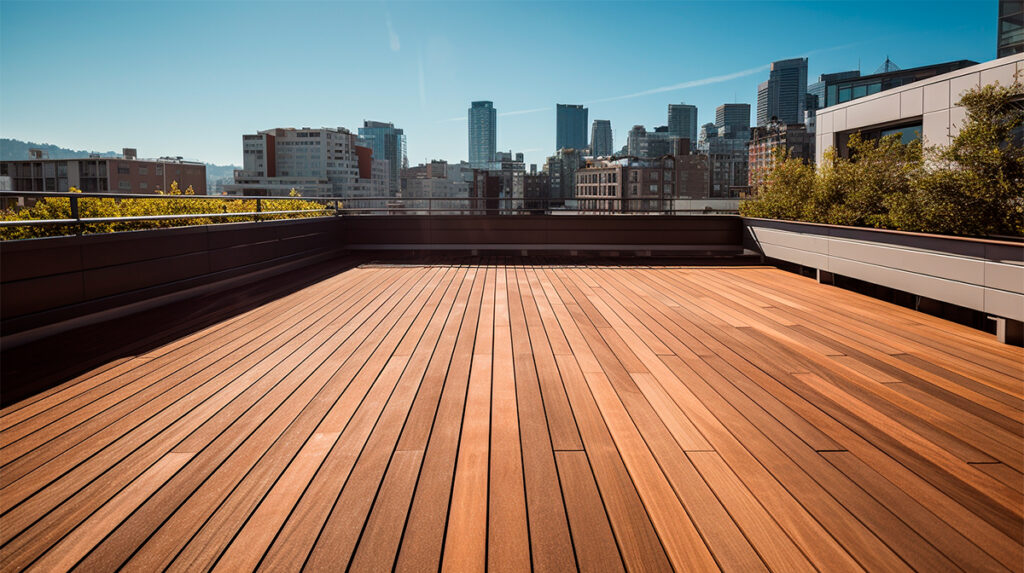 Benefits and drawbacks of PVC decking
PVC decking is another popular option known for its durability and low maintenance. It's resistant to moisture, mold, and mildew, making it an excellent choice for high humidity or rain areas. However, PVC decking is less eco-friendly and more expensive than other options.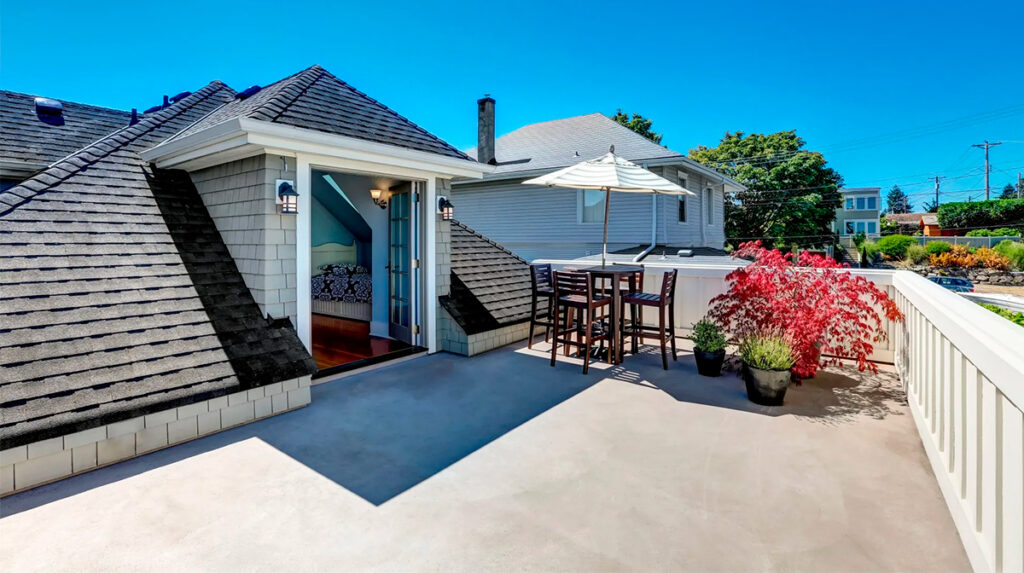 Exploring Ideas for Your Outdoor Sanctuary with an Understanding of Different Roof Decking Materials
Now that you better understand the different roof decking materials, it's time to start exploring ideas for your outdoor sanctuary.
One popular trend is to create a rooftop garden that's both functional and aesthetically pleasing. You can use raised garden beds, planters or even build a living wall to add greenery to your outdoor space.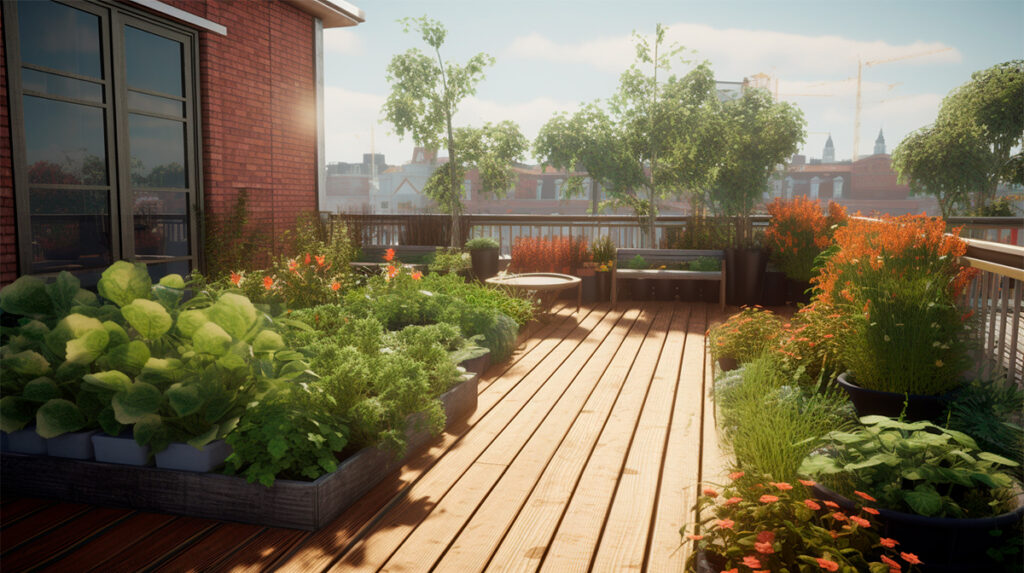 Another idea is to create an outdoor living room or dining area. Comfortable seating, a dining table, and some lighting create a cozy and inviting space to relax and entertain guests. You can also add a pergola or canopy to provide shade and protection from the elements.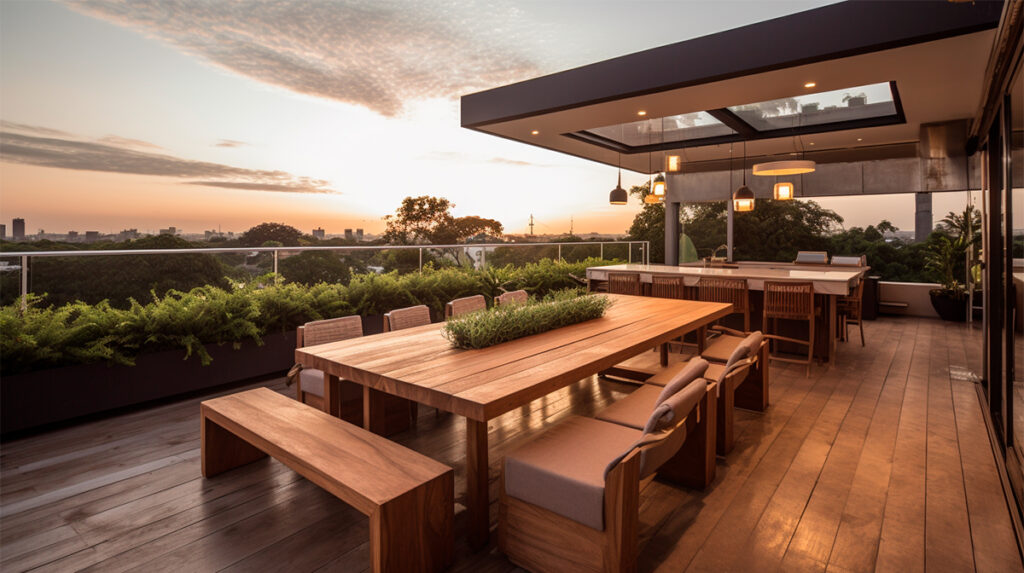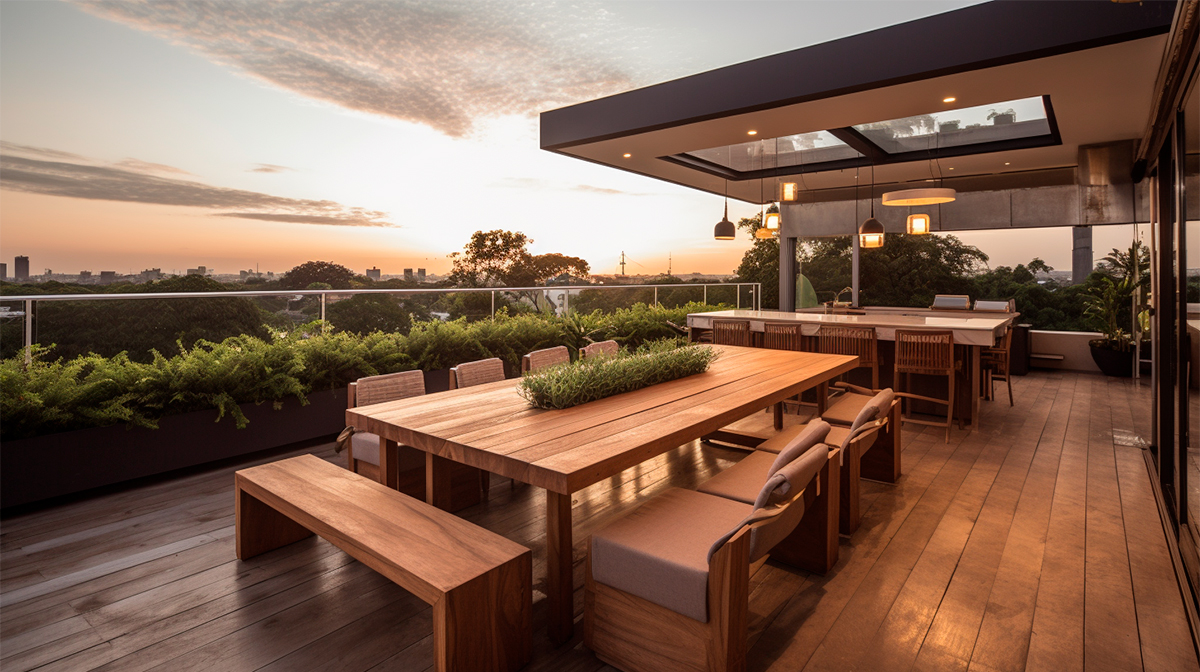 If you're looking for a more luxurious option, consider installing a rooftop pool or hot tub. Not only will it provide a unique and relaxing experience, but it will also add value to your home. You can also add a bar, grill, or outdoor kitchen to create a complete outdoor oasis.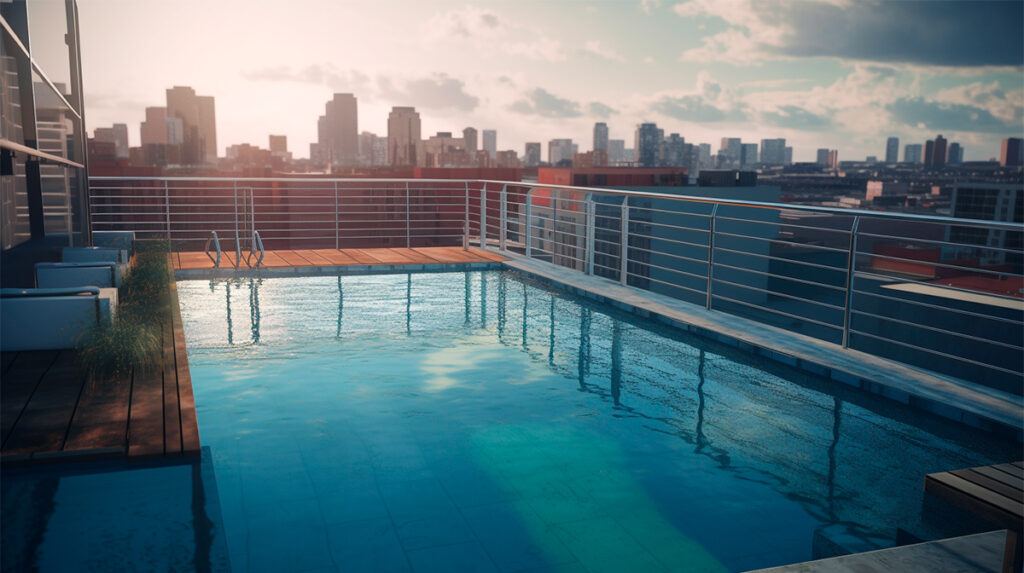 I love having an outdoor kitchen on a rooftop deck! It's the perfect way to entertain guests while enjoying the beautiful views and fresh air. Imagine cooking a delicious BBQ or hosting a summer dinner party under the stars. With an outdoor kitchen, you can easily prepare meals without running back and forth to the indoor kitchen constantly. Plus, it adds a touch of luxury and sophistication to your outdoor living space. I think it's a wonderful addition to any home that wants to take advantage of its rooftop deck.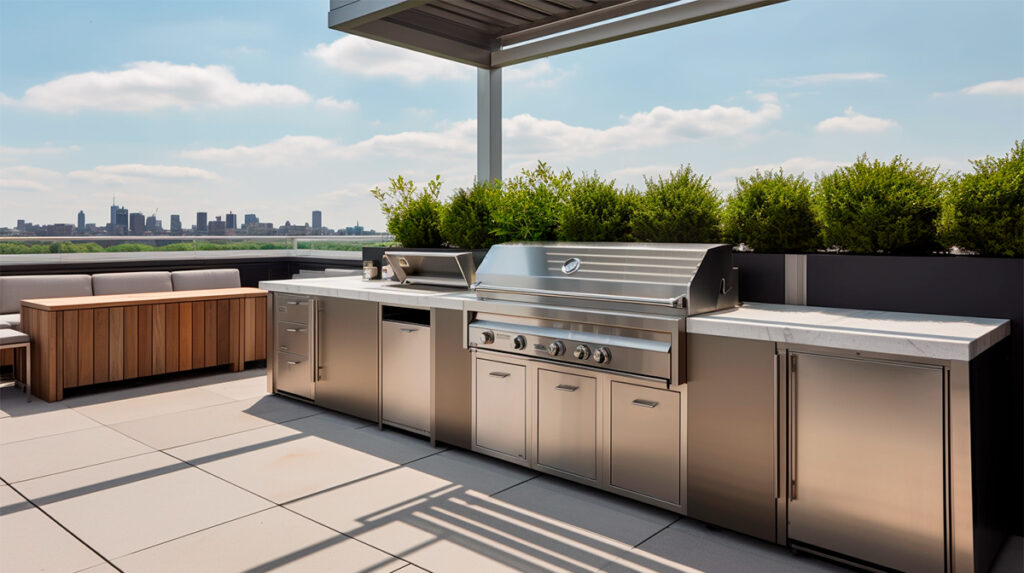 If you want to enhance your home's outdoor space, consider adding a rooftop bar. It provides a unique and exciting gathering spot for guests and allows you to take advantage of stunning views from a higher vantage point. Additionally, a rooftop bar can increase the value of your property and make it stand out from others on the market. With the right design and amenities, your rooftop bar can become a year-round oasis for entertaining and relaxation. Overall, investing in a rooftop bar for your house is a worthwhile consideration for any homeowner looking to elevate their outdoor living experience.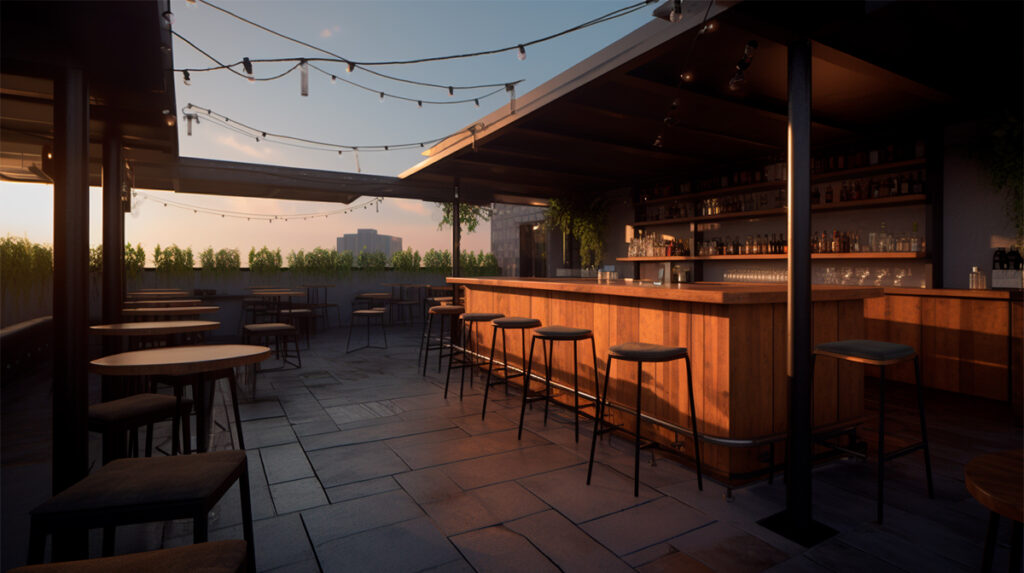 When it comes to designing your outdoor sanctuary, the possibilities are endless. However, it's essential to remember your space's function and purpose. Whether looking for a peaceful retreat or an entertainment hub, your roof decking choice and design should reflect your lifestyle and needs.
Check Out Our Latest Articles on Roof Decking – Everything You Need to Know for Your Next Project!
The Importance of Choosing Suitable Roof Decking and Design
In conclusion, choosing suitable roof decking for your outdoor space is an important decision that requires careful consideration. Whether you choose wood, composite, or PVC decking, the key is to create a space that reflects your personality and lifestyle. By exploring various materials, designs, and creative ideas, you can create an idyllic outdoor retreat that's practical and beautiful and incorporates color decking for added visual appeal. With the proper roof decking and design, your outdoor cover can become your oasis and a valuable addition to your home.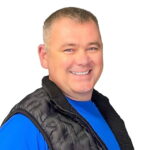 Denis is the driving force behind ID Flat Roof, a leading company in Boston specializing in flat roof repair and installation for over 20 years.
Expertise:
Denis excels in PVC, TPO, EPDM, and rubber roofing. His meticulous approach ensures quality and customer satisfaction.
Innovation:
Denis incorporates cutting-edge solutions like skylights and solar PV roofing.