Waterproof Decking Over Living Space: How Is It Done? Features, Nuances & Materials
6
minutes
Being on the patio minding your own business is always very good. But not when it's raining outside! Bad weather is enemy number one for any outdoor space. You don't have to tolerate high humidity and let your property break down under the influence of water; use quality waterproofing systems for your deck. Now, we'll try to explain waterproof decking over living space.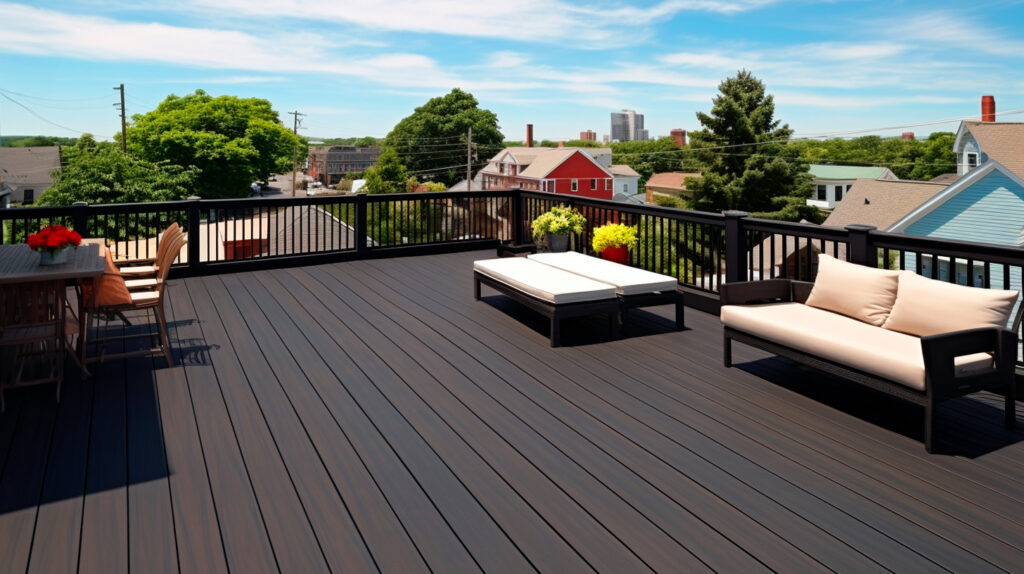 Living Spaces: Why Get Them Waterproofed?
Balconies, rooftops, and patios are known for increasing living space. Having one in your home gives you a lot of advantages, especially if the house you live in is not that big. On the patio, for instance, you can set up a summer kitchen, have a barbecue, have cozy gatherings, or relax after a hard day. Depending on the size of your space, any furniture and appliances can be installed on the patio.
And that's why waterproofing is required. Without this, not only furniture but also the structure itself is subject to damage. High humidity greatly accelerates natural processes such as decay and exhaustion. Without proper waterproofing, you risk spoiling your living area, which will collapse over time.
Here are the most obvious reasons to get your deck waterproofed:
It perfectly protects against water damage. Protecting what's underneath your construction from flooding is one of the main advantages you will have. Classical decking materials like wood or composite constantly absorb water, leading to rotting, mildew, etc. Special waterproofing systems are installed on the deck to keep water from entering the surface, extending the life of the building.
It has an excellent design. Suppose you fear the waterproofing system will ruin your aesthetics; don't. The visual appeal of a living area may be improved by using waterproof decking solutions, which are available in several hues and patterns. Vinyl, PVC, and aluminum are just a few of the materials that residents could choose from to create an individual style that matches the design of their residence.
It is very safe. Compared to conventional decking supplies, waterproof decking solutions give a deck that is not dangerous for being there. This is especially crucial in households with kids or senior citizens who could be more prone to slipping and falling.
Outdoor living areas may be better used and more comfortable by using waterproof deck technologies to prevent moisture damage. With a choice of materials and styles at their disposal, homeowners may build a look that fits the aesthetic of their house. To provide a secure and durable surface, it is crucial to consider local building requirements, drainage, installation, and maintenance when planning and establishing a waterproof decking system.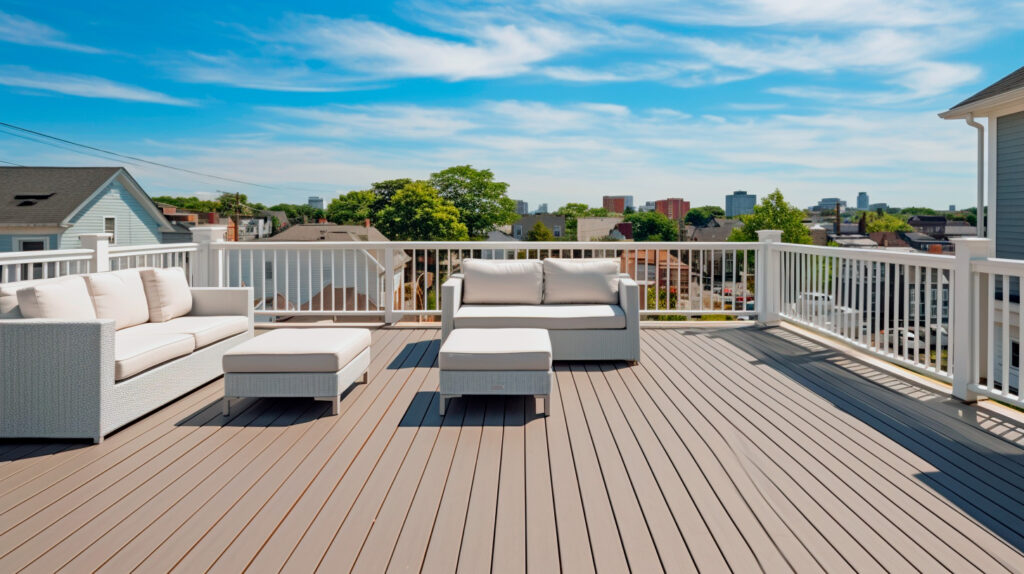 How Does Waterproofing Work?
Waterproofed decking is typically made of these components:
Water-resistant membrane. In the entire system, it is the most crucial layer. Typically, it is constructed of synthetic material, such as PVC or TPO, making it entirely waterproof. The waterproof membrane is placed above the main structure and sealed at all seams and edges to achieve full insulation.
Drainage layer. This layer facilitates fast drainage of any water that has permeated the surface, reducing accumulation and standing water that may eventually result in damage.
Protective layer. Typically, the drainage layer is put in place before the protective layer. The protective membrane layer offers protection against water, UV rays, and other elements that might harm the skin over time.
Top layer. This membrane can be created from several materials, including wood, composites, and tiles. The top coat aims to offer a tough, beautiful surface that can survive frequent use and weather exposure.
To stop water intrusion, each layer cooperates with the others. They cannot keep the system dry separately; any failure will cause the entire waterproof system to malfunction.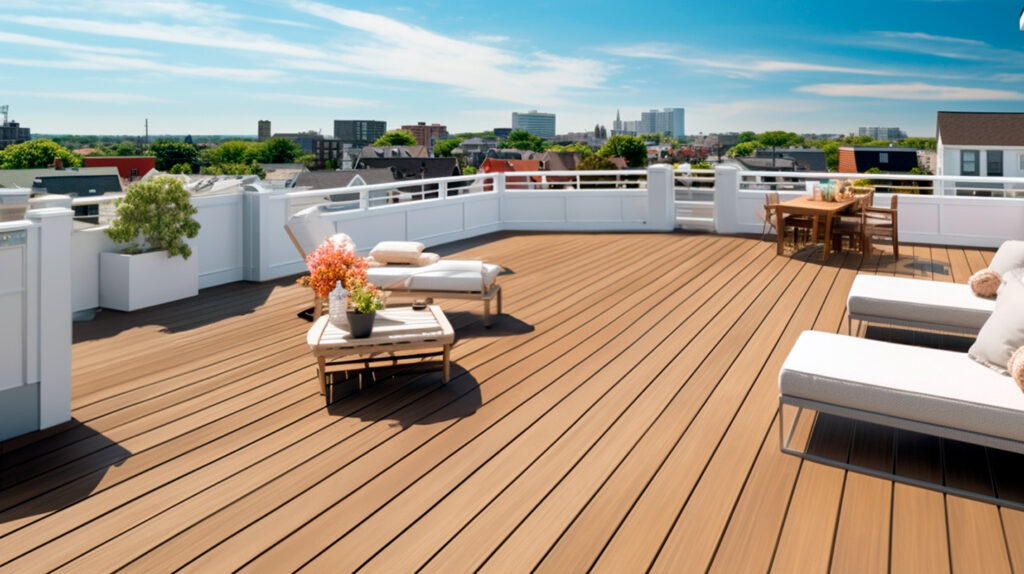 High-Quality Materials Matter
The material used is fundamental when considering waterproof decking over living space; without the right base, there's nothing to waterproof. Fortunately, some materials that builders commonly use for decking are already water-resistant due to their inherent characteristics. The most popular materials for this type of waterproof decking include:
Vinyl. People who prioritize durability most frequently choose vinyl flooring as their decking type. This material is simple to install and doesn't need additional maintenance. PVC creates vinyl, a synthetic substance impervious to water, mold, and mildew. By the way, vinyl flooring is available in various hues and textures to complement your home's exterior properly.
Polyvinyl Chloride. Or simply PVC. Such decking is manufactured from the same material as vinyl decking but is often thicker and more robust. This makes it ideal for locations with heavy furniture or considerable traffic. PVC decking is suitable for waterproof systems since it is liquid, bacteria, and mildew resistant.
Metal. Aluminum, for instance. It is known for its durability. For watertight decking systems, aluminum is a lightweight and sturdy solution. It can fit any size or form and is water, mold, and mildew resistant. Additionally, low-maintenance aluminum decking doesn't need to be sealed or stained.
Composite. While it is constructed of wood fibers and plastic, composite flooring is a popular option for patios, balconies, and other living spaces. Composite decking is liquid- and mold-resistant. But, at the same time, it's not waterproof (that's why it might cost less than PVC or aluminum). Composite decking is available in various hues and patterns and may be made to meet any size or form.
EPDM. EPDM membrane, or ethylene propylene diene monomer, is often used when waterproofing is needed. EPDM is preferred for deck waterproofing because it is strong, flexible, and weatherproof. Although EPDM is usually more costly than alternative waterproofing materials, not all deck designs or climates may be compatible.
Of course, let's not forget about natural timber. Wooden decking is a less popular decision when waterproofing is required since it is less durable to mold and rot. Thus, wood needs to be properly waterproofed and frequently maintained. Plus, using timber to deck a patio might be costly since it requires wood framing and costs a lot.
Don't Miss Our Latest Articles on Roof Decking
Methods of Implementing Waterproof Decking Over Living Space
Now, let's talk about how you can waterproof your deck surface. There are two basic ways to create a proper water-resistant decking system. Read below to learn more.
Downspout + Deck Membrane
This is good for a rooftop deck. A membrane and downpipe are a lifesaver if you don't like to fiddle with things and don't want to keep maintaining your system frequently. The membrane is positioned between the deck and the substructure in the area between the deck's beams, and the pipe can be composed of plastic or metal. Water is therefore diverted away from the structure by the membrane and into the gutters — a rubber membrane with superior water retention properties than other membrane materials. The amount of essential routine maintenance, such as touching up waterproofing sealants, is significantly reduced by this technique.
Under-Ceiling Waterproofing
Systems for under-deck ceiling drainage are excellent for waterproofing. Furthermore, it appears to be a fantastic design feature. Such a system consists of panels forming a ceiling beneath your deck beams and diverting rain or water into the gutters. Even without the aid of experts, such a building is possible. Craftsmen frequently choose below-deck ceiling systems made of aluminum or vinyl because they are inexpensive and simple to install.
Other Ways
Installing waterproof decking flanges is an alternative option. Rubber flanges cover the spaces among the deck panels rather than the full system underneath the ceiling. It serves as your deck's first line of defense against snow and rain and acts as a makeshift drainage system. The deck could be changed to install flanges, which might change its material and expose it to more water damage.
Waterproof liquid deck coatings at the surface are an additional choice. They are simple to create and still provide a waterproof coating for your patio. Pick polymer coatings that can help the deck repel water. This is a quick and simple method for waterproofing a deck, but because it is not durable, it also needs maintenance and care.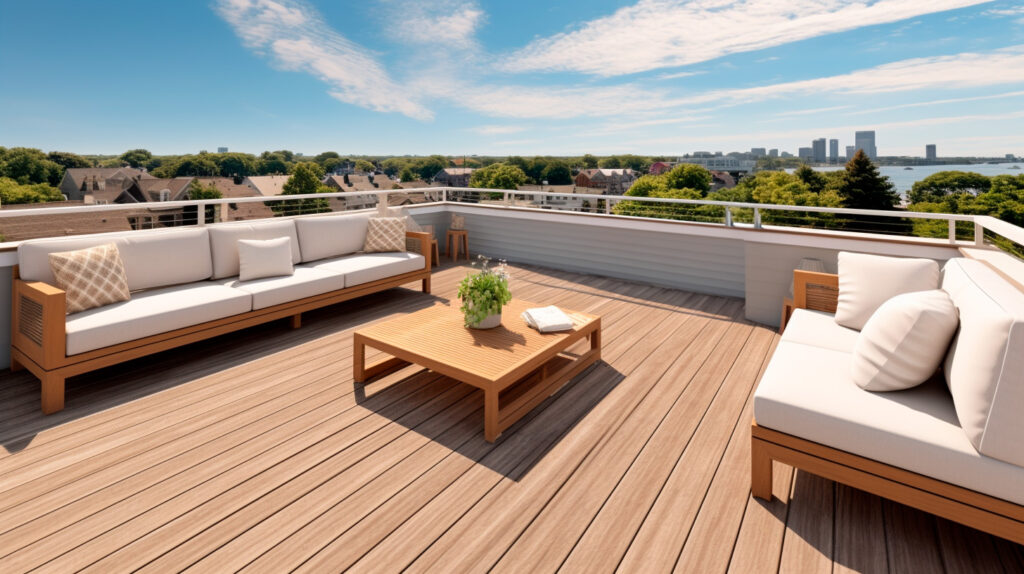 Understanding Waterproof Decking Over Living Space: A Long-Term Investment
Now you know more about waterproofing a deck over a living space. It is always a good idea to ask for professional builders' help if you need quality results. The proper waterproofing deck will last for decades without being repaired often. Remember: waterproofing a deck over a living space costs the effort as it gives reasonable results.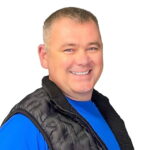 Denis is the driving force behind ID Flat Roof, a leading company in Boston specializing in flat roof repair and installation for over 20 years.
Expertise:
Denis excels in PVC, TPO, EPDM, and rubber roofing. His meticulous approach ensures quality and customer satisfaction.
Innovation:
Denis incorporates cutting-edge solutions like skylights and solar PV roofing.