Parts of a Deck: Dissecting Your Future Project
Reading Time:
7
minutes
It is the same as doctors learning every bone and muscle in the human body to examine and treat it better: every professional builder, DIY enthusiast, and even a responsible homeowner must study a deck's anatomy. As a result, extensive knowledge will improve your ability to construct, repair, and care for deck parts.
11 Body Parts of a Deck
Of course, deck construction is more than meets the eye. The surface, with its refined lumber appeal, conceals many crucial elements. Your job as a caretaker is to ensure that every detail in this system is in the right place and works smoothly.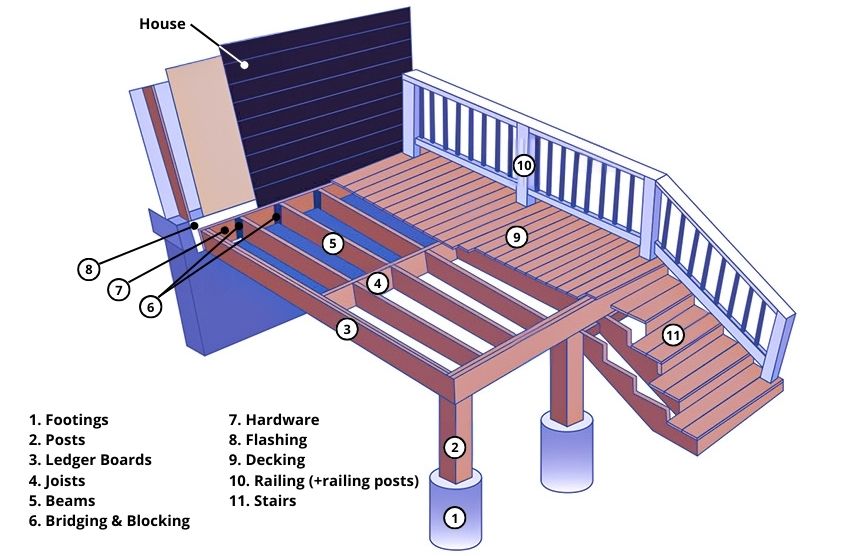 Substructure
Surface
Substructure: the Foundation of Your Deck
Of course, your deck design matters. However, with no guarantees that your surface is safe and sound, the attractive facade loses its allure. Thus, building a reliable framework to support the deck boards is vital to the construction's longevity and security.
Main Elements
Generally, there are no substructure elements that you can dispose of while building a deck. Still, first, you create a layout with footings, support posts, joists, and a ledger board, and then you use blocking, beams, and hardware to piece it together.
Footings
The primary function of footings is to incorporate support posts into the ground to prepare a steady and durable foundation. Generally, the process is simple: you pour concrete into the soil and then install the posts into the solution.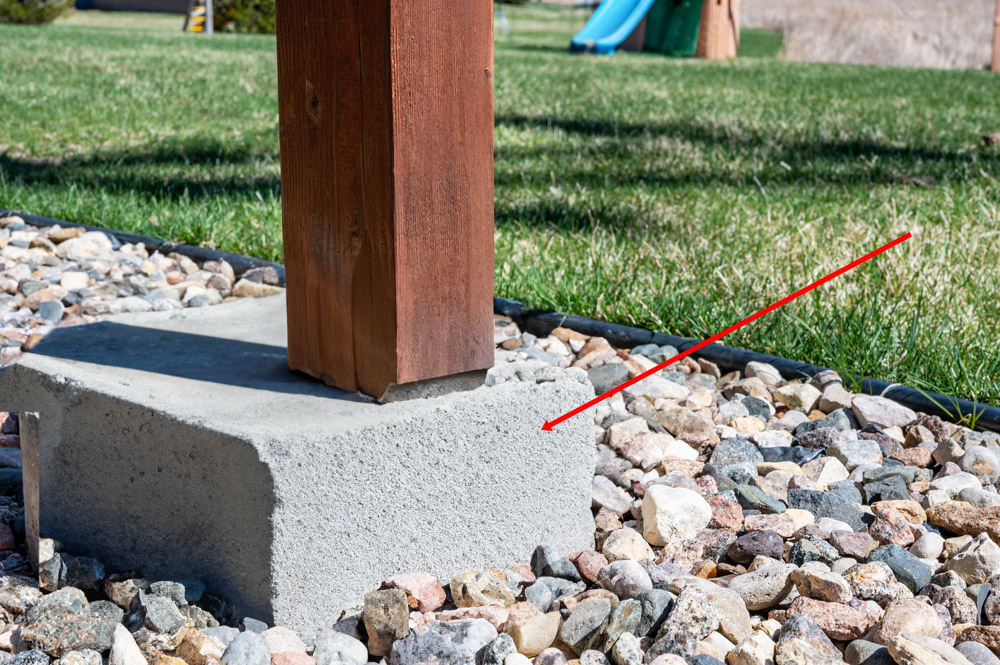 Details to Remember
Concrete footings are a trustworthy, trouble-free option. Yet, if you live in a cold climate, check that your footings go beyond the level of frozen ground in winter.
Posts
Support posts provide the necessary support to the frame deck. Essentially, there are the intermediaries between the footings and joists. One of its ends dives deep into the concrete, while the other is attached to the joist.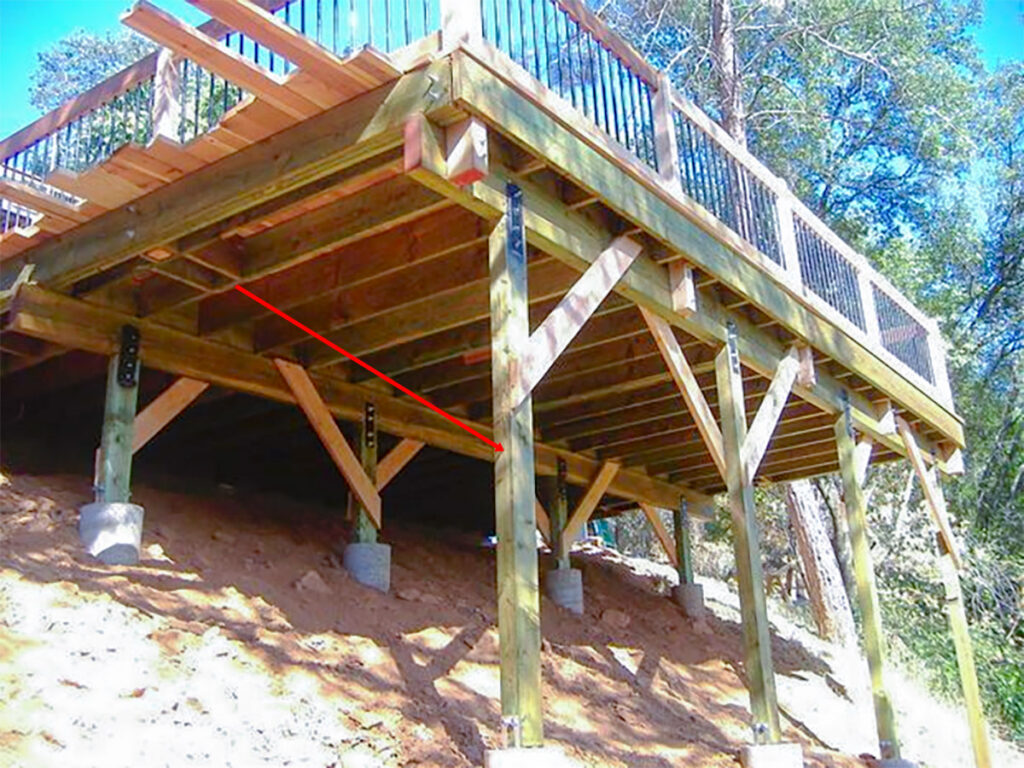 Important Sidenotes
Because the connection needs to be as secure as possible, it's better to use post anchors as fasteners. Plus, you need to add bracing to enhance the load your deck can sustain (e.g., the ground has a slope, or the height of it is taller than usual).
Ledger Boards
Your deck cannot exist outside your house. Hence, you should install a ledger board – a piece of hardwood to attach your construction. As a result, the building's frame and foundation will handle a substantial part of the deck's weight and make the structure steadier.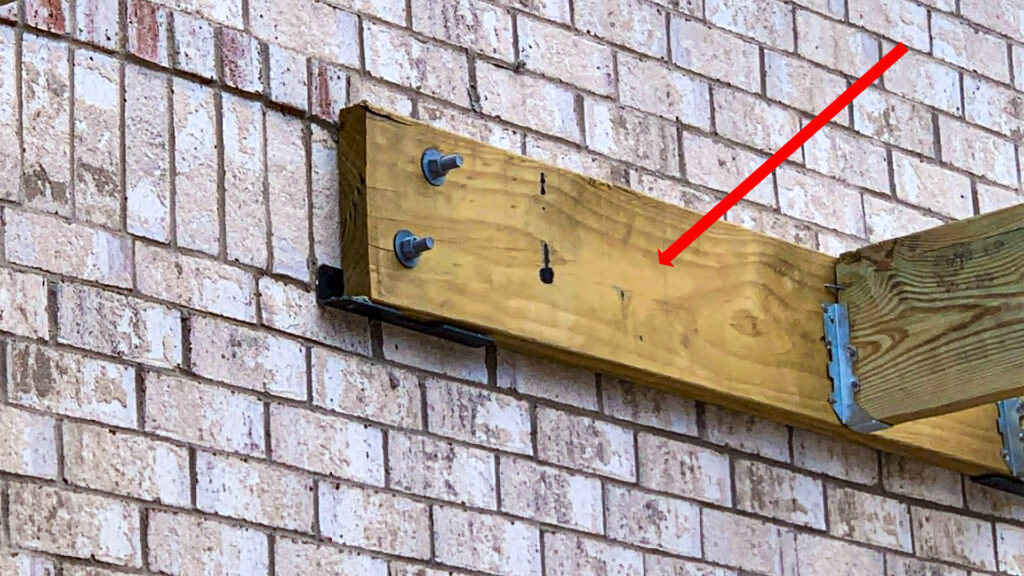 Professional Tips
If you decide to attach a ledger board to a surface that is not solid, such as a bay window, brick veneers, or an overhang, it will fail to provide structural support. Other spots will be more appropriate.
Joists
You fasten these elements to the ledge board and beams/rim joists. Then, you put the deck's frame and floor on top.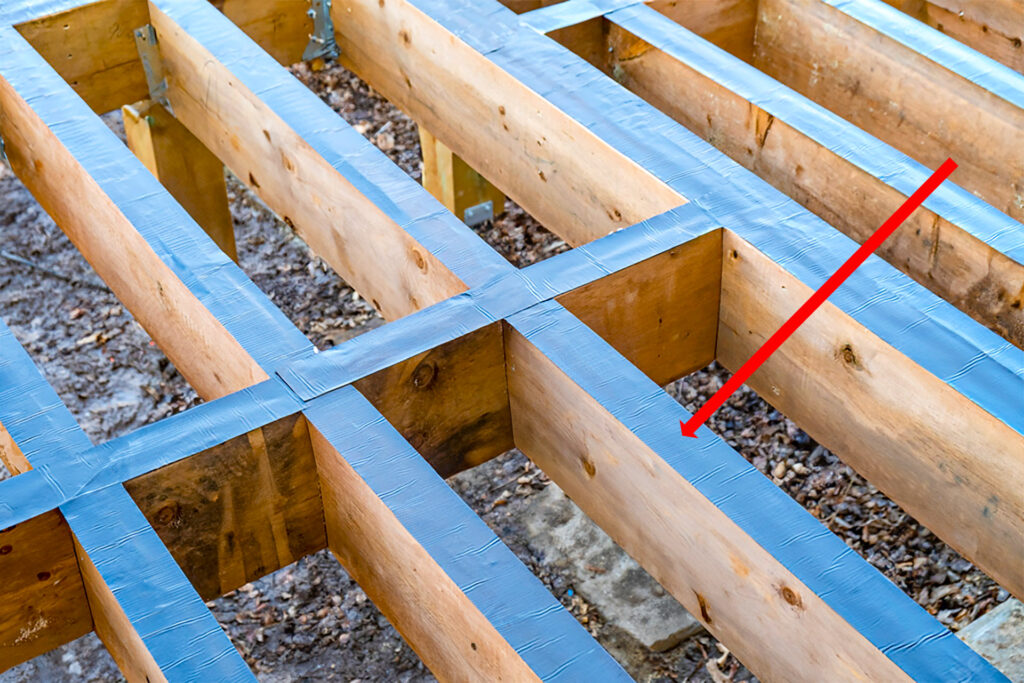 Word of Advice
Your deck is as reliable as your joists. Therefore, it is better to opt for larger joists. Moreover, the size and pattern of your deck will determine the number of boards and the spacing between them. Generally, a complex design and a more stable surface call for a smaller space between the joists.
Additional Items
You can't build a deck without beams, blocking, and hardware. Flashing is an optional detail. Still, most of the deck materials are sensitive to water. Thus, eliminating this part might cut your expenses during the construction process. Yet, it will result in multiple expensive repairs.
Beams
You attach the deck's frame to beams or girders. Usually, they go hand in hand with the rim joists you install around the perimeter. Yet, you can also put them under the joists if that is a more convenient solution.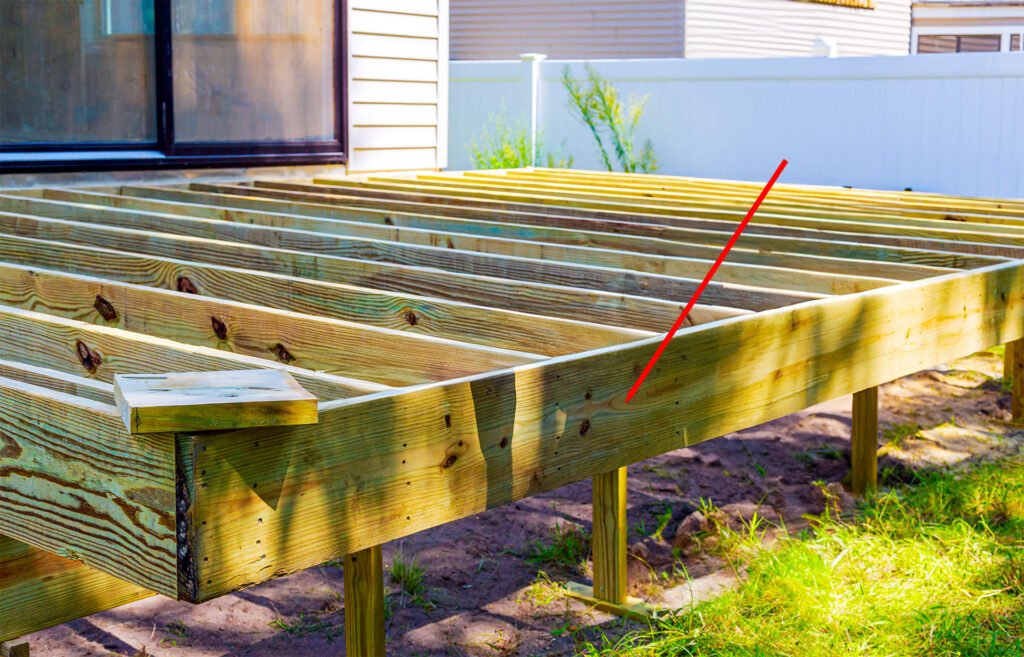 Bonus Info
If your deck needs extra support, add several rows of beams. However, you need to make appropriate intervals between them.
Bridging & Blocking
Blocking or bridging means adding blocks of lumber between the joists to restrain the processes of twisting and moving. You need to put them around the perimeter in a zigzag pattern. Plus, if the weight of your deck requires additional support, you can distribute these blocks across the deck frame.
Helpful Note
Blocks and joists should be at the same level to form an even surface.
Hardware
You can't put all components together without hardware. Generally, your hardware should match two basic requirements:
It should comply with the material you intend to use.
It should be strong enough to endure the planned load.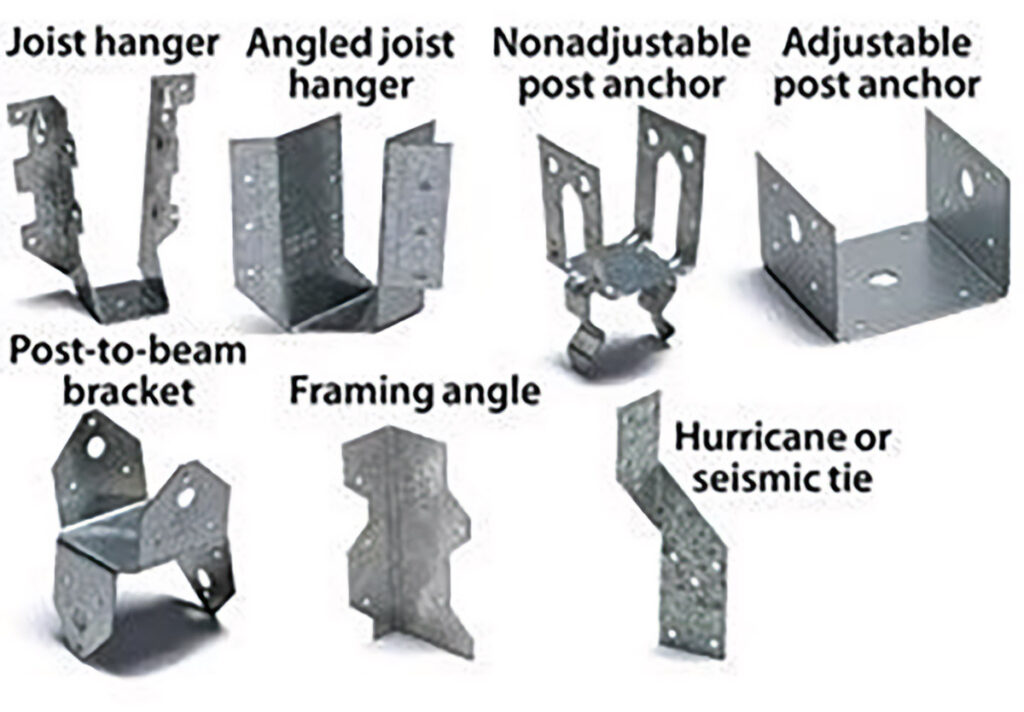 Warning
There is a multitude of hardware designed to construct a deck. Many types of various fasteners, lag screws, joist hangers, and even outdoor corrosion-resistant screws can help you with your task. The trick here is to refrain from using nails because they cannot provide the support the deck requires.
Flashing
Moisture is a common enemy for almost every element of a deck's construction. Flashing is a viable solution to protect the essential parts, such as a deck frame, joists, ledge board, and house walls.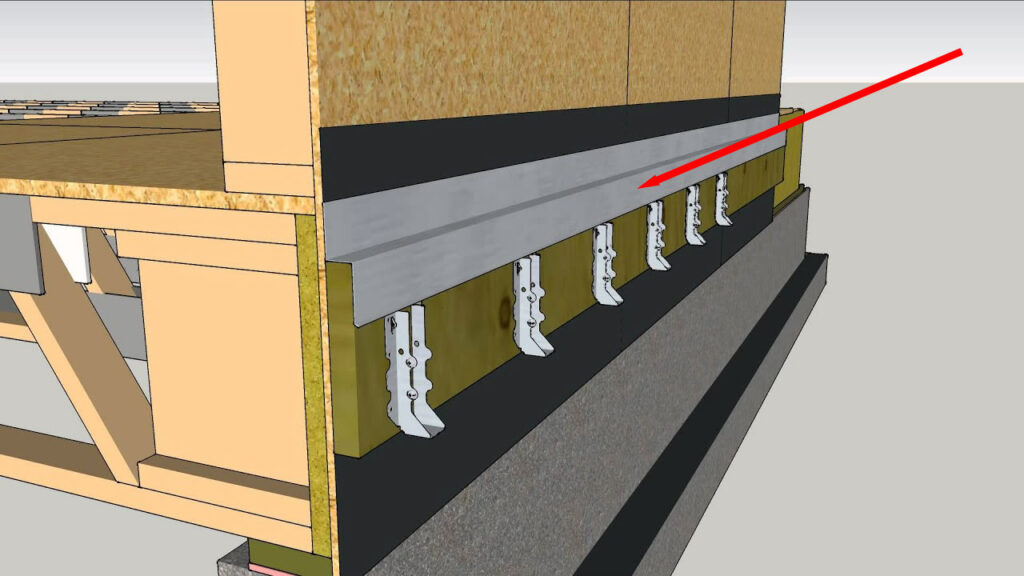 Other Protection Options
Generally, you cover the space between the ledge board and a building with L-shaped sheets of vinyl or stainless steel. You can adhere flashing tape to the joists to protect them. In addition, modern markets offer plenty of shield products to chase away moisture.
Overall Recommendations
The strength of your substructure materials determines the lifespan of your deck. The most common solution is wood. However, you can also opt for a composite, steel, or aluminum substructure.
Each of the variants has its benefits and shortcomings. For instance, timber elements you can effortlessly adjust on the spot. But, metal or composite parts are inherently more invincible to deteriorating factors, such as moisture, low temperatures, and pests.
If you select wood as your primary material, pick pressure-treated lumber. It offers an unmatched balance between load-bearing capabilities and reasonable prices.
Of course, you need to study local building codes. With the knowledge and guidelines, you won't doubt your calculations and decisions.
What's on Your Deck's Surface?
Essentially, this is every visible part of your deck:
Decking
Railing (+railing posts)
Stairs.
Due to its extensive customization capabilities, it is responsible for the deck design. Therefore, your choices here directly influence the aesthetics and ambiance of the place.
Decking
It is the floor you walk on. You can choose to compose it out of boards made of different types of wood or select a pattern that adds a personal touch to the surface. However, you need to be aware that certain materials and designs may require an advanced level of expertise to work with.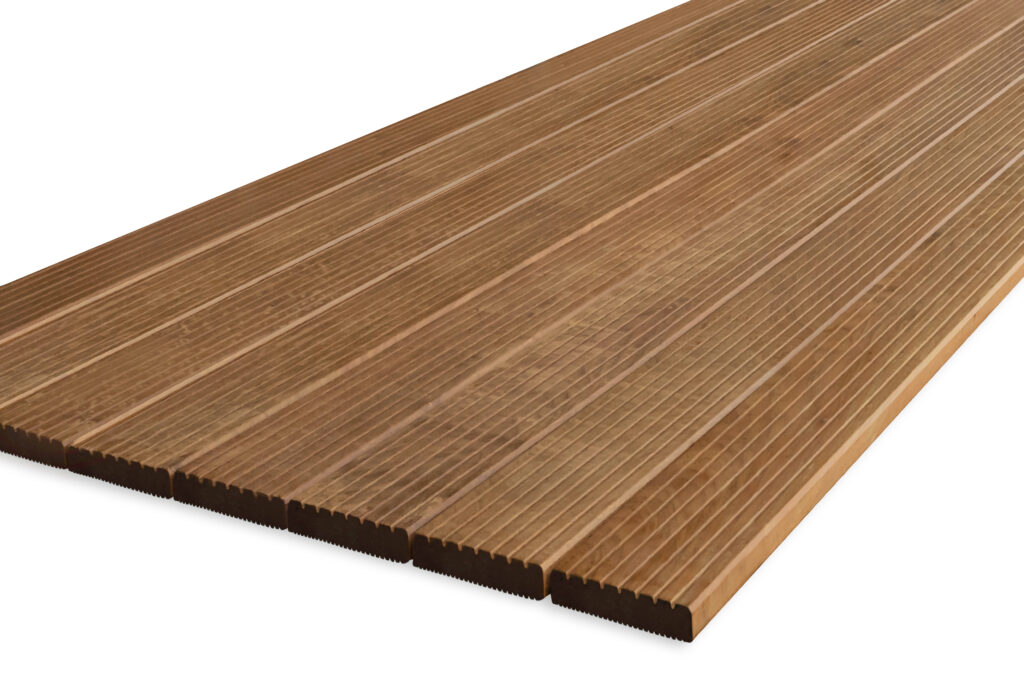 Safety Precautions
If you want your deck to be steady and reliable, you should use the types of fasteners that comply with the basic parameters of your deck. Hidden fastening systems and cortex plugs will help you securely install the boards without undermining the deck's attractiveness.
Railing & Railing Posts
The railing is crucial to your deck in terms of both safety and design. It helps you enjoy the view without putting yourself at risk of falling. Hence, railing installation is obligatory if your deck is significantly higher than the ground.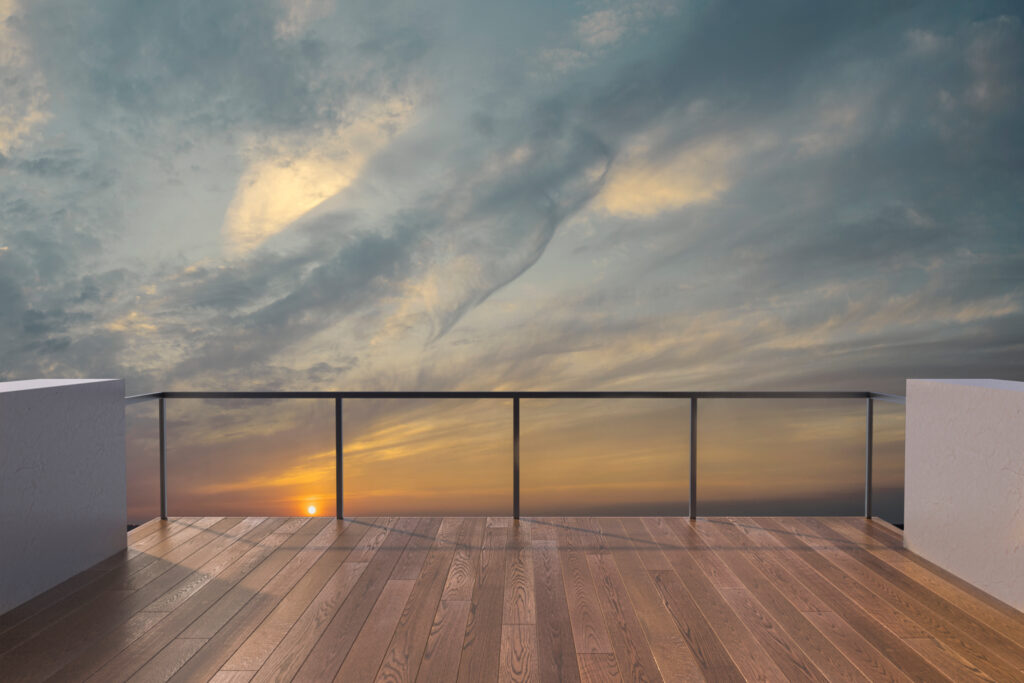 The railing system incorporates the following items:
posts;
top & bottom rails;
infill.
Wood is a common material for all these elements. Posts and rails can also include options out of metal or composite. Infill can have glass or metal-grid panels.
Parts of a Deck: Stairs
Stairs help you get from your garden or patio to the deck and vice versa. The higher your deck is, the more creative you can get with your stairs. Only the building code requirements can stop you from adding spiral stairs and enjoying a long, elegant walk down.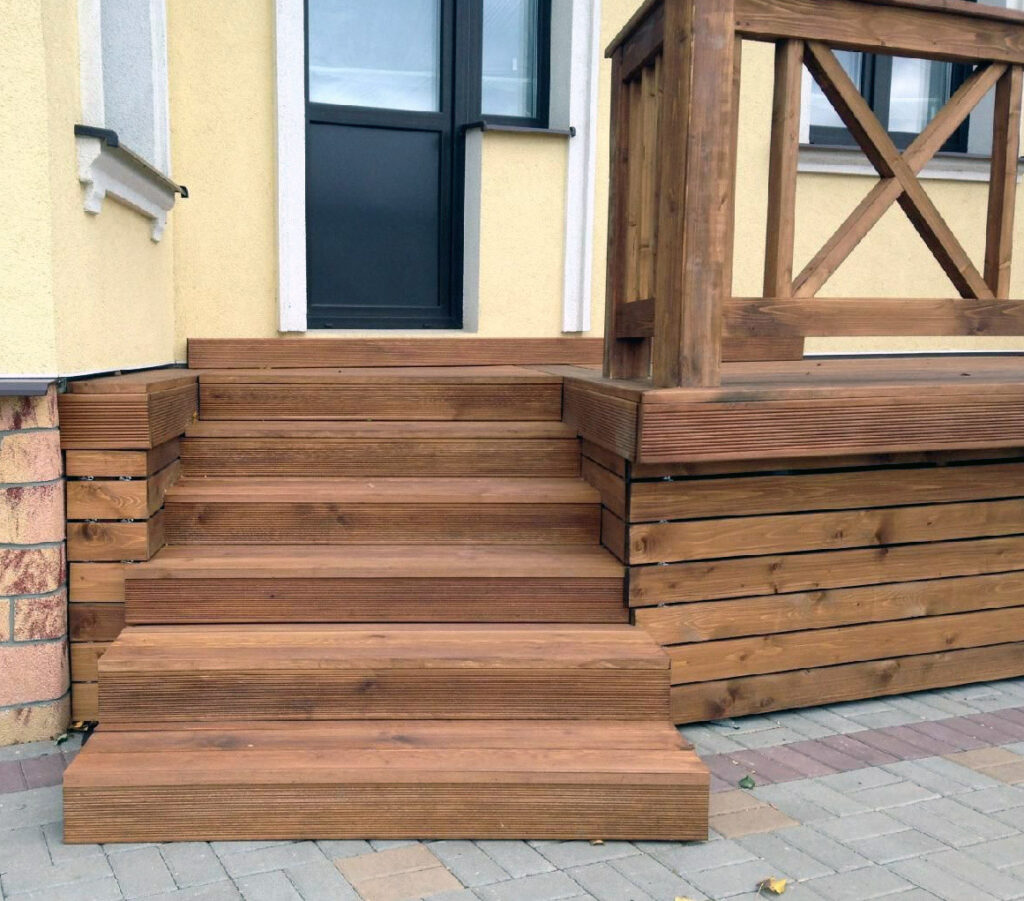 Tips & Hacks
Generally, there are no limits to your fantasy when designing your deck's surface. Still, check that your project's draft doesn't contradict the guidelines of local building codes.
Furthermore, scheduling regular maintenance and inspections for your deck is essential. These steps are vital to prolonging its life expectancy. For the best results, I highly recommend consulting with professional deck specialists. Their expertise can help ensure your deck remains safe, durable, and aesthetically pleasing for years.
Unleash Your Creativity: Exciting Decking Stories
Final Thoughts
Overall, all deck parts are irreplaceable, and you can't skip any of them at the planning stage of your project. If you treat them with the attention they deserve, your deck will become your legacy.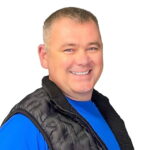 Denis is the driving force behind ID Flat Roof, a leading company in Boston specializing in flat roof repair and installation for over 20 years.
Expertise:
Denis excels in PVC, TPO, EPDM, and rubber roofing. His meticulous approach ensures quality and customer satisfaction.
Innovation:
Denis incorporates cutting-edge solutions like skylights and solar PV roofing.