Tongue & Groove Decking: Why People Choose Them? Benefits, Materials, And Installation
5
minutes
Tongue and groove decking is the perfect solution for your terrace. It is vital, highly moisture-resistant, and looks pretty against the background of your home. Whatever you want it to be, such decking exists in three variations: wooden, composite, and PVC. Please stay on this page to learn about tongue-and-groove decking and its benefits!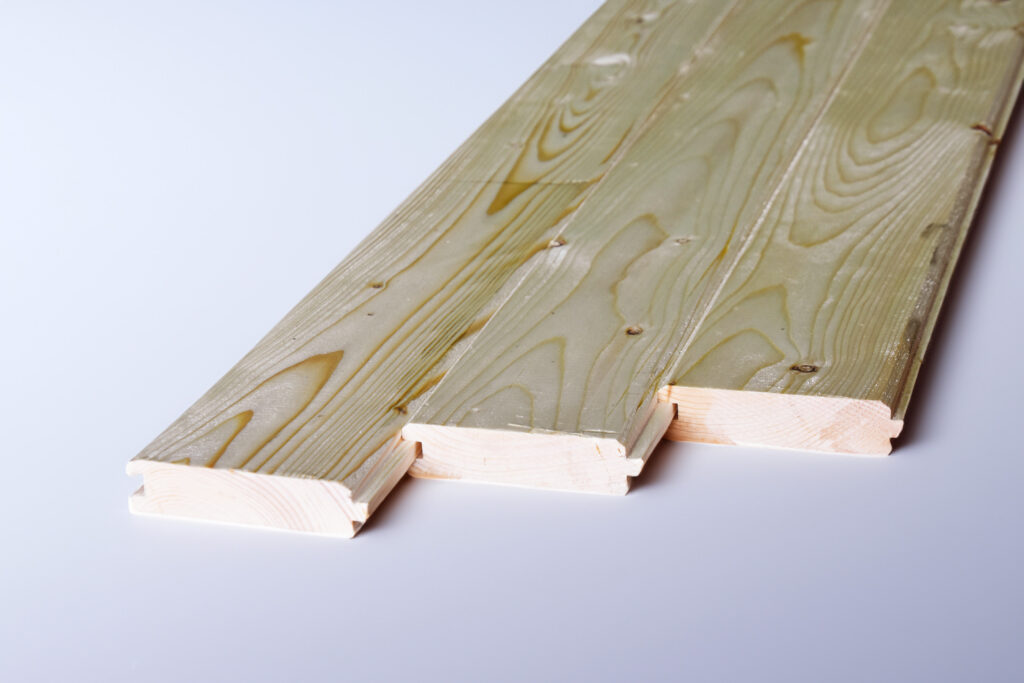 What Exactly Is Tongue and Groove Decking?
A form of decking material called tongue and groove decking is made to interlock with one another to provide a seamless and smooth surface. The boards feature a groove on one side and a tongue on the other to create a solid union. Since it offers a solid and long-lasting surface resistant to warping and splintering, tongue and groove decking is widely used. Due to the lack of nails or screws required by the interlocking design, it is straightforward to install.
Tongue and groove decking might be more costly than conventional decking materials like pressure-treated timber or composite decking. On the other hand, it is also more durable and long-lasting, which may ultimately make it a more affordable choice. The sort of wood chosen for the decking may also affect the price.
A particular style of tongue and groove decking frequently used for outdoor decks is the 2×6 groove and tongue decking. The planks are usually 2 inches thick and 6 inches broad and manufactured of wood such as cedar or redwood.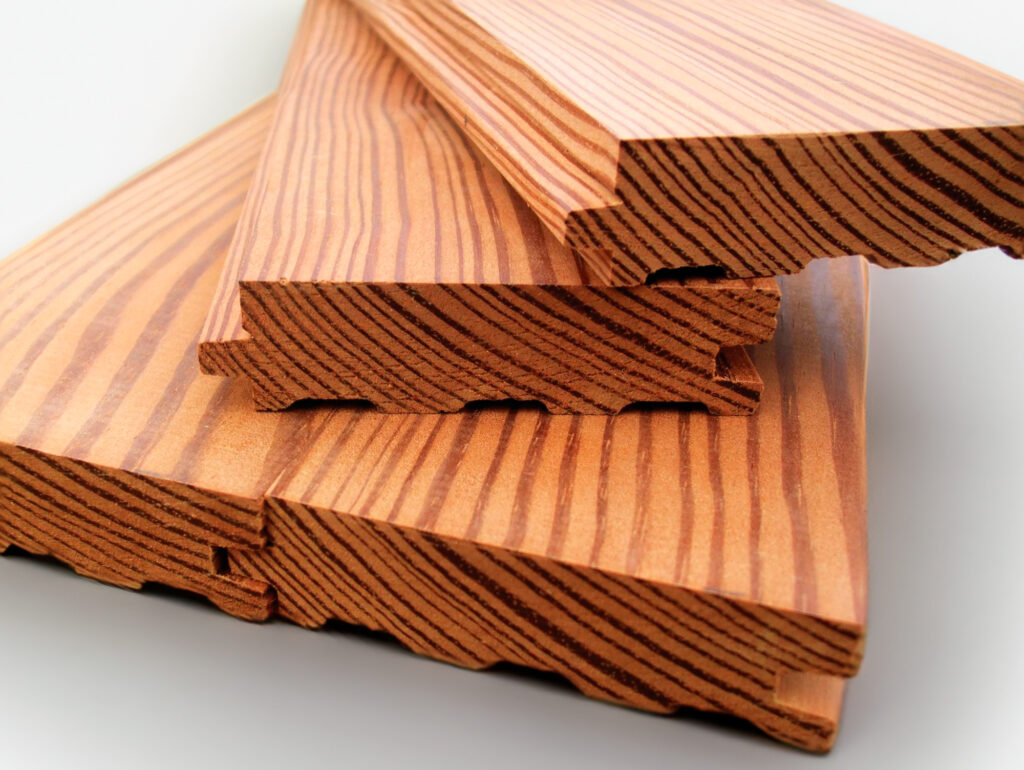 Tongue and Groove Decking: What Materials Are Best?
As we mentioned above, groove and tongue decking exists in three variations:
Wooden Decking. Due to its sturdiness and aesthetic appeal, tongue and groove wood decking is preferred for outdoor decking. Some timbers, including cedar, mahogany, and pine, make planks with grooves on one side and tongue-and-groove on the other. Because of the tight fit created by this interlocking action, water cannot easily leak between the boards and cause damage. Tongue and groove decking is frequently available in various widths, including thin boards perfect for tiny terraces or verandas and broader boards that may be utilized for bigger decks and open living areas. Planks can be stained to produce a distinctive aesthetic or to reflect the design of the house.
Composite decking. Composite decking is constructed from a mixture of plastic and wood fibers. It is made to resemble genuine wood in appearance and texture, but it also has several advantages over conventional wood decking. The longevity of composite decking is one of its key benefits. It is a long-lasting solution for outdoor living areas because of its excellent resistance to insect, rot, and decay damage.
Additionally, unlike wood flooring, composite decking requires no upkeep and doesn't need to be stained. Since composite flooring comprises

recycled materials, it is also a green alternative. Because of its exceptional moisture resistance, it is perfect for use in wet environments or near water. Due to the wide range of colors and designs that composite flooring offers, homeowners may select patterns that go well with the home's architecture and style.

PVC decking. Another form of flooring manufactured from polyvinyl chloride plastic is PVC flooring. It is a well-liked option because of its longevity, low care needs, and resilience to damage from dampness, decay, and insects. It is a sturdy solution for outdoor usage because of its exceptional resistance to stains, fading, and scratches. PVC flooring is very low-maintenance and does not need to be stained like wood flooring. But it can cost more than conventional wood flooring and might not feel as authentic as hardwood. In warmer weather, PVC flooring may absorb heat, making walking on bare feet difficult. In locations with harsh weather, it could not survive as long as conventional wood flooring.
You must consider your budget and desires to choose the most suitable material. We advise you to consult experts to decide what type of decking suits you best.
The Benefits Of Tongue And Groove Decking
Why do most people choose tongue and groove decking for their household? Here are the reasons:
It is highly resistant to moisture. One of the key factors influencing people's preference for this kind of decking is this benefit. And all of this is possible because the distinctive hermetic design prevents water from penetrating the spaces between the components. Therefore, grooves and tongue decking are perfect for open areas subject to the direct effects of weather.
It has an exceptional service life. People are interested in long-lasting materials since it means they won't need to replace them as frequently—most people like grooves and tongue decking for the same reason. Everything placed on it will be supported by a solid structure (within limits, of course). This kind of decking will endure a very long time and won't crack or decay for no reason on the flooring of terraces and verandas.
It looks cool. Сompared to other decking materials, the groove and tongue look gorgeous. It is very minimalistic, and the interlocking pattern produces a homogeneous, seamless surface that looks beautiful outside. You have countless design possibilities since the boards may be stained or painted to complement the décor of your house or outside area.
Of course, tongue-and-groove decking might have some disadvantages. For instance, people may avoid such material because of its cost, limited availability, and installation. By the way, let's now speak about how to install grooves and tongue decking.
Don't Miss Our Latest Articles on Roof Decking
The Installation Process In A Nutshell
A few stages are unique to the installation of groove and tongue decking as opposed to other forms of decking. The boards must first be adequately measured and cut to suit the area where they will be put. The next step is to tightly fit each board by inserting its tongue into its groove. This operation needs to be done with accuracy and the ability to guarantee that the boards are evenly spaced and aligned. With caution to prevent splitting the wood, the boards are fastened to the deck structure with screws or nails. While installing groove and tongue decking might take longer and be more difficult than installing other types of decking; the final result is a stunning and long-lasting deck surface.
The Issues Associated With Such Kinds Of Decking
Groove and tongue decking require frequent maintenance. It is crucial to clean it first frequently. A gentle detergent and a soft-bristled brush can be used for this. Never use abrasive cleansers or harsh chemicals. They can potentially degrade the decking's quality and look, which will cause the material to deteriorate quickly.
Responsible homeowners should frequently inspect decking for signs of wear or deterioration. Replace any damaged boards as soon as wear is apparent. A sealer should be sprayed every few years to protect the tongue and groove from moisture further.
Final Words
For anyone searching for high-quality, long-lasting, practical, and aesthetically pleasing, groove and tongue decking is a fantastic option. It offers a smooth, resilient surface that can survive the weather and look excellent for years to come thanks to its distinctive structure and diversity of materials.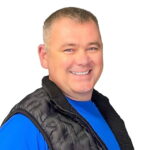 Denis is the driving force behind ID Flat Roof, a leading company in Boston specializing in flat roof repair and installation for over 20 years.
Expertise:
Denis excels in PVC, TPO, EPDM, and rubber roofing. His meticulous approach ensures quality and customer satisfaction.
Innovation:
Denis incorporates cutting-edge solutions like skylights and solar PV roofing.